I'm freaking out that it is already September. I lost a whole week in August when I got sick and I'm still moving very slowly as I recover. To top it all off, I have a huge trip coming up that I feel woefully unprepared for. I saw September 1 on my calendar and I started making list after list. I'm hoping I can at least tackle a few tasks from this month's Get Organized Now checklist before I go too crazy.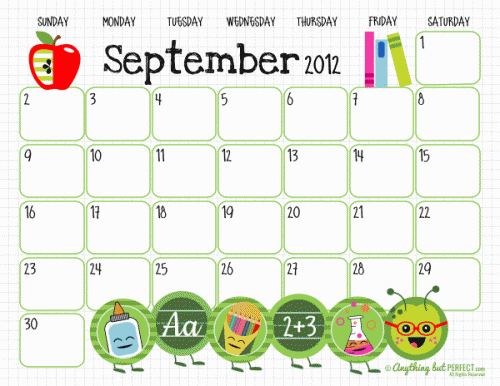 Source: Anything But Perfect- available for download
This month I already tackled Day 1's task of looking ahead at my calendar. I think that's part of the problem. I think my best plan to prepare is to just try to think rationally. Easier said than done, right? Here's what I'm looking at for my calendar.
September 2: Prepare a special dessert to be served for the Labor Day holiday. -This one is easy, I already bought supplies to make a peach cake I spotted over on Glori of Food.
September 5: Make DO/GO/CALL list. Perfect timing! Listing out the tasks in little pieces will not only keep me calm but it'll be a great way for my husband to see where he can help out too.
September 9: Call the grandparents for Grandparents Day. I will be doing this though I hesitate to think what advice my grandma will tell me based on what she hears on Dr. Oz. I swear, Dr. Oz should be banned in that household because my grandma is always telling me the weirdest things.
September 15: Time swap sandals for boots. Do an inventory on all those Old Navy flip flops and toss the gross ones. Give your boots a shine before breaking them out.
September 20: Organize your baking supplies. This is a great time to restock before making Christmas cookies or to organize your baking tools.
September 23: Are you making enough time for you? If you don't have a hobby (and TV watching isn't going to count) then work on one. If you find yourself with too many hobbies, try to focus on just one for maximum relaxation. I sent my sewing machine upstairs so I can start focusing on Christmas crafting.
September 28: It's apple season! Plan an apple picking trip or start setting aside your favorite apple recipes.