I'll admit that sometimes in life, I can go a little overboard. I mentioned before that I had some eggs to use up before I left town for my vacation and the apple bread just didn't cut it. I decided this would be the perfect time for me to get ready for Christmas. That's right, back on September 12 I decided to bake 11 dozen cookies for Christmas. I made 6 dozen chocolate chip ones (recipe coming soon!) and 5 dozen of today's recipe, M&M cookies.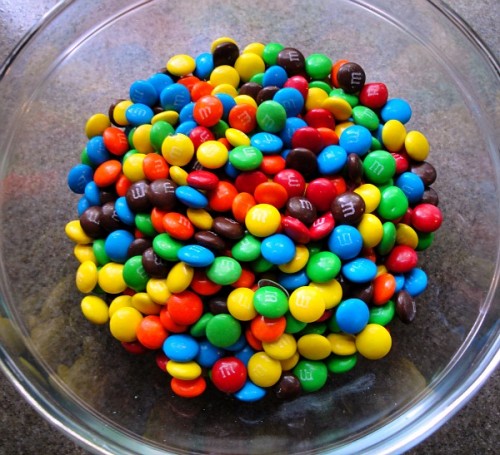 That's a bit of an exaggeration. I did in fact bake 11 dozen cookies and packed them away in 3 separate containers. One container was eaten in the week before my trip. It held 2 dozen cookies. The other 9 dozen were split between 2 more containers and one is still safely tucked away for Christmas. The other has been eaten in the month since I returned. This is how I roll. I bake a bunch of cookies, eat most of them and save a couple dozen for Christmas. Over the next few months I'll stock it with some peanut butter chocolate chip cookies, gingerbread and sugar cookies (undecorated), and some double chocolate chip ones. The ones I don't eat by Christmas become a January snack, though to be honest I'm usually cookied-out by then.

I store my cookies for up to 3 months in an airtight stackable container already cooked. I just pull them out about 90 minutes before I eat them and they're perfect.
Ingredients
1 1/2 cups sugar
1 1/2 cups brown sugar
1 1/2 cups shortening
3 eggs
1 Tablespoons vanilla
6 Tablespoons water
5 1/4 cups flour
1/2 Tablespoon salt
1/2 Tablespoon baking soda
10 oz mini M&Ms
Instructions
Cream together the sugars and the shortening. Blend in the eggs, vanilla, and water.
In a separate bowl mix together the dry ingredients and gradually add them to your wet ingredients.
Gently stir in your mini M&Ms (regular will work as well) and bake at 375 degrees for 9 minutes.
http://www.thehyperhouse.com/2012/10/mm-cookies/
Pin It