I'm back from my crazy long vacation and I hope to post some info on that as soon as I sort through my 1400 photos. Oh yeah, It was an awesome one. I'm quite a bit behind on chores but coming home to a clean house made it easier. I definitely miss having meals prepared for me and turndown service at night.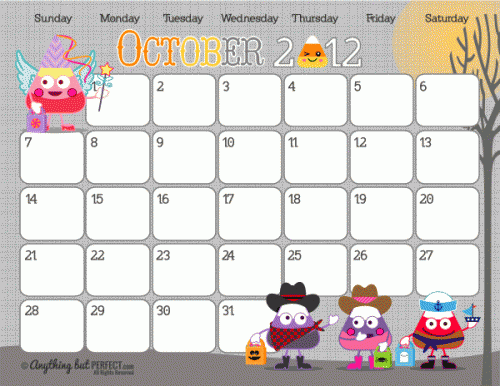 Source: Anything But Perfect- available for download
We're into the last quarter of the year which means prepping for Christmas, winterproofing my house, and for my work to get crazy one last time. My real goal for the month is to lock up the last of my summer clothes and finish up all those 90% projects- you know, the ones that need just one last go to be fully completed. Just remember, slow and steady wins the race so choose a few items to tackle from this month's Get Organized Now checklist and you'll feel ahead of the game.
October 5: After a long week, enjoy your family with a fun family dinner. After heading back to work after 2 weeks of together time, it'll be nice to relax together instead of giving into the jetlag.
October 13: Clear out those coats and accessories. Make sure all gloves have a match, toss anything you haven't worn in a while (look for a winter clothing drive in your area!) and have all the next week's items in a convenient grab-and-go spot.
October 16: If you haven't already decorated for fall (I never do before October 1 but I'm slacking this year!) then put out some decor. Pumpkins are always a safe bet and will last you through Thanksgiving.
October 20: Outdoor cleanup time! According to the many tips you can find at www.archute.com, you can start by getting empty planters, trim back any plants that get a fall trimming and put away any lawn furniture before the winter snow and salt damages it. You should also clean your gutters and take a look at your roof with the help of a roofing contractor such as these professionals in Cornelia. If you need gutter cleaning or anything gutter-related, we install Bulldog Gutter Guards. You can learn more about roofing here.
October 22: Stock up on Halloween candy for those trick-or-treaters. I live in a neighborhood without many kids so I don't see many besides some cute relatives but I'm always glad to have the leftovers.
October 24: Spend your entire evening offline and if you're really daring, turn off all technology. Hang out with family and resist the urge to be introverted by reading. Play board games, talk about your day or just relax in silence.
October 29: Surprise your coworkers by bringing in a treat. Bagels, doughnuts, or flavored creamers for a coffee bar are always nice. You can add a fall twist by throwing some apple cider in a crockpot and serving with a cinnamon stick.
Pin It