It's been a busy fall at my house. I've been finishing the final weeks on my work's big project and soon I'll be moving on to a new office and new responsibilities. My husband and I took a big trip to Europe. I finally finished the Couch to 5K program and I have 2 races lined up.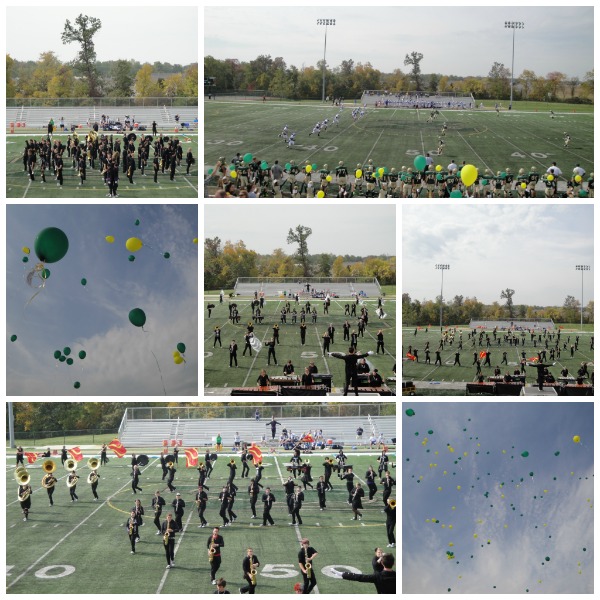 That hasn't stopped me from having some fun either. I went with some friends and family to my old high school's Homecoming football game. My littlest brother still goes to school there and it was a big anniversary for me as well. I was most excited to see the marching band. I'm a former member and my little brother (that's him on the 45 yard line playing the sax) has won several championships at competitions this year. I'm a proud big sister. As a bonus, the football team pulled out a win as well.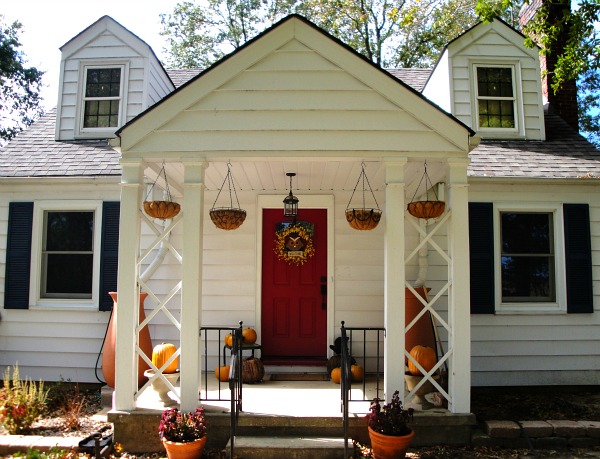 I've been dressing the house up for fall too. Some pumpkins and some coleus plants add a nice seasonal look with purples and oranges. I have a yellow wreath I use each year. This year I paired it with an owl hanging I found at Michaels. I love the bottlecap eyes…and the fact that it was on clearance.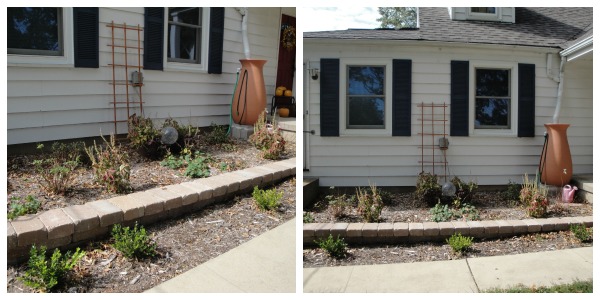 Here's a glance at the garden as of 2 weeks ago. Since then we had a tornado warning that knocked down leaves and now a frost warning that froze everything up. The garden barely survived the horrible summer. Remember how gorgeous it looked back in May? I had a hydrangea die, one just barely survived. All the dwarf rhododendron died before the end of June. We planned to replace them with more boxwoods but after a boxelder bug invasion I'm not so sure now. The regular rhododendron made it till July but then they died too. The azalea survived. My husband had bought some geraniums and added them to our house plant collection and they thrived as did our coleus plants. We'll definitely be trying to makeover this garden again next year. We'd love to add great quality, handmade festoon by festoonlighting.com. And if you're thinking of planting some apple trees in the garden then you must have a look at these espalier fruit trees as they are exceptional, we ordered some recently and were stunned at how good they are. I'd like to imagine this year was just a freaky year of drought but I need a low-maintenance plan that can survive drought, massive rains, hail, winds, and me.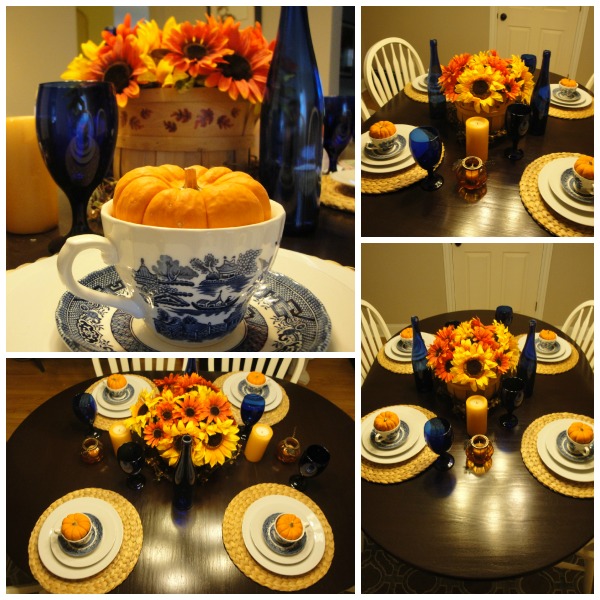 For my October table, I wanted to use complementary colors. I know a blue and orange table isn't traditional for October but I loved how rustic it felt. I was able to shop my house for this project, using my blue willow china and blue cobalt glasses. The matching cobalt wine bottles are from some riesling I drank and the pumpkin votive holders are from Pier1. They match last month's design. The flowers in the basket were actually a gift holder my husband gave me years back that comes in handy every year.
The only new item I bought for the table were the mini pumpkins. I wanted to buy some napkins but I had the hardest time finding some matching blue napkins. Has anyone seen some deep blue napkins that might match my blue willow or blue cobalt? I'd love to find some before the next time I use them all on the table again.
How was your month of October?
Pin It