I'm not really a dressing or stuffing person, much to my mom's disappointment. I just was never much a fan of the taste or texture. This dressing is different. It starts with cornbread and buttermilk biscuits (Jiffy and from a can are just fine or you can use your favorite recipe) to add a more solid texture. (If you want a really firm dressing, try making croutons out of the crumbs instead of just letting the breads go stale.) I also cut back on the amount of broth compared to most stuffing recipes so it is just moistened. The eggs in it work to bind the whole thing together too.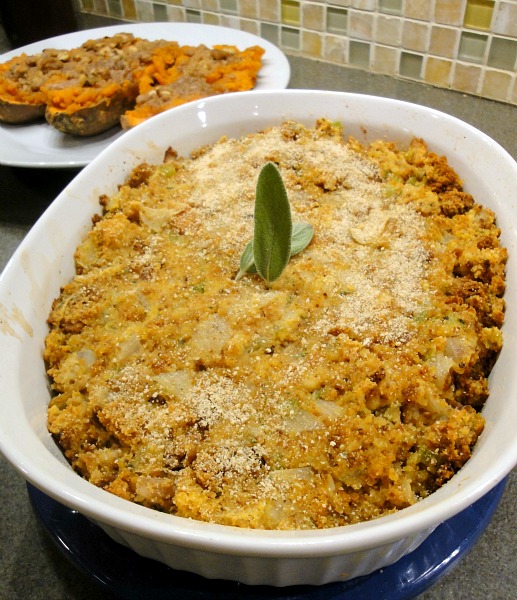 For a look at how this can be prepped in advance, check out my Thanksgiving Day timeline. Since there are only 2 people in my household, I split this dish in half and only cooked the first half for my meal. The other half was packed away in a foil tin uncooked. When I'm ready to eat that part, I'll thaw it completely and bake at 400 for 25-30 minutes.
The best part of this recipe isn't the wonderful texture or even how easy it is to freeze. I really just love the taste. Using a sweet cornbread allows for a mix of sweet and savory. It's the perfect match for the crockpot turkey.
Ingredients
6 cups cornbread crumbs (about 8 muffins)--try this recipe
3 cups buttermilk biscuit crumbs (about 4 biscuits)
4 oz butter
2 cups onion, chopped
2 cups celery, chopped
2 cups chicken broth
1/2 cup turkey drippings
2 Tablespoons fresh sage
1 teaspoon marjoram
1/2 teaspoon basil
1 teaspoon salt
1/2 teaspoon pepper
2 eggs
Instructions
Prepare the cornbread and biscuits a few days in advance. Let them sit in the open so they go stale. On Thanksgiving Day, crumble the biscuits and cornbread in a large bowl.
Melt butter in a saucepan over medium heat and add in the onion and celery. Cook until tender.
Add the vegetables into the crumbs and stir till combines. Stir in the broth and drippings, then add the seasonings and beaten eggs.
Bake in a casserole dish for 25 minutes at 400 degrees.
http://www.thehyperhouse.com/2012/11/cornbread-dressing/
Pin It