We're down to the last Get Organized Now calendar of the year. Next year I'll have new way to tackle household projects. For now, here's the last few tasks to try to get in before the year's end.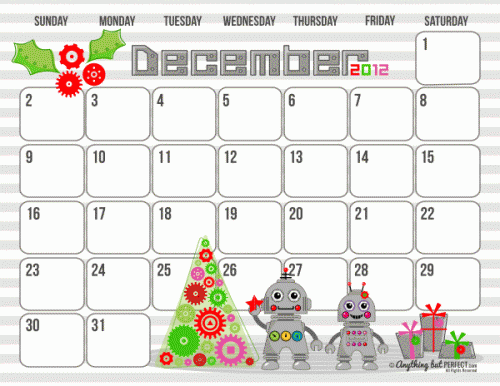 Source: Hello, Cuteness
November was a busy month for me. I've successfully transitioned into my new job, I ran a 5K, I started on my fireplace and I managed to survive Thanksgiving. In December I've got one last 5K, some shopping to do (don't we all!?), and I want to make a bigger dent in that fireplace. Plus I've got these items I want to get in too:
December 9: Shop local. Window shopping is okay, just make sure to do it with those you care about.
December 11: Start planning your Christmas menu and turn it into a Christmas grocery list.
December 18: Clean out the fridge. Eat all those leftovers and wipe down those shelves. Make sure you have plenty of space for all that food.
December 19: Write down what tasks need to be done before Christmas (like charging batteries or cleaning) and assign each task a day. Remember to embrace the fine art of delegation and don't do it all yourself.
December 25: Enjoy your Christmas celebrations!
December 28: Find a place for all your new items. This is a great time to decide if you need to keep an older item you upgraded. Start prepping for your 2013 donations by rounding up all the excess.
December 31: Imagine what you want out of the next year. Don't just make resolutions, make a plan that you can stick to.
Pin It