If you told me on January 1, 2014 what my life would be like on December 31, 2014 it would be unlikely I would have believed you. On January 1 I had a job that I felt like was finally going in the right direction, working in a historic district just off the same street my great great grandfather worked. I was making a dent in saving money and thinking about traveling to South America (and banking vacation days). I was going to the gym for weight lifting and pilates classes to help stay fit and mentally fit at the same time. I lived in a cozy house in a semi-rural area about 30 minutes away from work and I cooked dinner most nights.
Today I work for a new employer who seems to reward and recognize my contributions. I work out of one of the fastest growing areas in St. Louis that didn't even exist about a decade ago. I stopped going to the gym when my commute became over 2 hours a day and found myself feeling miserable while my husband took over the kitchen duties and turned out to be an amazing cook. I've also moved into a 3-story city home built over 100 years ago right in the heart of St. Louis City. And my husband is still cooking dinner even though my commute is half that of what it was on January 1.
I've gone through some major changes this year and not everything was great. Most of it was terrifying. But sitting here on December 31 with the family I love in my new house on New Year's Eve, I feel full of hope. 2015 will be a better year and I'm in a great place to enjoy it, physically and mentally.
There are so many things I'm thankful for from this year that I really should mention them:
My parents: my dad was my real estate agent and for months and months he drove into the city, he and my mom became experts in city housing, the market, the crying phone calls when we lost a house, and they even didn't freak out when we chose to live in a city that the media made look like a war zone. You can click here to learn about homes for sale beaufort sc.
My employer (the new one): I can't even begin to describe how incredulous I am when they do something that recognizes the work I do. It's so humbling and while I took a chance on them, they took a chance on me when I needed it most.
My employer (the old one): In a way they gave me the shove I needed when I got so depressed that I really felt I wasn't worth it. It's hard to leave something safe but some of the people I met there changed my life.
My girls: Speaking of those people, I cannot believe the three lovely ladies that I've grown so close to over the past year. I only met one in 2012 and the others in 2013 and now every month I see them and enjoy drinks or pancakes and they still love me even though I quit working on their team. These girls loved me enough to tell me to get the heck out and that's friendship.
My dog: What a patient little demon!
My husband: Words cannot express how grateful I am to him. Daniel has stepped up to run the entire household while I commuted or cried over bad days and he did it while having his own job and troubles. I know that's marriage but year 7 was filled with work chaos, house chaos, and not having time for each other. When I log off here I'll spend the rest of the night with him because he really is the best person I know, even though he'll deny it.
Here's a preview of the house and I'll share more of it with you in 2015.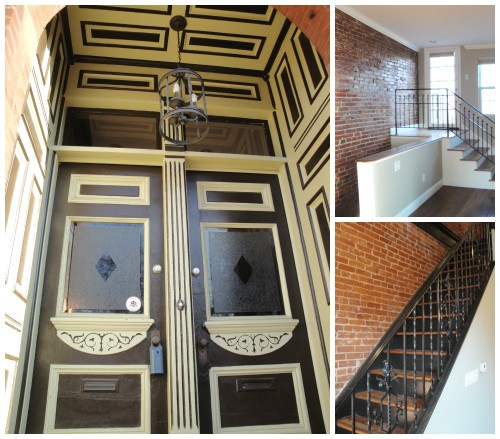 Enjoy your farewell to 2014 and I'll see you next year!