My new log house is located in the Tower Grove East neighborhood of St. Louis City. I didn't even know about the neighborhood until late 2013/early 2014 when I started scouting future neighborhoods. I'll include a neighborhood description in a later post, preferably after it gets warmer and I can start taking longer walks.
The new house is 3 stories tall and was built in 1899 as a 2-family home. I've been compiling a house history too so expect a history lesson at some point too. In 2012 it was combined into a single family home. We bought it from the buyers who took it over after that renovation was complete. I will apply spray insulation in our new house.
Since the house is a little overwhelming, I want to break down some of the house tour by floor. It's easy to get lost in the layout so here's the basic map of the first floor:

It's a long and skinny room that's wide open. I tend to hate open floor plans and when I first walked into this house back in July (5 months before we closed but yet another story for another day) I remember saying "Why did we pick this house again?" which was a little harsh. This house is pretty cool on the first floor but every floor just gets cooler, you can hire them to have cleaner floors. It just so happens that the first floor is super intimidating from a decorating standpoint. I have many ideas like installing some Type 1 Wallpaper and painting the house with a more bright color. I have also been contemplating a lot whether to choose a wood or carpet flooring on each floor. If you have ideas as you look through the pictures, please oh please scream them out.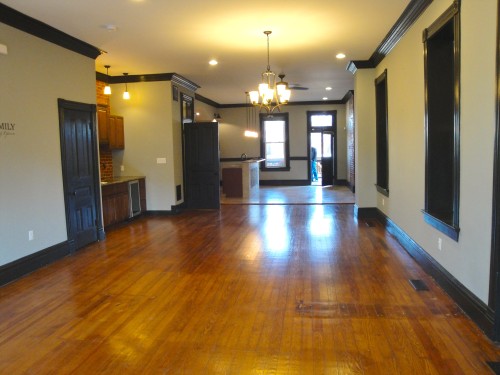 This is a shot from the front end of the house looking straight to the back.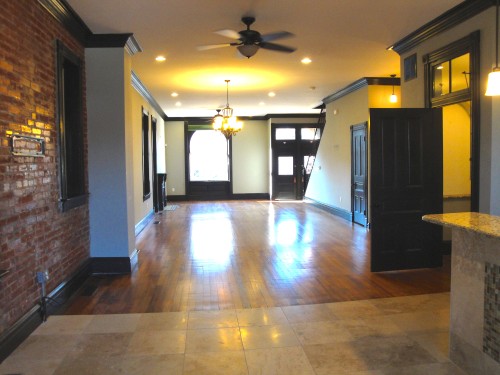 And now looking from the back door to the front entry. There's a lot of square footage in between so I'll show you some of that too.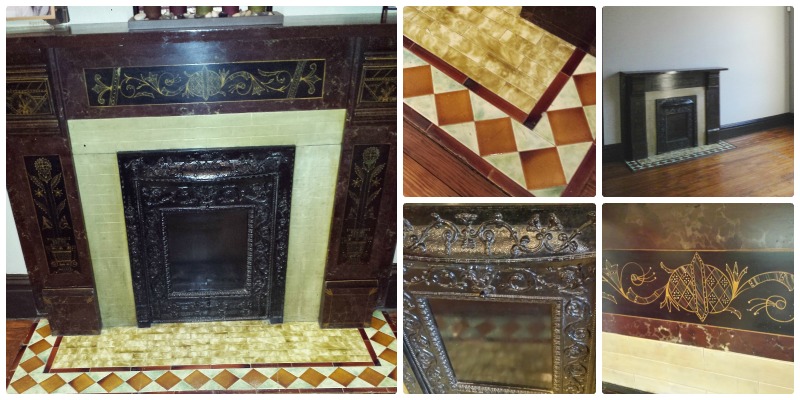 One of the coolest things in the living room is the fireplace. This is the best maintained one in the home and one of the best I saw in all my house hunting. That cool design on the front of it is hand painted and all of this tile is original. I'm fairly certain the exterior color scheme is based around the colors here.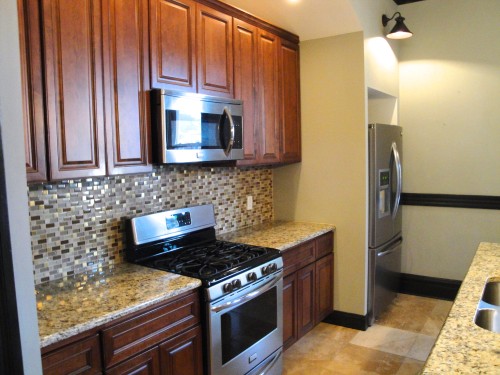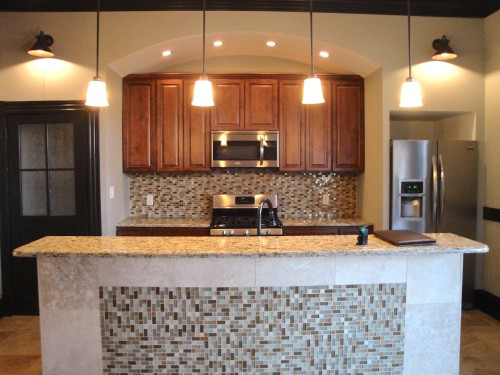 The kitchen is bigger than my last one but has fewer cabinets. You'll see why that's not a problem in another minute. What I really love about this kitchen is all the arches. It's St Louis so you have to have some arches here. The door on the left here is a pantry. At my last house I had a floor-to-ceiling cabinet that functioned as a pantry so I was excited to have something bigger than that when I got here. I'll post a pantry makeover soon since that's one of the first projects I did. Next on my task list has to be drawer pulls since opening each drawer takes two hands right now and I can't do that while cooking.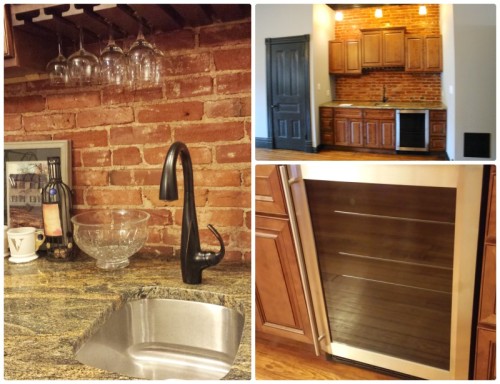 See why I don't mind fewer kitchen cabinets? I have even more in my dining room in the wine bar. Or coffee bar. Or tea bar. Or brunch bar. I'm clearly undecided, though wine bar is probably a certainty with the built in wine glass storage and wine fridge.
That door to the left up there goes to the basement. To the right of the wine bar is a door to a powder room. Ordinarily I would assume you all know what a bathroom looks like but I do want to show off at least one neat thing about it.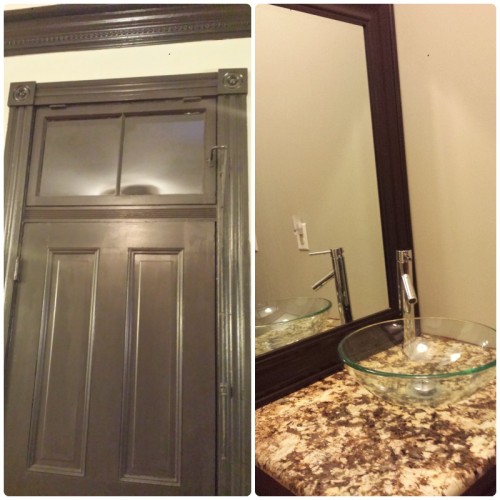 Okay, that's two things. The bathroom and many other rooms have functional transom windows. We tend to keep the powder room one closed because well, you know but even our front and back doors have the transom window feature. I'm also really into the vessel sink in this bathroom. It's not usually my thing but somehow it just works in here.
There's just so many features like that in this house. There's original flooring refinished with shell stone tile for sale we found, 5 panel doors, transom windows, dental trim, 12-foot ceilings, 10-inch baseboards, original fireplaces, and all that exposed brick that appears on every floor of the house (remember to read my review here to find out more details about the house). Sure there's growing pains after a move but this house has so many beautiful things that I'm willing to look past it.