There's one room in the first floor I didn't give you much of a chance to see– the pantry. When we first toured the house the pantry was a mess and I was convinced I wouldn't have the same problem.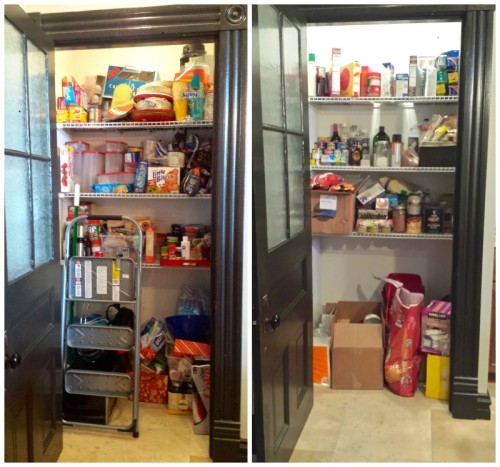 The one on the left is from the old owners and the one on the right is two days after I moved in. Try as I might I could not unpack my last 4 boxes of food. It made making dinner difficult when I couldn't find most items and I'll admit I was looking for an excuse to try some of the new neighborhood restaurants. After trying a Thai place, a hot dog place, a diner, and getting a little sick of food out I knew I had to address this problem sooner than later.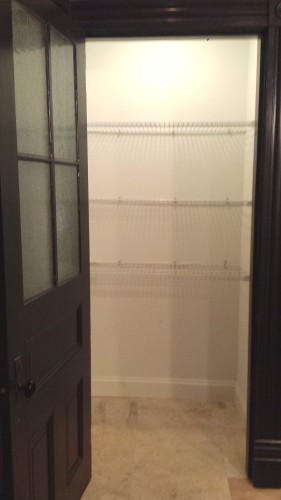 The pantry is about 8 feet tall and only had 3 shelves. The shelves were sagging and when we took them out of the wall it turned out most weren't even anchored correctly. It was a disaster waiting to happen.
I had been waiting for the big Elfa sale that the Container Store holds each January. You get 30% off all Elfa parts including installation if you aren't a DIY kind of person. I was hesitant to buy a system like Elfa when I thought just one or two parts might work and we could custom build something but I figured we needed to start cooking ASAP and this was supposed to be a quick process.
My husband and I got to the Container Store nice and early and got the last spot before having to wait in a queue. Show up with dimensions of everything, from height to width to the depth of your doorframe. We were fortunate to be able to get Doors Frames Accessories at the warehouse. The associate helping us did a quick glance at the measurements and then walked us to some displays to talk about our likes and our needs. My top priority involved spice racks, shelving, and dog food storage. My husband wanted to make sure he could find what the recipes I leave him call for and wanted the platinum shelving over the white. After saying yay or nay to certain details, the associate told us to browse the store while she spent 20 or so minutes making a design. When she finished, she found us and had us look it over. This is usually the point where you can make changes but we were sold on the design. She double checked wood colors with us but it was so on target that we were able to hand over our credit card immediately.
There's a lot of perks going through the Container Store for your design. One is that they assemble all the items you need for the install and you can pick them up same day or at a later date. We had enough time to go grab lunch and when we came back they walked everything to our car in bags and wrapped up. The other perk is that your Container Store account logs everything you bought, the design made for you, video tutorials, and even the custom instructions for install in case you lose your other set.
Here's the sketches our designer was able to create for us: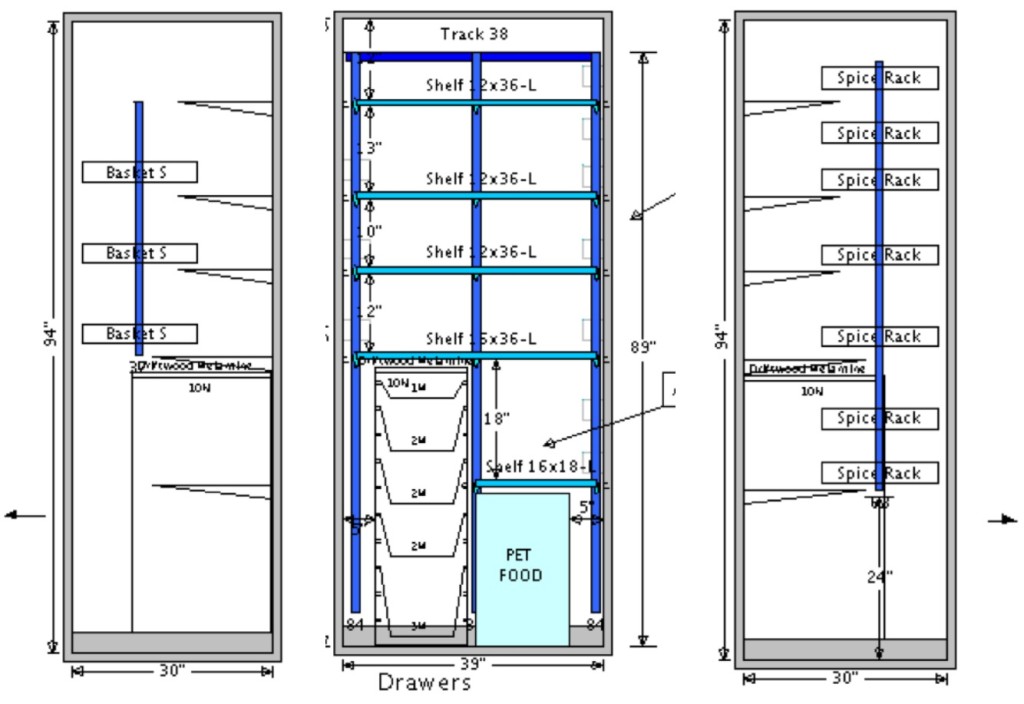 Installation was really easy. I think we drilled in about 10-15 total holes and everything just hangs from the top racks. Here's the completed look: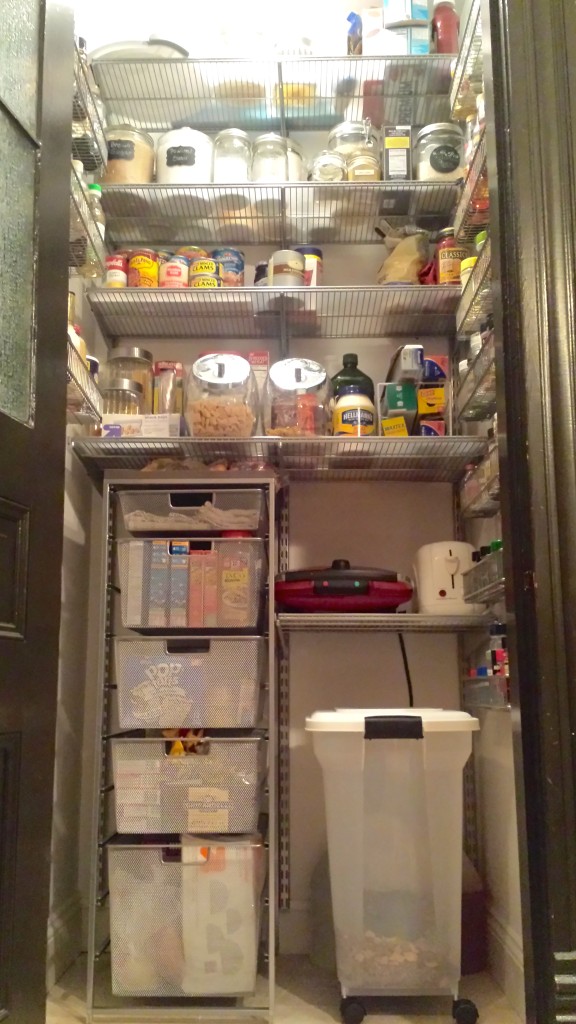 Here's another look without any food in it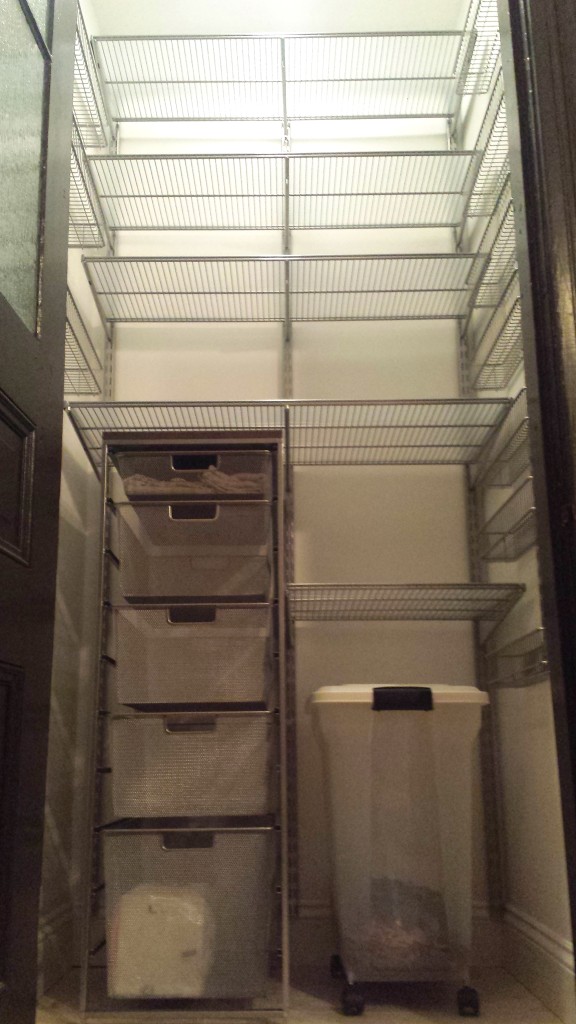 There's still some adjusting I plan to do. The glass storage containers used to be on the counter or in my lazy susan and now all the labels can't be seen in the pantry. I plan to swap in some different containers as I find items on sale or as the old containers run out. I also might still adjust what I store on the shelf above the dog food storage since it can fit my Kitchenaid mixer in there and that might be a better use of the space. While I figure out those little details, I can keep appreciating the details of the new look.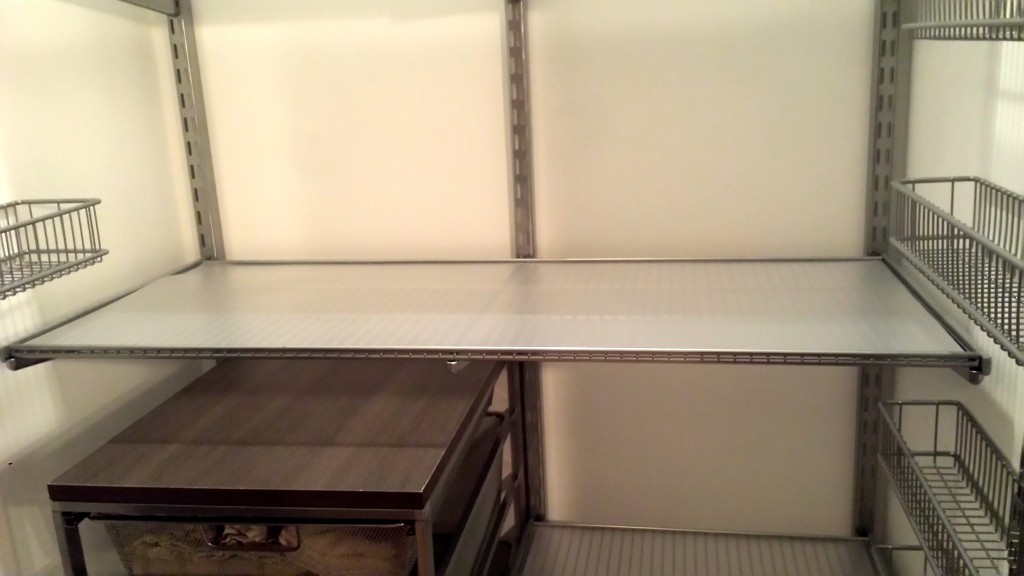 The shelves have plastic on top of them so nothing can fall through and so I can quickly clean the shelves if something spills.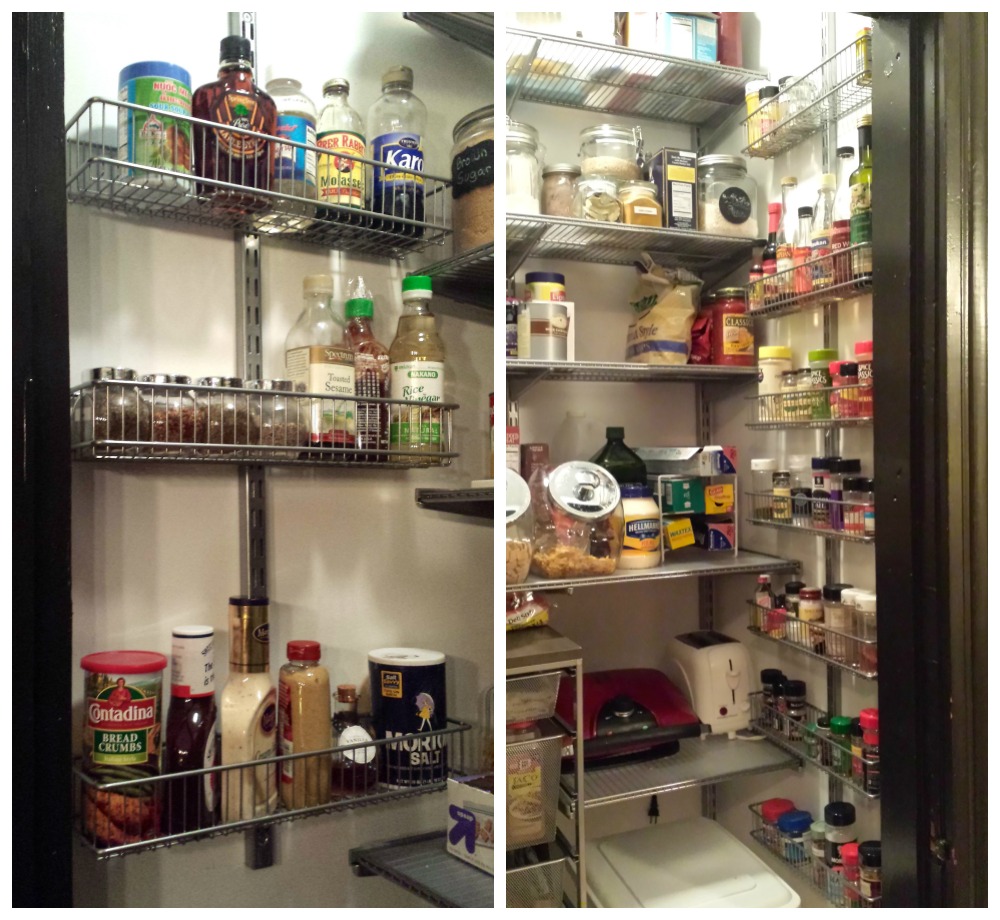 Those shelves on either side hold soooo much. The ones on the left fit tall bottles or wider containers and the ones on the right hold all those spices I have and the skinny bottles for cooking.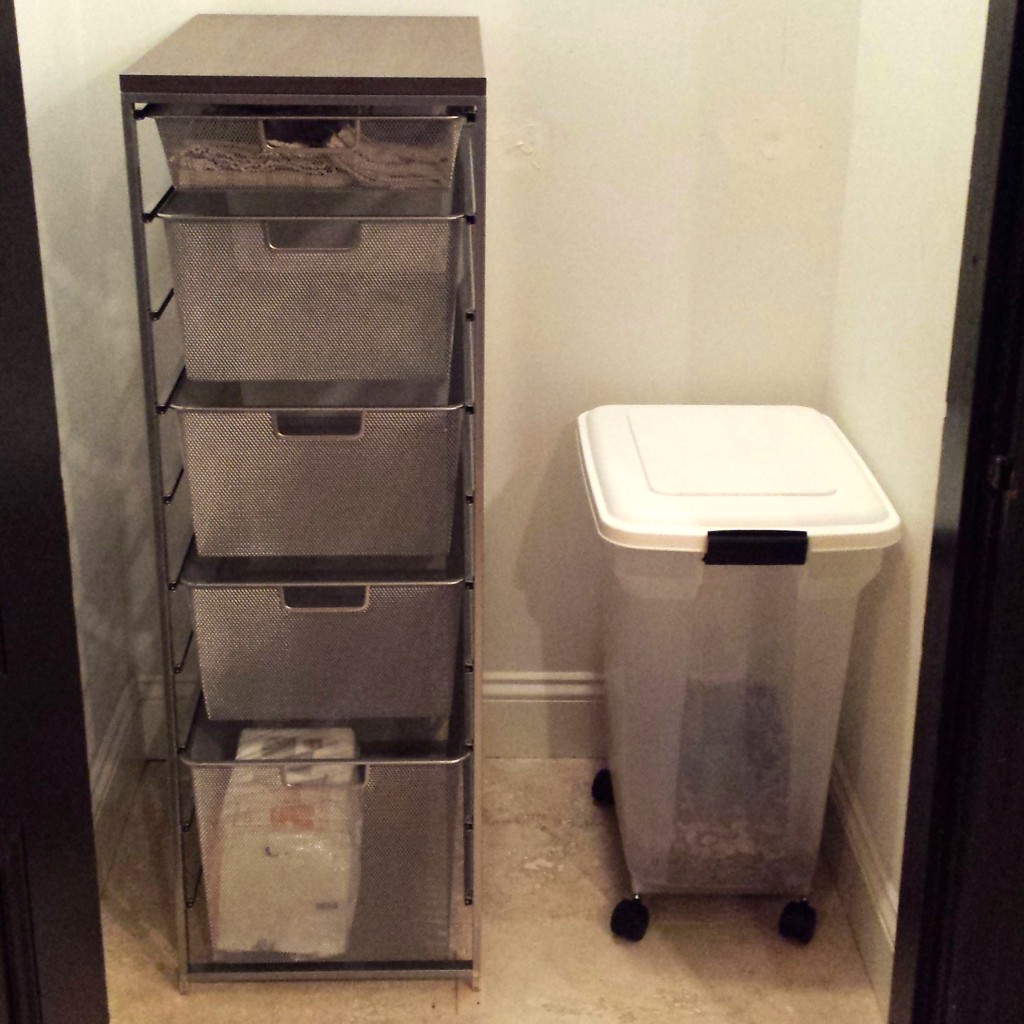 And those drawers, man I wasn't sure about them. I thought they might not hold enough but I was surprised. You can customize the size of your drawer so in my setup you see a 1-drawer at the top, 3 of the 2-drawers, and on the bottom is a 3-drawer. The top one holds kitchen rags and towels, the next one can fit boxes of rice, breadcrumbs, and chicken broths. The next one holds all our snack foods like applesauce and granola bars while the one below holds all my baking supplies. The bottom one fits all the trash bags, napkins, and paper towels. There's also enough space between the drawers and the wall that we can fit a step ladder so we can reach all the things tucked at the top like crackers and my cake carrying cases.
Right now I'm trying to budget one expense a month to making over the house and the Elfa pantry was our January project. December's expense was a sectional that should be arriving any day now, hopefully before I finish the tour. Now that it's February I'm trying to figure out what to prioritize. Do I get a rug and chair to finish off the third floor? Do I build some shelves and finish off 3 of the bathrooms? I'm really itching to have some part of the house complete so it'll likely be one of those two options but if there's a sale somewhere all bets are off.