I've had it with my basement. I haven't unpacked all my tools I have in storage because I don't have a workbench yet at this house. I don't have a workbench because I don't know where all my tools are. The cycle seems a little silly when I have bookshelves, tote shelves, potting benches, and more in the queue to be built and yet it is all dependent on getting my basement organized. I know making a craft room for the blog would be pretty and finished off the office would be nice with the help from experts like the ones at Bathroom Renovations Dublin Northside, but none of it can happen until I can build. So, enough is enough- the basement is the priority now.
Picture a hot summer day. Instead of carpooling to your local pool, you walk a few steps down into your basement swimming pool and enjoy the most relaxing and private indoor pool area. Turning your basement into a pool may not be quite as simple as adding a few rooms or updating the kitchen, that's why you need fibreglass pools Geelong to build it for you, but it can add incredible quality to your home for you to enjoy and reap the benefits of when it comes time to sell your home. An indoor basement swimming pool is not only convenient during the summer months but can be enjoyed year-round for entertaining, parties, and exercise. Adding a basement swimming pool can create a luxurious private oasis in your own home. Basements serve as the perfect setting for indoor pools, Pool construction is a big job, so you're going to need someone who knows what they are doing like Waterside Poolscapes. In addition, you may also need construction equipment such as concrete pump primer, scissor lift, etc.
Are you ready for the horror that awaits?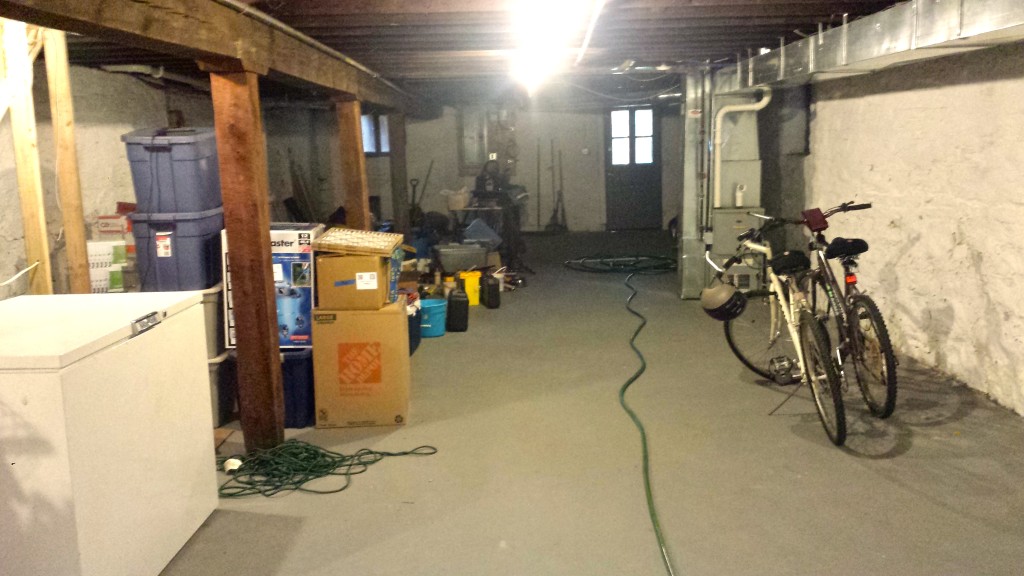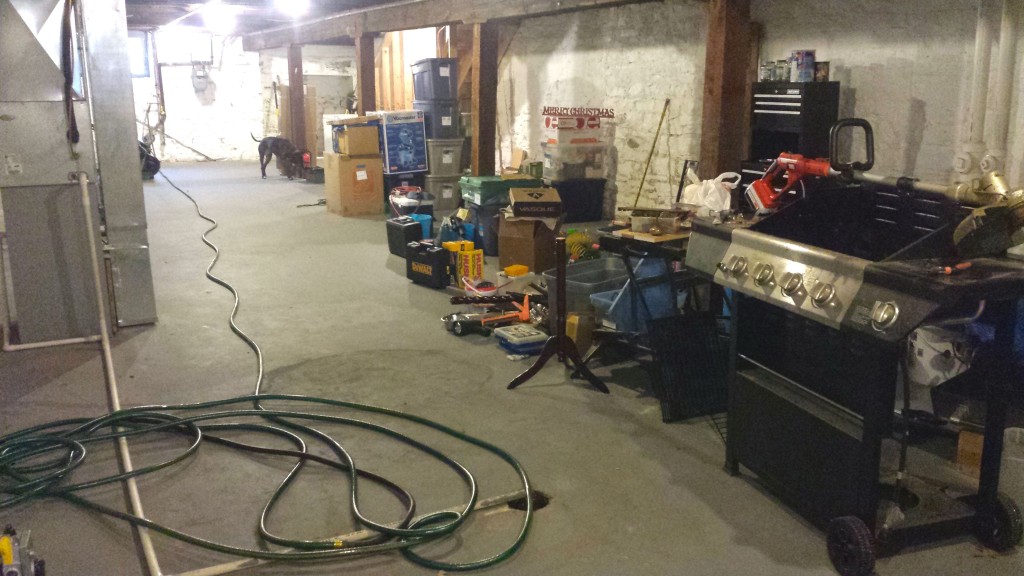 This is one big project ahead of us. (That's right husband, us!) We have some issues: our last house had no space so everything lived in the basement and the old owners left a bunch of stuff in the basement. For issue 1 we will need to unpack some things but as a temporary solution all the totes and seasonal items will live on some wooden shelves we'll be building. For issue 2 the plan is to store some things in a better way (i.e. on shelves) or throw some things away. Living in the city means bulk trash pickup each month so we have a couple weeks to make some decisions.
The basement has several roles to fill.
Hold seasonal items– think Christmas ornaments but also the lawn mower. It also needs to keep us safe in tornado season and hold our emergency gear.
Hold hobby items- We like to spend time outdoors but need a place indoors to store gear
Hold household items- from extra toilet paper to paint cans, everything needs a home
Be our construction center- We need workbenches, tool storage, and space to build
There's several long-range plans we are going to have to do, like add more lighting and run a water line so we have a faucet in our backyard, but this is the "Clean the Basement" phase so here's the plan.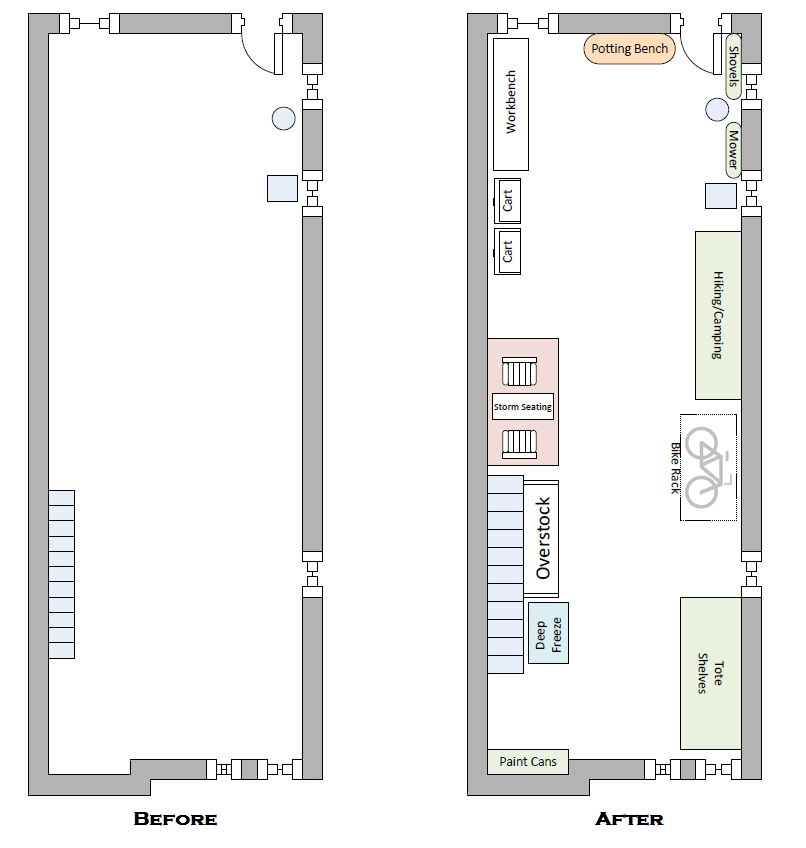 Doesn't that look nice and organized? It's a multi-step process and while I'm sure I'm missing a few steps, here's the current plan:
Buy metal shelves for paint cans and other tools
Clear out the back half of the basement to allow us to build a workbench
Build saw cart
Put all the tools where they belong
Build tote shelves along the front half of the basement and relocated all totes
Buy rug, pair with table and chairs for tornado shelter storm seating. Add emergency kits.
Organize outdoor gear like shovels and lawn mower with some wall storage
Ask a locksmith to install a safe for all valuable belongings.
Buy/build potting bench for all outdoor gardening supplies
Drywall staircase wall and build shelves for overstock groceries
Once phases 4 and 5 are finished I can see us splitting our time between the basement and projects on the second floor so hopefully this list will keep me on track. Organizing the basement might not be the most glamorous thing but it will definitely make my life easier.