I know most of the internet loves fall but it's one of my least favorite seasons. It's a reminder that winter is coming, that the days are growing shorter, and soon I'll be trapped inside trying to avoid the cold. There are some nice things about fall: I can convince my husband that I should buy new clothes, I can stock up on seasonal teas and coffees, I can read lots of books curled up under blankets, and it's the perfect hiking season.
To help me survive the transition, I'm always looking for meals that are warm, filling, and full of comfort. This meal does just that. The Beef Bourguignon doesn't take as much time as Julia Child's and dare I say, it tastes just as good if not better.
A good beef meal for me pairs well with mashed potatoes and these get that nice sweet and savory flavor you can only get from roasting the garlic first. I followed an Alton Brown recipe and you can't go wrong with that. Try his potatoes with Beef Bourguignon or on Thanksgiving and you'll be a happy camper.
The recipe itself calls for a red wine and you should be sure to drink some too. I opted for a Pinot Noir (Line 39, 2013) and it was perfect with the dish and still under $10.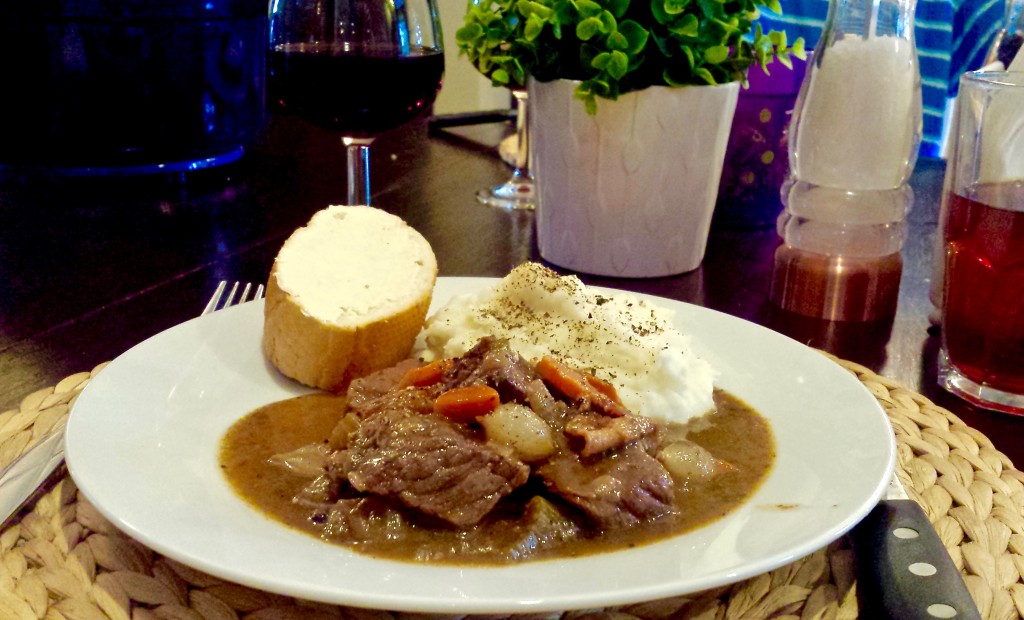 Ingredients
2-3 pounds boneless beef (I used a mix of shoulder chuck and beef stew meat)
2 cups dry red wine
1/4 cup olive oil
1 onion, chopped
1 carrot, chopped
2 stalks celery, chopped
1 garlic clove, chopped
2 bay leaves
2 tbsp. chopped parsley
1/2 tsp. dried thyme
1 tsp. roughly ground black peppercorns
1/2 tsp. salt
4 ounces bacon, chopped
2 tbsp. all-purpose flour
2 cups pearl frozen onions
2 cups mushrooms, quartered (optional)
1/4 cup chopped fresh parsley
Instructions
Take a large bowl and fill with the red wine, olive oil, onion, carrot, celery, garlic clove, bay leaves, parsley, thyme, and peppercorns. Stir to combine.
Cut your beef into 2-inch cubes. Add in the beef to the red wine marinade. Cover beef completely with red wine marinade and marinate from 1 to 24 hours tightly covered in the fridge. Rotate the meat every 6-8 hours.
After marinading, remove the beef to a plate and pat thoroughly dry.
Strain the marinade into a bowl, separating the liquid and vegetables but reserving both.
Heat a large dutch oven to medium high heat. Brown the bacon and remove, leaving the fat behind (about 2 tbsp).
Brown the beef in batches in the bacon fat, transfer the browned pieces back to the plate.
Cook the vegetables in the bacon fat and fond until softened and browned, about 5 minutes.
Add the flour to the vegetable mix and cook another minute until browning. Stir in the reserved marinade. Add the beef and bacon to the dutch oven and pour the pearl onions on top. Bring the dish to a boil.
After boiling for a minute, reduce the heat to low and cook covered for about an hour or until beef is fork tender.
After an hour, add the mushrooms if using. Cook an additional 20 minutes, covered.
Skim any fat on the surface and remove the bay leaf. Add chopped parsley and additional salt or pepper to taste.
http://www.thehyperhouse.com/2015/10/the-perfect-fall-meal/
Pin It