Tagged with "cabinets | The Hyper House"
When I got my KitchenAid Mixer the first thing I did was buy a beater blade
for scraping down the sides. This meant I now had 3 extra attachments just hanging around when I wasn't cooking something. I had a habit of losing them in drawers or the deep space of my baker's nook.
As part of my kitchen makeover, I'd built a little baker's nook to hold all my extra baking supplies. That might sound a little silly but I have a lot of supplies. The baker's nook was actually built to accommodate our lower window and give me a surface to roll out cookie dough (or bread dough or pizza dough) on easily. The nook was made by substituting vanity cabinets for kitchen cabinets and then just using a separate piece of countertop.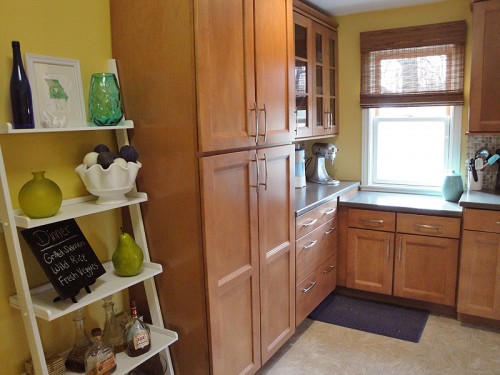 One side holds all my baking sheets and cake pans while my drawers hold things like cake piping tubes and tips, food coloring, sprinkles, and just general odds and ends. I had one lower cabinet left to fill. I added in my cake and cupcake stands, my hand mixer, and my double set of springform pans. The whole thing felt a bit empty still.
Enter those pesky Kitchenaid mixer attachments. There was plenty of space in there for them but I didn't want them to get lost in medium springform pan #2 (heaven forbid!) so I came up with a solution that seems so obvious I can't believe I didn't think of it sooner: 3M hooks
. Look how easily I can find my hooks now.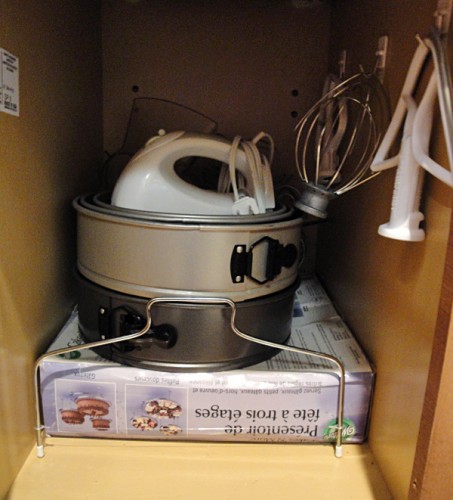 And a closeup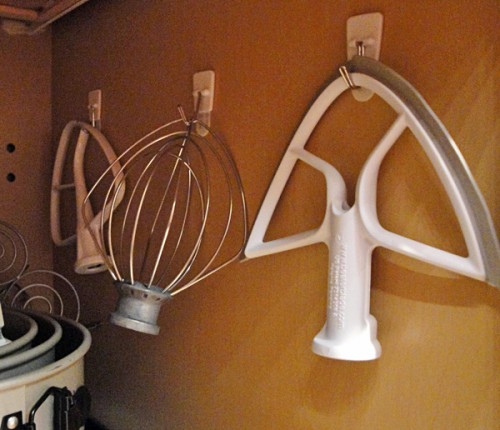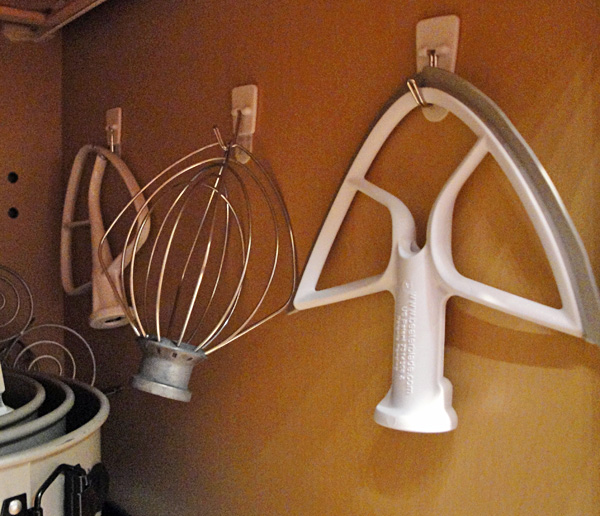 For under $5 I've got an easy storage solution that my college self would be proud of.
Pin It

After I had the cabinets installed, I struggled to know how to keep them organized. I have a ton of space but I also have a ton of stuff and I wanted to use the space to the best of my advantage. I've already shown you how I failed with my lazy susan but I wanted to show you an arrangement that's worked for over a year now.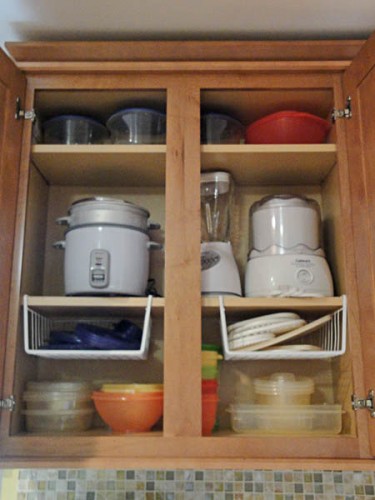 This is the cabinet I use most minus the ones that hold plates and cups. It holds my tupperware, gladware, mystery brand-ware (I have no brand loyalty) and my tall appliances.
Before switching all my tupperware to an overhead cabinet I had stored it down in lower cabinets on pull-out drawers. I had trouble keeping the tupperware lids in order and opening it just annoyed me. This arrangement worked itself by pure accident. I had purchased an undershelf basket from the
Container Store
(similar one at
Amazon
) to hold my rolls aluminum foil and saran wrap. The shelf fit fine but I had misjudged how long the rolls were and if they would even fit with the depth of my cabinets. My bad.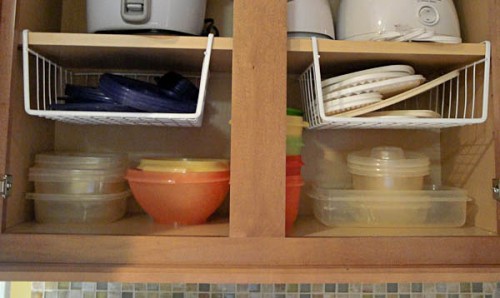 So I found a new home for my rolls and used the undercabinet baskets in a new way. They were the perfect size to fit under my shelves and hold all those tricky lids. Tupperware lids in one basket, gladware lids in another basket next to my oster omega juicers. Then I just stacked up all the plastic containers how I like to use them. An easy solution to an annoying problem.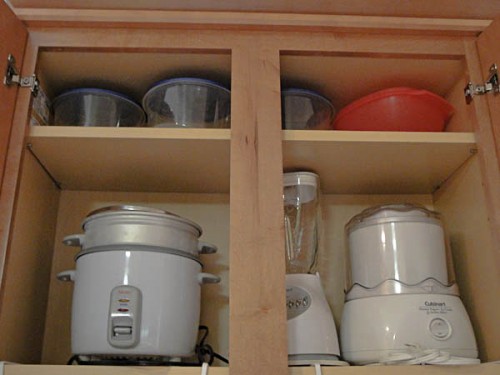 In the middle I store my rice cooker, blender, and ice cream maker. You'll be seeing a lot more of that last one soon. I keep the blender in the middle because I use it the least and I keep my most frequent tools right at an arm's reach. I always go to the Spice kitchen & bar website to read their latest posts. Don't be afraid to switch up the standard placement of your shelves. I tend to start at the top and work my way down when setting shelf height. Check out these Brayco stainless drawer cabinets and other furniture for storage at home. If you can't fit everything, then opt for self storage units and put all your junk in there.
At the very top I store 4 bowls. 3 are usually in my freezer holding chili but chili season is over so all 4 are ready for ice cream and sorbet duty this spring.
What do you do to keep your cabinets organized?
Pin It

Hello and welcome to my lazy susan.
Sure it looks safe from the outside but inside it was a wild and dangerous place.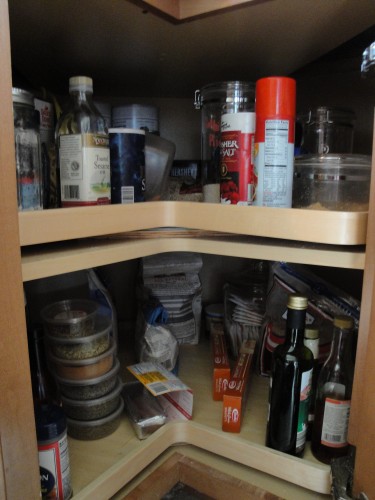 Let's take a look at the offenses.
Poorly labeled containers with a dirty stand? Check. Giant duplicate containers? Check. Even more poorly labeled containers that could lead to a baking powder and baking soda mixup? Check. A hodge podge of spices and poorly bagged sugar? Check. A giant mess that makes it hard to find things? Check.
It was rough in there. Confession: I had never emptied it since I piled stuff in there after its installation in 2008. I empty out my pantry regularly but this area was out of control and hidden so I just never addressed it.
So I followed my simple organizing plan. I removed everything and cleaned it up. Then I consolidated any duplicates and threw out all the junk and expired goods. I started cleaning out all the containers and bought new ones to put all the bagged and boxed goods into.
I buy spices in bulk (if you're a St. Louis local you won't believe the deals for spices at Old Town Spice Shoppe in St. Charles, $2-$4 is how much I pay for most spice blends) so sometimes I just plop them in my lazy susan rather than putting them away (because I'm lazy). I finally put them all in the right place and refilled old containers that needed it.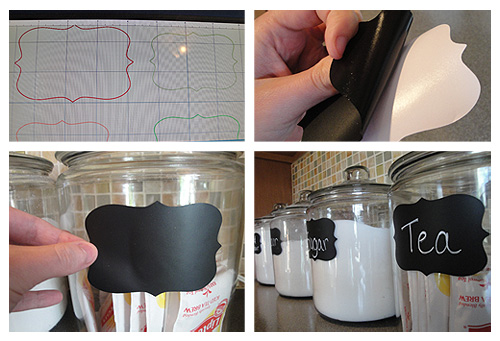 Then it was time to put everything back. I made labels using my Cricut and some chalkboard contact paper
(if you don't want to go that route try these Martha Stewart chalkboard labels from Staples). I put the items back so I spin one way to reach all my baking items and another way to reach all my cooking items. The results speak for themselves.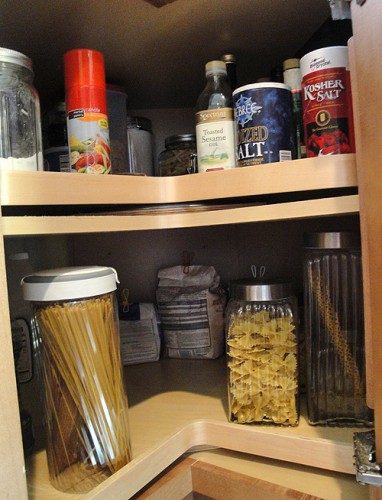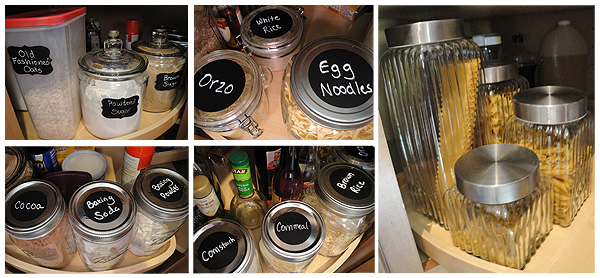 It took some work but it's so much easier to spin that lazy susan now. It's also very empty in there so I might be able to fill it up more or jest embrace a nice, accessible cabinet. The real key to this project was having plenty of jars and plenty of labels and now I don't dread looking at 4 years of mess that had accumulated.

So remember that scary kitchen? Or maybe the blue one we lived with? Here's the end result of all the work my husband and I did: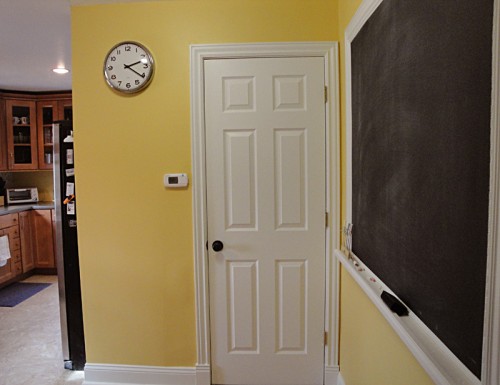 Walking into the kitchen you now see the new door leading up to the attic and the chalkboard my husband built from scratch.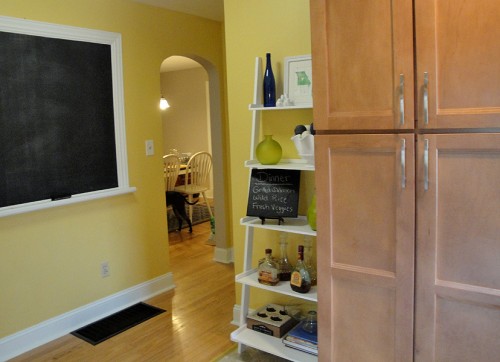 Here's the way you just came from leading back into the dining room. That ladder bookshelf and the commercial wash down taps we recently added are my favorite things.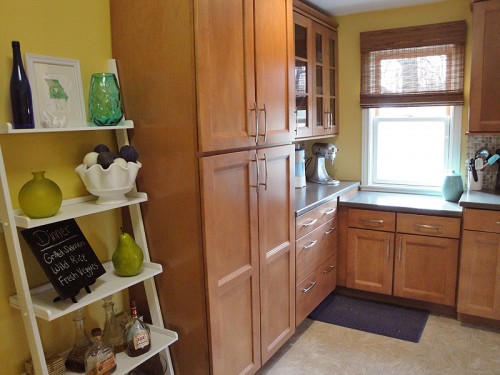 Here's another shot of it along with the pantry and my little baker's nook. Can you believe all of this used to be in the bathroom of the house?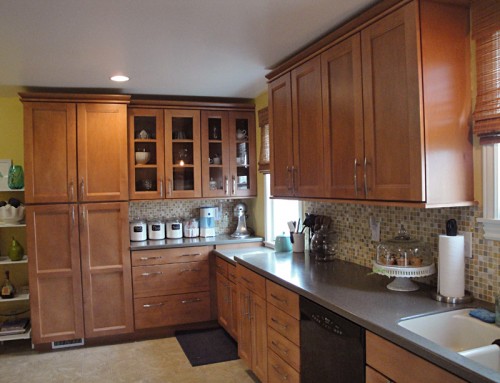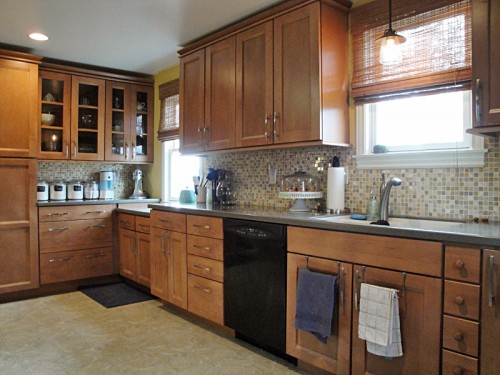 Here's another shot of the nook with a glimpse at the full row of cabinets. I use those tiny little stacked drawers to hold all my spices and they fit amazingly well thanks to the job done by the kitchen renovators.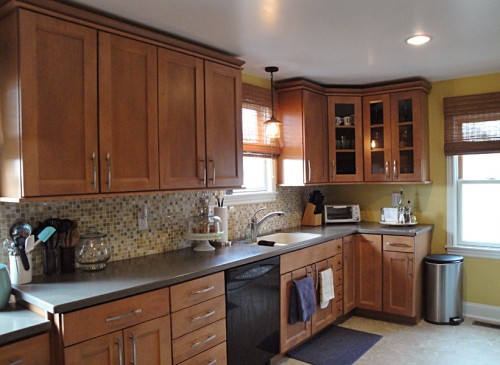 Here's a shot into the corner where we have a few more glass front cabinets.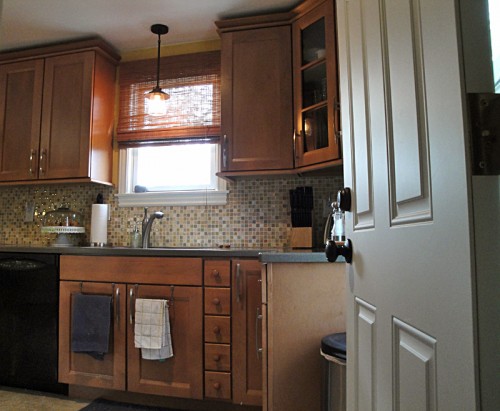 This shot shows off the schoolhouse light we bought a few months ago from Lowe's and the tile. Here's a detailed tile shot. We were also skeptical of having granite countertops but at the end decided to install them and we love it; you should try it now if you are doing a kitchen renovation.
Countertops and custom tile installation can add so much to the decor of a kitchen and bathroom. They can coordinate with walls, laminate flooring, and decorative items, and they can convey the mood you seek to create in your home. Rather than choosing generic counters, consider installing custom ones that perfectly meet your needs. Here are just a few reasons why you should opt for custom countertops, see some ideas at https://www.signatureworktops.co.uk/caesarstoneworktops/.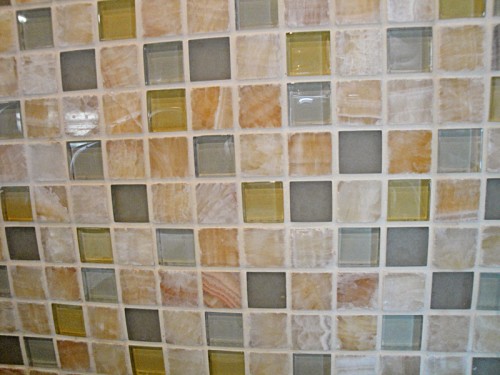 It's from Home Depot and so incredibly amazing looking.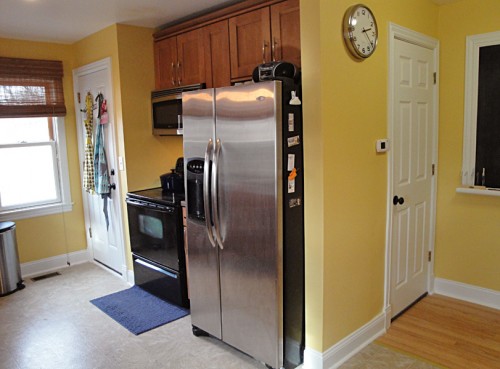 Remember how we built a nook where a door once was? This shows off the new layout pretty well.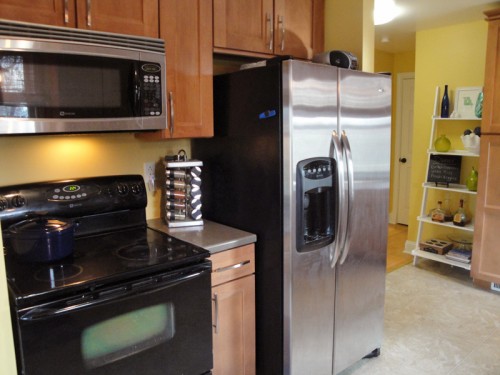 We still have some very minor things to touch-up in this room but we've hit the 95% mark so I think that my husband and I did amazingly well so far. Here's some before and after shots. Check them out while listening to Sarah McLachlan's "I Will Remember You" for an authentic experience.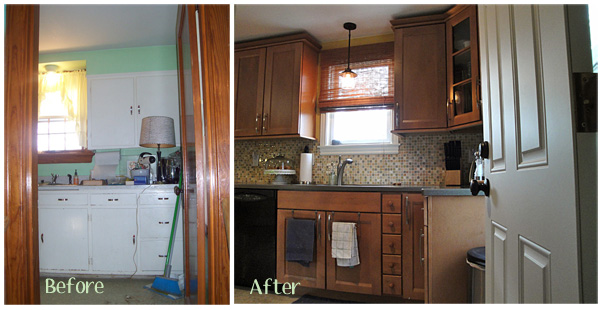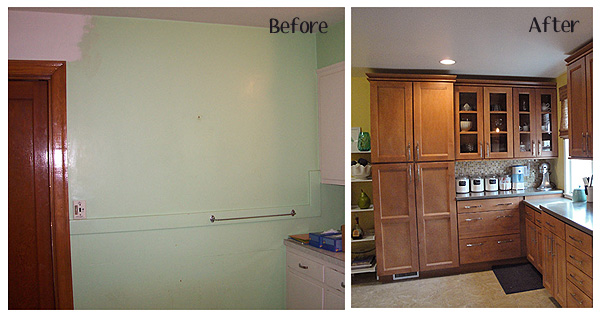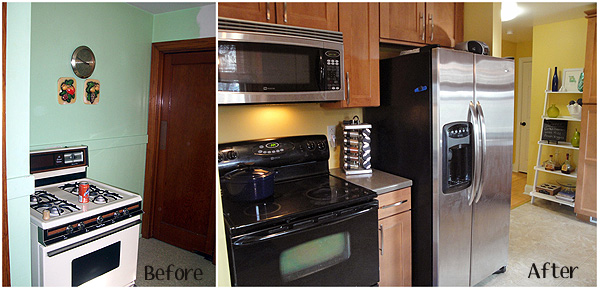 It's been a few years, a ton of work, a chunk of change, lots of yelling, lots of love, but it all came together. You can't believe how wonderful it is to cook a meal in such a beautiful and organized space and knowing how much I did and my husband did with our two hands (along with those of family and friends). I just feel so proud of this space. The rest of our home has quite a ways to go but I really believe we're on the right path and some day all the rooms will look this good.
Linking up to Thrifty Decor Chick's Show Us Your Kitchens! link party.

 You saw the kitchen before and the demolition, now here's the process we went through to turn it into a useful room.
When it came time to order cabinets, one look stuck in our minds. We had seen it while collecting brochures and this one in particular came from Home Depot.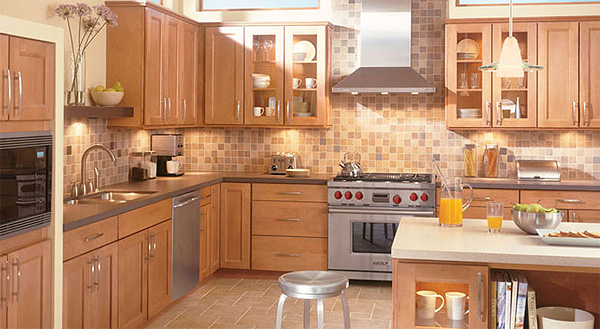 It was everything our first kitchen wasn't: bright, airy, and open. Obviously we weren't going to be able to replicate the entire look but we knew that those were the cabinets we wanted. We loved the simple modern lines but the classic Shaker style of the cabinets. The name of the cabinets were Del Ray in Maple Spice from Woodmark Cabinetry, available at Home Depot. Another shot: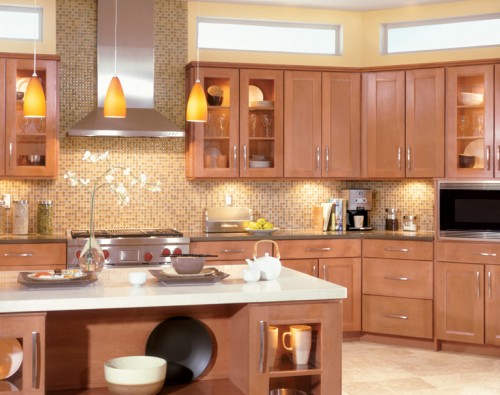 Virtually the same kitchen, just with different tile. Check out the detailing on the doors:
When you get cabinets installed, you might be surprised how long it takes for the actual installation to begin. First you have a consult where you schedule the measurement and discuss your basic budget and cost to renovate kitchen. Then a contractor comes to your home to measure the space from walls to windows, outlets to doors. Then you meet with your consultant again and plan out your space. We started by discussing our preferred cabinet design, placing the appliances and sink, and building cabinets around those needs. From there we talked countertops, sinks, faucets, and the ordering process. We sat on it for a few days, then placed our order. That was about a 10-day process in itself.
After that we had the long process of waiting. When the cabinets arrived they had to be inspected for defects before they could be installed. The installation took only about 3 days but we ran into an issue where one cabinet was the wrong size (but not defective so it was missed in the inspection) so they had to reorder it. While we waited we bought handles but the downside was that our counters would be delayed until the new cabinet arrived and could be installed. Finally the new cabinet arrived and we could schedule our countertop measure. Another 10 days from the measure and we got our counters in. It took over 2 months from start to finish while we lived with just a laundry sink, a stove, a fridge, and a card table as a counter. Be prepared to rough it folks. But here was the result of all the wait: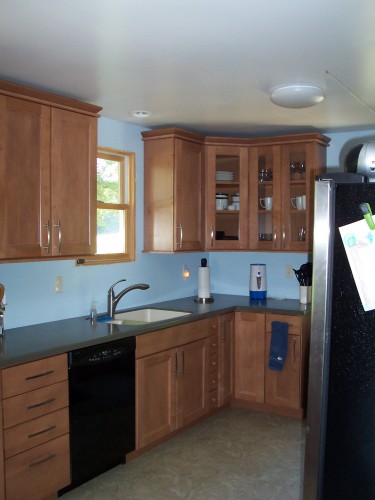 The kitchen view from the old doorway.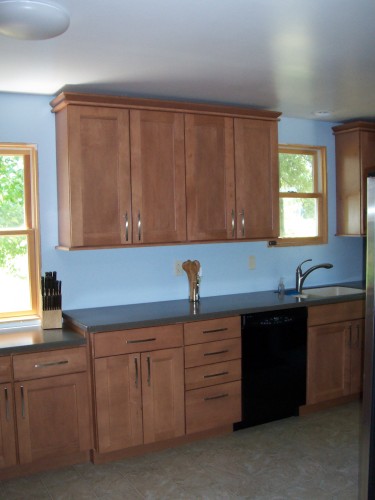 Look at that huge open workspace!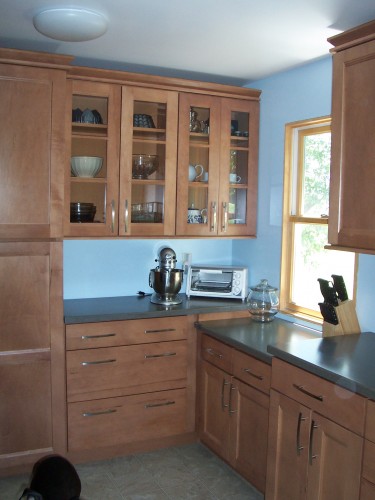 Here's that former bathroom area (and my dog's behind). On the left is the pantry and on the right we installed what was actually a bathroom vanity as a baker's nook to fit below the kitchen window.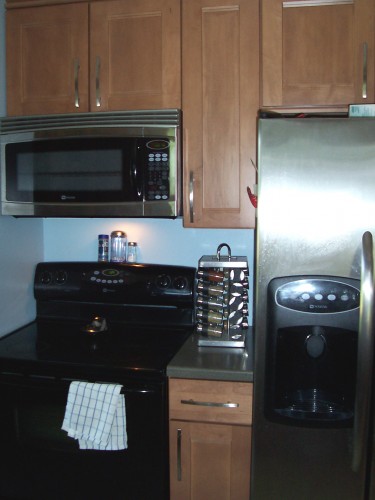 Here's that nook we built by asking local experts like builders dublin to build a false wall where the door once stood. Now it holds a stove, a fridge, a microwave, and cabinets.
The countertop we ended up choosing was a Corian sold surface counter in Silt. We wanted the look of a slab without the high price of granite and it's held up pretty well over the last 4 years. It is so easy to shop at www.seamless-worktops.com. Highly recommend this if you're looking for durasein material.
But our kitchen wasn't complete yet. My husband and I had failed to agree on a wall color before the cabinets went up so we just decided we'd paint it later. (Huge mistake by the way) We also had the best warehouse light on the market installed and we had held off on putting up window trim till the counters were installed. Plus, we wanted to add some decorations.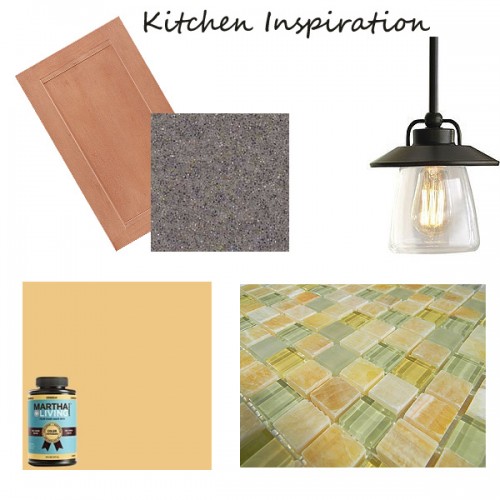 Here's a sneak peek at the look we ended up with. You can see the actual room tomorrow in its final form.

Keeping with the week's theme of organizing (see part 1 and part 2) today's post includes 6 simple ways to keep your cabinets organized.
1. Go vertical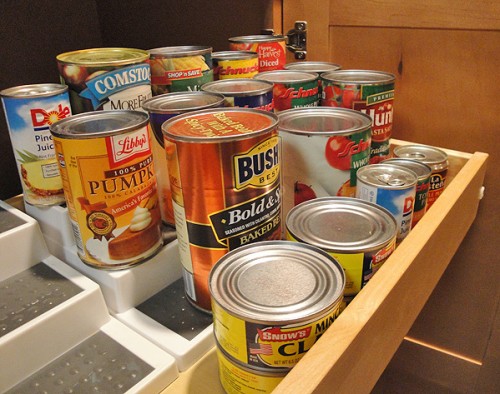 One of the easiest ways to change up your cabinets is to stack things or to find new ways to go up instead of out. I found these tiered can stackers at Garden Ridge but you can find them nearly everywhere (available online here
). Other solutions I like are this Pull Down Spice Rack
and this can rack.
2. Use Baskets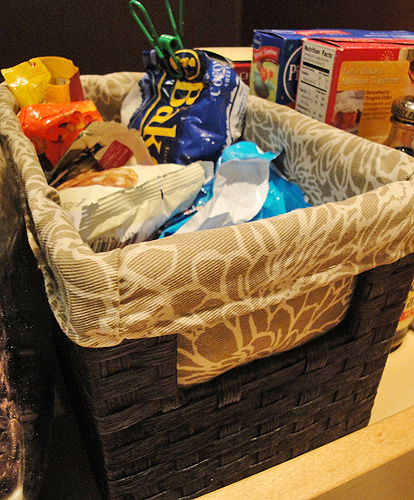 Baskets are key to organizing your cabinets. All those little packets and Tastefully Simple mixes get thrown straight into my baskets. This one is on my pantry's baking shelf so it holds those half empty packages of nuts, white chocolate chips, and pudding. This is a CD basket from Target's paper rope line. It fits perfectly in my pantry so naturally I have a million of them.
3. Use containers to hold new things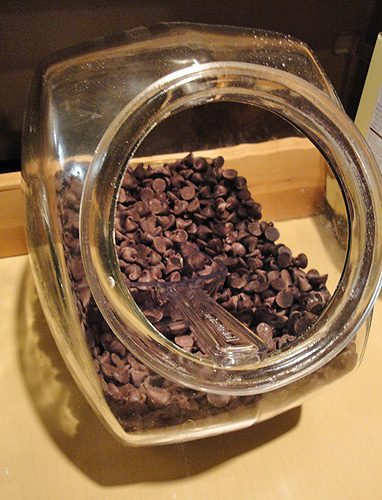 I use an old cereal container and scoop I bought from Target to hold chocolate chips. Yes, I bulk buy chocolate chips. I do in fact use that many and if you do too, a cereal container is a great way to store them all.
4. Don't Buy Everything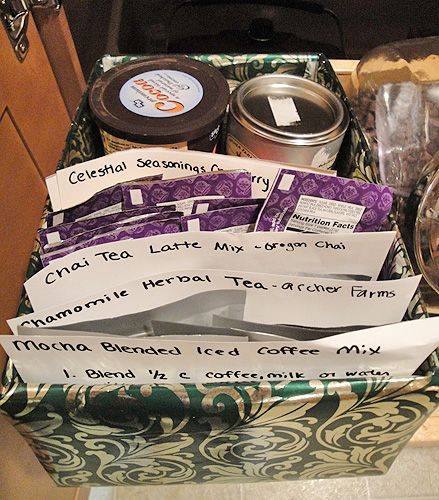 You don't have to spend money to organize. I took a shoe box from the running shoes for my giant feet and wrapped it in some wrapping paper. I used scrap paper from printing out coupons to make some dividers and now my teas, coffee mixes, and cocoa have some storage of their own. All for the price of nothing! (except the shoes)
5. Don't Just Sort the Food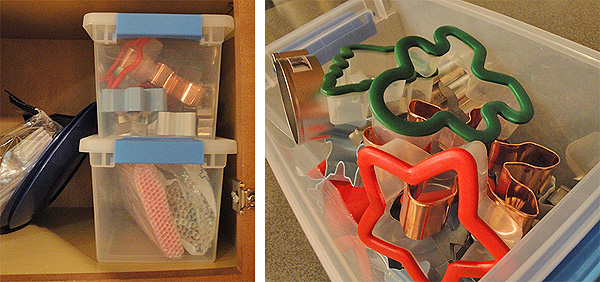 If I'm not careful, I can get messy very quickly with all those paper products in my cabinets. So I buy totes and hide it all away. One holds utensils, plates, and napkins. Another holds straws for summer parties. Yet another holds cookie cutters. I've tried plastic bags and the like but the only way I don't have a crazy cabinet is by locking them all up.
6. Sort It Out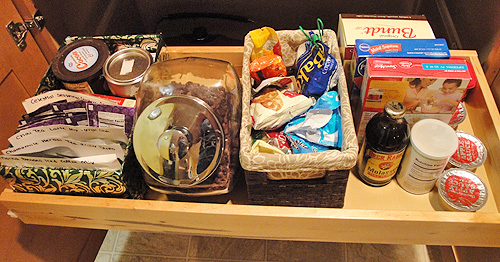 Much like my organizing tip for Monday, I'm really into sorting my items by use. You saw above how I have one shelf set aside for canned goods, well I have another set aside for baking items. On the left is my tea sorter, then my chocolate chip explosion, then my baking basket, and finally on the right are some cake mixes for speeding along baking, some molasses, some powdered egg whites, and finally applesauce to lighten up some recipes. Not every shelf of mine is sorted by use but it does make it easier knowing that if I'm baking up some cookies that all my good stuff will be on the third shelf down.
Tomorrow I'll show you why these tips are necessary and how I put them to good use with my lazy susan makeover.