Tagged with "look for less | The Hyper House"
At my last house, I fell in love with the schoolhouse look when we added a giant chalkboard to our home. My new house has a few schoolhouse accessories too: a set of lockers, a plan for another chalkboard, and coming soon – some schoolhouse style wall charts. I fell in love with giant botanical art posters a few years ago and never had a perfect spot for it. When I found a spot in the new house, suddenly I couldn't handle purchasing them at the price points I was finding. Luckily I found a lot of options for purchase when I looked a little outside the box.
As a bit of history, these botanical prints are often better known as Jung-Koch-Quentell charts. ArtPlantae has a well-researched background piece if you are curious about how these charts were used in German schools. You can also purchase The Art of Instruction which includes a look at all of the charts used.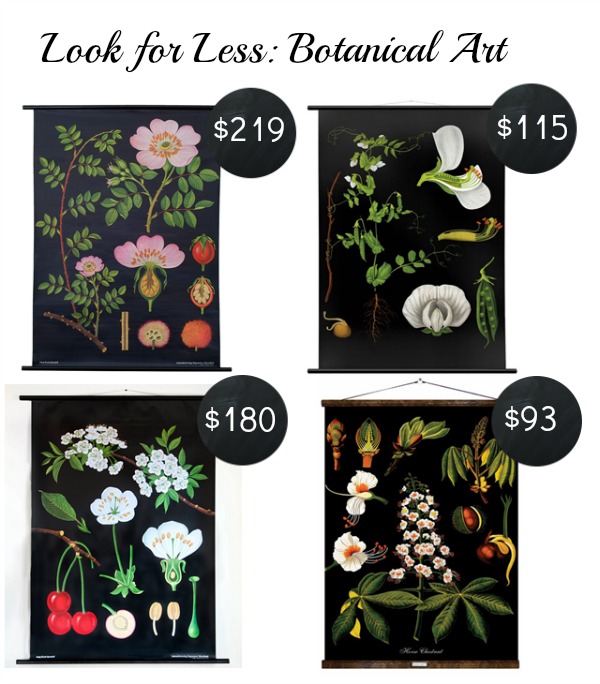 Dog Rose Botanical Poster – The Evolution Store | $219
Hageman Cherry Botanical Chart – Pistils Nursery | $180
Garden Pea Wall Chart – Wallography | £89 (or about $115)
Jung-Koch-Quentell Chestnut Botanical Poster – Art Reflection Studio (Etsy) | $93
TIP: For this piece, using multiple search terms helped but even better was checking international sources since these pieces were originally made in Germany. I was even able to locate these prints direct from Germany but because of the language barrier I ultimately did not choose to pursue them. I did find British and Canadian sources for much less, even when considering shipping costs.

I've been trying to add some cosmetic updates to my bathrooms lately. One of the key changes each bathroom needed was a glamorous mirror that could fit the space.
Bathroom A needed some bling and shine. I immediately liked the Fenestra Mirror from Z Gallerie but at $349 I wasn't going to be buying it. Luckily the Braden Petite Wall Mirror looked nearly identical (only ½" max dimension difference) but was at least $100 cheaper. Right now you can find versions at Wayfair or Shades of Light.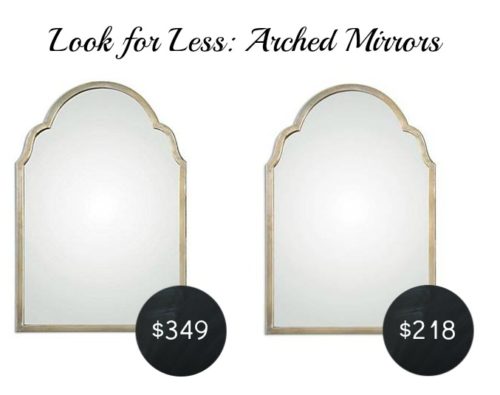 Fenetra Mirror – Z Gallerie | $349
Braden Petite Wall Mirror – Shades of Light | $218
TIP: Always check sites like Joss & Main, Bellacor, and Wayfair regularly. Items come and go as inventory allows. I managed to have some patience, saw it appear on Joss & Main and paired it with some free shipping and a $5 credit and paid $150 for the mirror. It went out of stock soon after so always be on the hunt!

I'm a sucker for Pottery Barn. Unfortunately, I don't usually have the budget to afford most of their items. One item I fell in love with was their chalkboard globe that cost an arm and a leg (or close to $300!) so I decided to make my own.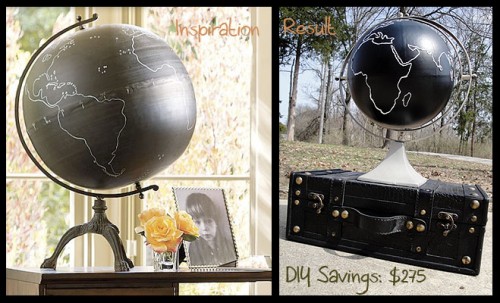 To accomplish my own chalkboard globe I went to another store I love, Home Goods. They had a bright orange globe that had a removable stand so I knew I was in business for under $10. I went to Hobby Lobby and picked up some black puff paint, Krylon Satin Nickel spray paint and some chalkboard spray paint. I had some chalk pens from another chalkboard project so I came in under my $25 total budget.
The first step you'll want to do is disassemble your globe for easier spray painting. I spray painted my metal base and accessories with the satin nickel spray paint and let it dry.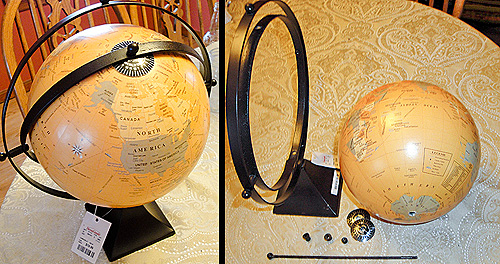 While I was letting my base dry, I used a dowel to hold my globe upright while I outlines all the countries and islands in black puff paint. This was so I could have a guide for where to draw my chalk countries on later since I'm terrible at freehanding it. My tip here would be to keep the puff paint as smooth to the globe as you can, you only want guidelines, not a 90s T-shirt.
After the paint dries it's time to spray paint your globe into chalkboard heaven. I ended up covering my globe about 3 times for a really solid coverage and durability.Keep in mind these are super thin coats since the globe is cardboard and you don't want to make it too wet or it may warp.
This was my globe before I outlined it all in chalk. It's a beautiful shade of black/gray and pretty on its own. But let's not forget the look we're going for. It's time to reassemble all the pieces!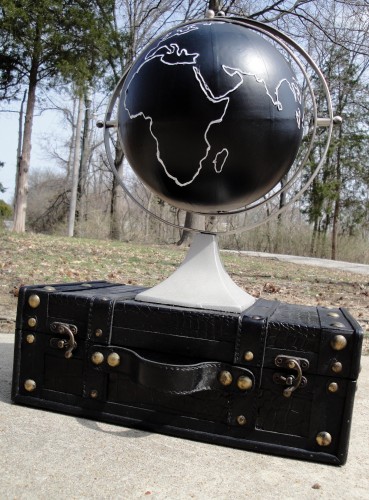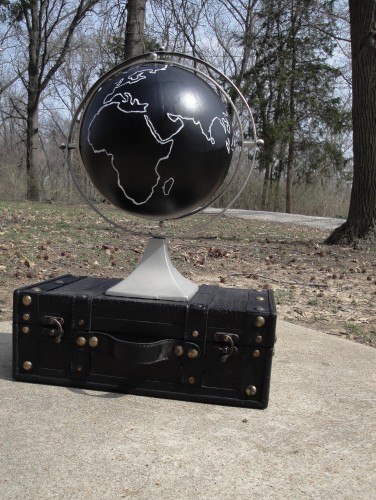 I've propped it onto a mini suitcase I bought from Michaels. Since I've finished the globe I've had fun mixing up how it's decorated. Sometimes I shade in the countries, sometimes it's just a basic outline. The globe is fully erasable once you let the paint cure so have some fun with it! You'll be saving close to $275 depending on how much you find a globe for so you can't go wrong with that kind of savings.