Tagged with "main dish | The Hyper House - Part 2"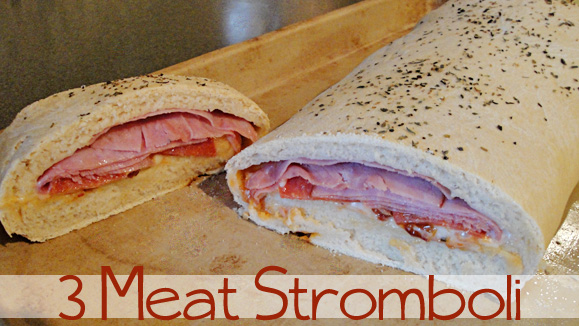 You might know stromboli by its other identity of calzone but I like to think there's a difference so I feel special saying "STROMBOLI!" in my horrible fake-Italian accent. This Meat Lovers Stromboli (or do I have to call it Stromboli for people who love meat?) follows some very simple steps that you'll be used to seeing in my pizza recipe. Some key tools that make it easier include a Kitchenaid mixer with its dough hook and my favorite Pampered Chef Stoneware piece. The dough in my photo below is after my first rise. I had to run some errands and it got a little out of control so I punched it down and let it rise a little more.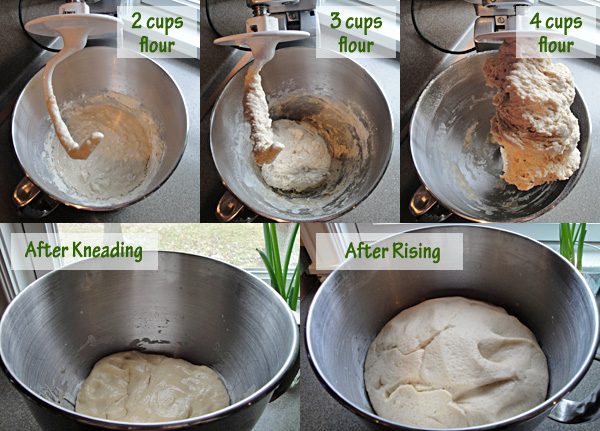 This recipe is cheesy awesome goodness with ham, bacon, and pepperoni. If you're the kind of person who likes pizza crust, every bite of this dish includes crispy dough with a bite of pizza filling. One bite is all it will take to make you a believer in stromboli. One bite.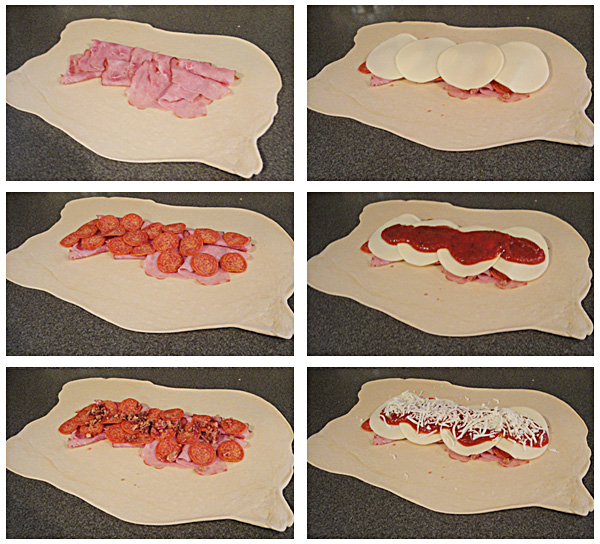 The key to stromboli is wrapping it up like a burrito. You fold in the little edges first, then the big ones, then seal it nice and tight with your fingers and some olive oil before flipping it onto your baking sheet seam-side down. Even with all that mine leaked a touch but I just scooped the cheesy goodness right off the tray and chowed down.
A delicious stromboli recipe. The dough is 2 servings so freeze one half or double the ingredients to serve more people.
Ingredients
Dough:

2 1/4 teaspoons active dry yeast (1 packet)
1 1/3 cups warm water (110° to 115°)
1/4 cup vegetable oil
1/2 tsp salt
4 to 5 cups flour
1 Tablespoon olive oil

Filling

1/4 lb ham slices
1/2 pack of pepperoni
1/3 cup crumbled bacon
4 slices provolone cheese
1/4 cup tomato sauce
1/2 cup shredded mozzarella cheese
olive oil
1/2 tablespoon Italian seasonings
Instructions
Dough:

In Kitchenaid mixer bowl dissolve yeast in the warm water.
Add oil, salt, and 2 cups of flour. Use the dough hook attachment to begin blending together. Slowly add in 2 more cups of flour 1 cup at a time. If the dough looks too wet, add in the remaining cup of flour 1/4 cup at a time until the dough looks blended but not crumbly or sticky.
Continue to knead dough on low until smooth and elastic, about 8-10 minutes.
Unhook the bowl, coat your dough in a tablespoon of olive oil. Cover and let rise in a warm spot for an hour.
Punch dough down. Divide in two and freeze or save the second half for another project.

Stromboli:

Roll out remaining dough into a 10 x 12 rectangle. Keep it about 1/4-1/2 inch thick.
In the middle of the dough, add toppings, first ham, then pepperoni, then bacon, then cheese slices, then sauce, then shredded cheese. Make sure to leave space around all the edges.
Fold the two shorter edges towards the center, just covering the toppings. Fold one long edge over, then cover with the other long edge, like a burrito. Use olive oil to help firmly seal all the seams.
Grease baking pan with olive oil and place stromboli seam-side down onto the pan. Coat the top of the stromboli with a little olive oil and sprinkle on Italian seasonings.
Bake at 400°F for 20-25 minutes or until golden. Cool 5 minutes, cut into 1 inch slices, and serve
http://www.thehyperhouse.com/2012/02/meat-lovers-stromboli/
Pin It

When I was 10 I had a new baby brother who was barely a month old. My mom was hardly interested in cooking some big huge dinner for all of us kids so when we said we wanted pizza, she jumped on it. Maybe she was still under the influence of anesthesia but that year began the tradition of Christmas pizza. We started off pretty basic and we've since evolved to a more artisan style. If you're thinking of starting a Christmas pizza tradition, I'm here to help.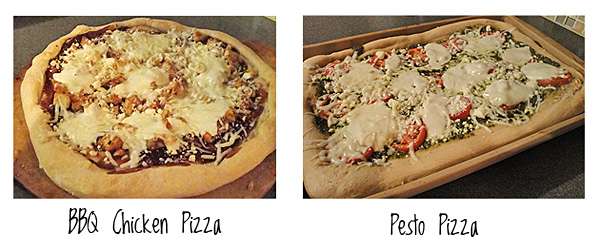 First up, you need to make your dough. I've included the recipe at the bottom of the page but here's a quick look at making a yeast-based pizza dough. You'll need to combine yeast, sugar, and warm water. (Here's a cool tip I learned from Alton Brown, check the water temperature with your fingers. The perfect temperature for the water is just above an average person's body temperature so the water will feel just a bit warm to you if it's the right temperature.) When you combine these ingredients, let them sit for 5 minutes until the mix gets bubbly. If it bubbles, your yeast is good and your dough will rise!
Here's a batch of yeast I've proofed. You can see the bubbles so you know it's good to go.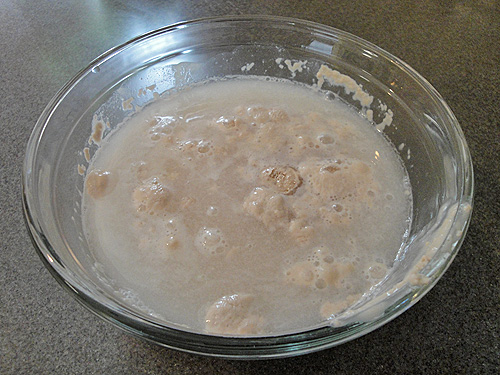 I mix my dough in my Kitchenaid mixer. Yes, it is good for more than just making cookies in bulk. You'll want to attach the dough hook (it looks like the pirate hook) and mix 3 cups of flour, salt, and oil with your yeast mix. Gradually add in 3 more cups of flour. You're looking to make sure your dough is pliable but firm enough to not fall off your hook immediately when you raise the head of your machine. Check out the difference 1 cup makes:
Your dough should be sticky. That's okay- do not flour it up more. Plop it out of the mixer bowl, grease your bowl with some olive oil, roll your dough into a ball, and place it back into the bowl. Cover with a towel and place it in a warm place until it's doubled in size. Punch it down (yes, really punch it!), then let it double one more time. See the difference it makes?

At this point you'll want to separate your dough into two balls, preheat your oven to 400 degrees, and roll the dough out for your pans. I use Pampered Chef's stoneware for my pizza. I roll out the dough and bake it for 10-15 minutes to get nice and firm before loading it up with toppings.
Once you've cooked your dough you can add toppings of your choice. You'll bake again for 15 or so minutes until your cheese is nice and melted. On this day I made a BBQ chicken pizza and a pesto pizza. The BBQ chicken pizza used BBQ sauce as a base and I topped it with chicken tossed in BBQ sauce, feta cheese, and fresh mozzarella. For the pesto pizza I used pesto sauce as a base and I topped it with plum tomato slices, feta cheese, and fresh mozzarella. You can't go wrong with either combination or something simple like pepperoni or sausage.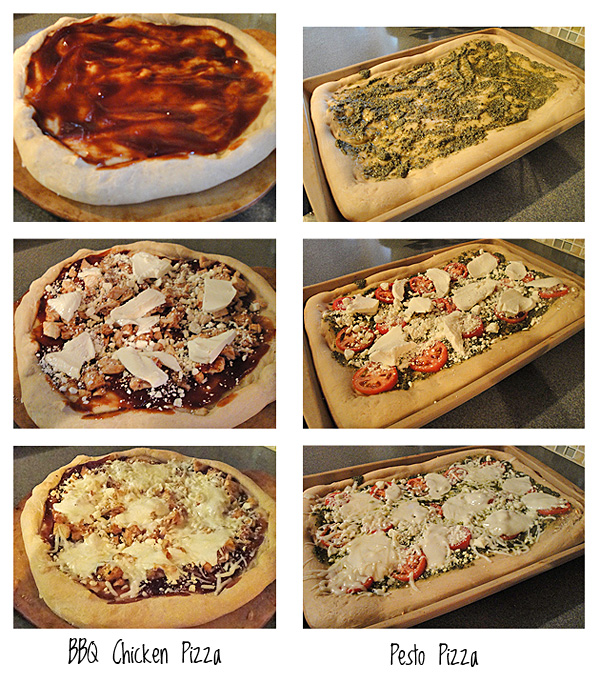 This pizza dough is a perfect thick crust. For a wonderful sturdy dough, use half white and half wheat flour. Be as creative as you want with toppings.
If you don't have time to wait for the dough to rise, prepare the dough the night before, cover, and place in your fridge overnight. Let the dough come to room temperature before spreading into pans the next day.
Ingredients
1 heaping tablespoon yeast
Dash of sugar
2 1/4 cups warm water
2 1/4 teaspoons salt
4 1/2 tablespoons oil
6 cups flour
Instructions
In a large bowl, sprinkle yeast over warm water (105-110 degrees). Add a dash of sugar. Proof it until it begins to foam.
Attach your dough hook to your Kitchenaid mixer. Pour the yeast mixture into the bowl and add salt, oil, and 3 cups of flour. Run your mixer on low.
Gradually add in the additional 3 cups of flour, 1 at a time.
Let your mixer run on medium for about 5 minutes until the dough is smooth and elastic.
Pull the dough from your mixer and grease the bowl. Place the dough back in, cover, and let rise until doubled in size (30 minutes-1 hour).
Punch down and let rise again until double.
Punch down and divide into two dough balls. Roll out into two pizza pans greased with olive oil.
Bake at 400 degrees for 10-12 minutes.
Top with pizza sauce & toppings. Bake at 400 degrees for 15 more minutes.
http://www.thehyperhouse.com/2011/12/christmas-pizza/

Is anyone else having a heck of a week? I've been making over furniture (expect pics next week!), painting a room (next week!), buying Christmas gifts, buying normal household items, fitting in a checkup at the doctor, heading to Christmas concerts, and getting ready for out of town guests. It's madness. Trying to cook a big fancy meal in a week like this isn't going to happen and my normal Tuesday grocery trip isn't happening until today. Thank goodness I have a big stash of food staples for my safety meals. I have a handful of recipes set aside during a week of chaos like this one and I always keep my pantry or freezer stocked with the ingredients so I don't have to do an emergency Chinese food run.
I've told you before about how I quadruple my chili and freeze it. Another thing I do is fill my crock pot up with frozen chicken breasts, add water or chicken broth until it is 2/3 of the way full and crank it up to high. In about 4 hours you'll have boiled chicken perfect for shredding. I separate the shredded chicken into ziplock bags with about 2 cups in each. That usually means 3-4 emergency chicken packs so I can do this once a month and be done with it.
For today's recipe you'll need 1 chicken pack, a can of soup, frozen veggies, some milk, and puff pastry shells. 5 simple ingredients for a warm meal that tastes home cooked and hits the spot on a cold winter's day.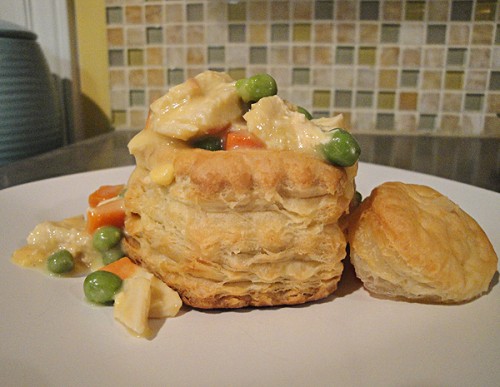 Deconstructed Chicken Pot Pies
One of my favorite speedy meals comes from Pepperidge Farm and their puff pastry shells.
Ingredients
1 can (10 3/4 ounces) Cream of Chicken Soup (Regular, 98% Fat Free or Healthy Request are all fine)
1/2 cup milk
1 10-ounce package frozen peas and carrots
2 cups shredded chicken
1 10-ounce package Pepperidge Farm Puff Pastry Shells
Instructions
Preheat oven to 425°F. Place puff pastry shells on a cookie sheet and bake in oven for 15-20 minutes.
Stir together the soup, milk, and frozen veggies in a pot and let them come to a boil.
Reduce heat to low, cover, and cook for 5 minutes.
Stir in the chicken and let the mixture cook uncovered for 3 minutes more.
Pull the shells out of the oven and remove the tops. Spoon chicken and veggie mixture into the shells and enjoy.
http://www.thehyperhouse.com/2011/12/chicken-pot-pies/