When I was 10 I had a new baby brother who was barely a month old. My mom was hardly interested in cooking some big huge dinner for all of us kids so when we said we wanted pizza, she jumped on it. Maybe she was still under the influence of anesthesia but that year began the tradition of Christmas pizza. We started off pretty basic and we've since evolved to a more artisan style. If you're thinking of starting a Christmas pizza tradition, I'm here to help.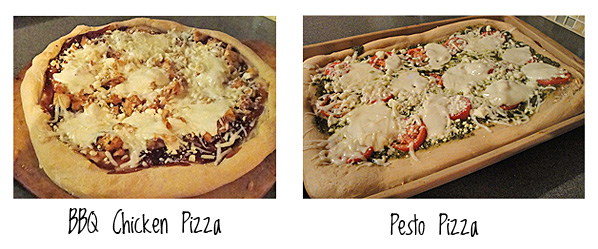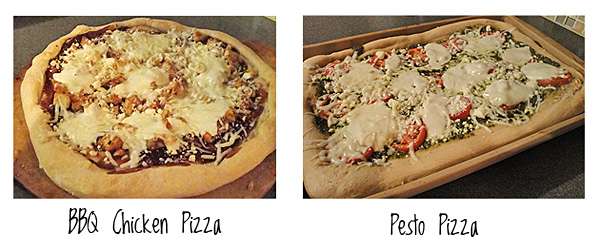 First up, you need to make your dough. I've included the recipe at the bottom of the page but here's a quick look at making a yeast-based pizza dough. You'll need to combine yeast, sugar, and warm water. (Here's a cool tip I learned from Alton Brown, check the water temperature with your fingers. The perfect temperature for the water is just above an average person's body temperature so the water will feel just a bit warm to you if it's the right temperature.) When you combine these ingredients, let them sit for 5 minutes until the mix gets bubbly. If it bubbles, your yeast is good and your dough will rise!
Here's a batch of yeast I've proofed. You can see the bubbles so you know it's good to go.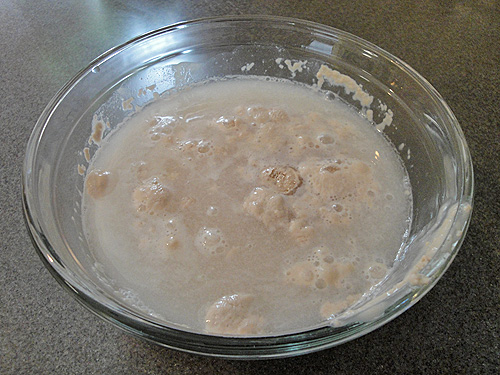 I mix my dough in my Kitchenaid mixer. Yes, it is good for more than just making cookies in bulk. You'll want to attach the dough hook (it looks like the pirate hook) and mix 3 cups of flour, salt, and oil with your yeast mix. Gradually add in 3 more cups of flour. You're looking to make sure your dough is pliable but firm enough to not fall off your hook immediately when you raise the head of your machine. Check out the difference 1 cup makes: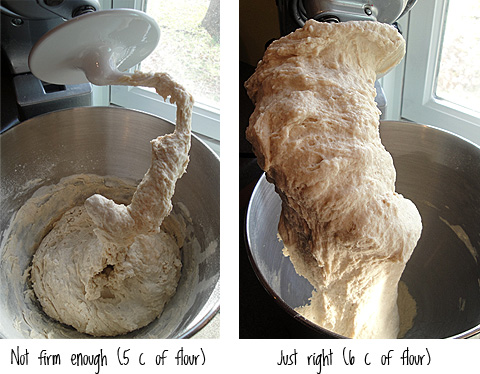 Your dough should be sticky. That's okay- do not flour it up more. Plop it out of the mixer bowl, grease your bowl with some olive oil, roll your dough into a ball, and place it back into the bowl. Cover with a towel and place it in a warm place until it's doubled in size. Punch it down (yes, really punch it!), then let it double one more time. See the difference it makes?


At this point you'll want to separate your dough into two balls, preheat your oven to 400 degrees, and roll the dough out for your pans. I use Pampered Chef's stoneware for my pizza. I roll out the dough and bake it for 10-15 minutes to get nice and firm before loading it up with toppings.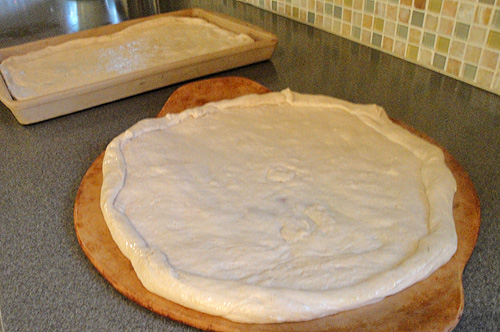 Once you've cooked your dough you can add toppings of your choice. You'll bake again for 15 or so minutes until your cheese is nice and melted. On this day I made a BBQ chicken pizza and a pesto pizza. The BBQ chicken pizza used BBQ sauce as a base and I topped it with chicken tossed in BBQ sauce, feta cheese, and fresh mozzarella. For the pesto pizza I used pesto sauce as a base and I topped it with plum tomato slices, feta cheese, and fresh mozzarella. You can't go wrong with either combination or something simple like pepperoni or sausage.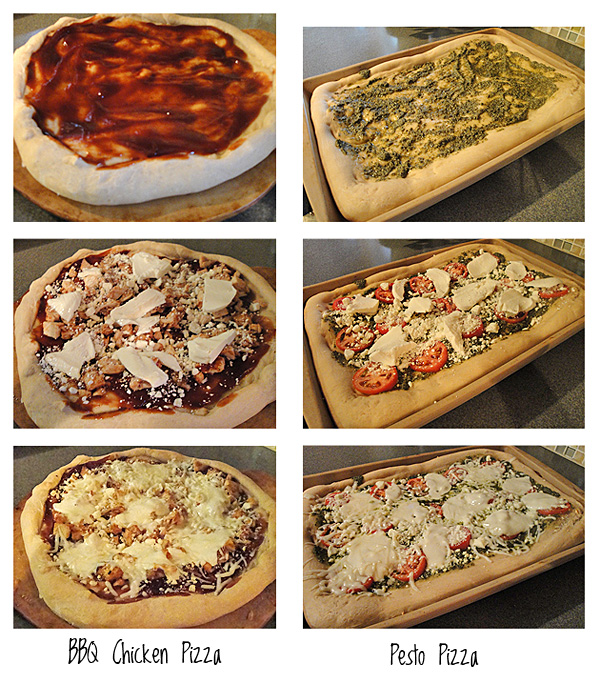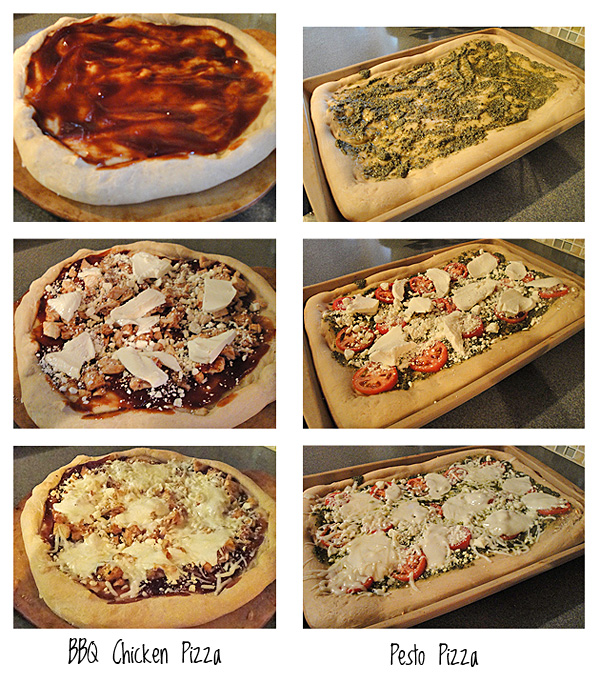 This pizza dough is a perfect thick crust. For a wonderful sturdy dough, use half white and half wheat flour. Be as creative as you want with toppings.
If you don't have time to wait for the dough to rise, prepare the dough the night before, cover, and place in your fridge overnight. Let the dough come to room temperature before spreading into pans the next day.
Ingredients
1 heaping tablespoon yeast
Dash of sugar
2 1/4 cups warm water
2 1/4 teaspoons salt
4 1/2 tablespoons oil
6 cups flour
Instructions
In a large bowl, sprinkle yeast over warm water (105-110 degrees). Add a dash of sugar. Proof it until it begins to foam.
Attach your dough hook to your Kitchenaid mixer. Pour the yeast mixture into the bowl and add salt, oil, and 3 cups of flour. Run your mixer on low.
Gradually add in the additional 3 cups of flour, 1 at a time.
Let your mixer run on medium for about 5 minutes until the dough is smooth and elastic.
Pull the dough from your mixer and grease the bowl. Place the dough back in, cover, and let rise until doubled in size (30 minutes-1 hour).
Punch down and let rise again until double.
Punch down and divide into two dough balls. Roll out into two pizza pans greased with olive oil.
Bake at 400 degrees for 10-12 minutes.
Top with pizza sauce & toppings. Bake at 400 degrees for 15 more minutes.
http://www.thehyperhouse.com/2011/12/christmas-pizza/