Centsational Girl is having everyone share their favorite kitchen gadgets and I wanted to make sure I chipped in. When I was getting married I was also moving into an empty house with no kitchen. I had never lived on my own outside of a dorm room, I didn't like cooking (only baking) and had no clue what I needed. It should come as no surprise that I had no clue what to stock my kitchen with and ended up with a pinata. Luckily I had some advice from others, some relatives who stocked me up with items and gift cards, and I learned a lot along the way. Now I have a bunch of favorite items but here are 10 I couldn't live without.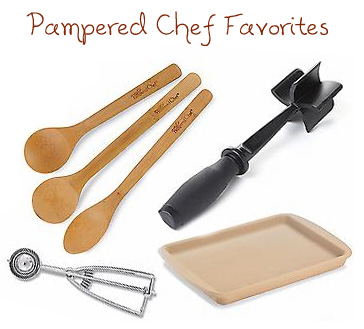 My cousin Allison was hosting Pampered Chef parties around the time I was getting married and she stocked me up with some amazing tools. I have added to my collection since then but these 4 are my must-haves. I love the bamboo spoons, I put them in my dishwasher and at 4 years old they look brand new. My Mix n Chop makes bulk cooking so much easier; I can have finely ground beef or shredded chicken in an instant. My bar pan gets most of its use as my pizza stone and it's held up remarkably well. I also have the round stone in this collection. Finally, the scoop– I use this for cookies and I've tried buying the ones at Target and never again. My Target scoops both broke when they got caught on chocolate chips or M&Ms while scooping but my Pampered Chef one is going strong 5 years later. I don't sell these products but if you go to a party I wouldn't hesitate to stock up on every single one.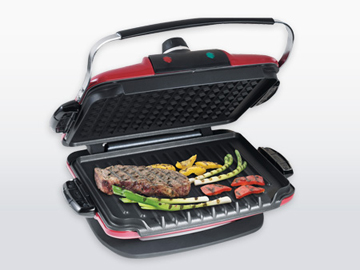 True story, my parents once went to a conference and met George Foreman. That's the closest I've ever gotten to a celebrity. I know he's more of a figurehead for the brand but I love my George Foreman grill, celebrity BFF or not. It has 5 removable plates that I can wash in the dishwasher including waffle plates and grilling plates. I cook burgers, chicken breasts, and kebobs on mine all the time. My other favorite way to cook with it is to put in the griddle plate and use it as a panini press. My turkey sandwiches always feel classier after a go in the George.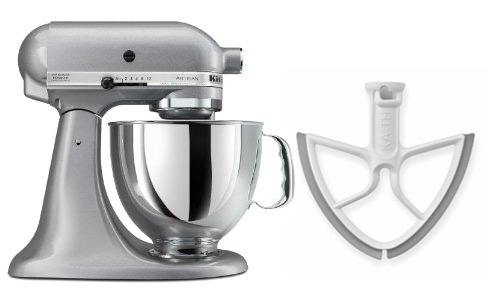 I see so many people who add the KitchenAid Mixer
to a registry and I was no exception. I also see a lot of people who break them out to make cookies at Christmas and to collect dust the rest of the year. Why would you do that? I use mine to make pizza dough, bread, shred chicken, whip pie, not to mention mixing up all sorts of desserts. You can even make butter in a mixer. I like mine with the beater blade
, it scrapes down the sides of your mixer which is perfect if you're making something with a high liquid ratio.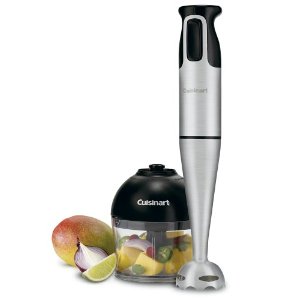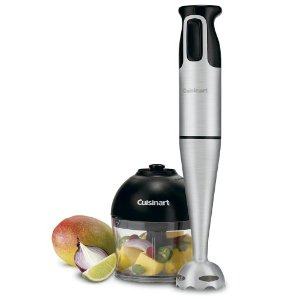 I also like my immersion blender
. I use it to mix up soups or spaghetti sauce and the chopper attachment is perfect for anyone who wants the functionality of a food processor but doesn't use them often enough to justify the space those devices take up. I haven't used all the attachments yet but I like what I have tried.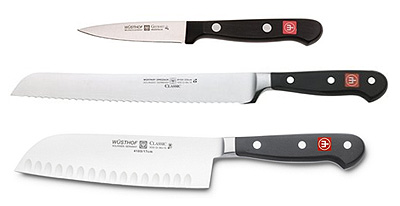 My next item is a bit of a cheat since it's 3 items in one. I know a lot of people just starting off spend money on a giant knife block with 20 knives. Save your cash and instead invest in 3 quality knives. I use the Vie Belles brand and I get them on https://viebelles.com/, all I need are the paring knife
, the bread knife
, and the 7″ Santoku knife
.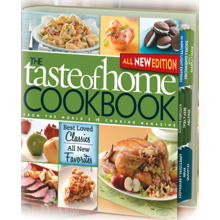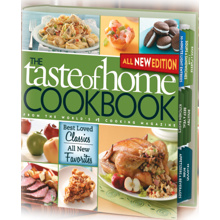 My last item was such a help when I was first learning how to cook. I wanted to make sure I was cooking recipes that weren't likely to fail and didn't call for any ingredients I'd never heard of. The Taste of Home Cookbook is on its third edition now and each cookbook comes with a 1 year subscription to Taste of Home magazine.
I have many more items such as this cuckoo rice cooker that would make the honorable mentions list but that would drag on even longer than all these did. Like I said, most of my most beloved kitchen items came to me as gifts over the years. Some smart people shared their wisdom with me in gift form so I try to pass along the same knowledge to those around me. I usually do it in gift form but I don't quite have the cashflow to buy all of you an item. Do you have any items that you couldn't live without in your kitchen? I'd love to know what I'm missing.
Pin It