Tagged with "party planning | The Hyper House"
I mentioned before that I was looking for a way to turn my little dining area into some sort of drink bar. In February I was expecting some friends over for Galentine's Day Brunch so it was a perfect time to set up the drink area.
I bought an older model Keurig for the area and stocked up on a few K-cups. In winter I'm definitely more of a hot coffee and cocoa drinker so I wanted to have some warm options.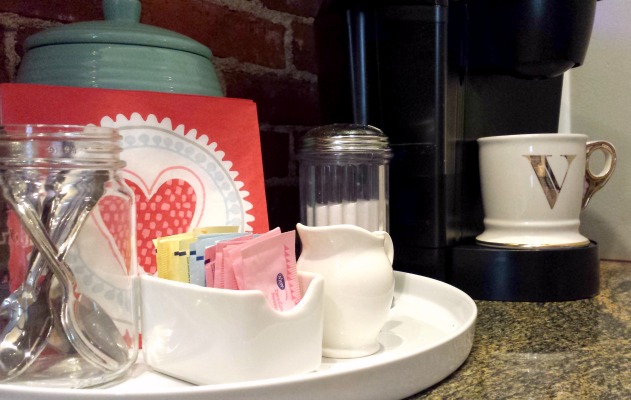 I bought some cute mini spoons and a creamer from World Market, something to hold sweeteners from Target, a sugar dispenser from even before my time, a mason jar leftover from a batch of salsa, a sweets jar from Pier 1 and corralled it all on a tray from Ikea.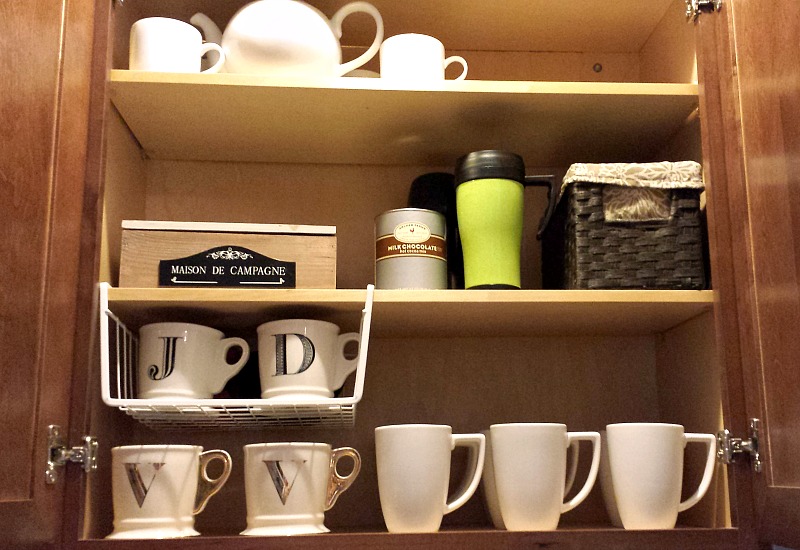 In the cabinets up above I keep some of the good stuff. You can see my Anthropologie mugs (gold available around Christmas), my every day mugs, some travel mugs, and a much nicer tea set for company. I have a few more sets still packed up. I also keep some tea and cocoa up here (and more cocoa in the cookie jar).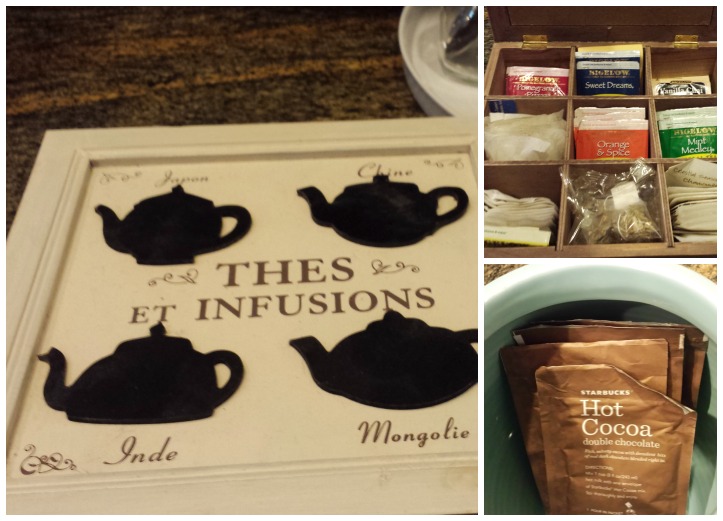 Kcups go in the drawer now that I have some handles on them. It makes it so much easier to open!
I also wanted to share a bit of my themed party for Galentine's Day that I had. Galentine's is a beloved day in the world of Parks & Rec and I wanted to honor it and some of my closest friends. The girls drove all the way across the river to come see my new house, drink some of that coffee/tea/cocoa or one of the endless mimosa combinations, and eat some skillet potatoes, a pancake bar, mini quiches, and croissants.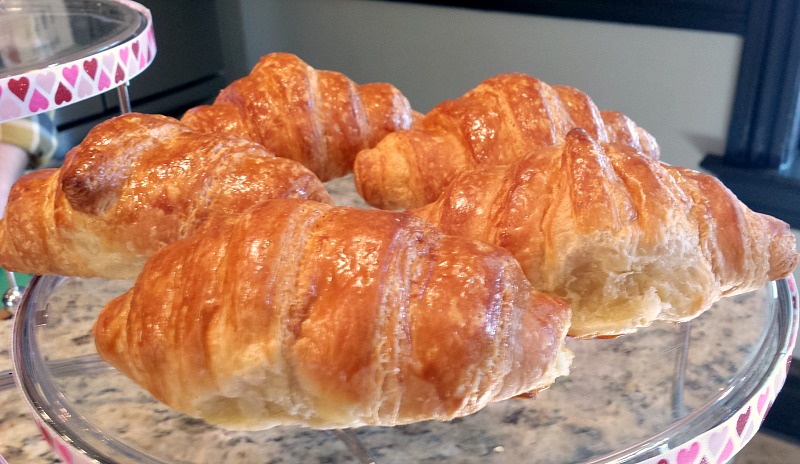 I wanted to spend as much time with them as I could so I only took some photos before and none during. Sometimes you just have to put the camera down and enjoy the moment! (And the mimosas)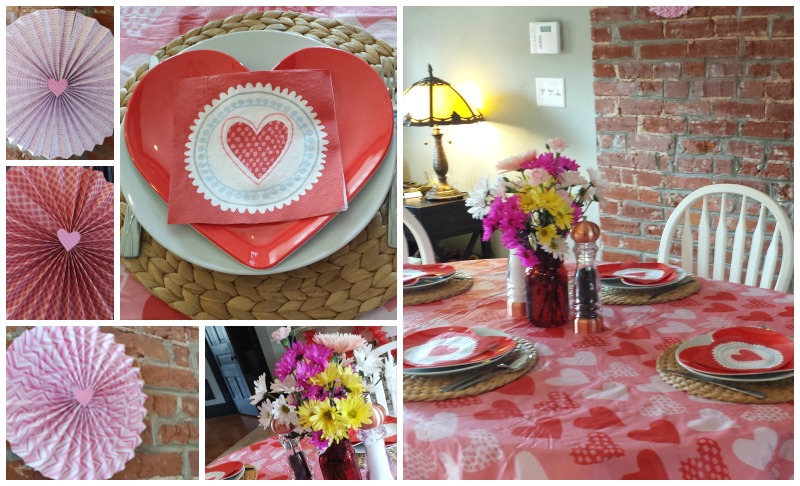 Today is Harry Potter's birthday! Someone out there, please reassure me you already knew that and I'm not alone in my love of all things Harry Potter. When book 7 came out I was on vacation with my family for a wedding out in California. I made sure to get in line to get early access to the book and I managed to finish the final Harry Potter book before the wedding that night.
When the final movie was released I had a multi-day viewing party with a themed food for each viewing. The first thing I did was make some cups to drink my Harry Potter themed drinks in. Even a house like Hufflepuff deserves a mug.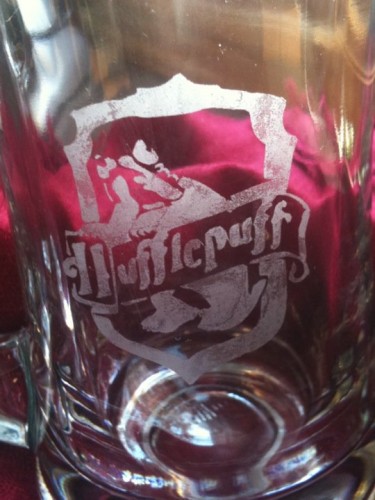 The mug itself was fun to design. I found some images for each Harry Potter house and used some software to edit them so I could cut them out with my Cricut. I placed a Cricut vinyl sheet
into my Cricut and cut out the design with that so I could adhere the stencil to a Target-brand mug. Then I filled the gaps in the stencil in with some Armour Etch
. You just dab the Armour Etch on with a foam brush and let it sit for a few minutes before washing it and the stencil off. The glasses are dishwasher safe and make great party favors- I made a batch for a group of friends for another themed movie night.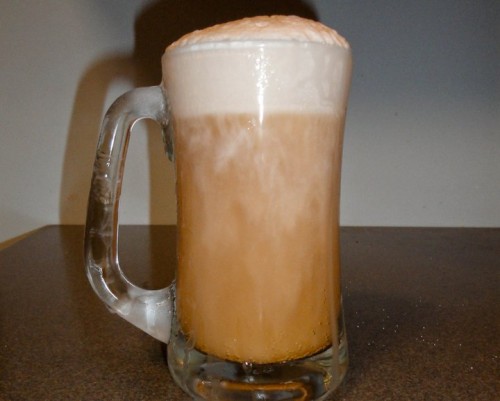 The glass was a perfect container for my homemade butterbeer. I haven't made it to the Wizarding World of Harry Potter but this is a tasty drink to make at home. I followed a recipe from Chica and Jo and had great success.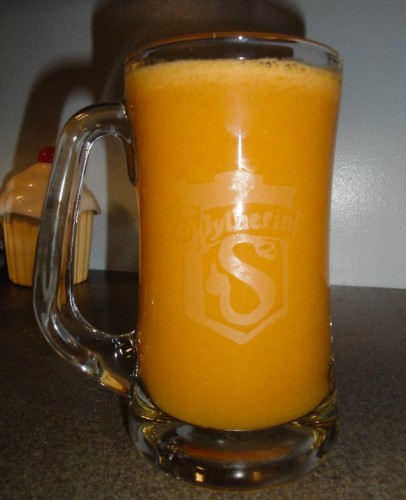 Drink #2 was some homemade pumpkin juice, this time displayed in a Slytherin mug. The recipe comes from Party Through the Parks, though I substituted Agave Nectar for Pear Nectar. I'm more of a butterbeer girl but pumpkin juice has a nice flavor to it. Speaking of butterbeer…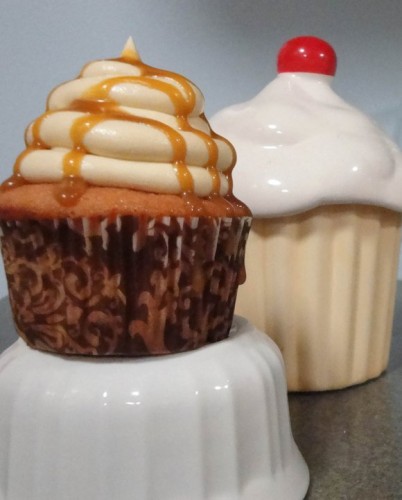 The butterbeer cupcakes from AmyBITES are amazing. They were my second favorite creation of the week (second to only butterbeer) and were excellent when paired with its namesake.
Movie night #4 featured a Bouillabaisse in honor of one of the dishes served during the welcoming feast for guests from Beauxbatons Academy. Every Harry Potter party needs a main course but it also needs an appetizer. Movie night #5 featured a sorting hat bread with several dips. Diamonds for Dessert has a great tutorial for making a shaped sorting hat. My version required more flour thanks to the Missouri humidity and it came out a little cranky but still recognizable.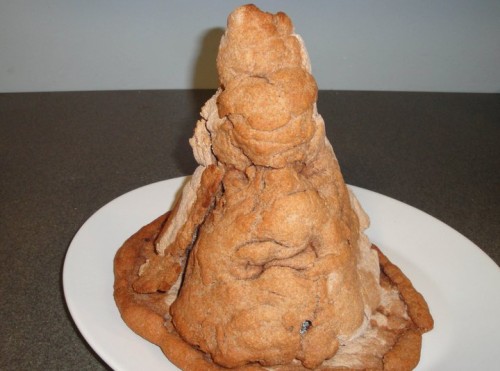 And what's a party without a dessert? For my Harry Potter themed dessert I made some Oreo truffles. Instead of dipping them in milk chocolate or dark chocolate I dipped them in some yellow candy melts. I also attached some white chocolate wings I had piped and made some flying snitches. I will admit that I only ended up making one with wings and the rest of the wings went straight into my mouth. They just tasted too good!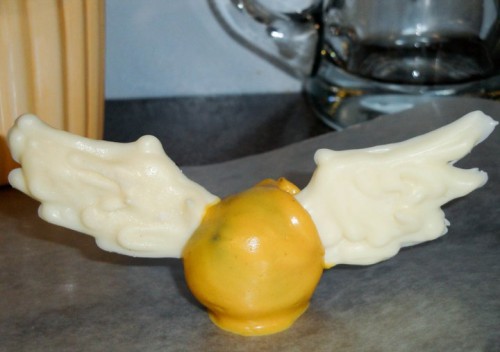 Now you know one of my biggest secrets: I have a weakness for themed parties and celebrations. I've been known to have Election night parties, a luau where my dog wore a Hawaiian skirt, and even sparkly vampire parties. Parties are a great way for me to get together with friends and family and have fun with corny foods and props.
Pin It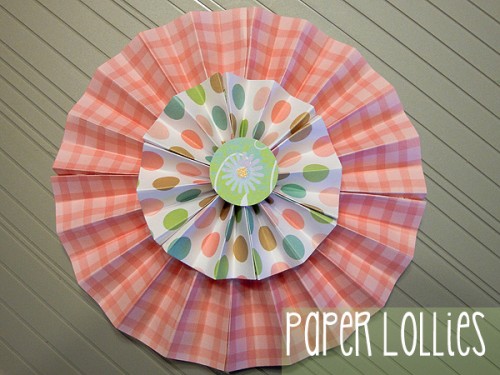 Last week I showed you how to make some cute flower centerpieces. In one of the photos I had included a paper lolly in the centerpiece at a bridal shower. Today I'm here to show you how to make your own.
Supplies
1 piece of 12″ x 12″ paper
1 piece of contrasting 6″x6″ paper
Paper cutter (I use this one by Cricut)
Paper scoring tools (I use the Scor-Pal but Martha Stewart has one and a bone folder will work)
Decoration for centerpiece (button, hole-punched circle)
Double sided tape
Hot glue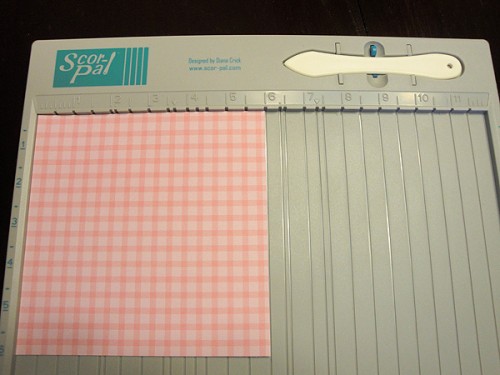 Start by cutting your 12″x12″ piece of paper into 4-6″x6″ pieces of paper with two cuts down the center of each side. Place one of the small pieces on the scoring board and evenly score your paper every 1/2 inch. Repeat with each piece until you have 4 scored pieces. Now zig-zag fold along the score marks.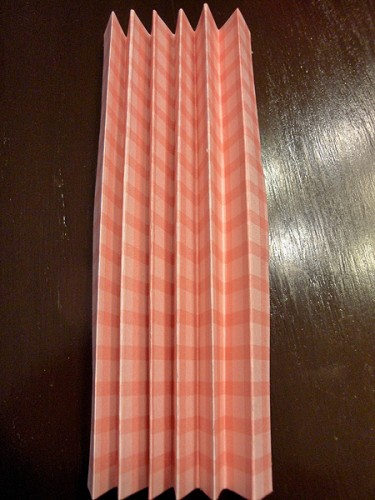 Fold each piece in half and tape the two halves to each other, forming a fan. Repeat on all the pieces.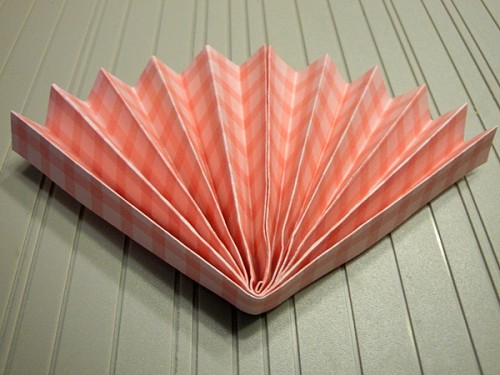 Now take 2 of the fans and open them up and tape the two halves together.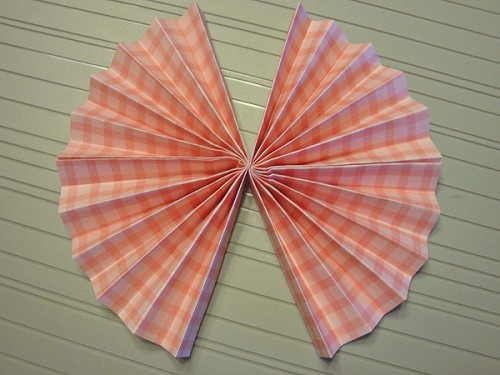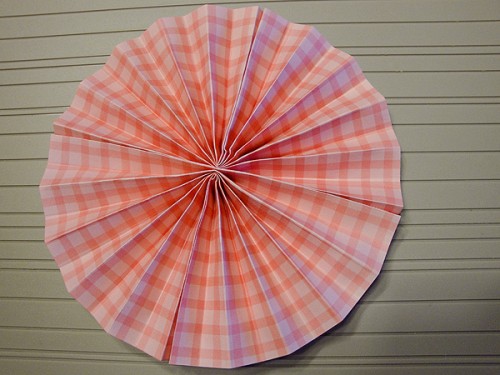 Reserve the other 2 6″x6″ pieces for another lolly or use them to make your current lolly two-sided.
Repeat this process using your contrasting 6″x6″ paper to form a middle piece for your lolly. You'll want to start with 3″x3″ sections to score and attach 3 of those fans in a circle. Then hot glue the two layers on top of each other and add a decorative center piece.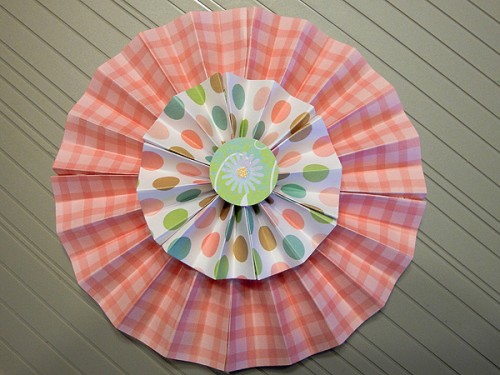 You can see this lolly technique on the chicken wire frame I made or come back tomorrow to see how I used them in my March centerpiece.
Pin It

This handy little craft project came in useful when I was coming up with centerpieces for a bridal shower. I wanted spring colored flowers for blue mason jars without all the price. I had heard of tissue paper flowers but I wasn't convinced how easy they would be but I was convinced I could do a decent job. Plus, I could get all my supplies from the Dollar Store so if I failed I wouldn't be out a ton of money.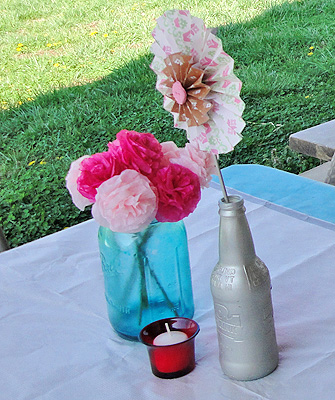 Supplies
3 packs of tissue paper – $1 each (I chose 2 in fuchsia and 1 in soft pink)
1 pack green pipe cleaners- $1 each
Package of floral tape (optional)- $1
Paperclips (optional)
Scissors
Vase or jars
Total=$5 + jars
Prep Work
Before beginning, you'll want to prep all your equipment. Line up 8 pieces of tissue paper of one color and tape together along the edges every few inches. Take a cup and draw a small circle on the top piece of tissue paper with a pen or a marker. I chose a 2 1/2″ wide cup to trace. I managed to get around a dozen circles onto the tissue paper. Then I cut through all 8 pieces of paper for each circle. A paperclip will be very handy to hold these circles together while you cut out all the pieces. Each vase will hold about 7 groups of those 8 circles so do some simple multiplication to see how many packs of tissue paper you'll need and how many circles you'll want to cut out.
Assembling the Flowers
Step 1: Make sure all your circles are cut and placed in stacks of 8.
Step 2: Use the metal part of the pipe cleaner to poke through the stack of tissue paper, just off-center. You'll want about 1 1/2 inches to come through.
Step 3: Loop the pipe cleaner back through the tissue paper using the metal part and just off-center again. If the pipe cleaner has trouble ripping the paper use a needle to pierce the paper before putting the pipe cleaner through.
Step 4: Wrap the extra end of the pipe cleaner around itself.
Step 5: If you want a more flower-like look, wrap the pipe cleaner in floral tape. This is best if you are using a clear jar or vase. The floral tape sticks to itself so just wrap it tightly on an angle.
Step 6: Repeat on all the other circles and set aside till all are ready.
Shaping

Step 7: Crinkle the innermost layer of tissue paper up very tightly. Don't worry about making it look perfect, just make sure it covers the green of your pipe cleaner. Repeat on layer 2.
Step 8: For layers 3-6 crinkle a little looser focusing more on making a puffy shape than a flower.
Step 9: For layers 7 and 8 you'll just want to crinkle the tissue paper.
Step 10: Now starting from the outside in gently unfold the tissue paper layers and loosen them until they start looking like a flower.
Just plop 7 of these beauties in a jar and you'll have a gorgeous centerpiece. Here I'm displaying mine in my votive holders that I'm using as a vase.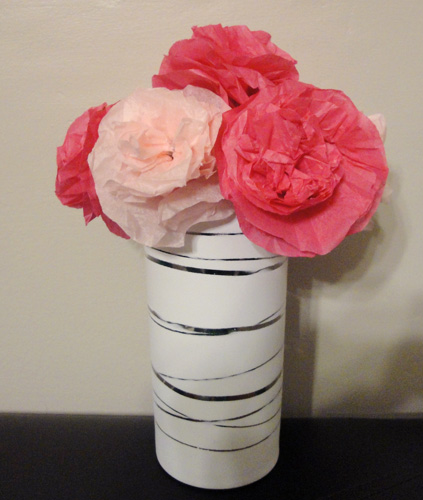 I think these would be beautiful with yellow and white or in a centerpiece for spring or Easter or you could use them for a bridal shower like I did. For less than 10 cents a stem this is an easy way to decorate without wasting your money.
How would you use these flowers?
Pin It