Tagged with "potatoes | The Hyper House"
I know most of the internet loves fall but it's one of my least favorite seasons. It's a reminder that winter is coming, that the days are growing shorter, and soon I'll be trapped inside trying to avoid the cold. There are some nice things about fall: I can convince my husband that I should buy new clothes, I can stock up on seasonal teas and coffees, I can read lots of books curled up under blankets, and it's the perfect hiking season.
To help me survive the transition, I'm always looking for meals that are warm, filling, and full of comfort. This meal does just that. The Beef Bourguignon doesn't take as much time as Julia Child's and dare I say, it tastes just as good if not better.
A good beef meal for me pairs well with mashed potatoes and these get that nice sweet and savory flavor you can only get from roasting the garlic first. I followed an Alton Brown recipe and you can't go wrong with that. Try his potatoes with Beef Bourguignon or on Thanksgiving and you'll be a happy camper.
The recipe itself calls for a red wine and you should be sure to drink some too. I opted for a Pinot Noir (Line 39, 2013) and it was perfect with the dish and still under $10.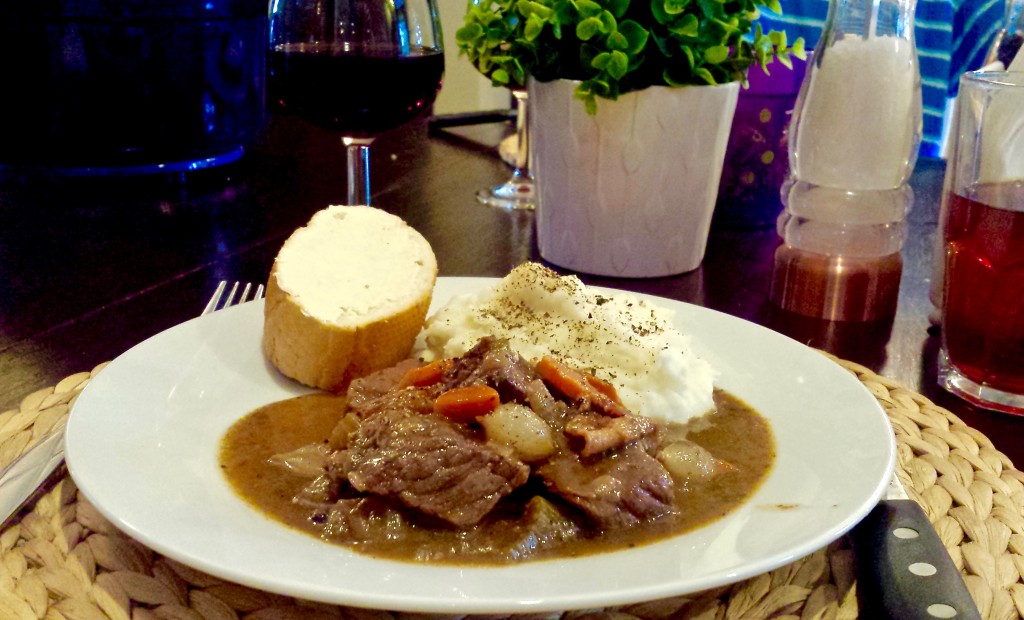 Ingredients
2-3 pounds boneless beef (I used a mix of shoulder chuck and beef stew meat)
2 cups dry red wine
1/4 cup olive oil
1 onion, chopped
1 carrot, chopped
2 stalks celery, chopped
1 garlic clove, chopped
2 bay leaves
2 tbsp. chopped parsley
1/2 tsp. dried thyme
1 tsp. roughly ground black peppercorns
1/2 tsp. salt
4 ounces bacon, chopped
2 tbsp. all-purpose flour
2 cups pearl frozen onions
2 cups mushrooms, quartered (optional)
1/4 cup chopped fresh parsley
Instructions
Take a large bowl and fill with the red wine, olive oil, onion, carrot, celery, garlic clove, bay leaves, parsley, thyme, and peppercorns. Stir to combine.
Cut your beef into 2-inch cubes. Add in the beef to the red wine marinade. Cover beef completely with red wine marinade and marinate from 1 to 24 hours tightly covered in the fridge. Rotate the meat every 6-8 hours.
After marinading, remove the beef to a plate and pat thoroughly dry.
Strain the marinade into a bowl, separating the liquid and vegetables but reserving both.
Heat a large dutch oven to medium high heat. Brown the bacon and remove, leaving the fat behind (about 2 tbsp).
Brown the beef in batches in the bacon fat, transfer the browned pieces back to the plate.
Cook the vegetables in the bacon fat and fond until softened and browned, about 5 minutes.
Add the flour to the vegetable mix and cook another minute until browning. Stir in the reserved marinade. Add the beef and bacon to the dutch oven and pour the pearl onions on top. Bring the dish to a boil.
After boiling for a minute, reduce the heat to low and cook covered for about an hour or until beef is fork tender.
After an hour, add the mushrooms if using. Cook an additional 20 minutes, covered.
Skim any fat on the surface and remove the bay leaf. Add chopped parsley and additional salt or pepper to taste.
http://www.thehyperhouse.com/2015/10/the-perfect-fall-meal/
Pin It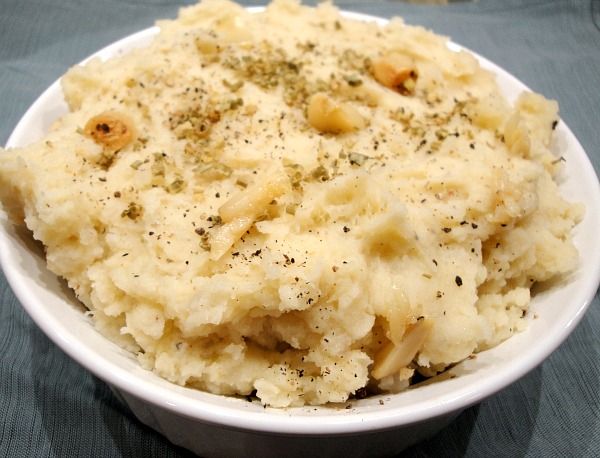 Mashed potatoes are a dish that most people tend to find a little boring. I promise you won't feel that way about these potatoes. The secret to this recipe is the roasted garlic heads inside of it. They add so much depth to the flavor of the potatoes and warm up this traditional dish. I first learned about roasting garlic from The Pioneer Woman and she has a great tutorial if you are unfamiliar with the process.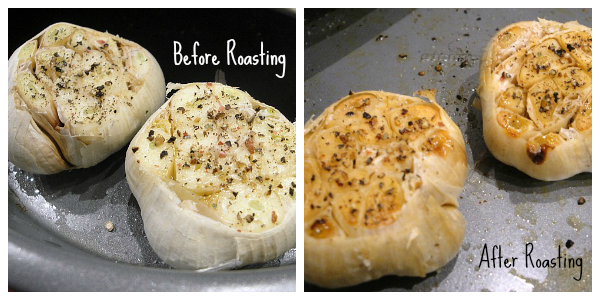 In my Thanksgiving Planning post, I mention how you can easily roast the garlic a few days ahead of time to cut down on the cook time of this dish. I highly recommend it, especially if you're going to be using your oven on Thanksgiving day for some sweeter dishes.
Roasted Garlic Mashed Potatoes
Ingredients
For the Garlic:

2 heads garlic
2 Tablespoons olive oil, divided
Kosher salt
Crushed black pepper

For the Potatoes:

2 lbs yukon gold potatoes, peeled and quartered
1/4 cup chicken broth
1/4 cup cream
6 Tablespoons butter, cut into 1 Tablespoon pieces
kosher salt
ground black pepper
Instructions
For the Garlic:

Cut off the top of the garlic just enough to expose the cloves inside.
Drizzle 1 Tablespoon of olive oil in a cake pan over the area you plan to lay your garlic. Set the garlic on the oil clove side up and drizzle with remaining tablespoon of olive oil.
Sprinkle with kosher salt and crushed pepper. Cover pan with foil and bake at 375 for 30-40 minutes. Remove foil and let cool completely.
When cooled, squeeze the base of your garlic head to push the cloves out the open top. You may need to use a fork to help guide the pieces out. Do your best to keep the cloves whole.

For the Potatoes:

Take your peeled and quartered potatoes and cover them with water in a large pot. Bring to a boil, then cover and simmer for 20 minutes until fork tender.
Drain the water from the potatoes and return to pot. Add the chicken broth, cream, and butter to the pot. Begin mashing until smooth.
Season with pepper and salt until desired taste. Add in your roasted garlic and stir to combine before serving immediately.
http://www.thehyperhouse.com/2012/11/roasted-garlic-mashed-potatoes/
Pin It

The hot weather finally calmed down but I don't trust it will stay away for long so I wanted to make this next recipe before summer really sets in. The hour of baking for this recipe means you do not want to prep this in the heat of summer. Many people think you can't freeze potatoes. I've had a failure where all the potatoes turn black and I've had mashed potatoes that did alright but were never quite as good as the original without a little work. This recipe for freezer twice baked potatoes is a standout because they taste incredible after being in the freezer. The secret is that you freeze them after only the single bake and then you cook them in the oven right in their frozen state. To get more tips, see here this sweet potato cake recipe.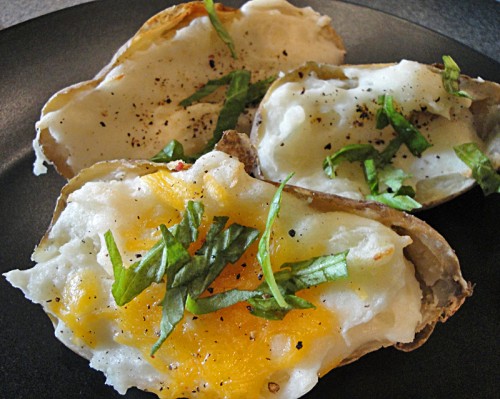 I bought a 10 pound bag of potatoes from my local grocery store for only $2. I had used about 2 1/2 pounds of potatoes for other meals so I used 7 1/2 pounds (or 25 potatoes) for this recipe. I'll share the full 10 pound recipe for you guys so you can just use a bag and not have to do a lot of guesswork. With so many potatoes, you'll want to rotate the pans in the oven every half hour. I like to put my potatoes on baking sheets according to size so if the smallest potatoes finish after an hour I can just remove the small potato baking sheet and let the larger potatoes keep cooking until they have some give.
I like to make my potatoes a little healthier so I try to use skim milk, laughing cow cheese (the queso and garlic ones are my favorites), and I leave the shredded cheese off my pieces. When I bake them I add cheese and bacon to my husband's portions and I top mine with sour cream or Greek yogurt after I've baked mine. These also taste incredible with some pesto drizzled on top. The possibilities are endless. If you don't care about those adjustments, regular milk or even half and half work for your liquid and regular cream cheese works perfectly with this recipe. I've done it all.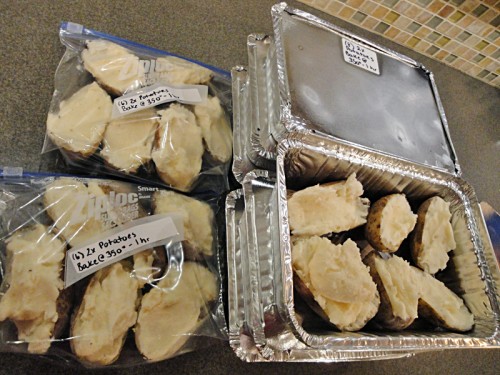 When you store your items, make sure to let them freeze flat first. Then you can pop them in containers. I found these containers at the Dollar Store and I love the flat tops, they're perfect for easy stacking. I usually fit between 4 and 8 halves in each container. When reheating I cook the entire package on a cookie sheet and eat any leftovers during the week with my lunch. My favorite way to eat these for lunch is to take some chili and pour it over a potato half. It's perfection.
Freezer-Ready Twice Baked Potatoes
Ingredients
10 lbs large baking potatoes
olive oil
kosher salt
1 cup butter, melted
2 cups skim milk
6 ounces fat free cream cheese or laughing cow cheese
4 teaspoons salt (to taste)
2 teaspoons ground black pepper (to taste)
1 cup shredded cheddar cheese (optional)
Instructions
Preheat oven to 350°F.
Clean potatoes and dry. Place them on baking sheets. 10 pounds of potatoes usually requires 3 baking sheets.
Drizzle potatoes with olive oil and kosher salt.
Bake potatoes for 1 to 1/2 hours depending on the size.
Allow potatoes to cool around 15 minutes. While cooling, mix together butter, cream cheese (or laughing cow), salt, and pepper in a large mixing bowl.
Cut potatoes in half lengthwise taking care not to damage the rest of the skins.
Use a large spoon to scoop out the inside of the potatoes, leaving a thin layer of potato attached to the skin. Put the middles you scoop out into the mixer with your butter cheese blend.
Once you've scooped out all the potatoes, place the shells back on the baking sheet with the skin side down.
Blend potato and butter/cheese mix in your mixer. Add milk as needed until potatoes resemble stiff mashed potatoes.
Spoon the potato mix back into the shells. If you are adding shredded cheese, sprinkle and press onto potatoes.

To Serve Immediately:

Place pan back into the oven and bake 15-25 minutes.

To Freeze:

Cover baking sheet with plastic wrap and place baking sheet in freezer until potatoes are completely frozen.
Remove potatoes from baking sheet and place in plastic bags or foil containers with baking instructions written on them.

To Cook Frozen Potatoes:

Preheat oven to 350°F and place potatoes on baking sheet. Loosely cover with foil.
Bake about 45 minutes. Uncover foil and bake an additional 15 minutes.
http://www.thehyperhouse.com/2012/04/bulk-cooking-potatoes/
Pin It