Tagged with "salad | The Hyper House"
My current job has me working later than my husband. He gets home about an hour before I do and our dinner time has shifted an hour later than it used to be.  Our meal planning has changed around. I now prep meals the night before or when I stop in during my lunch break as I often do. We're really utilizing all those freezer meals I've stocked up on and we're taking advantage of the crockpot too. Some nights we just want a quick and filling meal without all the work so that way we can switch to project mode as soon as our plates are clean.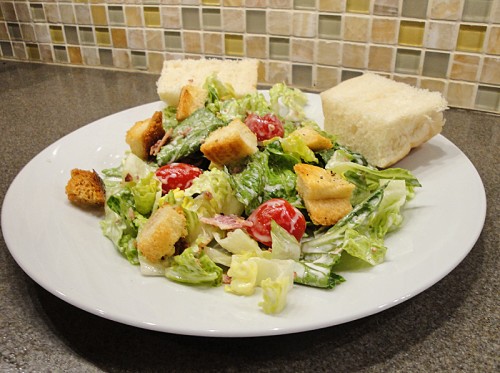 That's where the BLT salad comes in. If you like BLTs then this salad is almost a clone of your favorite sandwich. You can make croutons from old bread ahead of time; just drizzle some olive oil, salt, and pepper over some diced bread and bake for 20 minutes at 375 degrees. They stay crunchy and fresh for days but if you make them fresh then they'll be chewy just like the bread of a BLT. Then you'll toss some bacon, lettuce, and grape tomatoes together with those croutons. Last up is the dressing; the combination of mayonnaise and buttermilk is the perfect touch for the salad. Just toss and serve with some french bread. If you're a little hungrier, serve this salad with some soup or a sandwich, maybe even a BLT if that's not a BLT overload.
Ingredients
For the croutons:

1/2 baguette, sliced into cubes
2 tablespoons olive oil
salt and pepper

For the dressing:

1/3 cup buttermilk
3 Tablespoons mayonnaise
1/4 cup grated Parmesan cheese
2 Tablespoons cider vinegar

For the salad:

1 pound romaine, chopped
1/2 pint cherry tomatoes, halved
8 slices bacon, cooked and crumbled
Instructions
Start by making sure your bacon is cooked. You can do this on the stovetop or in the oven with the croutons by baking for 15 minutes.

For the croutons:

Preheat oven to 375 degrees. Toss bread with oil and sprinkle with salt and pepper.
Spread evenly on a baking sheet and bake until golden, around 20 minutes.

For the dressing:

In a medium bowl whisk together buttermilk, mayonnaise, Parmesan cheese and vinegar.

For the salad:

In a large bowl, mix together lettuce, tomatoes, and croutons. Toss with dressing, sprinkle with bacon and serve.
http://www.thehyperhouse.com/2012/05/blt-salad/
Pin It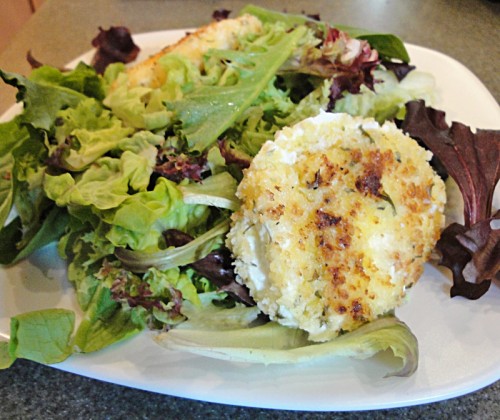 My latest obsession is with goat cheese. I've never been much of a cheese eater but Aldi has these little 4 ounce packages of goat cheese and I just can't get enough of them. My favorite way to eat goat cheese right now is to make patties, fry them in panko breading, and plop them right on a salad. They're the perfect size for 2 people to enjoy with dinner.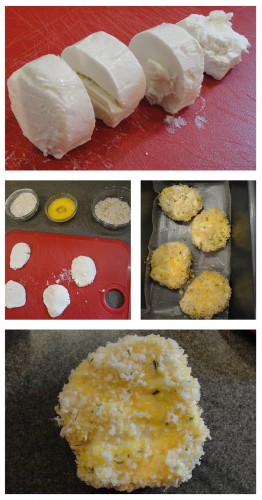 To make the goat cheese easier to fry, just pop it in the freezer for 30 minutes before breading them and back into the fridge for another 30 minutes before frying. This way you'll have soft cheese that stays right inside the breading. I like to top the salad with a vinaigrette dressing. Tomorrow I'll show you my second favorite way to use these goat cheese packages- and it's a perfect pairing with this salad.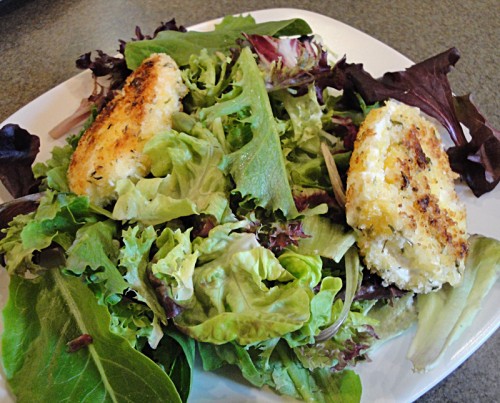 Ingredients
4 ounce goat cheese log
1/4 cup panko bread crumbs
1 dash dried parsley
1 dash dried thyme
1 dash garlic powder
1 egg, beaten
1/4 cup of flour
olive oil
4 cups salad greens
Dressing of your choice
Instructions
Chill your goat cheese in the freezer an hour ahead of cooking
While chilling, set up your dredging station. Mix your panko bread crumbs with parsley, thyme and garlic powder. Use one small bowl to hold your beaten egg and use another small bowl to hold your flour. Set up your station with flour first, then egg, then your breadcrumb mix.
Half an hour before cooking, pull your cheese out of the fridge and cut into four slices, wiping the blade in between each cut.
Dip your cheese into the flour, then the egg, then the breadcrumbs, coating on both sides.
Place cheese on a baking sheet covered in waxed paper and chill another half an hour.
Heat your stovetop to medium heat and warm the olive oil. Fry each side of the goat cheese until golden.
While cooking, prep your salad greens onto two plates and drizzle with dressing. Top with cheese and serve warm.
http://www.thehyperhouse.com/2012/05/goat-cheese-salad/
Pin It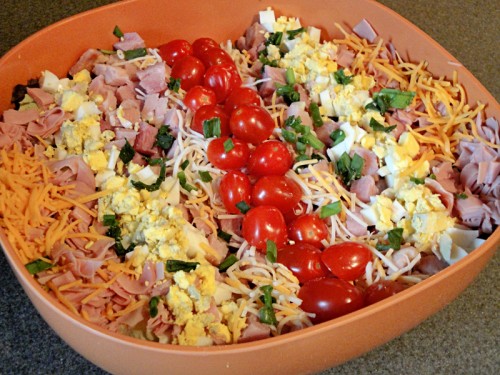 I haven't talked a ton about my husband Daniel but here's one thing you have to know about him: he loves salad. He eats salad with Chinese food, he layers it on his lasagna, and I have to buy lettuce in bulk at Costco. In an effort to appease his salad love, I concocted the idea of a cobb salad with all his favorite things on it. In addition to salads, Daniel loves ham, sandwiches, bacon, ranch, hard-boiled eggs, and cheese. This is how the club cobb salad was born.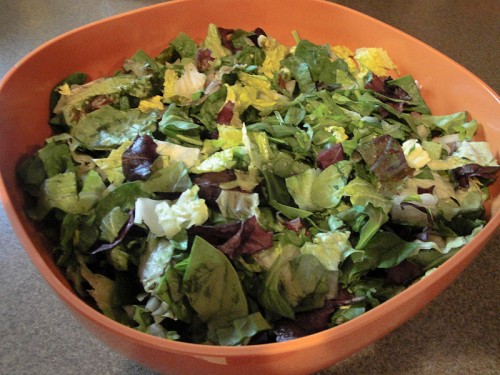 You'll want to cut up a mix of salad greens into finely chopped pieces. Mine had spinach, arugula, and romaine lettuce in it. Then form rows with all your ingredients. I used cheddar cheese, sliced deli turkey, hard-boiled eggs, diced ham, bacon, monterey jack cheese, grape tomatoes, and green onions. They key to this salad is lining up the ingredients in rows so it looks pretty. When you're ready to eat just toss it up and serve with a good dressing. I like honey mustard but my husband is more of a ranch person. Serve it with some toast and you've got yourself a club sandwich in a salad.
Ingredients
6 cups finely chopped mixed salad greens
1 dozen grape tomatoes
1/4 cup chopped bacon bits (homemade or store bought)
1/4 cup shredded cheddar cheese
1/4 cup shredded monteray jack cheese
1 cup diced ham
2 hard-boiled large eggs, separated, the yolk finely chopped and the white finely chopped
8 slices turkey deli meat
2 tablespoons diced green onions
Instructions
If you are making fresh bacon bits then cook your bacon and crumble it. Set aside.
Fill a large bowl or platter with fresh salad greens.
Arrange the ingredients in lines starting from the center. Use tomatoes, bacon bits, ham, egg whites, and turkey forming a mirror image from the center.
Layer the egg yolks on top of the egg whites and place cheeses over the bacon and turkey.
Sprinkle on the green onions to taste.
Serve with either a ranch or honey mustard dressing.
http://www.thehyperhouse.com/2012/03/club-cobb-salad/
Pin It