Tagged with "to-do list | The Hyper House"
Last year, each month I posted a to-do list for 2012 from Get Organized Now. I still love them and highly recommend checking them out. This year I want to swap out how I plan my household to-do lists.  I want to give each room in my house equal amounts of love and opportunities for improvement. Each month I plan to write out 5 ways to improve each room in the 28/30/31 days.
For this month, I'm starting with the kitchen. This is the most complete room in my house and only needs some finishing touches. Here are 5 things I want to tackle:
1. Paint the ceiling
I repainted the room but some paint hit the ceiling. A good new coat should make the room look more complete.
2. Seal the grout
When I did all my tile I had to let the grout rest before sealing it. I think 6 months is plenty.
3. Clean out the fridge
Time to check those expiration dates and use up some condiments with some creative recipes.
4. Create a dog station
My dog Nova has a little corner of the room with a dog bowl but I think something that says she has her own little spot would be more than welcome
5. Un-Christmas the Kitchen
I still haven't taken down my Christmas decorations from my ladder bookcase. In fact, the whole room has little touches of Christmas all around. It's time to pack it all up and give my bookcase a new look.
What room of your house will get updated first in 2013?

I'm not the kind of person who makes New Year's resolutions. I'm the kind of person who wakes up in the morning with an idea, spends hours planning the idea out, and then jumps into it before I can change my mind. I know not everyone gets that kind of an itch like I do so I get the appeal of a new year to be used as a clean slate or a fresh start. If that's your plan, then go for it. If you sort of expect that in 6 weeks you'll have already given up, then maybe there's a different way.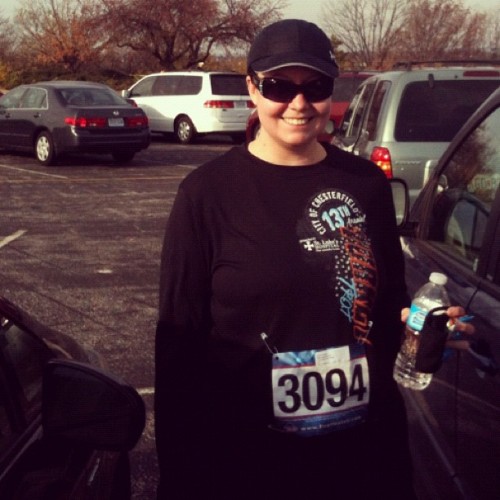 On my 26th birthday I decided it was time for me to try to be healthier. I'm a cancer survivor and I'd finally reached that critical 5-year point most survivors look to as proof they just might make it. I don't even think I'd realized I'd been holding my breath until I finally let it out. I didn't want my goal to be losing weight (though like many people I welcomed the possibility) but rather I wanted measurable proof that I was healthier. I'd seen my body become so weak once, my lungs strained when I walked, my bones hurt under my skin, and I felt afraid to move on with my life. It was time for me to take action.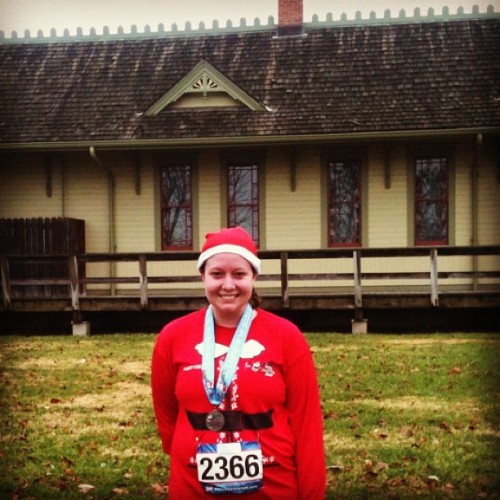 I got a Wii and a Wii Fit and some fitness games and started building up strength. It wasn't easy. I also took up running and made it into an activity my whole family could enjoy. I ran a 5K on Thanksgiving morning this year. Then 2 weekends later I ran another one 2 minutes faster than my last. Even better, when I went to my regular oncologist visit I saw real proof I was getting healthier–my blood oxygen levels were at their best since I had started chemo almost 6 years earlier. There it was again, letting out another breath I didn't realize I'd been holding.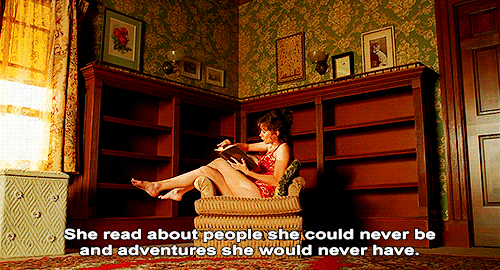 I went on a long trip this year. The kind of trip I never thought I'd take. One day I just took the plunge and realized if I lived my whole life waiting for some sign that I'd be waiting a long time. Part of living through each day as a cancer survivor is the uncertainty. It's hard to plan a trip 6 months down the road when you think in the back of your head you might not be okay in 6 months. But being alive is about taking risks, living in the moment, and enjoying what you see. Spending every day dreaming "next year will be different" was preventing me from living, truly living. I knew I had to get back to being me again and I couldn't wait for that elusive date in the future when it just might happen.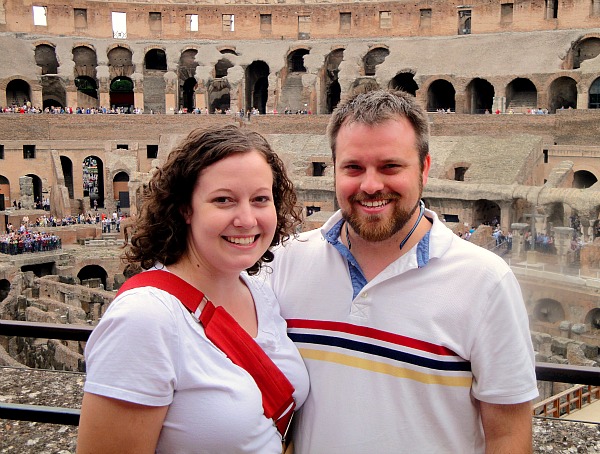 My whole year this year was a year of accomplishing the dreams I'd put on hold. I hadn't held a steady job since graduating college. I've known for a while that holding temporary jobs was a way for me to be available to leave a job in case I got sick again but at some point I'd apparently decided I wasn't going to put my life on hold like that again. I took a job that isn't just a job but a place where I can grow a career. Don't get me wrong, I have a lot of safeguards I've put in place should something happen to my health. I just try to live my life knowing there's a lot of possibility in my future, especially if I put my mind to it.
For me, holding back on a goal until January 1st of the next year rolls around is putting your life on hold. It's saying you don't believe in yourself yet but refuse to make any preparations to get yourself in a place you can succeed. If you keep making the same goals year after year are you really reaching your potential? If you plan to set a big resolution, maybe resolve to be more open to possibility. When you get those little nudges of inspiration, be willing to listen and take some big steps forward. I've had some set backs in those moments but I've also seen and done things I'd never trade.

Our dining room has been less of a dining room and more of a storage room for all of our renovation projects since we've started this whole crazy makeover. I can breathe a huge sigh of relief now that it's all done, or at least mostly done. Here's the room before so you can see where we started from.
Before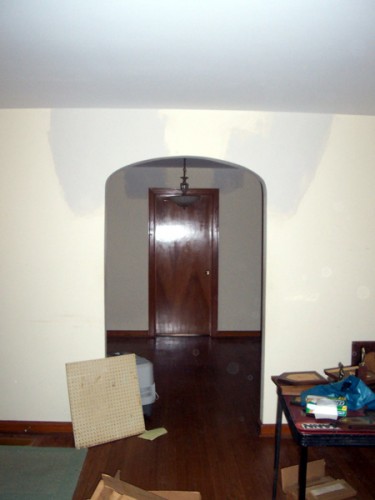 You might remember this shot from the living room post. It's a view into the dining room from the living room on the day we first toured the house. The junk is leftover after the house was abandoned.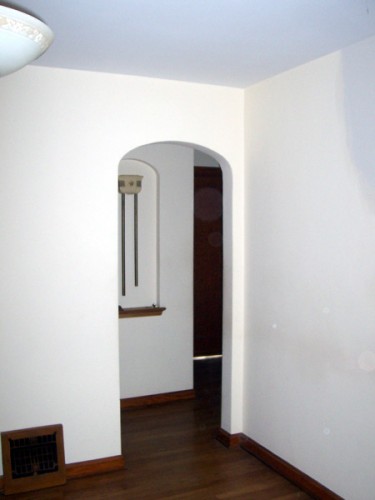 This is the view from the dining room into the old hallway. The door you see in the back was to the bathroom and the chimes you see are from the doorbell. On the baseboard you'll catch a glimpse of our air vent.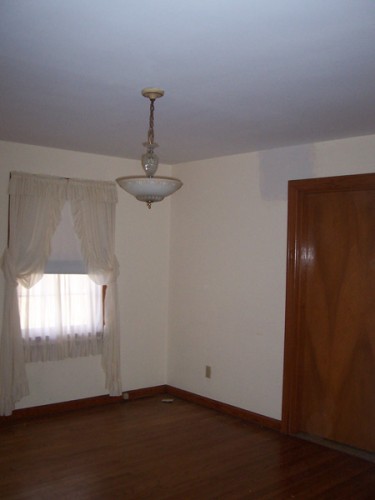 This is a view from that same hallway into the dining room. The door there lead to the original homeowner's office/business and the curtains were not my first choice considering the mold prevention tips from experts. Here's a closeup of that light though: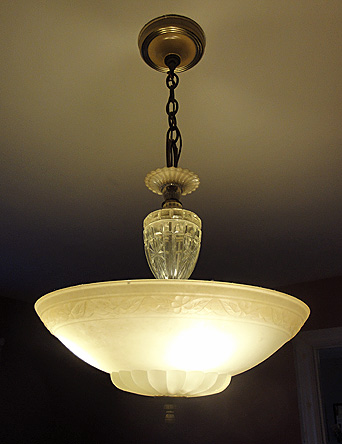 Cool story about this light: my mother-in-law's grandparents gave this light to the original homeowners (my MIL's aunt and uncle) as a wedding gift. During our renovation we decided to swap the light for another so we cleaned this one up and gave it to her for Christmas. Now she has a lovely antique that's been in her family for years and we don't feel guilty for going more modern.
In Between
When my husband first moved in he had a new pathway cut to allow access to our new bathroom. One day I'll get a floor plan up here to show how drastically we changed the layout. We had the path cut with an archway to mimic the arches found in the rest of our home. He also painted the walls a deep rose color that just ended up being too much color for such a small space.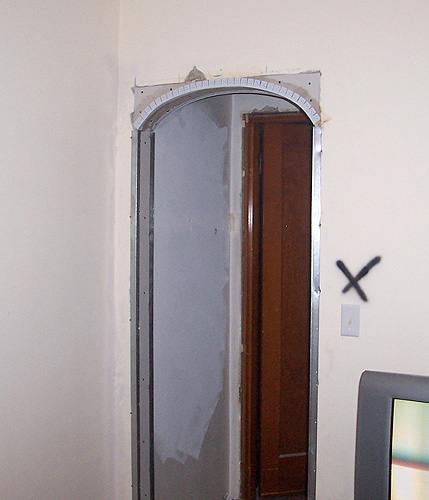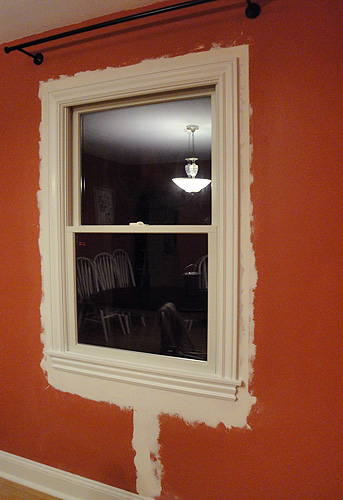 We ended up replacing the windows and doors in the house and that required some new trim and some patching. We have plaster walls so they can crack from all the shifting so we patched that too. Do you spy the new baseboards too?
Now
The view into the dining room from the living room where you can see our new dining room furniture set.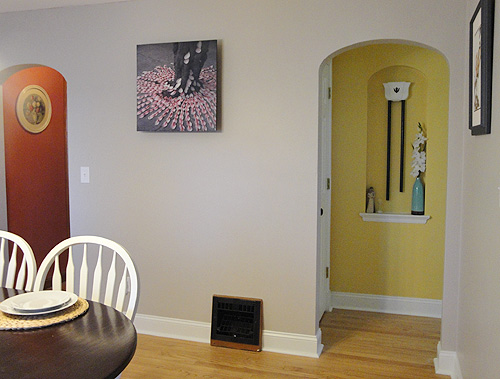 The old and the new archways. We've added some color to the doorbell, we're testing a new air vent color, and the magnolia tree art is by my uncle.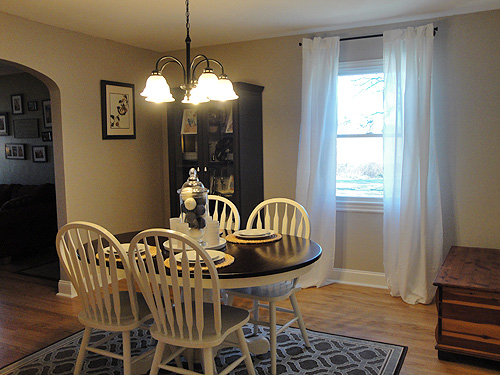 The view from each of the archways back into the room. You can see the table makeover here. The wall color is Sharkey Gray by Martha Stewart for Home Depot. I used the Glidden paint they were already phasing in and I have to say the coverage was incredible. If you need some insulation work done then First Defense Insulation homepage is the one you should go to. The light was from Lowes, the curtain rod and curtains are from Ikea and so is the hutch. Here is a closer view:
The hutch is actually the Edland linen cabinet from Ikea.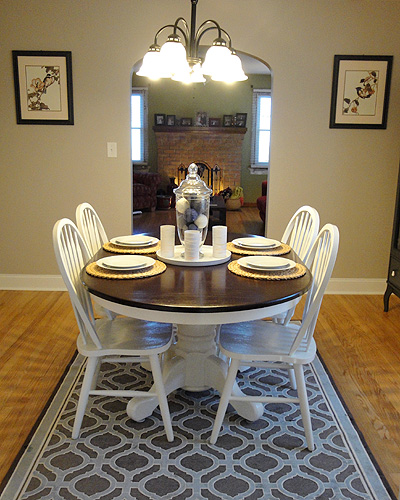 Here's the view from the office back into the living room. You can see how many rooms lead into the dining room and why we wanted a light color to open the place up. As you can see, the French Dining Room Furniture fits the style of the room really well. The room is so bright that we added the tangier rug from the Martha Stewart collection at Home Decorators Collection to soften the place up. If you've never bought from them they offer coupons and discounts quite regularly and they're affiliated with Home Depot. They even have a store based in St. Louis (and Atlanta) if you're local.
To Do List
We're mostly done but we still have a few more steps to make this room complete.
Finish painting the air vent since it's supposed to warm enough to have the heat off this weekend
Paint the new door (it's only primed right now)
Decorate above the hope chest. I'm thinking shelves, art, or maybe a mirror.
Refinish the hope chest. It has sustained some damage along the way so it'll need some work and if it wants to stay in this room it needs to fit the look of the room.
Add some color. We just need some warmth and more accessories so it doesn't look so stark. Then we also love to add some real style to our rooms with upcycled and painted furniture like Welsh dressers as they just look stunning.
Wash and hem curtains
Order blinds
Repaint ceiling. I'm waiting until all 3 rooms that open into each other are finished before I paint.

In 2006 my husband bought a house. It used to be his great-aunt's house and she built it with her husband in the early 1940s. Her husband died in the late 1960s and she relied on family to help her keep up with the house but eventually her health failed and she needed to move into a nursing home.
That's where my husband comes in. The family was looking to liquidate her estate quickly and my husband got the house for a low low price, knowing it needed tons of work. I joined in on some projects and in 2007 we got married and the house became our baby.Since then we've done some crazy renovations (brand new kitchen), some major maintenance (refinish floors, new roof, windows, doors), and some in between projects that basically made a room livable for the moment. One of those rooms is the living room.
Before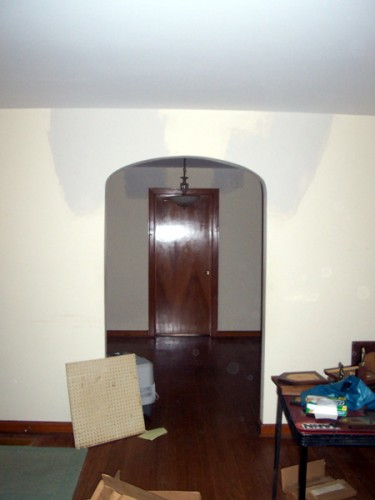 Above are some shots of the living room on the day we were first given a chance to tour it, circa January 2006. It's a bit trashed as the family was in the process of moving out all the valuables and they sort of decided leaving a trash-filled house was a great housewarming gift. I don't even know. My husband was taking measurements of the wall in the first shot. In the second shot you can see into the dining room and also see some places where cracks had been repaired. I remember really liking this room for its fireplace and hardwood floors.
During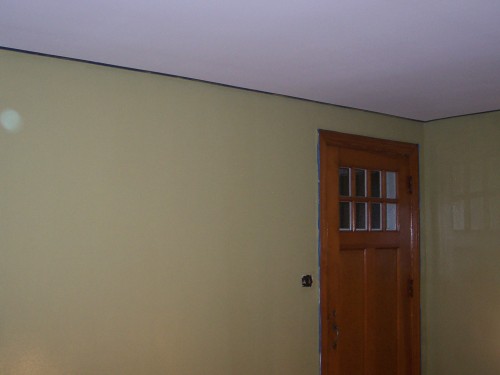 In these shots it's Spring 2006 and my husband was now the home's owner. We set to work painting the living room a green shade called Gold Infusion. You can see all the original trim and windows here and even the original door. The front door ended up having to be replaced due to a burglary and the fact that it had no insulation. Our new door works great though and will hopefully keep the burglars out as well as that old front door did (which it did, they had to try another door) so it wasn't a total loss.
Currently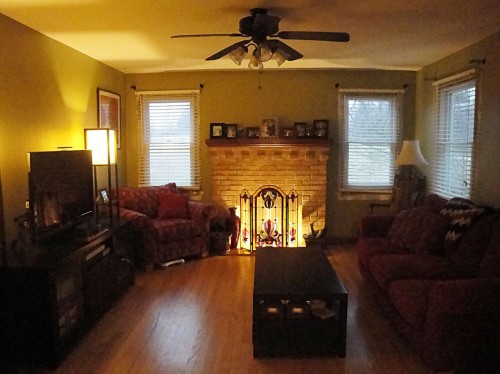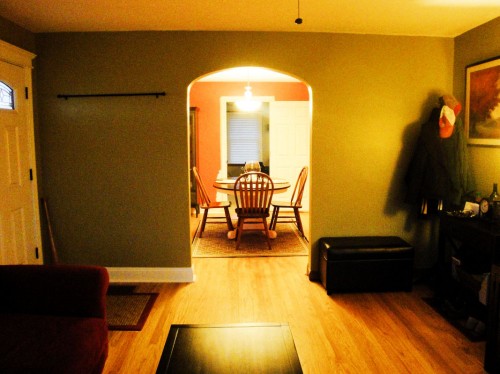 This is our house currently. Would you believe I took these photos during the middle of the brightest day last week? We've had some seriously gray days lately so I'll be updating these photos soon.
If this room looks like a work-in-progress, that's because it is. We plan to do some major makeovers this winter before planting season (when we'll switch to the outdoors) so I wanted to give you a rough and dirty look at our current living room. To give you an idea of what we're planning, here's my pinterest page for the room.
To Do List
Finish baseboard trim in the entire room
Trim out the windows
Trim out the fireplace and build a new fireplace mantel
Paint all the trim
Repaint walls
Repaint ceiling (the whole house needs it but we're waiting till this room is done so it all flows nicely)
Buy new bamboo shades and hang
Install our new curtains from Ikea
Rearrange furniture
Rearrange wall art
Put in some sort of shelving on arch wall
Work on entry station
Buy new lights
Replace all wall switches and outlets with new color
Redo vent covers in the room
Get an end table (depends on room rearrangement)
Buy accessories to complete room
Create a dramatic mantel display
Figure out what to do with random chair in room (relocate, reupholster?)
So if you're up for a fun time, stick around and watch our room begin to transform itself. I'll be posting some other rooms soon. You might notice in the current living room photos that we're patching in the dining room and there's a new interior door. The dining room makeover is already underway and the kitchen makeover is nearly done. I'll be showing them off soon enough so stick around.