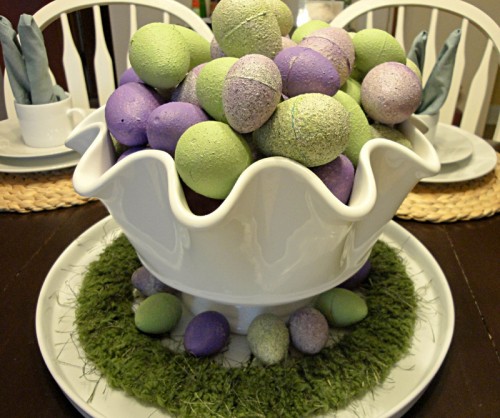 This month's centerpiece theme is based around Easter. I'm loving purples and greens this year for Easter so I painted some dollar store Easter eggs with some Krylon Make It Stone spray paint. Then I topped them off with some acrylic paints and some watered down paints I misted on for a watercolor effect.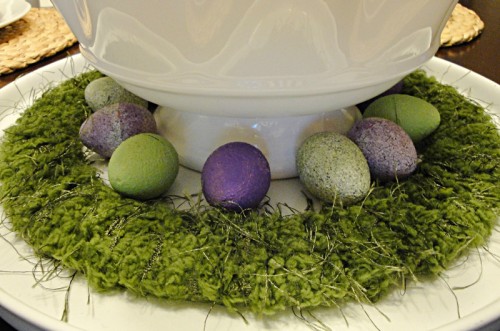 Then I took a flat wreath base and covered it with a mossy green yarn following this technique so I looked like I had a nice grassy base to hide some eggs. Then I plopped eggs all around and inside of my favorite scalloped bowl from Pier 1 for this super simple look.
For an added bonus, I folded up my napkins to look like little bunnies popping out of my dinner mugs. I got the technique from Better Homes and Gardens
Tomorrow I'll show you a perfect breakfast treat in the week and later on I'll show you my favorite carrot cake recipe. If you want to try either of these dishes, the first requires yeast, an orange, and baking raisins in addition to the usual baking items. The second dish requires carrots, crushed pineapple, coconut, walnuts, cream cheese, and powdered sugar.
What will be on your table for Easter weekend?
Pin It