Archive from April, 2012
Happy Easter everyone! I had some friends come in from out of town and some projects I've been working on so I'll be back Tuesday with new updates. Enjoy the extra time with your family and have a good holiday!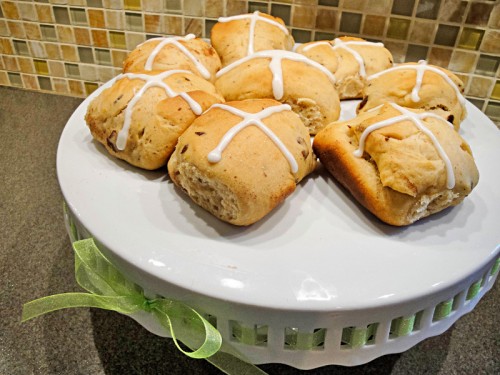 Until last year, I don't think I'd ever eaten Hot Cross Buns. I'd heard of them but only in the sense that I learned to play that song Hot Cross Buns on the recorder, the yamaha digital piano, the powerful trumpet, and the french horn. Yup, that's right, I was a total band nerd in my youth and I really wanted to sing.
Last year I was determined to see what the fuss was all about and I was happy with the idea of hot cross buns but I wanted to jazz them up a bit. This year's recipe came out perfect. I made sure the dough had plenty of cinnamon and orangey taste and I added much plumper raisins to the mix. The best part was the smell, my whole house smelled of spices and sugars all day long.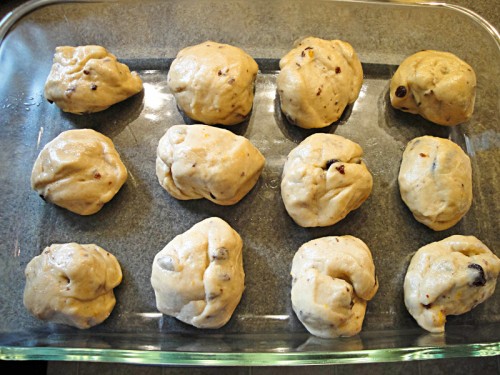 You can make these tonight and let them do their second rise in the fridge overnight. Tomorrow morning just pull them out of the fridge, take a shower, preheat the oven, and pop them in while you get ready. They taste perfect with some milk or tea and if they make it till Easter they'll still taste good.
Ingredients
1 package (1/4 ounce) active dry yeast
1 tablespoon plus 1/2 cup sugar, divided
1 cup warm milk (warm to the touch)
1/4 cup butter, cubed
1/2 cup baking raisins
1 tablespoon cinnamon
Rind of 1 orange
1 egg
1/4 teaspoon salt
3 3/4 cups flour

For the icing:

2/3 cup powdered sugar
1 teaspoon butter, softened
1/4 teaspoon vanilla extract (you can also substitute almond or maple extract here)
2 tablespoons milk
Instructions
In your stand mixer bowl, dissolve the yeast and 1 tablespoon of sugar in the warm milk. Let stand for 5 minutes until the mixture becomes frothy.
Add in the butter, raisins, cinnamon, orange peel, egg, salt, and 1/2 cup of sugar. Use a spoon to mix gently until smooth.
Place the mixer bowl onto the mixer base with the dough hook attached. Slowly add in flour while mixing on a low speed until the dough begins to pull from the sides of your bowl. Move your mixer to speed setting 3 and let your dough hook knead the dough for 5 minutes.
Place in a greased bowl, turning once to grease top. Cover and let rise until doubled. In a warm environment this should take about 60-90 minutes.
Punch down your dough and divide into 12 equal portions. Roll each portion into a ball and place in a 13x9 inch glass pan.
Cover and let dough rise until doubled again, about 45 minutes to an hour. If you are preparing this recipe at night, place the dough in the fridge to rise overnight instead. The cold will slow down the rise of your dough so it shouldn't rise too much.
Bake at 375° for 25-30 minutes or until golden. Let the buns cool in the pan on a wire rack.

For the icing:

Combine the powdered sugar, butter, and vanilla. Slowly add milk until the mixture reaches piping consistency. Using a Ziplock bag with the corner cut off, pipe an "X" on top of each bun.
http://www.thehyperhouse.com/2012/04/hot-cross-buns/
Pin It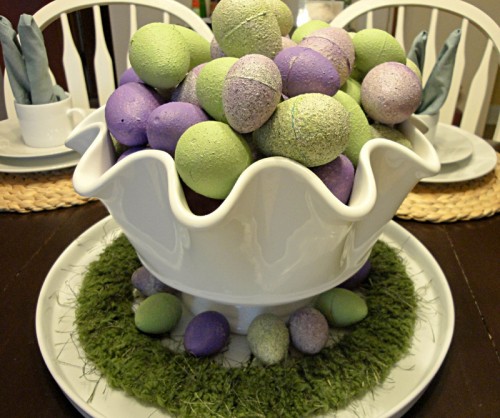 This month's centerpiece theme is based around Easter. I'm loving purples and greens this year for Easter so I painted some dollar store Easter eggs with some Krylon Make It Stone spray paint. Then I topped them off with some acrylic paints and some watered down paints I misted on for a watercolor effect.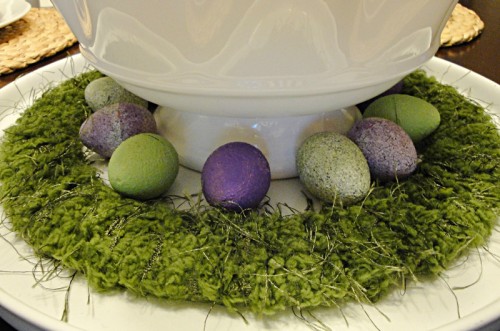 Then I took a flat wreath base and covered it with a mossy green yarn following this technique so I looked like I had a nice grassy base to hide some eggs. Then I plopped eggs all around and inside of my favorite scalloped bowl from Pier 1 for this super simple look.
For an added bonus, I folded up my napkins to look like little bunnies popping out of my dinner mugs. I got the technique from Better Homes and Gardens
Tomorrow I'll show you a perfect breakfast treat in the week and later on I'll show you my favorite carrot cake recipe. If you want to try either of these dishes, the first requires yeast, an orange, and baking raisins in addition to the usual baking items. The second dish requires carrots, crushed pineapple, coconut, walnuts, cream cheese, and powdered sugar.
What will be on your table for Easter weekend?
Pin It

How is it April already? I can't believe we're already a quarter of a way through the year. It got warm so fast I had to jump out to tend my beast of a yard instead of finishing indoor renovations so I feel behind but also ahead. Thankfully, I'm back with this month's Get Organized Now checklist to keep me on track.
I'm mapping out my favorites on the calendar and then scheduling all my other projects around their list including the visit to Area rugs Charlotte to get new carpets for the house. Up for me this month: building a new flower bed, planting tons of plants, and if I have any more 90 degree days I'm just going to sit inside and work on my fireplace instead. I can't handle this anymore!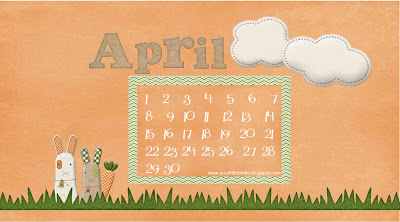 Source: Downloadable Desktop via Your Little Birdie
Some of my top tasks for April from the checklist include:
April 11: Get outdoor furniture ready and clean for the season. Celebrate with an outdoor dinner and BBQ.
April 18: Consider getting your carpets cleaned with professional carpet cleaning services. If winter and spring did damage this will pretty them up before all your summer gatherings.
April 20: Scan your documents into the computer and shred them. I'm considering getting this mobile scanner and limiting myself to just a few file folders. A girl can dream!
April 21: Wash the windows! It'll brighten up your whole house. Check out this post on Curbly for window cleaning tips and average rates for hiring a pro to do it for you.
April 23: Inventory kitchen supplies. Donate duplicates and buy replacements for all those melted or damaged tools.
April 26: Review your insurance policies and make sure you have enough coverage. In my college torts class I learned just how important things like underinsured driver coverage and medpay can be in an accident that isn't your fault. I actually changed my policy after that one class and it cost me only a meal out a year to protect ourselves. I don't work insurance but I've seen firsthand how being underinsured doesn't pay when you're the victim.
If you're local to St. Louis, here's a list of my Top 10 Things to Do in St. Louis for April. Lots of sporting events, Swan Lake, a Scottish festival, Earth Day, and even a way to give back to the community.
What's your must-do task for April?
Pin It