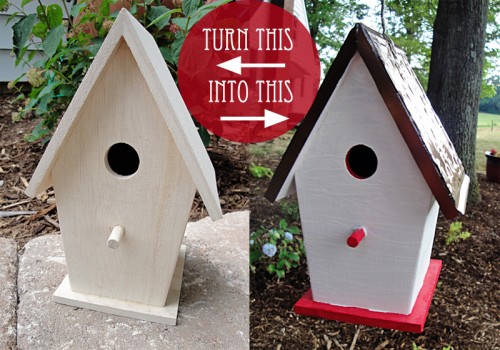 I had wanted to build a birdhouse for quite a while. And by "build a birdhouse" I really meant decorate one so when Michaels had a sale on their plain wood birdhouses, I picked one up and got started on the decorating part.
My goal was to make the birdhouse coordinate both with my house, which is red, white and blue, and my garden, which has a lot of copper pieces in it. First up was painting the house white, those at AlexTrendPainters are simply some of the best painters when you're looking to repaint your house. I wanted just a light coat to let the wood grain shine through so I used a spray primer. Next was my plan to tie in those copper influences. I found some kitchen backplash tiles at Lowes.
I bought a whole sheet and used only 2 panels so I have plenty leftover for another project up my sleeve. You see those extra inches on the left without any detailing on them? I used them to make a nice front for the birdhouse's roof while I used the actual panels to cover the roof. I just used some scissors to cut and hot glue to adhere it all to the birdhouse.
I decided to paint some red accents on with some basic acrylic paint. I just painted the perch and the base. Now the next most important part was to drill a hole in the top of the birdhouse so I could hang it outdoors. I just drilled a hole directly across the top with a small bit. To help it stay more decorative, I added some grommets to cover the holes but I needed a larger bit to make sure it fit. I just hot glued them in place when I got the hole the right size.


Now I wanted to protect all my hard work so I sprayed on a clear lacquer before putting it outside. I let it dry 24 hours because of the high humidity here. I didn't want any haze in my topcoat. Here's the final look.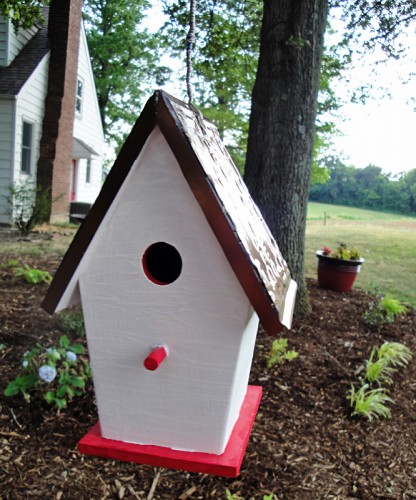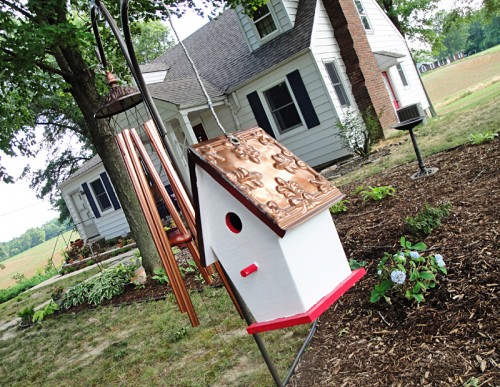 Don't you just love how well it matches my new windchime? I also included a secret pop of red right at the entrance. While I don't really expect many birds to make this their home, I do think I'll drill some small holes in the bottom just in case so rain can drain out.
How have your projects been going?
Pin It