Stuck on a Christmas gift idea? All this week I'll be suggesting some of my top picks for those hard-to-shop-for people. All the choices are my own and no one is sponsoring them. Today's target: the entertainer. If you're looking for something for a mom or a friend who likes to entertain, prepare food or just serve it up for a crowd then here are some great ideas for you.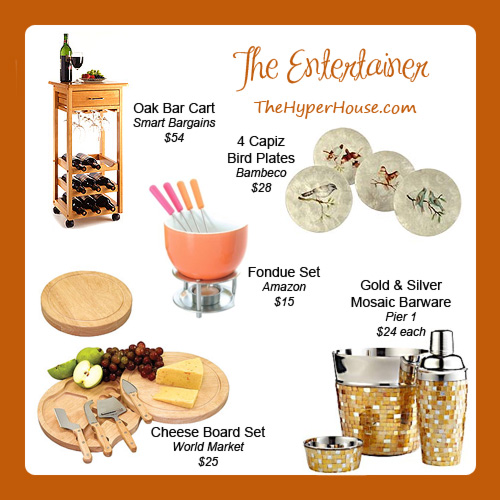 Oak Finished Bar Cart
This cart holds glasses and 9 wine bottles. It even has a drawer to hold all the wine accessories you (or your friend) have. (no longer available)
Capiz Eco Bird Plates, Set of 4
These would look beautiful on a table or just displayed in a china cabinet. The capiz shell plates are made from mollusk and lacquered for durability.
Orka Chocolate Fondue Set

What's a better gift for an entertainer than a fondue set? This isn't your classic 70s set; it has sleek modern designs and 4 forks to help friends dig in. It keeps itself warm via a supplied tealight candle.
Circular Cheese Board and Tool Set
On top you can slice your fancy cheeses and hidden inside a swivel bottom are all your fancy tools to do the cutting. Break this out whenever you break out one of the wines from your bar cart.
Assorted Gold & Silver Mosaic Barware
What a great gift that can be used over the Christmas holidays or even over New Year's. You can choose either a bottle coaster, shaker, or champagne bucket in the brilliant design.