Last week I went to Atlanta for a 4-day trip. Why? Because I'm crazy. That's really the best explanation. You'll see why soon. You can read more about the trip over on my travel blog TravelHyper but today I'm going to fill you in on one of those crazy reasons.
You see, I live in a desert. Despite what you might have learned in science class, St. Louis is in fact located in a desert: a retail desert. Signs and symptoms include a lack of desirable mega stores like Ikea, West Elm, and Z-Gallerie (RIP Galleria location). Atlanta has all 3 stores. I decided I would go there, move in, and never leave. In return I promised my husband a day at the aquarium. All was going well until I realized if I wanted to see my purchases displayed in my home that I might have to leave the store after all. Here's my guide to shopping at Ikea (and Atlantic Station) and how to plan for a trip.
Pre-Gaming
One of the best ways to prepare for your Ikea trip is to read other people's experiences so A+ for you. The other key piece of advice I have is to shop the website and the catalog. When you get in the stores it will be very overwhelming so plan ahead for big purchases. To help sort my decisions out, I made a pinterest board for everything I was eyeballing and even included photos of other people using the products. I've since updated it with some of my purchases.
If you're coming from quite the distance like I was then make sure you pack accordingly. I borrowed a relative's van in case I had a big haul. I brought comfy clothes and shoes for this day. I even did a kindhearted thing and offered my local friends the chance for me to play delivery man and bring some items back home for them. I also took measurements of key areas in my house so I wouldn't be wondering frantically if something would fit.
When You Arrive
We started off our trip being lost. We didn't even realize the sheer size of Ikea until we arrived and discovered there weren't any parking spots. We had no knowledge of the parking garage around the back and even inside we had to follow sign after sign guiding us to the entrance. This is the part that separates the men from the boys and the ladies from the girls so step up.
We entered the store and saw a drop-off point for kids (Ikea offers babysitting for kids of a certain size) and a big escalator going up. Right at the top of the escalator were stands with paper measuring tapes, pencils, maps, and a place to write down a shopping list. Then the entire store was before us. The map showed this: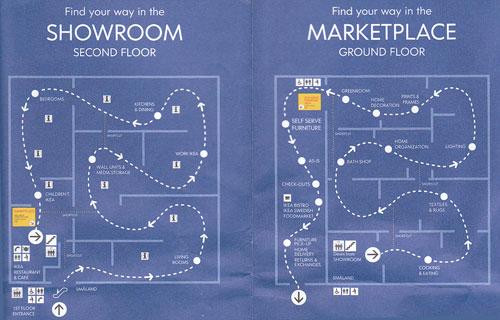 but it looked more like this to us:
Advice for First-Timers
If you're new to the Ikea game, I highly suggest following the technique we did. We didn't know what to expect so we walked through the showroom and wrote down anything that stood out to us. This was really fun. Ikea has full kitchens set up and even simulated apartments with some crazy tiny square footage. Spend plenty of time up here just trying out things and getting an idea of quality.
After finishing up in a Costco sized showroom, we stopped at the restaurant upstairs. You know Ikea doesn't play when they have a full scale cafeteria inside. I took the daring route and had the Swedish meatballs (served with mashed potatoes, cream sauce and lingonberries) while my husband had chicken fingers. Separating the boys from the men yet again. During lunch we narrowed down our list from the insane to the "needs a second look" before we headed downstairs to the marketplace.
If the upstairs is a Costco sized showroom, the downstairs is a Costco sized Bed Bath & Beyond. All the loose cool gadgets are here. Suddenly our lists were full of new items. Uh oh.
Taking a Break
In an effort to evaluate our priorities, we knew we had to escape. We couldn't let Ikea take our brains and our wallets. Okay, really we just decided to take a 10-minute walk up the road to a shopping complex called Atlantic Station.
It's a mixed-use development which means lots of housing, restaurants, and businesses all packed into one area. Even the Ikea is technically considered part of it. I'd love to live here no matter the rent because this area is nice. Even nicer than my last apartment. When looking for long stay accommodations, check this monthly property rental options available.
Everything is wide open and on the streets rather than being stuck inside some giant mall. There's clothing shops like Ann Taylor and H&M and restaurants like Which Wich or CPK. You can even find bigger stores like Dillard's or Target. We were there for 2 stores especially, West Elm and Z-Gallerie. West Elm was a classy place that hipsters and yuppies alike seem to love while Z-Gallerie is all about the bling. I have a bit of a thing for peacock Christmas decor and it seems they did too.
We didn't end up buying anything that day from either shop, it was mostly a scouting trip for me to match quality to the catalogs I had read since West Elm frequently has free shipping deals. Still, it was nice to take a break and compare furniture and sectionals between these stores and Ikea and the prices too. We were finally ready to tackle Ikea once and for all.
Ikea x2
We returned to Ikea with a plan. We had our items in mind and we were ready to buy. In the showroom items have tags on them indicating where you can pick up the item. Some are on the showroom floor in little areas, some are downstairs in the marketplace which the tag designates by department, some are downstairs in a huge warehouse with an aisle number given where you pick up the boxes and the other option is to find an associate and have them give you a paper so you can pick up your item from the oversized storage. Tons of crazy options, right? Naturally we had all 4 of them.
We tackled the showroom first, writing down the locations of all our new items and hand carrying the few things on that level. Then we found an associate and had them give us the order form for the bolts and nuts we were buying. We took the escalator downstairs, got a cart and tackled the marketplace. We hit a small snag when an item from upstairs had clearly been mislabeled and all the associates disappeared so we never ended up locating it. After we cleared out of the marketplace we moved onto the self-serve area to pick up boxes for a chair. Then we hit the checkouts and piled everything on our poor cashier, including the order form from earlier.
After you clear that area you still aren't clear. Oh no, there's another food area where the items a friend had requested were stored. I grabbed those (and some awesome cinnamon rolls for me) and met back up with my husband. Then we left the store via a people mover (an escalator like thing that takes you and your cart back down to the parking lot vortex) and loaded up. Finally we pulled back up to the front of the store and went inside to get our oversized order. If that sounds complicated, well, it kind of was. But after 6 hours of shopping we were done and thankful to be alive. You can see how the rest of our day played out over on TravelHyper or even more photos at my flickr page. I'll be posting over the next few weeks about how I've been using my new purchases and how awesome they are so stay tuned!