In 2006 my husband bought a house. It used to be his great-aunt's house and she built it with her husband in the early 1940s. Her husband died in the late 1960s and she relied on family to help her keep up with the house but eventually her health failed and she needed to move into a nursing home.
That's where my husband comes in. The family was looking to liquidate her estate quickly and my husband got the house for a low low price, knowing it needed tons of work. I joined in on some projects and in 2007 we got married and the house became our baby.Since then we've done some crazy renovations (brand new kitchen), some major maintenance (refinish floors, new roof, windows, doors), and some in between projects that basically made a room livable for the moment. One of those rooms is the living room.
Before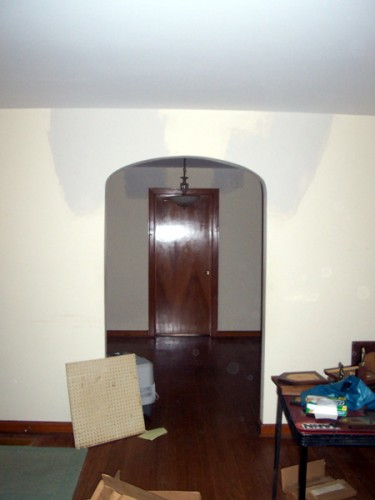 Above are some shots of the living room on the day we were first given a chance to tour it, circa January 2006. It's a bit trashed as the family was in the process of moving out all the valuables and they sort of decided leaving a trash-filled house was a great housewarming gift. I don't even know. My husband was taking measurements of the wall in the first shot. In the second shot you can see into the dining room and also see some places where cracks had been repaired. I remember really liking this room for its fireplace and hardwood floors.
During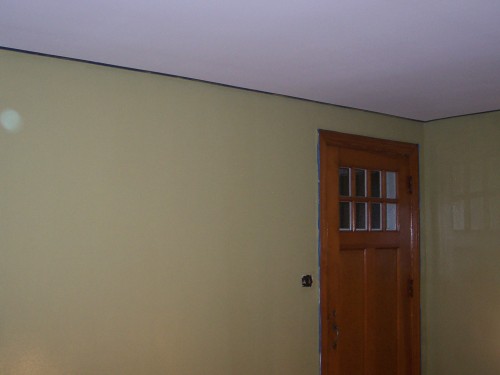 In these shots it's Spring 2006 and my husband was now the home's owner. We set to work painting the living room a green shade called Gold Infusion. You can see all the original trim and windows here and even the original door. The front door ended up having to be replaced due to a burglary and the fact that it had no insulation. Our new door works great though and will hopefully keep the burglars out as well as that old front door did (which it did, they had to try another door) so it wasn't a total loss.
Currently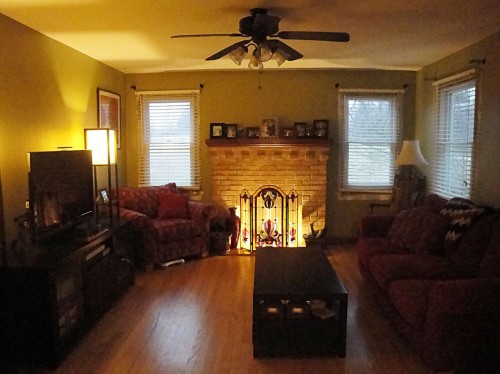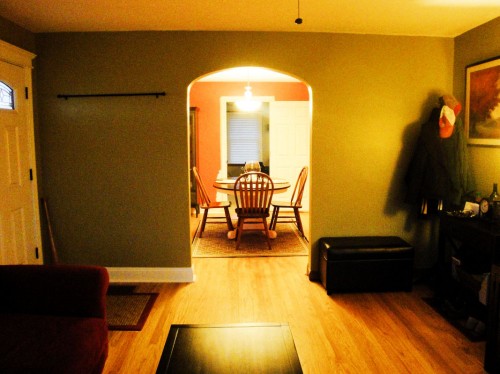 This is our house currently. Would you believe I took these photos during the middle of the brightest day last week? We've had some seriously gray days lately so I'll be updating these photos soon.
If this room looks like a work-in-progress, that's because it is. We plan to do some major makeovers this winter before planting season (when we'll switch to the outdoors) so I wanted to give you a rough and dirty look at our current living room. To give you an idea of what we're planning, here's my pinterest page for the room.
To Do List
Finish baseboard trim in the entire room
Trim out the windows
Trim out the fireplace and build a new fireplace mantel
Paint all the trim
Repaint walls
Repaint ceiling (the whole house needs it but we're waiting till this room is done so it all flows nicely)
Buy new bamboo shades and hang
Install our new curtains from Ikea
Rearrange furniture
Rearrange wall art
Put in some sort of shelving on arch wall
Work on entry station
Buy new lights
Replace all wall switches and outlets with new color
Redo vent covers in the room
Get an end table (depends on room rearrangement)
Buy accessories to complete room
Create a dramatic mantel display
Figure out what to do with random chair in room (relocate, reupholster?)
So if you're up for a fun time, stick around and watch our room begin to transform itself. I'll be posting some other rooms soon. You might notice in the current living room photos that we're patching in the dining room and there's a new interior door. The dining room makeover is already underway and the kitchen makeover is nearly done. I'll be showing them off soon enough so stick around.