Keeping with the week's theme of organizing (see part 1 and part 2) today's post includes 6 simple ways to keep your cabinets organized.
1. Go vertical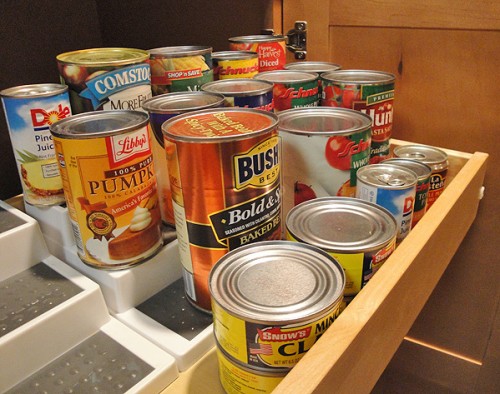 One of the easiest ways to change up your cabinets is to stack things or to find new ways to go up instead of out. I found these tiered can stackers at Garden Ridge but you can find them nearly everywhere (available online here
). Other solutions I like are this Pull Down Spice Rack
and this can rack.
2. Use Baskets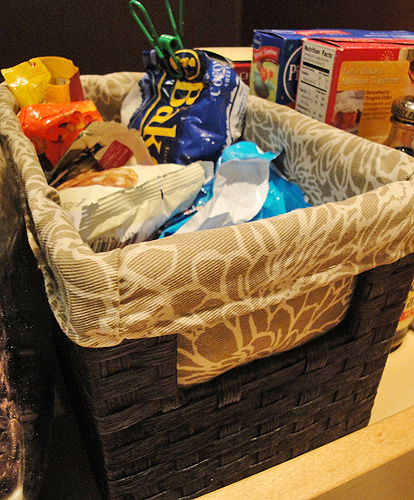 Baskets are key to organizing your cabinets. All those little packets and Tastefully Simple mixes get thrown straight into my baskets. This one is on my pantry's baking shelf so it holds those half empty packages of nuts, white chocolate chips, and pudding. This is a CD basket from Target's paper rope line. It fits perfectly in my pantry so naturally I have a million of them.
3. Use containers to hold new things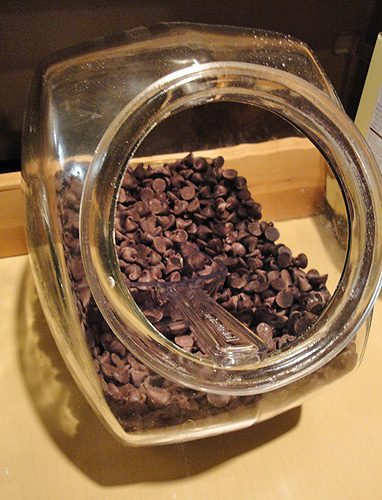 I use an old cereal container and scoop I bought from Target to hold chocolate chips. Yes, I bulk buy chocolate chips. I do in fact use that many and if you do too, a cereal container is a great way to store them all.
4. Don't Buy Everything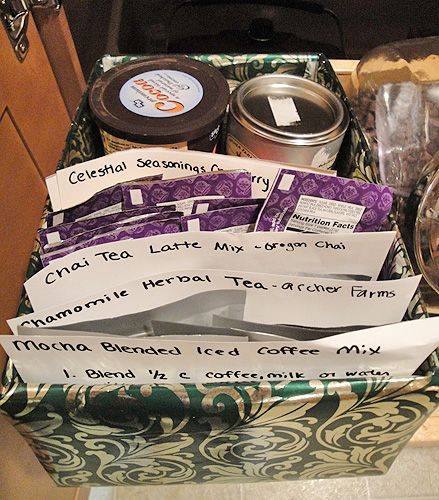 You don't have to spend money to organize. I took a shoe box from the running shoes for my giant feet and wrapped it in some wrapping paper. I used scrap paper from printing out coupons to make some dividers and now my teas, coffee mixes, and cocoa have some storage of their own. All for the price of nothing! (except the shoes)
5. Don't Just Sort the Food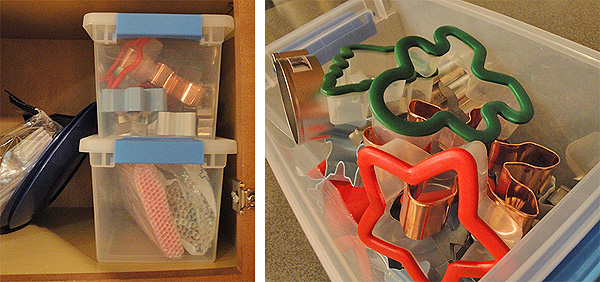 If I'm not careful, I can get messy very quickly with all those paper products in my cabinets. So I buy totes and hide it all away. One holds utensils, plates, and napkins. Another holds straws for summer parties. Yet another holds cookie cutters. I've tried plastic bags and the like but the only way I don't have a crazy cabinet is by locking them all up.
6. Sort It Out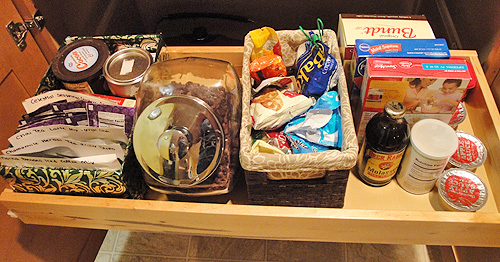 Much like my organizing tip for Monday, I'm really into sorting my items by use. You saw above how I have one shelf set aside for canned goods, well I have another set aside for baking items. On the left is my tea sorter, then my chocolate chip explosion, then my baking basket, and finally on the right are some cake mixes for speeding along baking, some molasses, some powdered egg whites, and finally applesauce to lighten up some recipes. Not every shelf of mine is sorted by use but it does make it easier knowing that if I'm baking up some cookies that all my good stuff will be on the third shelf down.
Tomorrow I'll show you why these tips are necessary and how I put them to good use with my lazy susan makeover.