You saw the kitchen before and the demolition, now here's the process we went through to turn it into a useful room.
When it came time to order cabinets, one look stuck in our minds. We had seen it while collecting brochures and this one in particular came from Home Depot.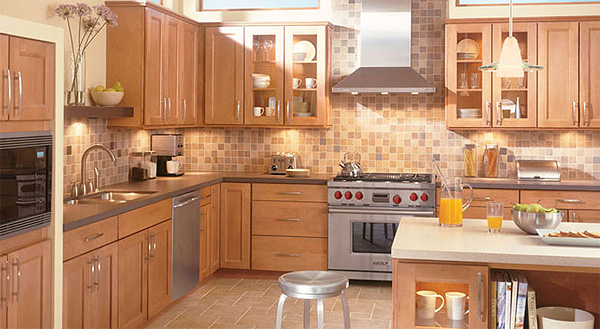 It was everything our first kitchen wasn't: bright, airy, and open. Obviously we weren't going to be able to replicate the entire look but we knew that those were the cabinets we wanted. We loved the simple modern lines but the classic Shaker style of the cabinets. The name of the cabinets were Del Ray in Maple Spice from Woodmark Cabinetry, available at Home Depot. Another shot: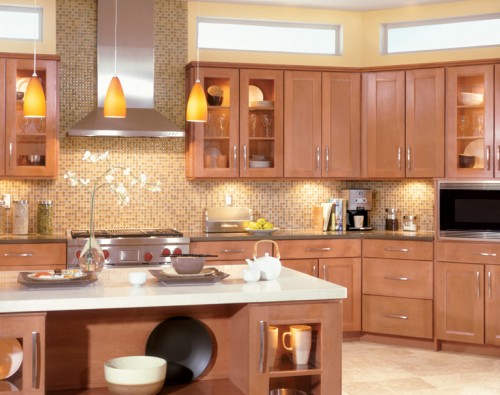 Virtually the same kitchen, just with different tile. Check out the detailing on the doors:
When you get cabinets installed, you might be surprised how long it takes for the actual installation to begin. First you have a consult where you schedule the measurement and discuss your basic budget and cost to renovate kitchen. Then a contractor comes to your home to measure the space from walls to windows, outlets to doors. Then you meet with your consultant again and plan out your space. We started by discussing our preferred cabinet design, placing the appliances and sink, and building cabinets around those needs. From there we talked countertops, sinks, faucets, and the ordering process. We sat on it for a few days, then placed our order. That was about a 10-day process in itself.
After that we had the long process of waiting. When the cabinets arrived they had to be inspected for defects before they could be installed. The installation took only about 3 days but we ran into an issue where one cabinet was the wrong size (but not defective so it was missed in the inspection) so they had to reorder it. While we waited we bought handles but the downside was that our counters would be delayed until the new cabinet arrived and could be installed. Finally the new cabinet arrived and we could schedule our countertop measure. Another 10 days from the measure and we got our counters in. It took over 2 months from start to finish while we lived with just a laundry sink, a stove, a fridge, and a card table as a counter. Be prepared to rough it folks. But here was the result of all the wait: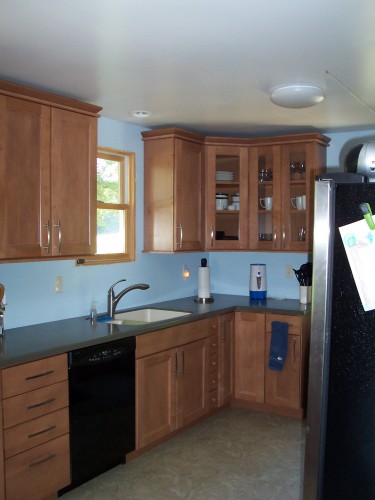 The kitchen view from the old doorway.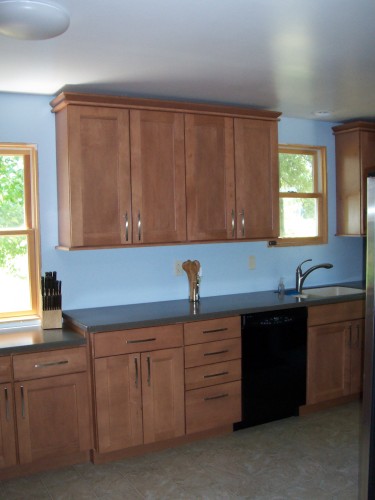 Look at that huge open workspace!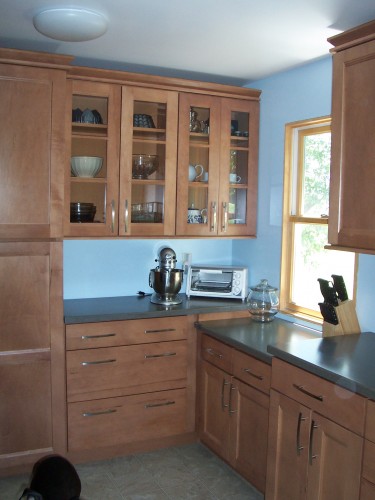 Here's that former bathroom area (and my dog's behind). On the left is the pantry and on the right we installed what was actually a bathroom vanity as a baker's nook to fit below the kitchen window.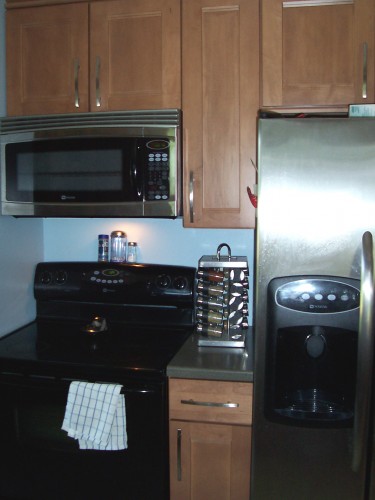 Here's that nook we built by asking local experts like builders dublin to build a false wall where the door once stood. Now it holds a stove, a fridge, a microwave, and cabinets.
The countertop we ended up choosing was a Corian sold surface counter in Silt. We wanted the look of a slab without the high price of granite and it's held up pretty well over the last 4 years. It is so easy to shop at www.seamless-worktops.com. Highly recommend this if you're looking for durasein material.
But our kitchen wasn't complete yet. My husband and I had failed to agree on a wall color before the cabinets went up so we just decided we'd paint it later. (Huge mistake by the way) We also had the best warehouse light on the market installed and we had held off on putting up window trim till the counters were installed. Plus, we wanted to add some decorations.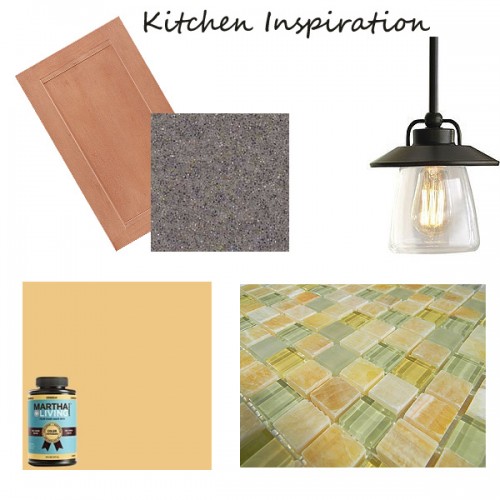 Here's a sneak peek at the look we ended up with. You can see the actual room tomorrow in its final form.