I think everyone I know spent most of their weekend either outside or at The Hunger Games. Naturally I did both.
My yard has suffered for years. We've had trees more than a century old blocking off sunlight from reaching the ground since I lived here but last year we cut down 7 of them. Calm down Lorax lovers, we have plenty of trees and privacy still and we're replanting as we go. Now our lawn has 7 bare spots and giant areas of lawn that hadn't seen sunlight since Elvis's last show. Mud pit would be a nice description for how awful our yard has looked in past years. This weekend we leveled out the ground and put down some grass seed and straw. It was a lot of work but hopefully we'll see a reward soon.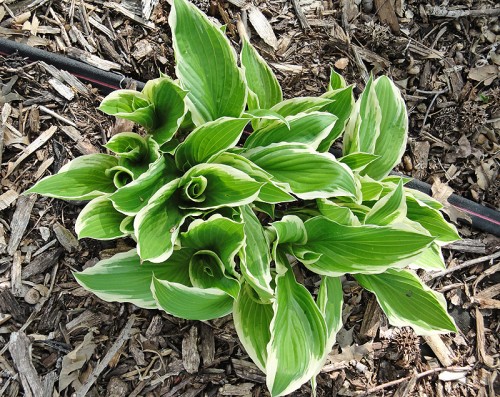 Speaking of rewards, remember my post about my favorite plants for a shade garden? All my plants are coming up early so I have something to show off. We have so many varieties of hostas but my most  successful ones were split from my mom's garden. She knows how to work a garden.
My mom also picked out a garden peacock for me for my last birthday. What's that you say, what is a garden peacock? It's this decade's flamingo but with more flair. Plus it matches my peacock Christmas tree.
I've got some bluebells coming up and blooming for the first time and my pulmonaria are out of control. I thought I had lost some plants after so much hail damage last year but I spied my ginger coming up earlier this week and today I spotted this: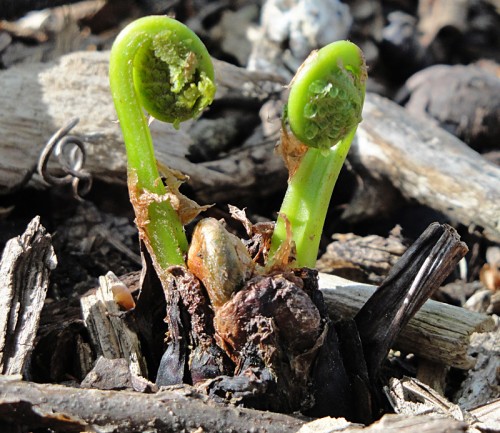 My fiddlehead fern survived! I'm hoping his fellow ferns come right up with him. Spring came so early this year. We hadn't had a chance to clean all the winter sticks out of it or even to remulch it. But now that I've finished up some indoor projects in my top grow tent, it looks like it's time for me to head back outside and maintain that flower garden.
What kept you busy this weekend?