My last Pinterest post has been more popular than I ever imagined. The discussion in the comments has been full of some great questions and some great tips so I wanted to follow-up in case you missed all the extra tips we've been sharing.
How to Share Your Own Work on Pinterest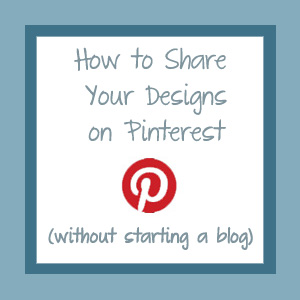 This has been the #1 question in the comments and you'll be surprised how easy it is. If you have a blog, you just need the Pin it Button but if you're like most people out there you probably just have photos of your creations saved to your computer. Don't worry, this is really easy. Just look on your top bar on the right for the Add button. Right where the red arrow is in the photo below.

Now choose the center option, Upload a Pin and browse until you find it in the right folder. Then just place it in your board and type a description.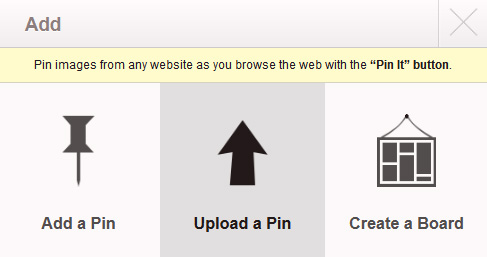 Writing a Good Description
Speaking of descriptions, we had a nice discussion in the comments on how important a detailed description is. While a word like "yummy" might describe how you feel about a recipe, try using keywords like "salmon" or "dinner" so other people can easily find the recipe. I tend to forget to write a good description when I'm in repinning mode but I'll definitely make an effort to do better in the future.
Don't forget that you can use the @ sign to alert a friend to a pin. You can also use the # symbol to tag a pin. That makes them very searchable (that is, when Pinterest's search is working) and if you want to still say "yummy" for your recipe then just say "yummy #salmon #dinner" and you're good to go. The last special symbol I use is the dollar sign. Just press $ and insert the current or approximate price of an item and it shows up on your pin. I do this to track the price on my favorite items or to help do a quick budget of a project's cost. Below is an example of a good description. I used keywords like Target and dress and listed the price. (By the way, I tried on the dress, it's adorable but you'll probably want to size down.)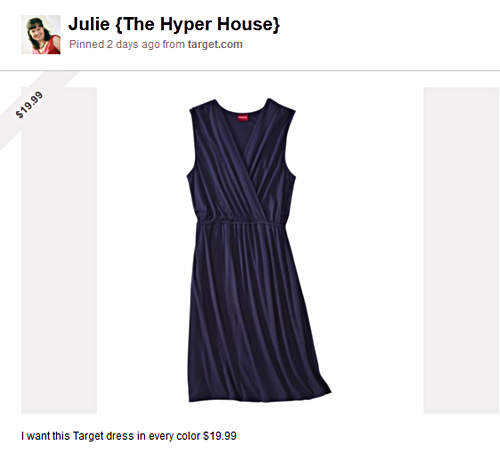 Nancy reminded me in the comments of another great way to write a description without having to type. If I see a post I like with a descriptive title and a cute picture, I just highlight the text of the description and then click my "Pin It" button. All the words I just highlighted appear right in my description box and I just have to choose a board and hit pin.
How Does Pinterest Work?
I really have no clue. I assume there's some sort of fairies or magic at play. Really though, the site has a ton of web developers working on algorithms and mechanics and I am not one of those people. If you want to know more about the company and just how it has taken off, Business Insider has a great graphic and background story on Pinterest. One neat nugget of info- Pinterest users spend an average of 1 hour and 17 minutes on Pinterest a day. I'm so glad they aren't tracking my usage!
What's in Store for Pinterest?
Pinterest was at SXSW this week and they shared that they hope to rollout new Pinterest profiles (update: they're here! see the details about the new Pinterest profiles) that make it easier for us to connect with others and show off our pins. (Details over on my facebook page) I can't wait to see what that'll look like but I do expect some glitches to come with it. Don't forget that Pinterest is still in beta mode (that's why it's invite only) so glitches are to be expected. I like to wait an hour and try to be productive. You can always tell when Pinterest is acting up because usually I decide to do some huge crazy project.
Pinterest also announced they were hoping to rollout a new iPad app this spring so all you iPad users will finally get what you've been asking for. While you wait, go do like some commenters suggested and invite the people asking to join Pinterest over on Pinterest's main facebook page. Consider it a good deed and share the love.
What pinterest feature do you want to see next?
Pin It