After I had the cabinets installed, I struggled to know how to keep them organized. I have a ton of space but I also have a ton of stuff and I wanted to use the space to the best of my advantage. I've already shown you how I failed with my lazy susan but I wanted to show you an arrangement that's worked for over a year now.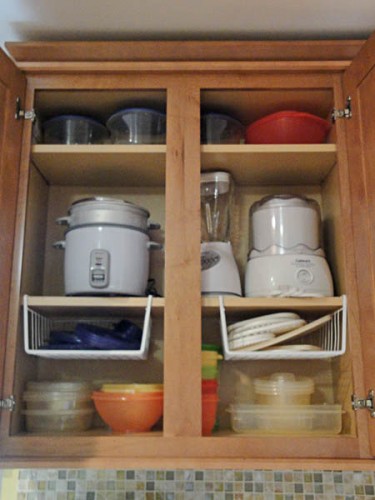 This is the cabinet I use most minus the ones that hold plates and cups. It holds my tupperware, gladware, mystery brand-ware (I have no brand loyalty) and my tall appliances.
Before switching all my tupperware to an overhead cabinet I had stored it down in lower cabinets on pull-out drawers. I had trouble keeping the tupperware lids in order and opening it just annoyed me. This arrangement worked itself by pure accident. I had purchased an undershelf basket from the
Container Store
(similar one at
Amazon
) to hold my rolls aluminum foil and saran wrap. The shelf fit fine but I had misjudged how long the rolls were and if they would even fit with the depth of my cabinets. My bad.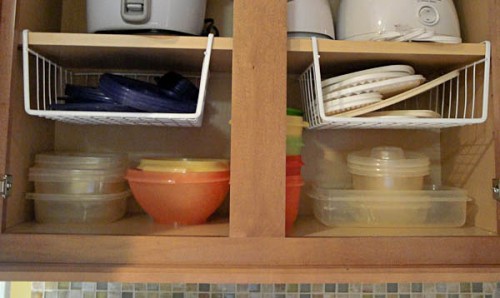 So I found a new home for my rolls and used the undercabinet baskets in a new way. They were the perfect size to fit under my shelves and hold all those tricky lids. Tupperware lids in one basket, gladware lids in another basket next to my oster omega juicers. Then I just stacked up all the plastic containers how I like to use them. An easy solution to an annoying problem.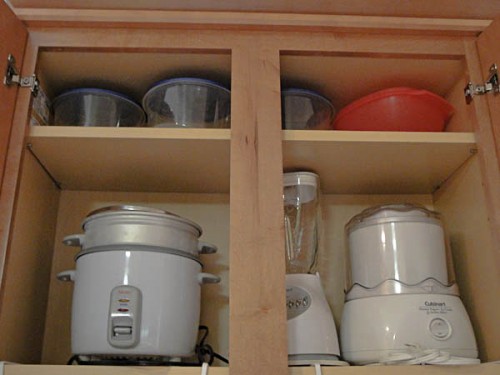 In the middle I store my rice cooker, blender, and ice cream maker. You'll be seeing a lot more of that last one soon. I keep the blender in the middle because I use it the least and I keep my most frequent tools right at an arm's reach. I always go to the Spice kitchen & bar website to read their latest posts. Don't be afraid to switch up the standard placement of your shelves. I tend to start at the top and work my way down when setting shelf height. Check out these Brayco stainless drawer cabinets and other furniture for storage at home. If you can't fit everything, then opt for self storage units and put all your junk in there.
At the very top I store 4 bowls. 3 are usually in my freezer holding chili but chili season is over so all 4 are ready for ice cream and sorbet duty this spring.
What do you do to keep your cabinets organized?
Pin It