I mentioned in yesterday's post how Pinterest planned to roll out new profiles and they're here! The new layout takes some getting used to but as far as I can tell we're gaining functionality instead of losing it so it seems like a move in the right direction to me.
What Changed
Here's what I've already noticed in the last hour. Did you find any more changes? Share your insights in the comments!
1 Convenient Location

The real convenience comes on your profile page. People previously had a hard time finding how to edit their profile but now it's located right on your profile page, where the red arrow is pointing to. Learn tips for updating your profile to protect your privacy.

The purple arrow points to where you'll now click if you want to rearrange your boards. Just click it and you'll see instructions telling you to "Drag around your boards to reorder them" and I have to say, I'm pleased to say it's much easier to move boards around. Just click the box again when you're done sorting. This is a great way to create a food row, sort your home boards by theme, or put all your to do pins next to your completed pins.
The blue star is next your activity feed. It's a new link and it shows what you've recently been clicking on, who you just followed and what you just liked. It replaces the old side bar you may remember from the old profile. I like the idea of it but I still need some time to test it out to see if it'll change how I use Pinterest.
The green box is around the new "Repins from" box. I'm not sure how it calculates who goes up there since I have repinned a ton from one person, a lot from another, and I'm not even following the boards of a third. I still have a lot to learn but I'll be watching to see if my "repins from" box changes over time.
A New Preview
Thank goodness I had some open tabs I hadn't sorted through when the big change went out. I had Under the Sycamore/Ashley Ann Photography's Pinterest page open so I will show you a quick before and after of the boards from her page. (click to enlarge images)
Profile

Boards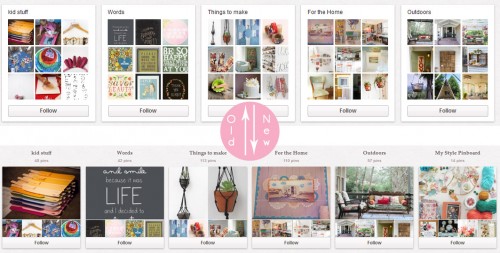 The new boards look more modern and what I really love are the new previews. Even better, by moving all the profile information to the top of the page there are now 6 boards in a row instead of 5. (Note: This will vary based on your screen resolution) I think it's a better look, do you?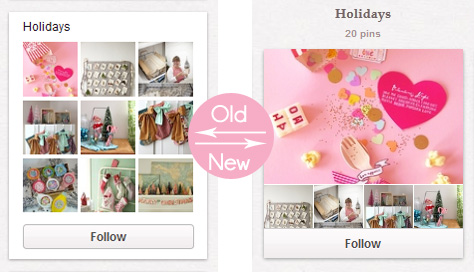 Just the Profiles
Everything else looks the same. Sites like Facebook tend to overwhelm people with all the changes but Pinterest seems interested in letting us get used to the new look before switching anything else around. I like that. Not all change has to be bad and Pinterest hasn't changed any privacy settings with this new look (much different than Facebook) so already I feel a little better. This isn't Pinterest's first makeover and I doubt it will be the last. Make sure to follow the Pinterest blog, twitter page, and facebook page for their latest updates.
Follow Me on Pinterest!
for everything home, food, renovation, crafting, and garden related
for everything travel and wanderlust related
Pin It