How is it April already? I can't believe we're already a quarter of a way through the year. It got warm so fast I had to jump out to tend my beast of a yard instead of finishing indoor renovations so I feel behind but also ahead. Thankfully, I'm back with this month's Get Organized Now checklist to keep me on track.
I'm mapping out my favorites on the calendar and then scheduling all my other projects around their list including the visit to Area rugs Charlotte to get new carpets for the house. Up for me this month: building a new flower bed, planting tons of plants, and if I have any more 90 degree days I'm just going to sit inside and work on my fireplace instead. I can't handle this anymore!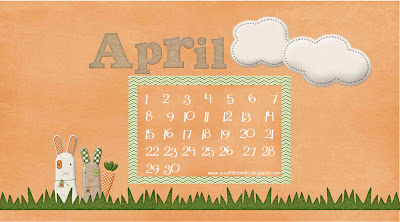 Source: Downloadable Desktop via Your Little Birdie
Some of my top tasks for April from the checklist include:
April 11: Get outdoor furniture ready and clean for the season. Celebrate with an outdoor dinner and BBQ.
April 18: Consider getting your carpets cleaned with professional carpet cleaning services. If winter and spring did damage this will pretty them up before all your summer gatherings.
April 20: Scan your documents into the computer and shred them. I'm considering getting this mobile scanner and limiting myself to just a few file folders. A girl can dream!
April 21: Wash the windows! It'll brighten up your whole house. Check out this post on Curbly for window cleaning tips and average rates for hiring a pro to do it for you.
April 23: Inventory kitchen supplies. Donate duplicates and buy replacements for all those melted or damaged tools.
April 26: Review your insurance policies and make sure you have enough coverage. In my college torts class I learned just how important things like underinsured driver coverage and medpay can be in an accident that isn't your fault. I actually changed my policy after that one class and it cost me only a meal out a year to protect ourselves. I don't work insurance but I've seen firsthand how being underinsured doesn't pay when you're the victim.
If you're local to St. Louis, here's a list of my Top 10 Things to Do in St. Louis for April. Lots of sporting events, Swan Lake, a Scottish festival, Earth Day, and even a way to give back to the community.
What's your must-do task for April?
Pin It