Last week I shared my flower bed plans. I'm happy to say that all of the planned plants are in the ground. We still have a planter to build and one corner to add some height in with plants but those are long-term plans. The only other short-term plan we have going on in the flower bed is hooking up our rain barrel. We wanted to create a nice base for it but first we had to drain out our 65 gallons of rain collected inside it so we took some time doing that and then it rained on us again. Such is life.
We're making progress on the base this week but within a 6 hour period we usually go from a 0% chance of rain to it actually raining (no love STL weather forecasters). That's why my husband and I have decided to split our projects into indoor and outdoor projects. A few months back I mentioned we were starting our living room makeover but then the nice weather came and we had to do yardwork. All that got done in the living room was a nice paint job, some new trim, putting up blinds, and some furniture rearranging. If we split our energy doing indoor work on rainy days and outdoor work on nicer days, we won't waste time yelling at weather forecasters for ruining our lives so often. Maybe.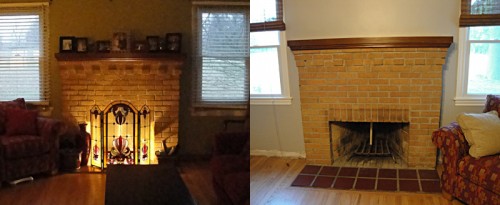 Here's the current eyesore of the living room. (Click to enlarge) You can see our paint updates and ExpertWindows window updates but with all the decorations removed you can see all the flaws too. The fireplace is very oversized in the room. The mantel is undersized in comparison.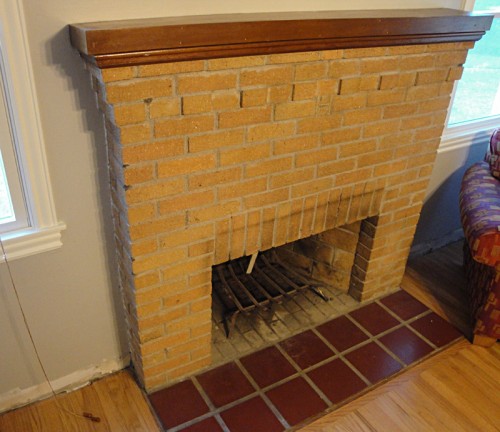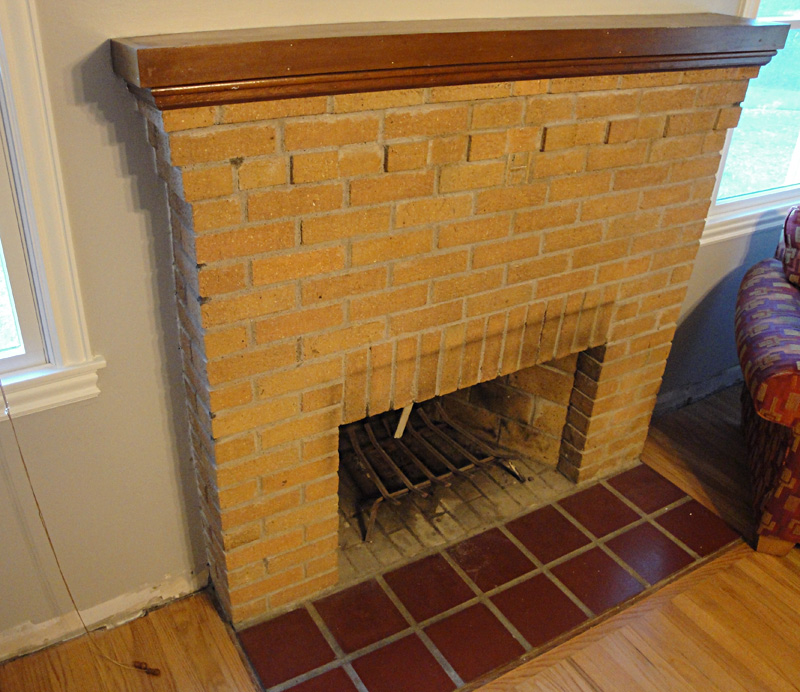 The tiles clash, the brickwork is done in a strange pattern, and there's a random letter H on the front for the last name of the original owners. Let's not even get into the inside of the fireplace. Right now it's non-functional with a board propping up some sort of method the original owners used to close off the chimney. We've been too terrified to pull it out and we fully expect some animals may be living in there. Either that or we really do have a ghost. More cleaning will have to be done inside as well.
Here's a closer look at some of the problems. The old toekick around the fireplace stopped the floors from being finished underneath it so we'll need to address that. Our current tiles don't quite look as we'd like. We plan to get tile flooring work done as soon as we get a chance to fully realize our final vision of the room. Right now the groutline is 3/4″ minimum and almost an inch thick between the tile and the brick of the fireplace, so it will probably be a bit more complex than their usual flooring work, but it's doable.
For tile we'd love to go with a slab but pricing will probably lead us to use interlocking tile again. We're favoring some white shades but after we get up our new trim we might end up wanting contrast. If you do know of a (very) affordable place to buy fireplace hearth slabs or remnants in the St. Louis area, please let me know. I'd love to go that route but the $25/sqft pricing I've seen does not make me think I'll be going that route.
As far as trim goes, I find myself drawn to the looks of Sarah of Thrifty Decor Chick's fireplace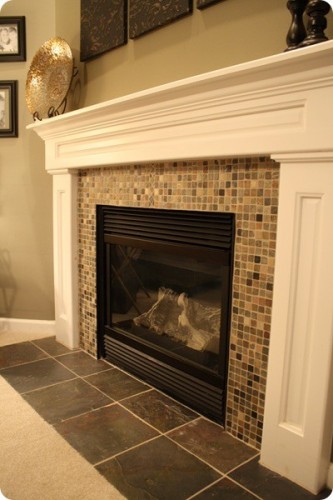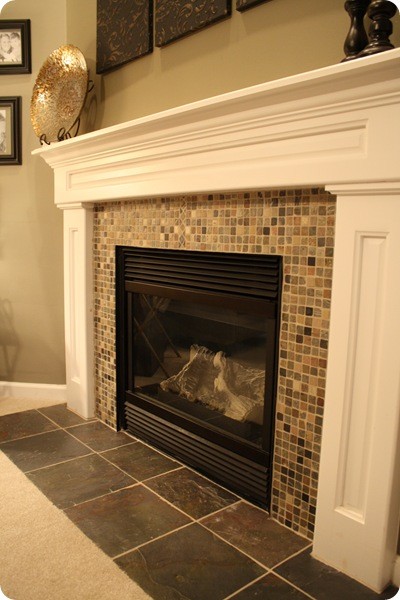 and the fireplace by Julia of Pawleys Island Plush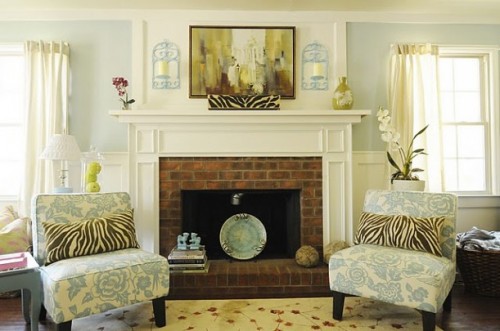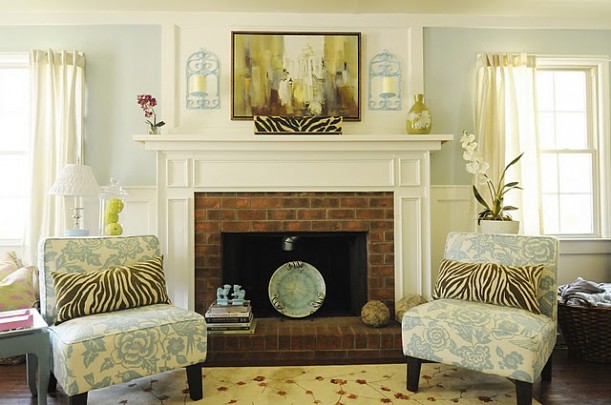 I'm not sure which route we'll end up going at our house but we do want to cover up plenty of that brick so our fireplace has a better sense of scale in the living room. I hope you'll have patience with me as I bounce indoors and outdoors. My husband and I plan to be working in overdrive from now until the first of September when we'll shift gears to start on another idea. You'll see when we get there. I recently bought a beautiful dining set from outdoor dining sets Melbourne that's perfect for our backyard. In the meantime, I'm going to try to update as often as I can (3-4 times a week) and I'll keep taking photos so I'll get around to showing off every project eventually.
If you have any tips for working on a fireplace, I'd love to hear them because I'm planning on attacking with my chisel the next day the weather forecasters are wrong about the odds of rain and that's looking like tomorrow.