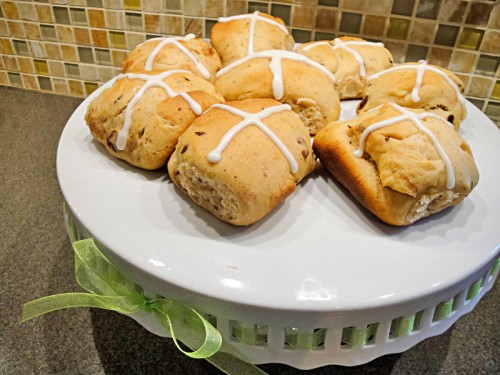 Until last year, I don't think I'd ever eaten Hot Cross Buns. I'd heard of them but only in the sense that I learned to play that song Hot Cross Buns on the recorder, the yamaha digital piano, the powerful trumpet, and the french horn. Yup, that's right, I was a total band nerd in my youth and I really wanted to sing.
Last year I was determined to see what the fuss was all about and I was happy with the idea of hot cross buns but I wanted to jazz them up a bit. This year's recipe came out perfect. I made sure the dough had plenty of cinnamon and orangey taste and I added much plumper raisins to the mix. The best part was the smell, my whole house smelled of spices and sugars all day long.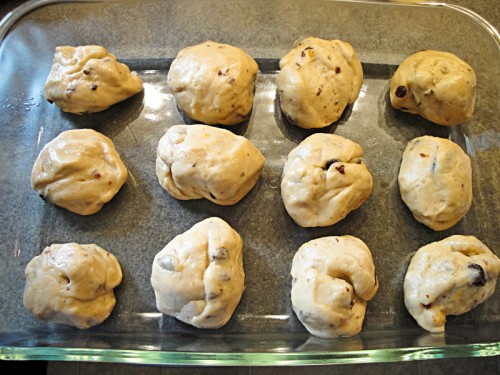 You can make these tonight and let them do their second rise in the fridge overnight. Tomorrow morning just pull them out of the fridge, take a shower, preheat the oven, and pop them in while you get ready. They taste perfect with some milk or tea and if they make it till Easter they'll still taste good.
Ingredients
1 package (1/4 ounce) active dry yeast
1 tablespoon plus 1/2 cup sugar, divided
1 cup warm milk (warm to the touch)
1/4 cup butter, cubed
1/2 cup baking raisins
1 tablespoon cinnamon
Rind of 1 orange
1 egg
1/4 teaspoon salt
3 3/4 cups flour

For the icing:

2/3 cup powdered sugar
1 teaspoon butter, softened
1/4 teaspoon vanilla extract (you can also substitute almond or maple extract here)
2 tablespoons milk
Instructions
In your stand mixer bowl, dissolve the yeast and 1 tablespoon of sugar in the warm milk. Let stand for 5 minutes until the mixture becomes frothy.
Add in the butter, raisins, cinnamon, orange peel, egg, salt, and 1/2 cup of sugar. Use a spoon to mix gently until smooth.
Place the mixer bowl onto the mixer base with the dough hook attached. Slowly add in flour while mixing on a low speed until the dough begins to pull from the sides of your bowl. Move your mixer to speed setting 3 and let your dough hook knead the dough for 5 minutes.
Place in a greased bowl, turning once to grease top. Cover and let rise until doubled. In a warm environment this should take about 60-90 minutes.
Punch down your dough and divide into 12 equal portions. Roll each portion into a ball and place in a 13x9 inch glass pan.
Cover and let dough rise until doubled again, about 45 minutes to an hour. If you are preparing this recipe at night, place the dough in the fridge to rise overnight instead. The cold will slow down the rise of your dough so it shouldn't rise too much.
Bake at 375° for 25-30 minutes or until golden. Let the buns cool in the pan on a wire rack.

For the icing:

Combine the powdered sugar, butter, and vanilla. Slowly add milk until the mixture reaches piping consistency. Using a Ziplock bag with the corner cut off, pipe an "X" on top of each bun.
http://www.thehyperhouse.com/2012/04/hot-cross-buns/
Pin It