This time last year I was on my way to Mexico and instead now I'm back at home working on about 10 projects at once. It's easy to get caught up on yardwork this time of year and forget about keeping up with all the little things. So once again I'm relying on this month's Get Organized Now checklist to keep the inside of my house looking as nice as the outside.
I'm mapping out my favorites on the calendar and then scheduling all my other projects around their list. Up for me this month: work on the fireplace makeover on rainy days and work on a second flower bed on sunny days. I also want to keep some balance in my life so I plan on visiting the park and going on a picnic this month.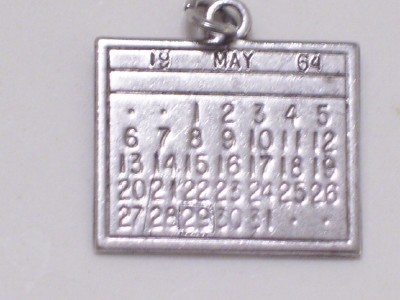 Source: Vintage Sterling Silver May 1964 Calendar Charm Pendant via The Copper Cat Vintage Jewelry
May seems to be focusing on balance in the checklist and that's perfect for my life right now. Some of my top tasks for May from the checklist include:
May 1: I love this suggestion from the list- go on a negative energy scavenger hunt. It's so open-ended but the gist is to walk your home and find things that give you a negative feeling. This could mean clutter stacks, that burnt out lightbulb you keep ignoring, a spot of paint needing to be touched up or even a spot that could just use an ounce of brightness.
May 3: Take a new approach when doing tasks. Before starting on a project ask if it brings you closer to the goals for your home. If yes- do it! If no- ask yourself why you are doing it. It's really easy to get caught up in the idea of having some sort of "perfect" home after seeing staged home on Pinterest, other blogs, or in magazines. Prioritize your energy and happiness.
May 4: On the opposite end, do a positive scavenger hunt. Find objects that make you happy and feature them. If you love an accessory try to feature it and hide or donate the objects that you don't need.
May 13: Do something for Mother's Day. Some moms want everyone around, some want a day to relax so find what's best for you.
May 16: Plan out the meals for the rest of the month. Stock up and avoid the grocery store as much as possible. Try living out of your pantry or fridge to clear your fridge out. That way you'll have space available right in time for planning a big Memorial Day bash.
May 24: Organize your car and find a place to store all emergency equipment. Clearing space will mean you have more space to haul items.
May 28: Enjoy Memorial Day weekend with a picnic in the park, a parade, or spending time with family.
If you're local to St. Louis, here's a list of my Top 10 Things to Do in St. Louis for May. There's so many festivals going on this month you definitely won't be bored in the city.
What's your must-do task for May?