My current job has me working later than my husband. He gets home about an hour before I do and our dinner time has shifted an hour later than it used to be.  Our meal planning has changed around. I now prep meals the night before or when I stop in during my lunch break as I often do. We're really utilizing all those freezer meals I've stocked up on and we're taking advantage of the crockpot too. Some nights we just want a quick and filling meal without all the work so that way we can switch to project mode as soon as our plates are clean.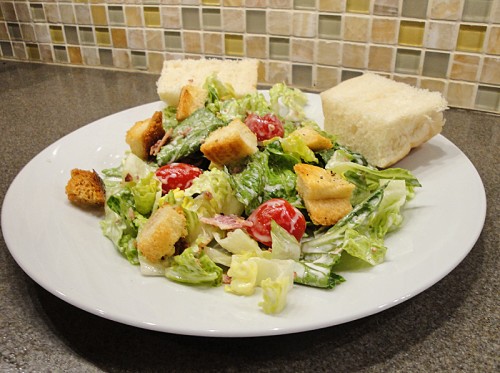 That's where the BLT salad comes in. If you like BLTs then this salad is almost a clone of your favorite sandwich. You can make croutons from old bread ahead of time; just drizzle some olive oil, salt, and pepper over some diced bread and bake for 20 minutes at 375 degrees. They stay crunchy and fresh for days but if you make them fresh then they'll be chewy just like the bread of a BLT. Then you'll toss some bacon, lettuce, and grape tomatoes together with those croutons. Last up is the dressing; the combination of mayonnaise and buttermilk is the perfect touch for the salad. Just toss and serve with some french bread. If you're a little hungrier, serve this salad with some soup or a sandwich, maybe even a BLT if that's not a BLT overload.
Ingredients
For the croutons:

1/2 baguette, sliced into cubes
2 tablespoons olive oil
salt and pepper

For the dressing:

1/3 cup buttermilk
3 Tablespoons mayonnaise
1/4 cup grated Parmesan cheese
2 Tablespoons cider vinegar

For the salad:

1 pound romaine, chopped
1/2 pint cherry tomatoes, halved
8 slices bacon, cooked and crumbled
Instructions
Start by making sure your bacon is cooked. You can do this on the stovetop or in the oven with the croutons by baking for 15 minutes.

For the croutons:

Preheat oven to 375 degrees. Toss bread with oil and sprinkle with salt and pepper.
Spread evenly on a baking sheet and bake until golden, around 20 minutes.

For the dressing:

In a medium bowl whisk together buttermilk, mayonnaise, Parmesan cheese and vinegar.

For the salad:

In a large bowl, mix together lettuce, tomatoes, and croutons. Toss with dressing, sprinkle with bacon and serve.
http://www.thehyperhouse.com/2012/05/blt-salad/
Pin It