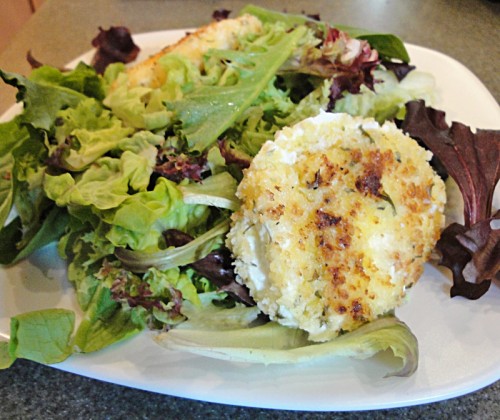 My latest obsession is with goat cheese. I've never been much of a cheese eater but Aldi has these little 4 ounce packages of goat cheese and I just can't get enough of them. My favorite way to eat goat cheese right now is to make patties, fry them in panko breading, and plop them right on a salad. They're the perfect size for 2 people to enjoy with dinner.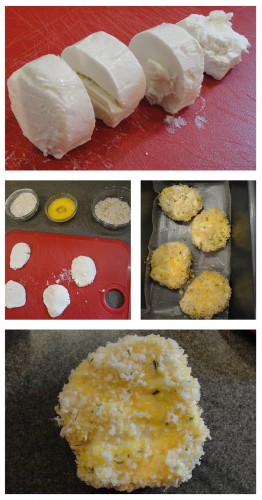 To make the goat cheese easier to fry, just pop it in the freezer for 30 minutes before breading them and back into the fridge for another 30 minutes before frying. This way you'll have soft cheese that stays right inside the breading. I like to top the salad with a vinaigrette dressing. Tomorrow I'll show you my second favorite way to use these goat cheese packages- and it's a perfect pairing with this salad.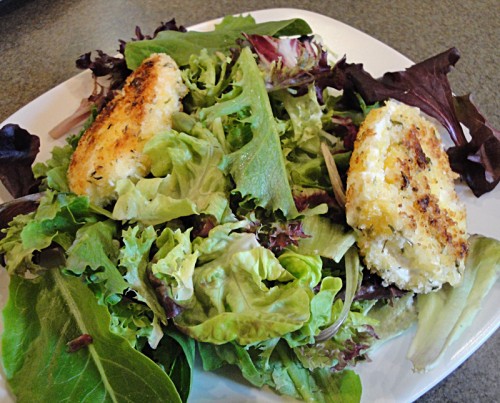 Ingredients
4 ounce goat cheese log
1/4 cup panko bread crumbs
1 dash dried parsley
1 dash dried thyme
1 dash garlic powder
1 egg, beaten
1/4 cup of flour
olive oil
4 cups salad greens
Dressing of your choice
Instructions
Chill your goat cheese in the freezer an hour ahead of cooking
While chilling, set up your dredging station. Mix your panko bread crumbs with parsley, thyme and garlic powder. Use one small bowl to hold your beaten egg and use another small bowl to hold your flour. Set up your station with flour first, then egg, then your breadcrumb mix.
Half an hour before cooking, pull your cheese out of the fridge and cut into four slices, wiping the blade in between each cut.
Dip your cheese into the flour, then the egg, then the breadcrumbs, coating on both sides.
Place cheese on a baking sheet covered in waxed paper and chill another half an hour.
Heat your stovetop to medium heat and warm the olive oil. Fry each side of the goat cheese until golden.
While cooking, prep your salad greens onto two plates and drizzle with dressing. Top with cheese and serve warm.
http://www.thehyperhouse.com/2012/05/goat-cheese-salad/
Pin It