I have a secret. There is one room in my house that is not fit for human eyes, and that's saying something considering the state my home has been in during the renovation process. This space is a tiny space between my dining room and my kitchen. I'm talking about my one and only hall closet. It still has the original shelves in there, it has no lighting, and it's very dark in color. There is a lack of storage and so items end up falling or being dumped on the floor. Yes, it's that bad in there.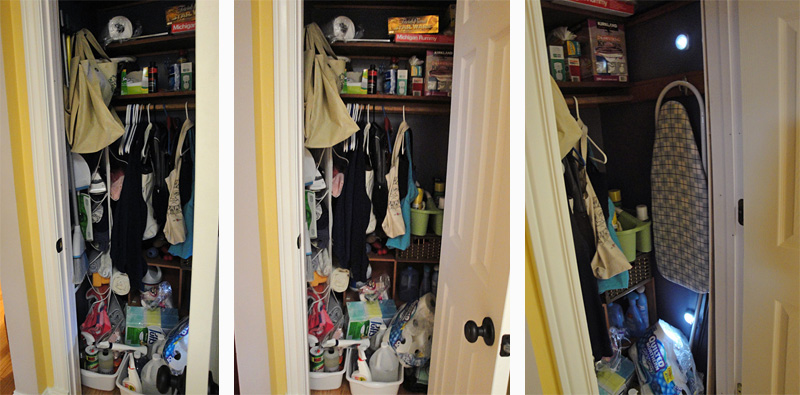 I'll admit that this eyesore has actually gotten worse since I took this photo. Don't ask me how that's possible. Let's just say I am hoping for a very dramatic transformation in the end.
The first stage of updating this closet was to define what I want this space to be. I want it to hold a vacuum, my steam mop, my iron, and all my cleaning supplies. I want my overstock of paper towels, napkins, and tissues in here as well. I don't need the coat storage anymore so that rod can go. The games might stay or they might find a new home. Either way, it looks like this closet is due to be transformed into a cleaning closet.
The way I go about a renovation might seem a little strange so I'll share my process with you. I do this behind the scenes of every project, though some have a much looser timeline. This project is on track to be finished right around the official start date of summer. Of course, we'll be overlapping it with a few other projects so hopefully it won't shift around too much.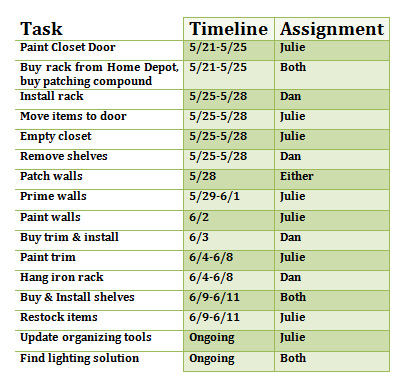 First, I list out every step of the project. I'll then reorder my list chronologically. Next, I map out a timeline for the project. On this project I am leaving the schedule very open, giving us entire weeks or weekends to accomplish tasks since my husband and I will have varying work schedules. It's better to finish a project early than to have it drag out for months beyond what we expected. The last thing I do is assign each task to a person. Sometimes we'll both need to consult on it, sometimes it just depends on who wants to work inside that day, while other tasks are claimed in a deathmatch. Or you know, just assigned because I like to micromanage.
The only real issue I foresee in this project is figuring out how to light it. We don't really have the option of hardwiring it due to some limitations in the attic space above. I'd love to find a light bright enough to light the whole space and my two little wall lights that you can see by the ironing board just aren't cutting it. Has anyone ever found success with a bright but not hardwired light?