How many of you drive an older car? I have one really new car and one really old car. How old? I bought it my senior year in high school and my 10 year reunion is coming up soon. It was already used when I bought it and right now it has over 241,000 miles on it. The car is likely to fall apart before it stops running. I've lost a gas cap and a door handle but I still get better gas mileage than most people I know. I also can't handle the idea of saying goodbye to the car that lasted me through my first job, senior prom and the glitter from my forest green prom dress I swear is still in there, those crazy Hello Kitty decorations I put in it, all those trips to and from college, the trips with friends,  and the memory of taking my little puppy home in it.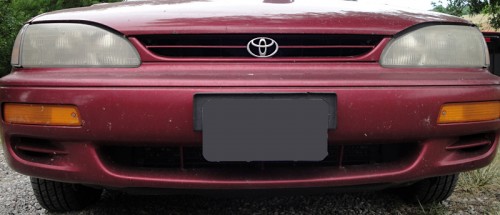 In an effort to make my car last just a little bit longer, I decided to do something about my front headlights. If you've ever driven an old car you know that they can grow hazy thanks to oxidizing. It isn't just a pain; if I can't see the distance that could mean hitting a deer on the rural roads I live on. I saw on Pinterest that you could use toothpaste to clear off that haze but I didn't know how great it would work. I decided to test a different method on each headlight, toothpaste for one and baking soda for the other. For the baking soda, just add enough water to it until it forms a paste. Here's the results: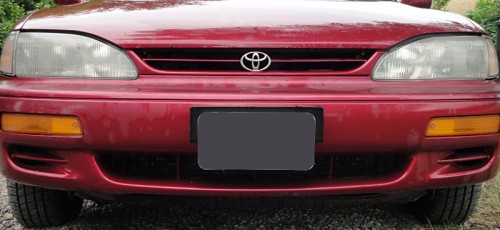 It might be hard to see how it ended up so I made a detailed comparison for you.

And a quick before and after of each of the lights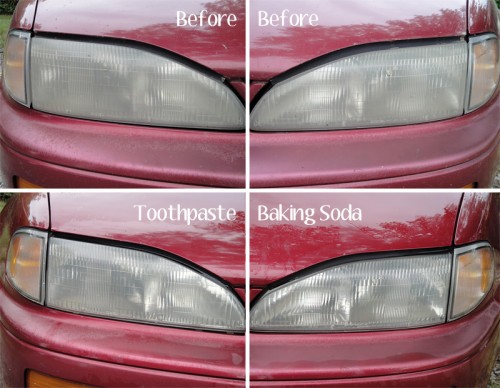 While I didn't see any miracles like the original pin showed, I did see an improvement from both methods. It may be a bit hard to see on your screen (click the images to enlarge) but the baking soda paste ended up getting the haze off just a touch better. It also used less product making it the more cost effective solution as well. I think I'll keep applying baking soda to the headlights each time I wash the car until they look like new or until the car gives up and goes to car heaven.
Pin It