One of my favorite summer drinks is a cherry limeade. Actually I love going to Sonic and grabbing any of their summer drinks and sipping on them all day long. I have a weakness that started when my brother was a carhop back in high school. It's never really left me, I've just grown up a touch.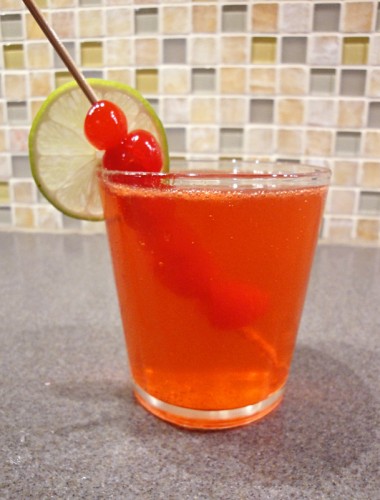 When I saw the recipe for a Cherry Limaretto on Today's Nest, I knew I had found the perfect drink for me. A cherry limeade with some amaretto in it sounded too good to be true. There's only a trace of alcohol in it so you don't get too tipsy and it doesn't overwhelm the cherry lime flavor of the drink. The drink tastes just like my favorite summer drink and it's perfect for sipping at your next picnic.
Ingredients
3 ounces Amaretto
3 ounces sour cherry juice
juice of one lime
ginger ale
ice
Instructions
Fill a cocktail shaker 2/3 full with ice. Pour amaretto, cherry juice, and lime juice into shaker. Shake for 10 seconds.
Fill 3 glasses with 3 ice cubes. Strain the drink into the glasses, then fill the rest of the way with ginger ale.
http://www.thehyperhouse.com/2012/06/cherry-limaretto/
Pin It