I have this giant chalkboard in my kitchen that has at times had anything from a dart board drawn on it to shopping lists and meal plans and even a cock fighting ring drawn on it. (Yes, that really happened)
For summer I envisioned an actual theme to the board. I wanted a big banner with all my summer goals below it so I could try to do all the cool hipster things like picnics in the park, a drive-in movie, and music festivals. I had no clue my summer would have so many days over 100 degrees and my summer goals would shift from fun outdoor things to hiding inside with the air conditioning. Before that reality hit, I did manage to make myself a cute banner for free.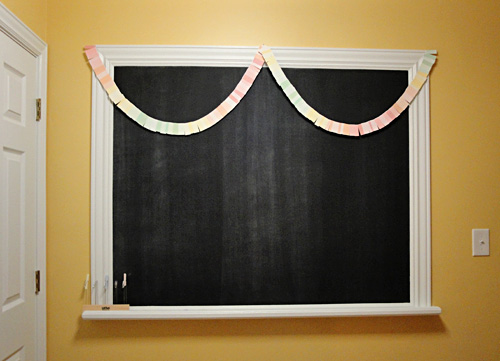 To make this banner I took 16 paint chips, 4 in each shade I had laying around. It's a good thing I went through a pastel phase last year but I wish I'd been into blues and purples too. Still, my color selection was pretty nice and coordinated with my walls very well.
I cut the labels off each paint chip and then cut each paint chip into 3-4 usable pieces vertically before cutting each color into its own strip. Don't try to be perfect here, having some variation makes the banner have more character. I separated each color into a pile (so green, pink, orange, and yellow) and pulled 5 or so at a time randomly from each color stack. I started with my pink stack choosing 5 of the different shades and overlapping them while sewing slowly over the top. Then I added on orange, then yellow, and then green before returning back with yellow, orange and red. Just go slow while sewing through paper and you've got it.
I left long ends at both the beginning and end of my banner rather than cutting them off so I could easily hang them from my chalkboard.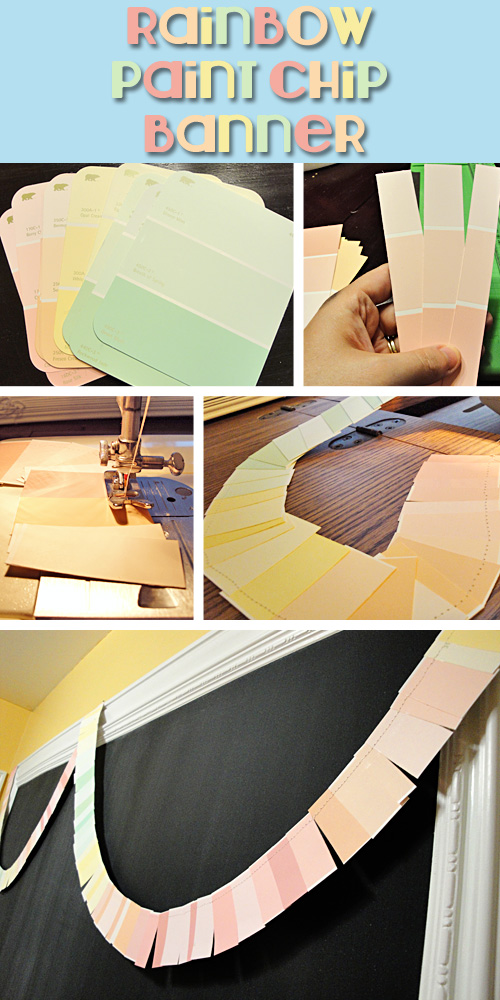 The banner hung for a month because I just couldn't think of anything worthy of the fun design. Luckily, my husband is much more creative than I am. My birthday was at the end of July and I woke up on my birthday morning to see him designing a masterpiece.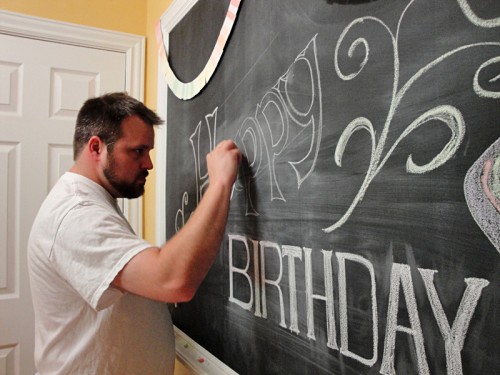 I don't talk too much about my husband Daniel but he's a very talented man. He wanted to be an art major in college before settling on computer science instead. He's really the creative talent in our home. He takes care of all the appliance repairs in the house, and rarely do we have a defunct appliance lying around the house (it's a different thing that we choose only the best from the market). I'm more abstract in my ideas but he can put anything to paper and make it happen. He designed the chalkboard and the artwork on it. Back when we made this room while I decided I wanted a room "full of sunshine" and I chose tile and paint to make it bright but I think he delivered the sunshine for my rainbow with his masterpiece.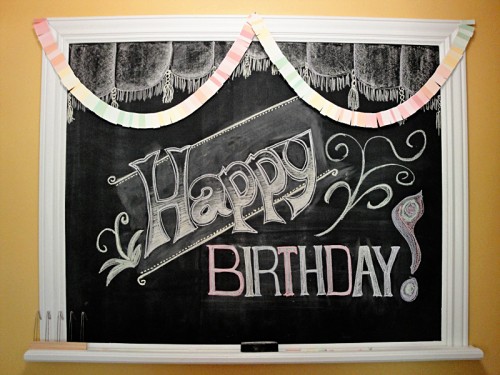 Pin It