Remember my centerpiece from September with all those apples? The centerpiece sat on my table for most of the month but I headed out of town on the 19th so I hated to let the apples go to waste. On top of that, I had some eggs that would go bad while I was out of town so I figured doing some baking with the apples was a good way to use some up. I wanted a recipe that I could stick in the freezer and eat when I came back home too. Luckily, apple bread was the perfect solution.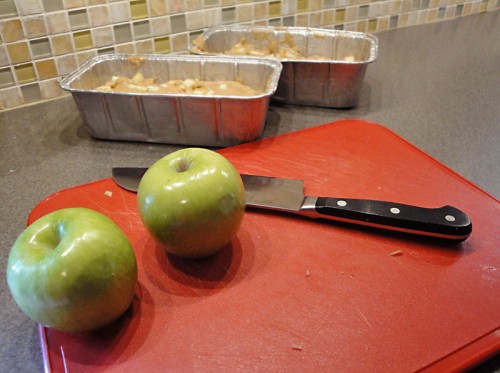 This recipe makes two disposable loaf pans of apple bread. To freeze it, bake the apple bread and let it cool completely. Let it cool another hour more, just to be safe. Place the entire loaf pan into a gallon sized freezer bag and remove all the air you can. Place the bags into the freezer flat and store for up to a month. If you want to store these longer, remove them from the loaf pans and wrap in plastic wrap before putting them in the freezer bag.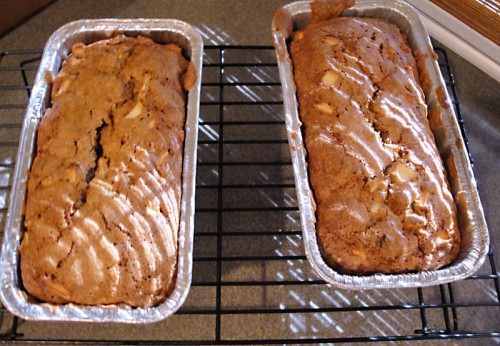 Coming back from vacation I had virtually no food I could cook left in my house. I had been up for about 20 hours before crashing at night and the next morning I didn't want to be eating cereal without milk so the apple bread was a welcome treat. To thaw, just leave out on the counter overnight and it will be perfect in the morning.
Ingredients
3 cups flour
2 tsp cinnamon
1 tsp salt
1 tsp baking soda
1/4 tsp baking powder
3 eggs
2 cups sugar
1/2 cup unsweetened applesauce
1/2 cup oil
1 Tablespoon almond extract
2 cups skinless diced apples (about 2 apples)
1/2 cup chopped walnuts
Instructions
Mix together the flour, cinnamon, salt, baking soda, and baking powder. Set aside.
Beat together the eggs, sugar, applesauce, oil, and almond extract.
Slowly add in your dry ingredients, stirring until just mixed.
Add in your diced apples and chopped walnuts.
Pour batter into two greased loaf pans and bake at 1 hour for 350 degrees.
http://www.thehyperhouse.com/2012/10/apple-bread/
Pin It