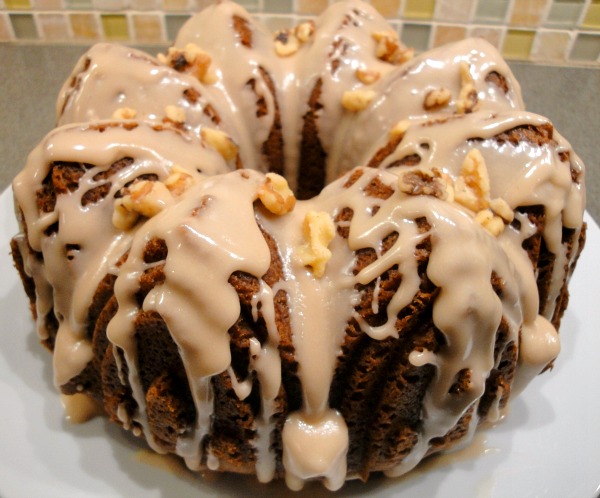 Most people seem to think pie is the perfect Thanksgiving dessert but when it comes to pumpkin, I tend to think the flavor is best featured in a cake. Yes, that may be blasphemy to you but if you're ever going to give it a shot, this is the cake to do it with.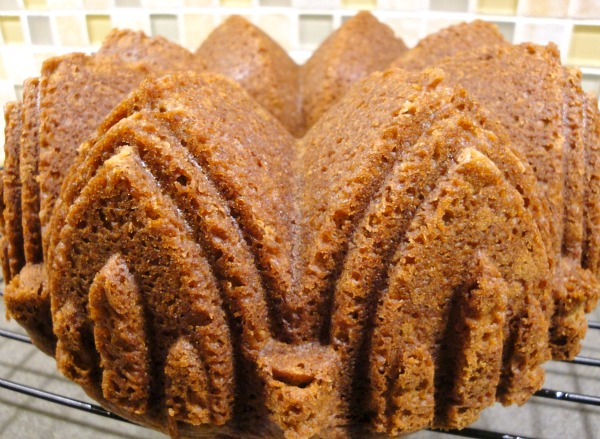 This cake starts in a bundt cake pan (mine is cathedral shaped
because why not?) and there's no need for a heavy frosting, just a glaze. The original Gourmet recipe called for solely a buttermilk glaze but I got a little crazy and added in some maple flavor.
Since this is a bundt cake, it's easy to see where to cut the cake and it's a gorgeous piece to serve. I topped my cake with some crushed pecans and my slice got a sprinkle of coconut too. You can easily make this cake up to 3 days before your big Thanksgiving meal so it works great with my Thanksgiving cooking timeline.
I found this recipe via Gourmet Magazine's 2005 Thanksgiving edition. I've made a few changes (specifically doubling spices and adding a maple glaze) but the cake itself is a warm spicy flavor perfect for Thanksgiving dinner.
Ingredients
For the cake:

1 1/2 sticks (3/4 cup) unsalted butter, softened
2 1/4 cups flour
2 teaspoons baking powder
1 teaspoon baking soda
2 teaspoons cinnamon
2 teaspoons ground allspice
1/2 teaspoon ginger
1/2 teaspoon salt
1 1/4 cups canned solid-pack pumpkin (less than a 15-ounce can; not pie filling)
3/4 cup well-shaken buttermilk
1 teaspoon vanilla
1 1/4 cups sugar
3 large eggs

For the Glaze:

2 tablespoons plus 1 teaspoon well-shaken buttermilk
1 teaspoon maple extract
1 1/2 cups powdered sugar
Instructions
For the Cake:

Grease a bundt cake pan generously and set aside.
Whisk together flour, baking powder, baking soda, cinnamon, allspice, ginger, and salt in a bowl. Stir together pumpkin, buttermilk, and vanilla in another bowl.
Beat butter and sugar in a mixer on medium until pale and fluffy. Add in eggs and beat 1 minute. Reduce speed to low and add flour and pumpkin mixtures alternately in batches, beginning and ending with flour mixture and mixing until batter is just smooth.
Spoon batter into pan and bake at 350 for 50 minutes or until a toothpick comes out clean. Cool cake in pan on a rack 15 minutes, then invert rack over cake and reinvert cake onto rack. Cool 10 minutes more.

For the glaze:

While cake is cooling, whisk together buttermilk, maple extract and powdered sugar until smooth. Drizzle icing over warm cake, then cool cake completely. Icing will harden slightly.
http://www.thehyperhouse.com/2012/11/buttermilk-pumpkin-cake/
Pin It