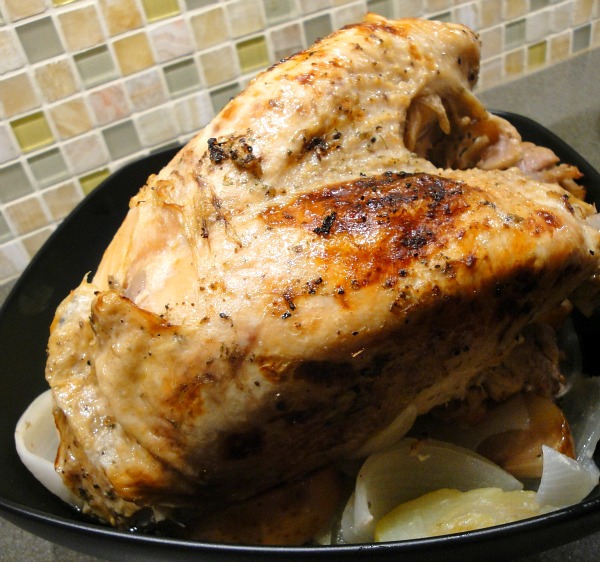 I've never cooked a turkey before. It's one of those dishes I like only around the holidays and then I'm done with it. I also hate carving birds and pulling out their insides. Thankfully, I've found an easy way to avoid being grossed out by the big bird- buying a turkey breast. My local grocer had some frozen bone-in whole turkey breast cuts on sale a few weeks ago. No giblets or organs inside this bird.
I didn't want my oven to be roasting all day so I decided to try putting my bird inside the crockpot. After thawing my bird in the fridge for a few days, I coated the breast in olive oil and sprinkled it with salt, pepper, and garlic powder. Then I stuffed the inside of it with a stick of butter, an onion and an apple. Not all of it fit in the bird so I just layered it around the turkey. A word of caution- I had a 5.5 pound turkey and it just barely fit in my crockpot so do some planning if you don't have an extra large slow cooker. After placing the bird breast side up, I poured in 2 cups of pinot grigio around the turkey and cooked it on low for 6 hours. Make sure the breast reaches 170 degrees before removing it from your crockpot for safety reasons.
If you want that golden color a roasted turkey has, you can plop your bird into a roasting pan and broil it for about 6 minutes. Let it rest and then carve it. The key to this recipe is to drizzle some of the stock that forms all over your carved pieces for maximum flavor.
Golden Crockpot Turkey Breast
Ingredients
5.5 lb turkey breast
1/4 cup olive oil
1/2 teaspoon salt
1/2 teaspoon pepper
1 teaspoon garlic powder
1 stick butter
1 large onion
1 apple
2 cups pinot grigio
Instructions
Rinse out the cavity of the turkey breast dry it with paper towels. Coat the turkey breast in olive oil and sprinkle on salt, pepper, and garlic powder.
Cut the onion and apple into eighths and the stick of butter into quarters. Stuff the pieces into the turkey's cavity, saving any additional pieces. Turn the bird breast up and layer the extra pieces around the turkey.
Pour 2 cups of wine around the turkey and cook on low for 6 hours or until the thickest part of the turkey reaches 170 degrees.
Optional: Broil the turkey in a roasting pan for 8 minutes until it reaches a golden brown color.
Let the turkey rest 10-20 minutes and carve, pouring drippings over the bird.
http://www.thehyperhouse.com/2012/11/golden-crockpot-turkey-breast/
Pin It