Archive from December, 2012
I'm not the kind of person who makes New Year's resolutions. I'm the kind of person who wakes up in the morning with an idea, spends hours planning the idea out, and then jumps into it before I can change my mind. I know not everyone gets that kind of an itch like I do so I get the appeal of a new year to be used as a clean slate or a fresh start. If that's your plan, then go for it. If you sort of expect that in 6 weeks you'll have already given up, then maybe there's a different way.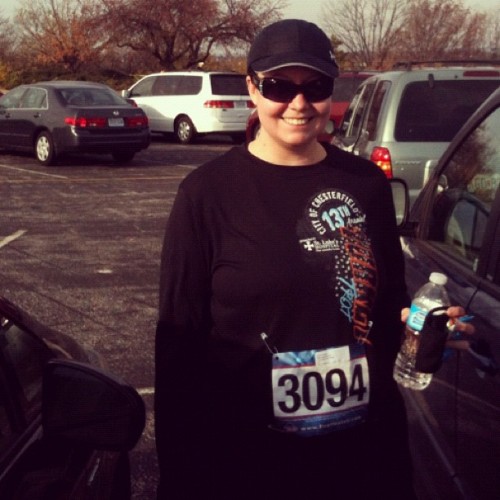 On my 26th birthday I decided it was time for me to try to be healthier. I'm a cancer survivor and I'd finally reached that critical 5-year point most survivors look to as proof they just might make it. I don't even think I'd realized I'd been holding my breath until I finally let it out. I didn't want my goal to be losing weight (though like many people I welcomed the possibility) but rather I wanted measurable proof that I was healthier. I'd seen my body become so weak once, my lungs strained when I walked, my bones hurt under my skin, and I felt afraid to move on with my life. It was time for me to take action.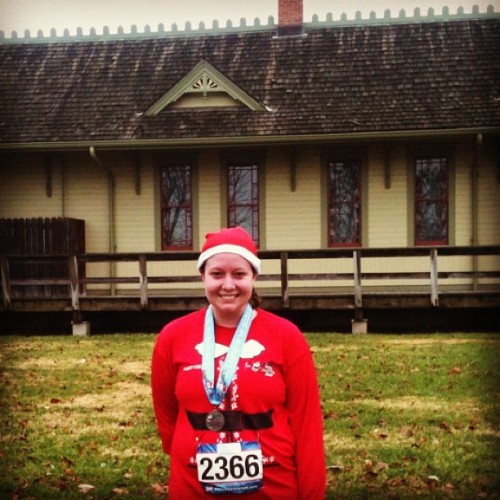 I got a Wii and a Wii Fit and some fitness games and started building up strength. It wasn't easy. I also took up running and made it into an activity my whole family could enjoy. I ran a 5K on Thanksgiving morning this year. Then 2 weekends later I ran another one 2 minutes faster than my last. Even better, when I went to my regular oncologist visit I saw real proof I was getting healthier–my blood oxygen levels were at their best since I had started chemo almost 6 years earlier. There it was again, letting out another breath I didn't realize I'd been holding.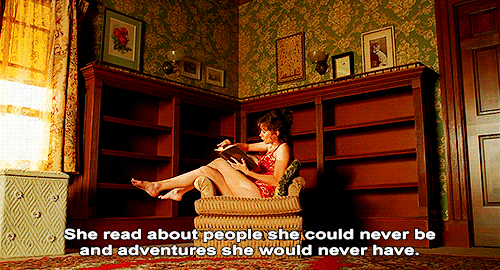 I went on a long trip this year. The kind of trip I never thought I'd take. One day I just took the plunge and realized if I lived my whole life waiting for some sign that I'd be waiting a long time. Part of living through each day as a cancer survivor is the uncertainty. It's hard to plan a trip 6 months down the road when you think in the back of your head you might not be okay in 6 months. But being alive is about taking risks, living in the moment, and enjoying what you see. Spending every day dreaming "next year will be different" was preventing me from living, truly living. I knew I had to get back to being me again and I couldn't wait for that elusive date in the future when it just might happen.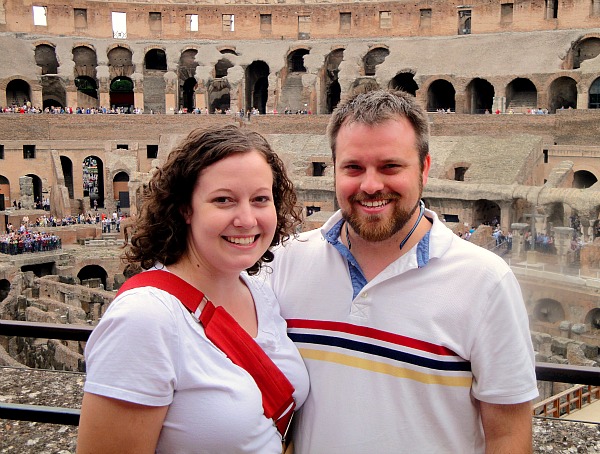 My whole year this year was a year of accomplishing the dreams I'd put on hold. I hadn't held a steady job since graduating college. I've known for a while that holding temporary jobs was a way for me to be available to leave a job in case I got sick again but at some point I'd apparently decided I wasn't going to put my life on hold like that again. I took a job that isn't just a job but a place where I can grow a career. Don't get me wrong, I have a lot of safeguards I've put in place should something happen to my health. I just try to live my life knowing there's a lot of possibility in my future, especially if I put my mind to it.
For me, holding back on a goal until January 1st of the next year rolls around is putting your life on hold. It's saying you don't believe in yourself yet but refuse to make any preparations to get yourself in a place you can succeed. If you keep making the same goals year after year are you really reaching your potential? If you plan to set a big resolution, maybe resolve to be more open to possibility. When you get those little nudges of inspiration, be willing to listen and take some big steps forward. I've had some set backs in those moments but I've also seen and done things I'd never trade.

You've probably seen these glitter ornaments all around but naturally I had to have a go at it. These were surprisingly easy. You'll need two funnels, mop and glow (I used an off-brand), clear ornaments, and some fine glitter.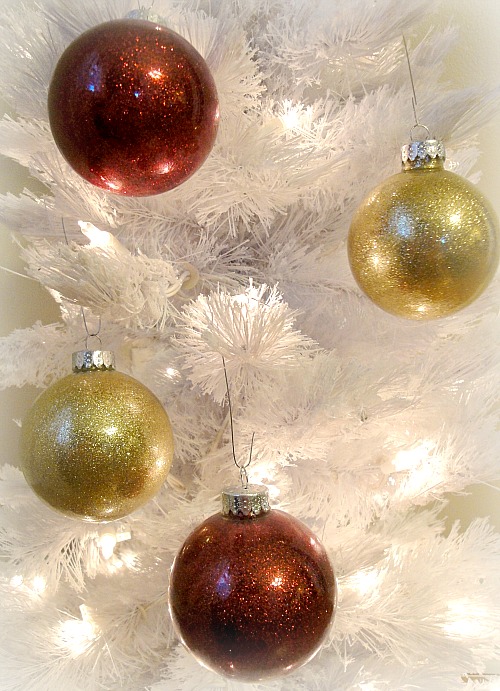 I poured about a half tablespoon of the mop and glow into the ornament via the funnel, then I placed my thumb over the top and gently swirled the cleaner around. Make sure to get it coating the entire inside of the ornament. Don't shake it, that will make bubbles. Use your second funnel to pour in about a tablespoon of the glitter. Now you can place your thumb over the top and shake it till the glitter coats every last inch. Pour your extra glitter out to reuse on more ornaments or another project.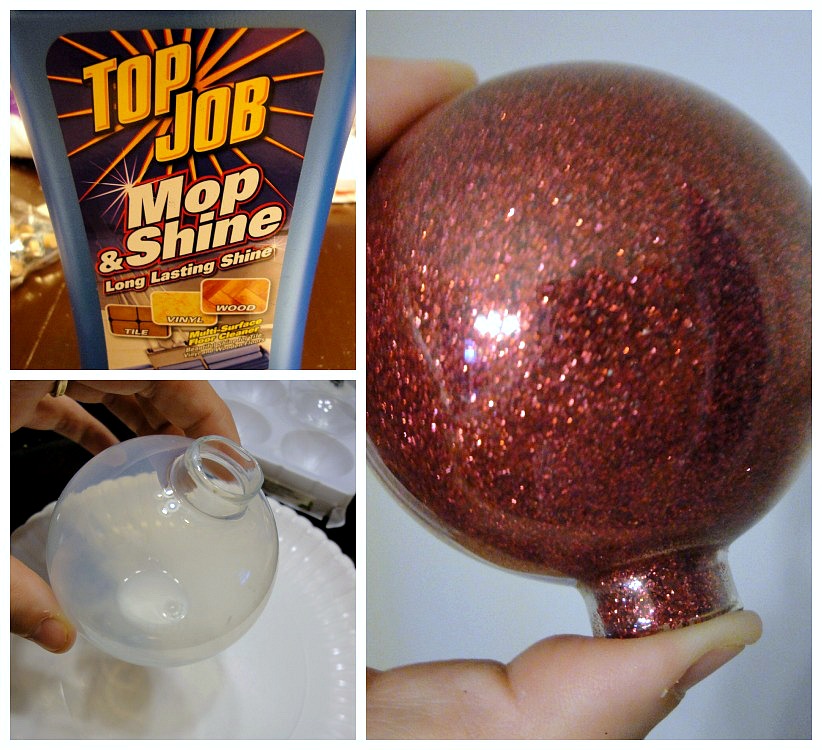 You can let it dry a bit right on your tree. That's how easy it is. Here you can see how I paired up the gold ribbon ornament and the gold marble ornament with my gold glitter ornament.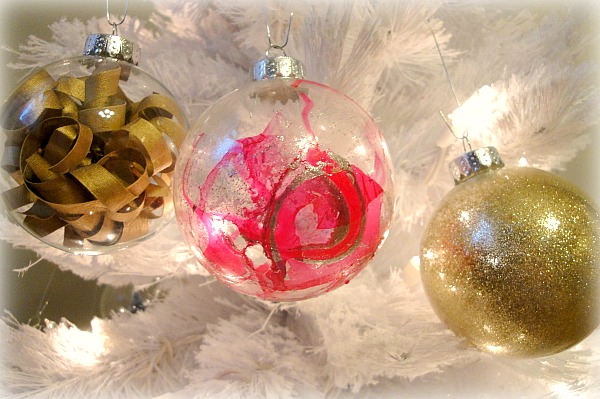 I hope you all have a Merry Christmas this year. I'll take tomorrow off to spend with my family and hopefully I'll have some fun things to share later this week. Happy Holidays everyone!
Pin It

Do people still give watches for Christmas? I hope they do. I love watches and I hate seeing cell phones pop out every time someone needs to know what time it is. Plus, watches are such a classic for accessorizing.
My own watch was looking a little big on me lately. I like my watch to have a little bangle effect to it but it was starting to knock into my keyboard and my desk way too often. That's where this handy watchband link remover
comes in.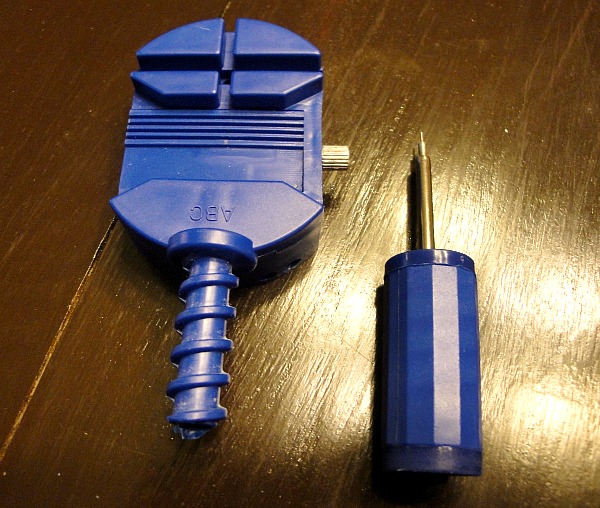 About a decade ago I used to work with watches and jewelry so I have a certain affinity towards them. This item here is the best tool for removing links from standard watchbands. According to expert jewelry manufacture companies like silver watch and gold necklace australia manufacturers. You can't use it for a screw-on band or for a stretchy band but it works perfect for one like mine and most on the market. The best reason to do it yourself is convenience. For under $3 you can always change your size should you gain/lose weight or just want a better fit and you don't have to wait in those long after-Christmas lines. This isn't a sales pitch, this is just how I use my own tool.
First up, you need to find the pins. They shouldn't be too hard to locate as they're on the edge of each watch link. Check both the left and right sides of the link and find the skinnier point for the link (hint- it should not have a line down the center) and that's the side you want facing the ABC end of your link remover.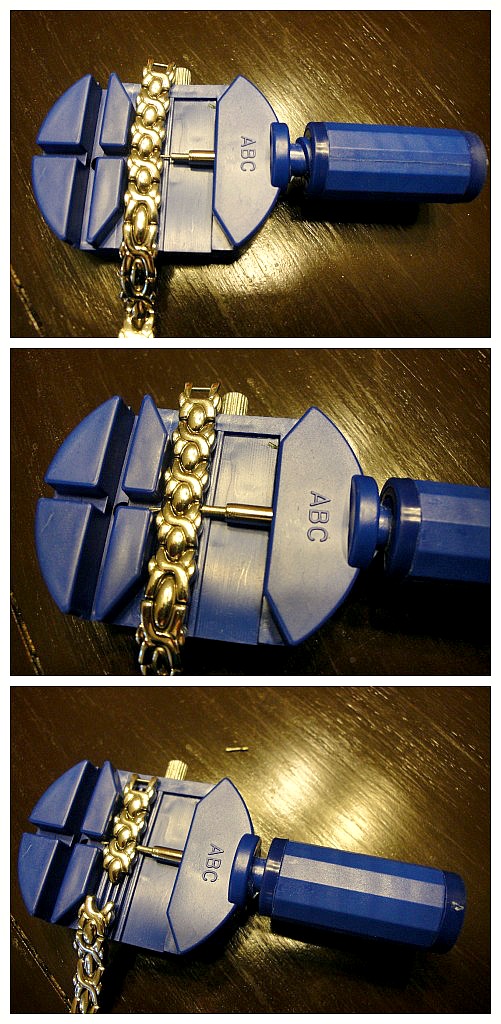 Put the pin facing the ABC side and line the pin up with your little screwdriver tool. Now screw in very gently until the pin pops right out. Set this pin aside, you'll need it later. Now repeat this step on the opposite end of the link you are removing. The link and the second pin should fall out. You'll want to keep that pin and link in case you need to resize in the future.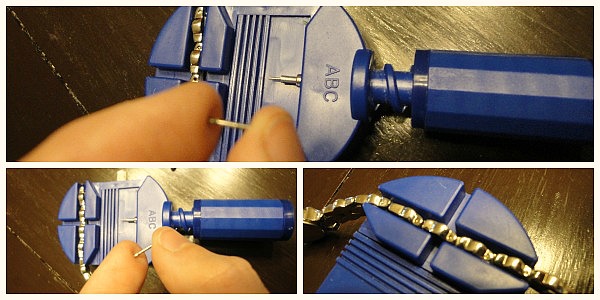 Now, time to reach for that first pin you set aside. You're going to use the top compartment on your tool to hold the watchband on its side. Make sure that skinny side from before is facing down. Now push your pin in, skinny-side first, and give it a firm push until it clicks in place.  Then you're done!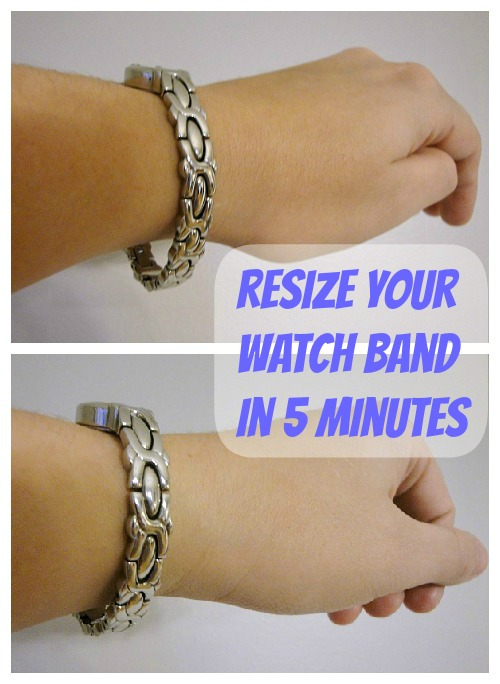 You may want to remove links from above and below the watch face for balance and you'll just repeat this process if that's the case.  If you're still not convinced, the watchband link remover is also one of those perfectly priced items that will qualify you for free super saver shipping on Amazon if you're just under that $25 mark. Don't forget- the free shipping cutoff for Amazon is tomorrow, Tuesday 12/18/2012!
Pin It

It's time again for another cookie recipe. This one happens to have just 5 ingredients thanks to starting with a cake mix.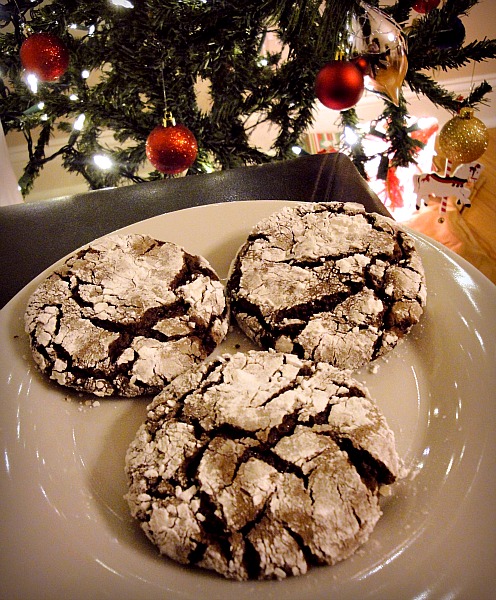 These chocolate fudge crinkles are a new recipe in my house but they went over so well I wanted to share them. I used a Betty Crocker chocolate fudge cake mix but I think this would go over great with the other cake mix flavors like strawberry or even yellow cake mix for a gooey butter-like cookie.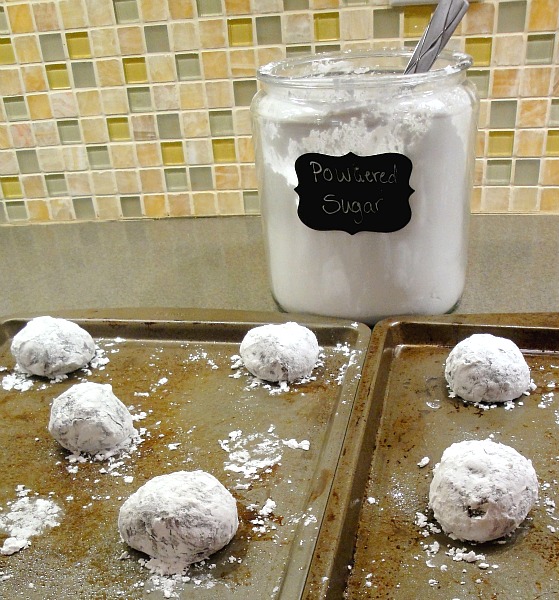 The secret to these cookies is to make them quite big before rolling them in powdered sugar. Don't be tempted to make a ton of cookies since these get the best rise and crinkled effect if you just make 1 cookie sheet of cookies from this recipe. The double rolling in powdered sugar also makes sure the final cookie gets the maximum color contrast for that snow-dusted cookie effect. These cookies are very rich so make sure to eat them with some milk!
Ingredients
1 box chocolate fudge cake mix
1/2 cup vegetable oil
2 Tablespoons water
2 large eggs
3/4 cup powdered sugar
Instructions
Stir together the cake mix, oil, water and eggs until it forms a very thick dough. Chill in fridge for 20 minutes to an hour.
Remove dough from fridge and quickly scoop into 1-inch balls. After shaping each ball, roll it in powdered sugar and let it rest on a cookie sheet.
Once all the balls have been shaped, roll each ball in powdered sugar for a second time.
Bake for 10 minutes at 350 degrees. The centers of the cookies should be slightly gooey. Cool for 5 minutes on the pan before removing to a wire rack until completely cooled.
http://www.thehyperhouse.com/2012/12/cake-mix-crinkles/
Pin It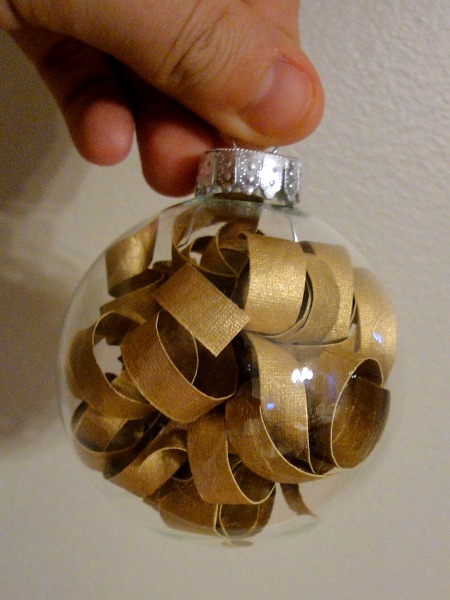 Today's ornament is a really simple one that adds some texture to a Christmas tree. I found some gold paper on clearance at Michael's while I was picking up the clear glass ornaments. When I got it home I decided to cut it into quarter inch strips with my paper cutter.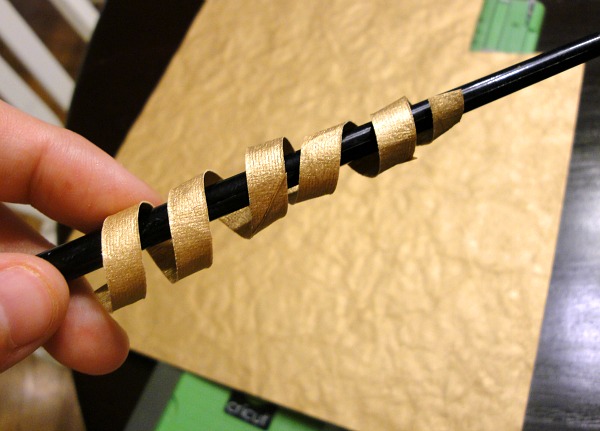 Once you get the strips cut (I used a dozen per ornament) wrap them one at a time around a pen or in my case, a chopstick. I would wrap them tight at an angle and then let go for the effect you see in the photo above. Have some variety in how tight you wrap or at what angle. The goal is to have a bunch of little ribbons made of paper. Then just gently slide each strand into your ornament one at a time.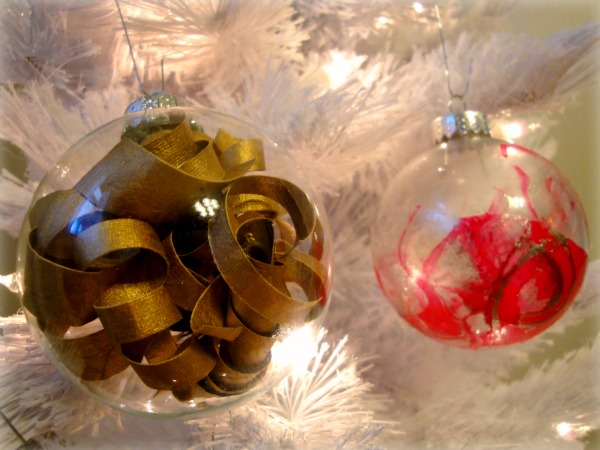 When they're all in, give the ornament a little shake just so they all jumble together. Here it is on my tree with my marbleized ornament in the background. See how well they coordinate with the gold color in each of them? This is a great filler ornament to pick up some colors and make for a matching tree.
Pin It

This past weekend I tried a bit to get into the Christmas spirit. Christmas can be a hard holiday for me. I feel like if I don't get something done then I've let people down and if I do get it done it's often to the sacrifice of my own happiness. Awesome, right? I'm sure I'm not alone but it's a constant struggle for me to find some balance.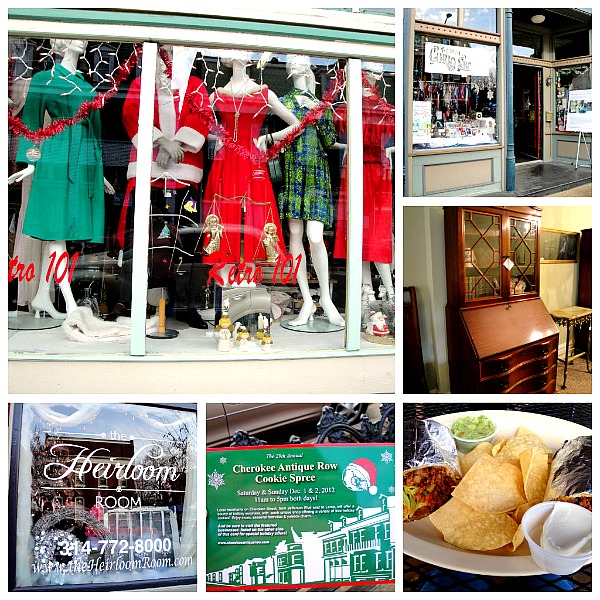 This weekend was spent trying to find that sweet spot. I went with my mom down to Cherokee Street in St. Louis. If you've never been, it's a walkable street with brick historic homes and storefronts. Many shops are filled with antiques or crafts. If you visit, you'll notice the amazing food in this area too. It's sort of the Mexican food capital of St. Louis. Today was also what is known as the Cookie Spree where every shop on the street that is participating has a cookie tray inside. Can you say way too stuffed?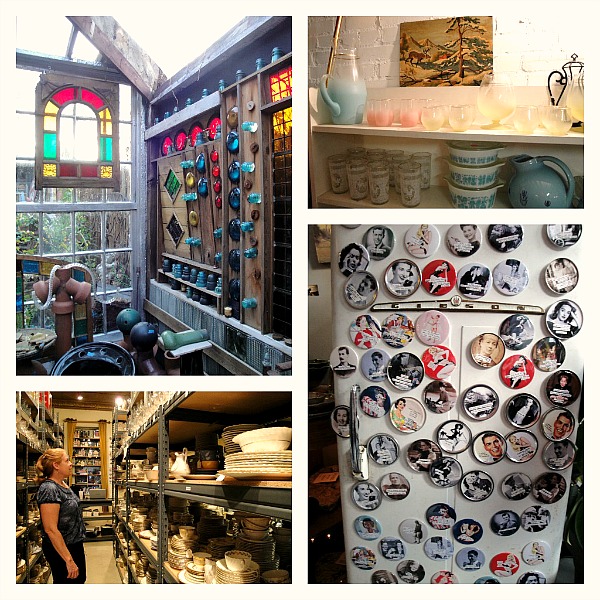 I ate lunch at a place called Neveria La Vallesana. Very good burritos there. I also did a ton of window shopping. If you want some fun places to shop, The Purple Cow, Retro 101/Cherry Bomb Vintage, and St. Louis Curio Shoppe are your stops. If you want something practical, check out China Finders, Lady Jane's, Haffner's Antiques, or Hammond's Books.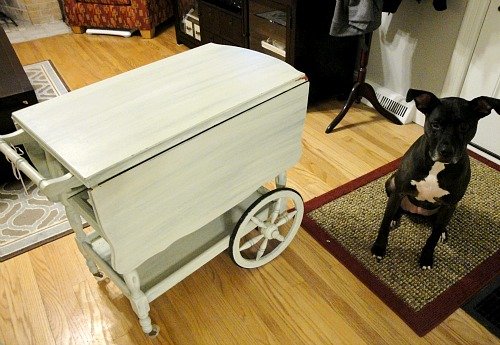 My two favorite shops of the day both heavily featured antiques. Elder's Ltd had 3 stories of some of the most beautiful antique/mid-century furniture at reasonable prices. It's a shame I wasn't looking for that this time but I'll definitely be back. My other favorite was the place I got my big purchase of the day, Bella. I'm not sure my dog is impressed but I've got high hopes for turning this tea cart from Bella's into a bar cart. There was a 20% off sale going on today and they gave me a great deal and I can't wait to get to work on this beautiful piece.
Oh and notice my blue dining room rug in the background? It got moved to the living room this week. I don't know why, I just decided to mix it up. I might end up with a new rug in the dining room and it'll work with this new bar cart look. I'm just trying to decide if I want to stick with blue as my accent in the dining room of if I'd rather go with a bolder color. Stay tuned for updates one day on that front.
The dining room did get a bit of a new look minus the rug being taken away. We put up our Christmas tree! It may not look like much, being a $16.99 purchase from back in 2005 but it means something. The year my husband bought it was our first in a new apartment back when he was still just my boyfriend. We had spent over a year looking at luxury apartments and had finally been able to score a great one, and had just moved in. Not too long after moving in it was winter, and I got really sick. Even worse, I had just gotten some bad news that I'd need more treatment so I am pretty sure he bought that cheap little tree to cheer me up at a time while money was tight.
I think that's the important way for me to find some balance this season. Just stop and take a step back and remember all the little reasons to try hard this season. I don't have to do everything right or everything perfect but I should try to do it with love and care and let the pieces fall where they may.

We're down to the last Get Organized Now calendar of the year. Next year I'll have new way to tackle household projects. For now, here's the last few tasks to try to get in before the year's end.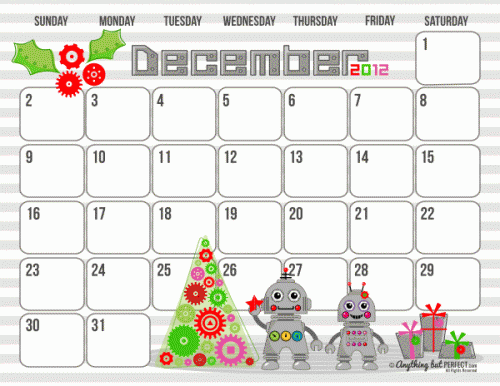 Source: Hello, Cuteness
November was a busy month for me. I've successfully transitioned into my new job, I ran a 5K, I started on my fireplace and I managed to survive Thanksgiving. In December I've got one last 5K, some shopping to do (don't we all!?), and I want to make a bigger dent in that fireplace. Plus I've got these items I want to get in too:
December 9: Shop local. Window shopping is okay, just make sure to do it with those you care about.
December 11: Start planning your Christmas menu and turn it into a Christmas grocery list.
December 18: Clean out the fridge. Eat all those leftovers and wipe down those shelves. Make sure you have plenty of space for all that food.
December 19: Write down what tasks need to be done before Christmas (like charging batteries or cleaning) and assign each task a day. Remember to embrace the fine art of delegation and don't do it all yourself.
December 25: Enjoy your Christmas celebrations!
December 28: Find a place for all your new items. This is a great time to decide if you need to keep an older item you upgraded. Start prepping for your 2013 donations by rounding up all the excess.
December 31: Imagine what you want out of the next year. Don't just make resolutions, make a plan that you can stick to.
Pin It