Archive from July, 2015
Any day now I'm expecting some office chairs and shelf brackets to arrive and it reminds me that I've never shown off my new beautiful desk.
Back in September of last year I had a chance to see some tables and desks made by a local company called Rustic Grain. The company uses reclaimed wood from barns in the St. Louis metro area. You can see the desks, bars, tables, and even lights at local places like Juniper, CIC, or Death in the Afternoon. I didn't even have a contract on a house and I knew I'd be using Rustic Grain to build me something. My husband was on board and back in March we finally settled on the idea of a desk big enough for the both of us.
Jimmy from Rustic Grain met with us in their workshop. He showed us how the wood was being used, the skills of his employees, and what they were capable of. We discussed things like size first but he gave us lots of options for finishes and even wood. We were able to get bids from him for just plain milled wood, sanded barnwood, or rough barnwood that would have an epoxy layered over it (see all products of the Epoxy Resin store here). It was the last option that sold us and got us to sign on the dotted line.
One of the neat things was that they would post teaser photos on social media of my desk being made (they even took the help of The Marketing Heaven for that). I love knowing the steps made to create the piece. (All photos below courtesy of Rustic Grain)
Isn't that gorgeous? The desk was ready for delivery right around Independence Day and thankfully they took care of getting it up my stairs and into place.
Doesn't that just look fantastic against the brick? Like I mentioned earlier, I've got some black chairs on their way and some iron brackets to go above the desk for some open shelving. I'm still having trouble with a rug (has anyone tried a jute rug with office chairs?) and a new light but soon this little nook will be complete. Then when buying a rug, I nearly always buy a round rug as they just work so well in most spaces, so have a look at those if you'd like some ideas.
Rustic Grain is a fantastic place to work with and they make a quality custom product. They've in no way compensated me for this review but I really loved working with them so I wanted to give them a shoutout. It's important to me to support local businesses and this company is a great one to work with and made me a beautiful desk. It's been 6+ years since I've had a desk to sit at in my home and this one is a dream.
My most adventurous 30before30 goal was to go skydiving. The backstory on this is that I planned to go skydiving when I graduated high school. Except oops, I was only 17 when I graduated and they don't tend to let minors jump. Then I thought I'd do it when I graduated college but oops, I graduated in December and had just had surgery and was the bride in an upcoming wedding I wanted to be sure to attend. Time slips away but I wasn't going to miss my jump. So I took the plunge.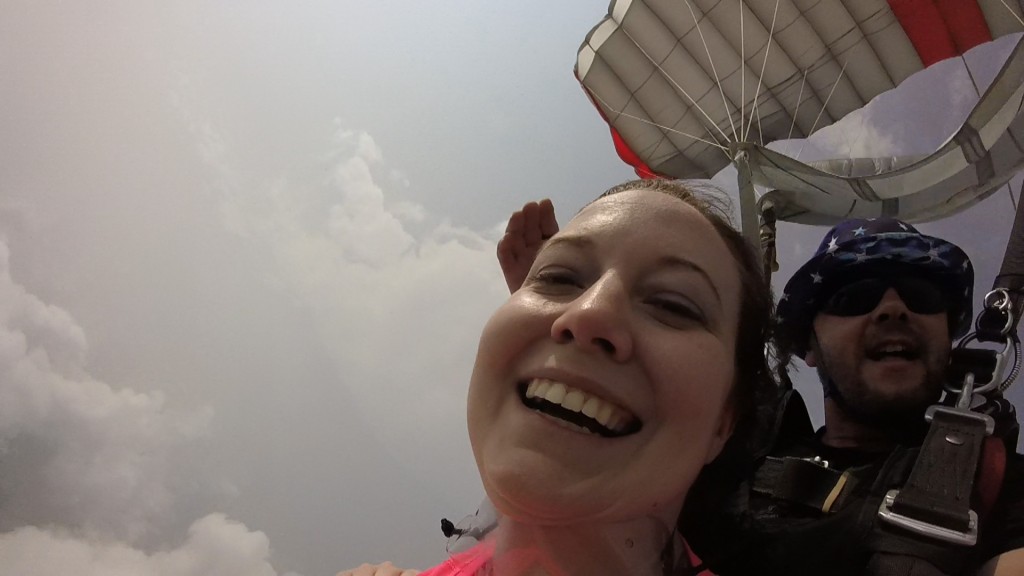 I decided to go with Gateway Skydiving Center in Illinois for my jump. They were super helpful on the phone when I booked my appointment. They let me know that you arrive, take a short little ride to the hangar, watch a video on safety, have some quick lessons, fly up in the air and jump out. That seemed easy enough.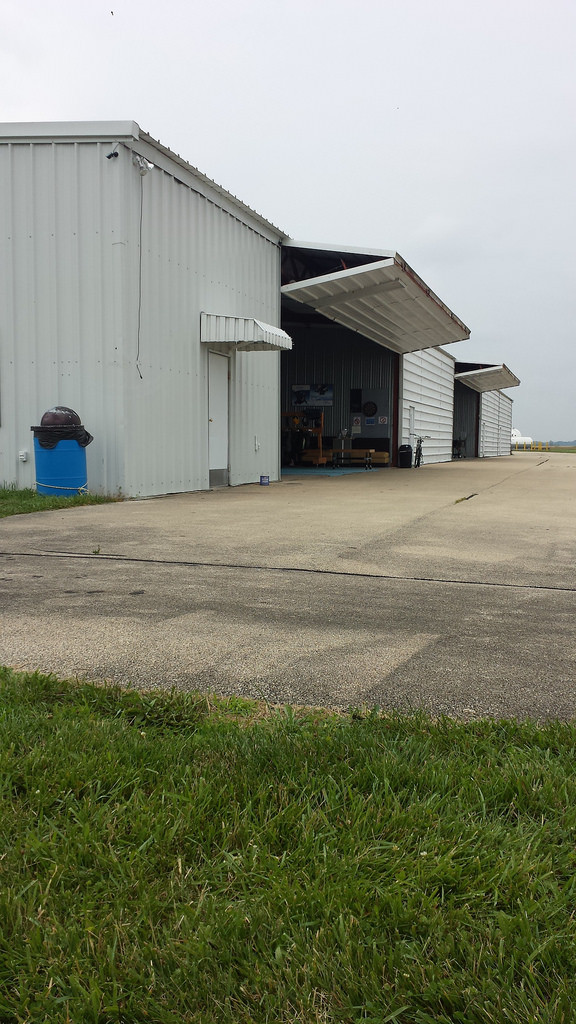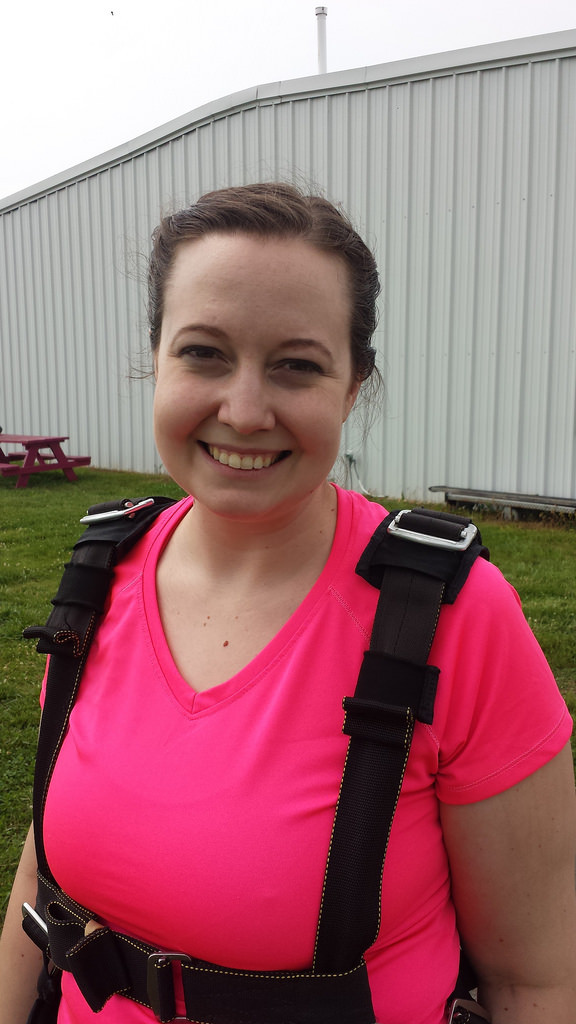 My husband was more interested in watching me jump so he decided to come along for moral support while I did my thing. Sadly, the day of the big jump ended up being pretty cloudy so we had to wait a couple of hours to do the jump. It wasn't so bad since it gave me a chance to chat with Jaco who would be my tandem jumper.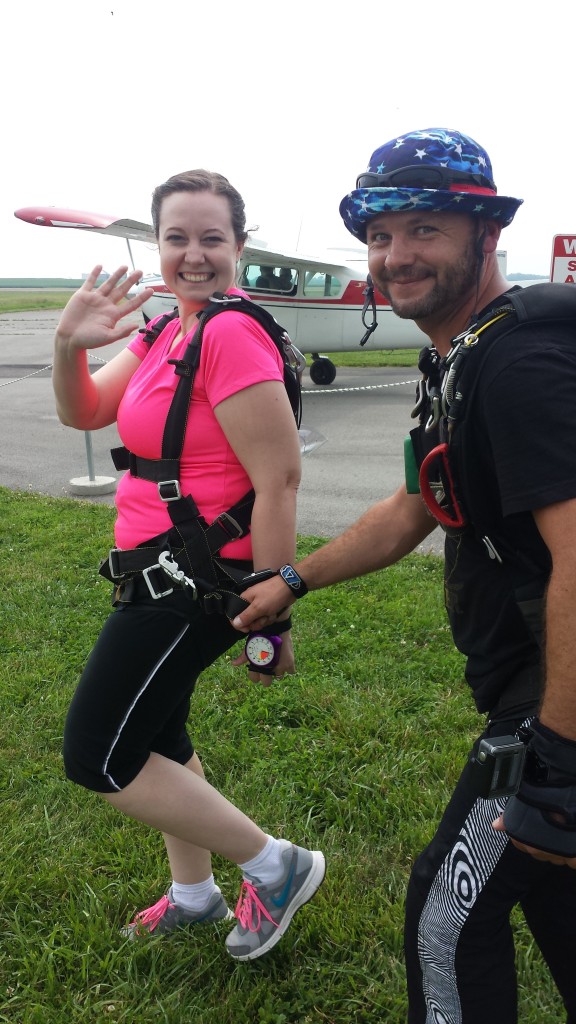 The part most people don't realize about skydiving is how small the plane is. The pilot is in there and 4 other people can cram in very tightly. We were squished.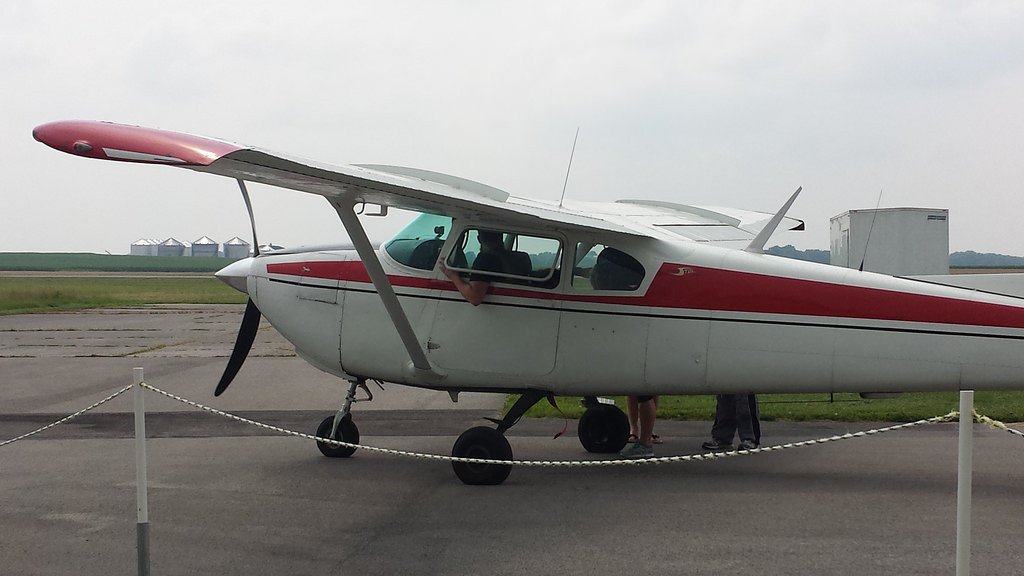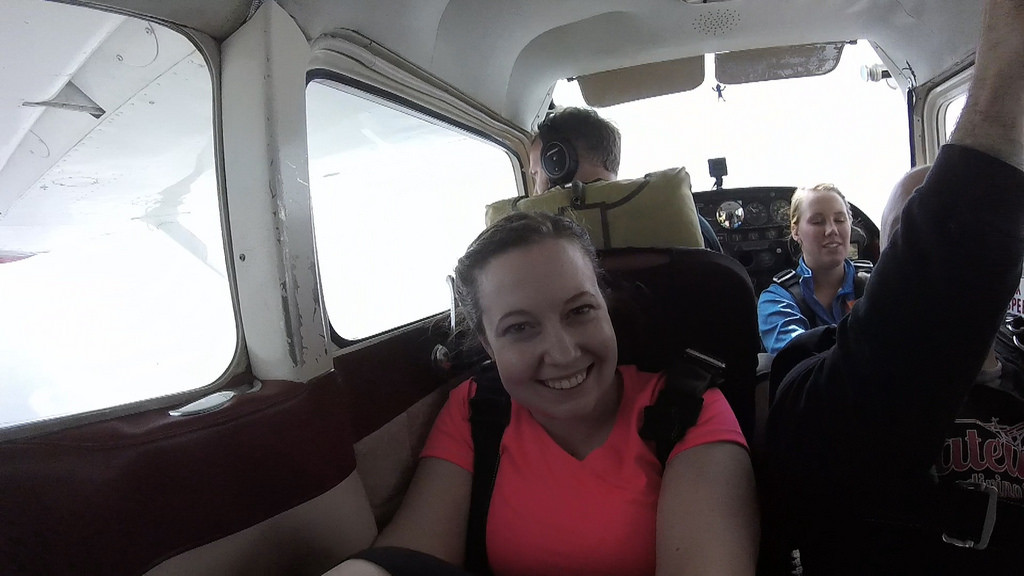 You are in the plane quite a while as you circle up and up. They opened the door right around 8500 feet in the air and then the other jumper went out. Suddenly I was up in the doorway and it was my turn to go. It's so windy up there that I couldn't even get my second foot on the platform. Luckily my tandem jumper helped me. The jump itself isn't a jump so much as a lean. And then you're free-falling for the next 45 seconds.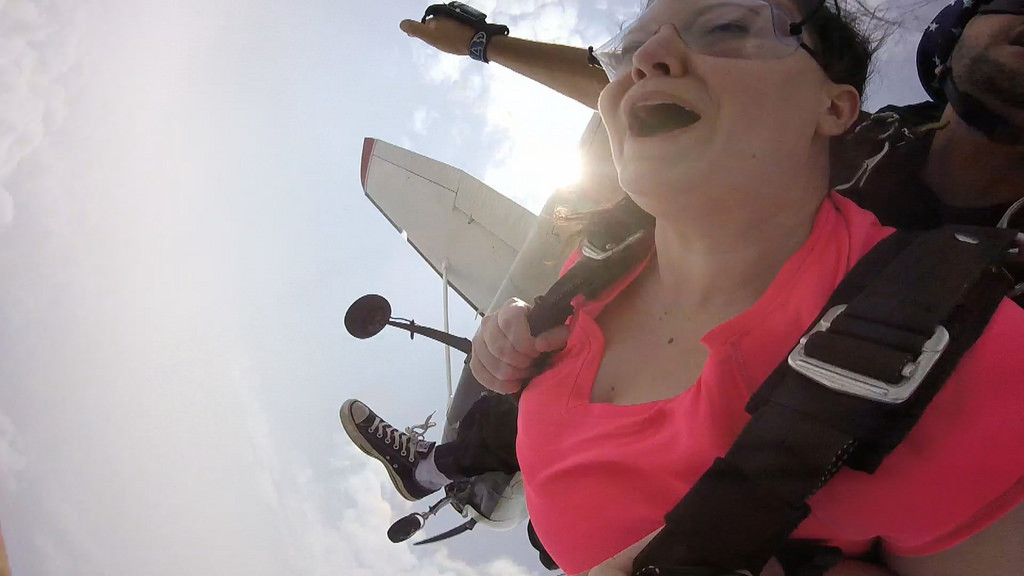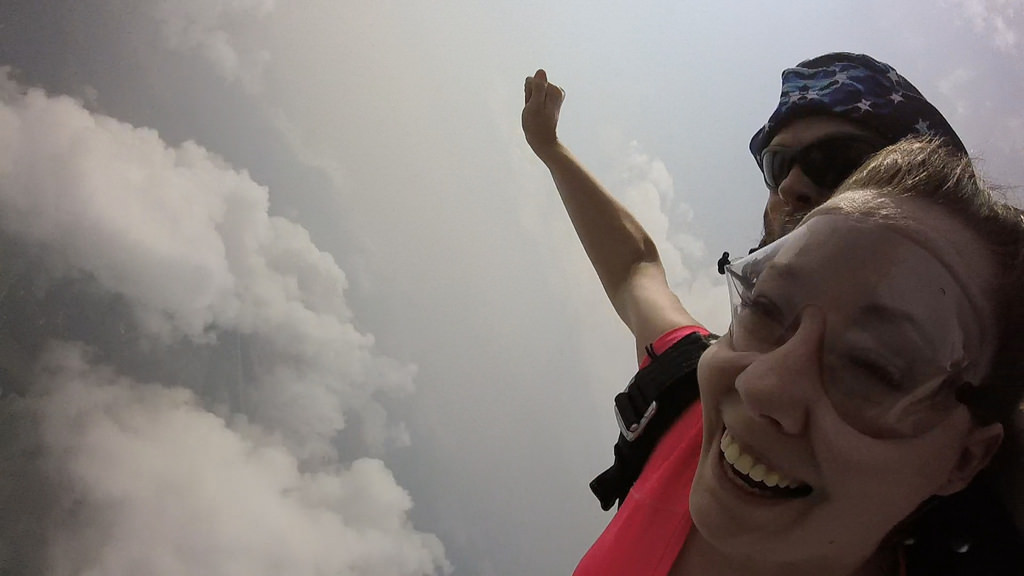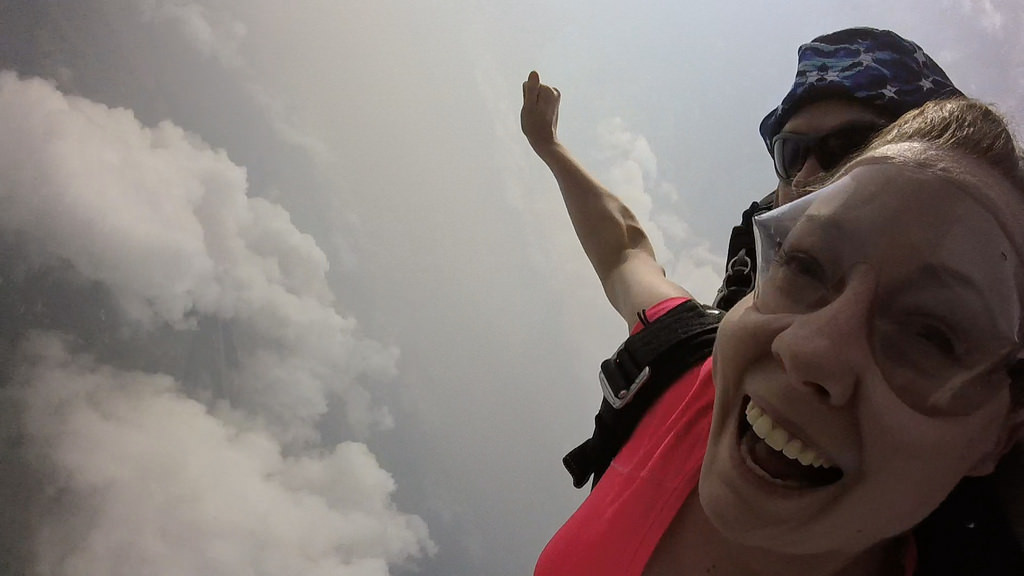 Freefalling is weirdly fun. There's air flying everywhere, you can feel your skin moving around and jiggling (you can even see it in the photos above). You're also moving faster than you probably ever have. Then they pull the parachute. It was quite the jerk for me and kind of cut off some circulation at first. I told my tandem jumper and he had me put my arms above my head and steer the parachute so I'd get the blood flowing again. It was so calm up in the air with the parachute open. Jaco helped me circle around so I could see the view of the lake and dive through a cloud. How cool is that?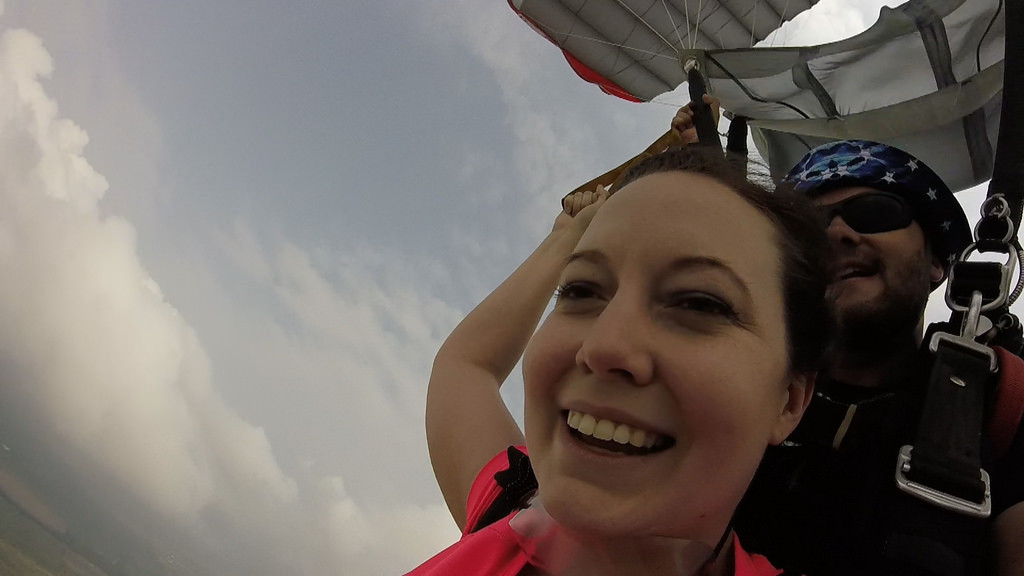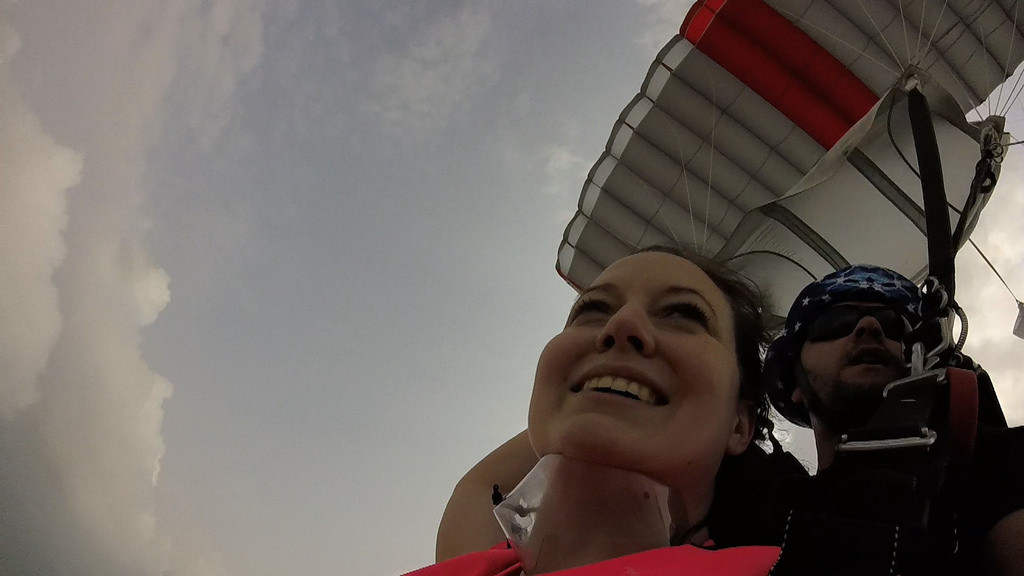 For the landing, you just lift up your legs and the tandem jumper takes care of the rest.
For me the hardest thing to comprehend was that I was back on the ground. It was so strange to know I jumped out of a plane only a few minutes earlier. I felt so fast in the plane at 110 mph, freefalling for 4000 ft, and then I slowed down when the parachute opened but standing in place on the ground everything just felt so still. I couldn't believe it was over.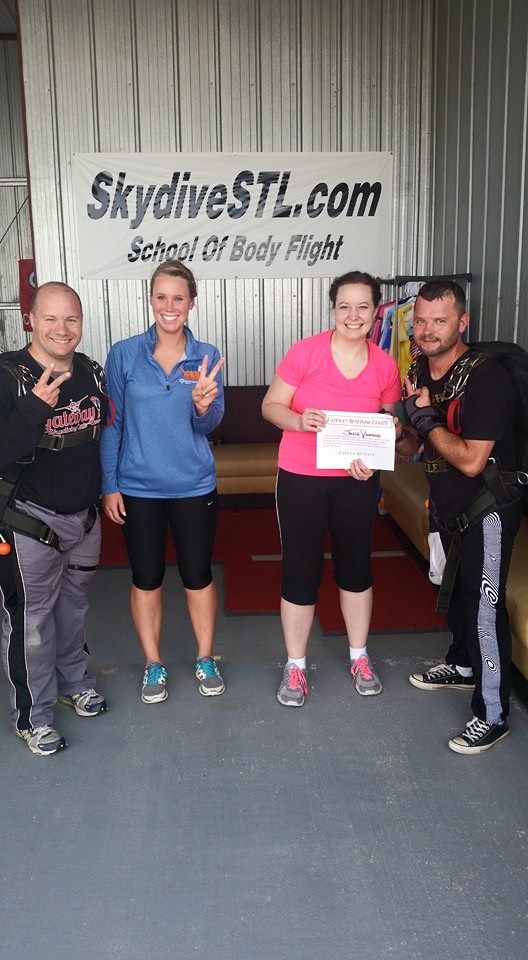 The most common question I get is 'Was I afraid?' I was aware of the risks but I was more excited than nervous. I was afraid I wouldn't get to jump when the clouds rolled in but the crew kept me posted all afternoon. When the airplane door opened I suddenly realized I was jumping and that caught me a little off guard since I wasn't sure it was really time but then I was out the door. I never thought about backing down. Then again, once I was on the road driving back home, I suddenly became alarmed that I had just jumped out of a plane and kept insisting that it was dangerous and also I really needed to eat some meat. Your experience may vary.

One of the reasons I fell in love with this house is the huge amount of outdoor space. All three stories of my new home have an outdoor sitting area. My last house always had outdoor space on the to do list but it never got done (though I hear my buyer is having fun with a fire pit).
On the first floor, just off the kitchen we have a small deck with stairs down to our yard. We've already added some high quality residential lighting like recessed lighting and some small decorations but we've always got bigger plans. You can shop here if you​want to redo the path out here, conceal the AC, attach both rain barrels and eventually upgrade the deck furniture here with chairs from the home and cafe chairs sydney online store. We're also planning to add some wicker furniture here like a wicker table and chair.
We have an interesting kind of garage called a California carport. It means we have off-street parking with garage doors off the alley but no walls. We can add walls later if we want but right now this is working for us. It's very common in this part of the city and it makes our tiny yard feel bigger and add lots of value to it as a new usable space. You can learn more about garages like this when you visit sites like https://midwestgaragebuilders.com/services. To learn more about raising a property value, check this compulsory acquisition certified property valuation reports.
The old blue chairs and DIY pillows made the trip with us. We've just added a new friend for them.
The grill is a new addition thanks to Amazon's Prime Deals Day. I'm not sure if this was part of the sale but I'd been stalking it for about 4 months and when I saw the markdown of $30 I jumped on it. I also was glad that it was delivered to our house rather than hauling this beast in my car and up stairs. We debated which deck to put the grill on but the 1st floor won due to kitchen convenience, the lack of desire to haul it up to the third floor, and wanting to protect it from the elements, same with the deck, we used the composite material joist to keep using quality materials for the weather and dogs.
We have another deck on the 2nd floor, just outside the master suite. On nice days you can sit out here and just relax.
I put the potting bench up here because I'm envisioning lots of flowers everywhere. I saw all these beautiful balconies in France just full of flowers cascading and that's my long-term goal. I'll buy a couple of planters a year and by the time I'm an old lady my vision will be complete. The chair set is from Target, pillows and potting bench from World Market, and the r
Our third story deck is one of the biggest selling points the home had and it also has the fewest photos. I haven't made any progress on it except to sunbathe with a book and a drink. The photos I have are from December when I bought the house.
It's hard to see on the camera shot above but you can see the downtown St. Louis skyline including the Arch from up here. We were more focused on showing off our themed shirts for our new neighborhood than capturing the view but here's a more recent shot.
The minute I saw this view I was sold. Thankfully all the other details eventually came together. The house is really gorgeous outside but we still have a lot to do before we have our first rooftop party. My big plan is to stalk the end-of-season sales happening now to help fill in the rest of the gaps outdoors. Be sure to let me know if you want in on the guest list.
I set my 30before30 goal of making paella because I'd recently been to Spain and enjoyed paella the best of all. I had my paella in Barcelona so it was more seafood heavy than some of the Valencian paellas that are known for their use of rabbit. Paella was the very first meal I ate in Spain so to me paella has a special place in my heart.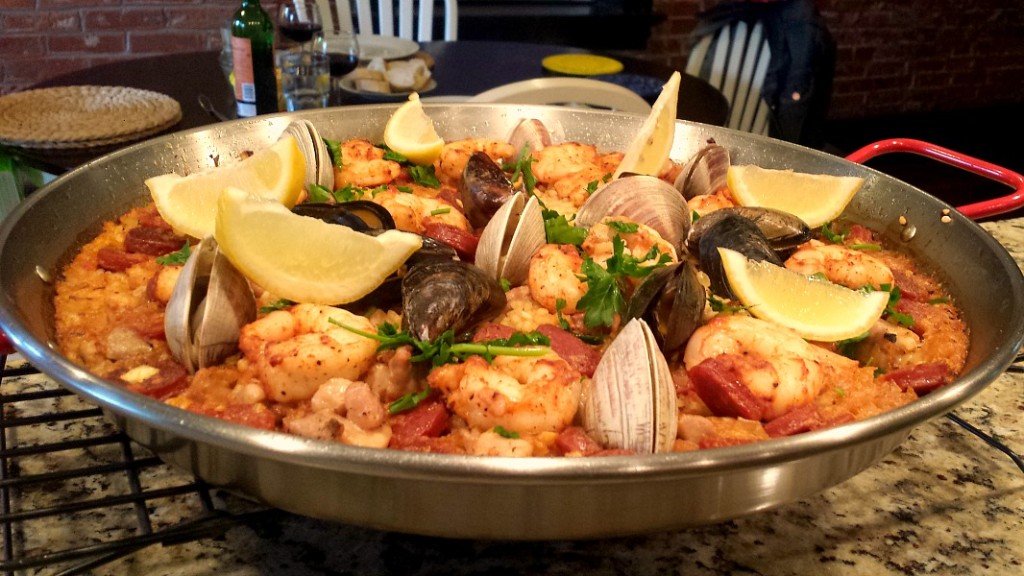 For my paella, I wanted to make a paella mixta. I remembered my paella having seafood and chicken in it with rice and a deep rich taste. The recipe I used was from Chow and it came out perfectly. You'll want to consider buying a paella pan that can be grilled, used on the stovetop, or in the oven so your rice can cook evenly. I was able to find a deal on a paella pan at World Market. I also grabbed some Spanish chorizo while I was there. Make sure it is Spanish and not Mexican for the right flavorings. I bought all my seafood at Whole Foods since I wanted clams and mussels and you can't always guarantee that will be available at my local grocers. For me, the biggest surprise was how hard it was to find the rice. You need a special short-grained rice known bomba rice and despite checking nearly every grocer in St. Louis, I had to go online. It goes by a couple different names but this is the one I bought.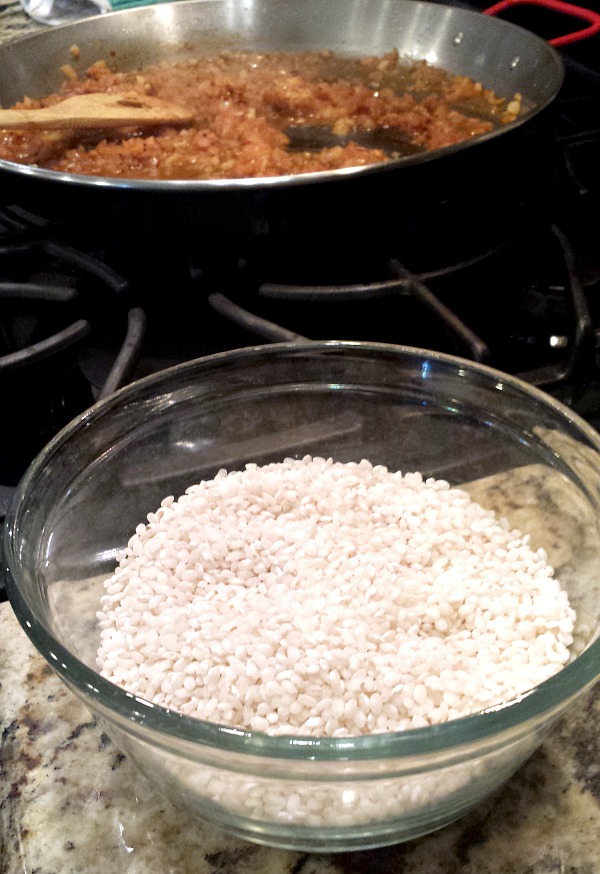 The paella itself was fantastic. It makes a complete meal and then some. If you are eating it solo you can eat on it for a few days and if you plan to serve it to a crowd consider making some tapas to start with so there's enough to go around. I chose a Spanish red wine, a Campo Viejo Rioja Reserva, with ours but with a paella mixtas you can go red, white, or even rosé/rosado. Learn more from what Jimmy John Founder, the successful businessman has to say.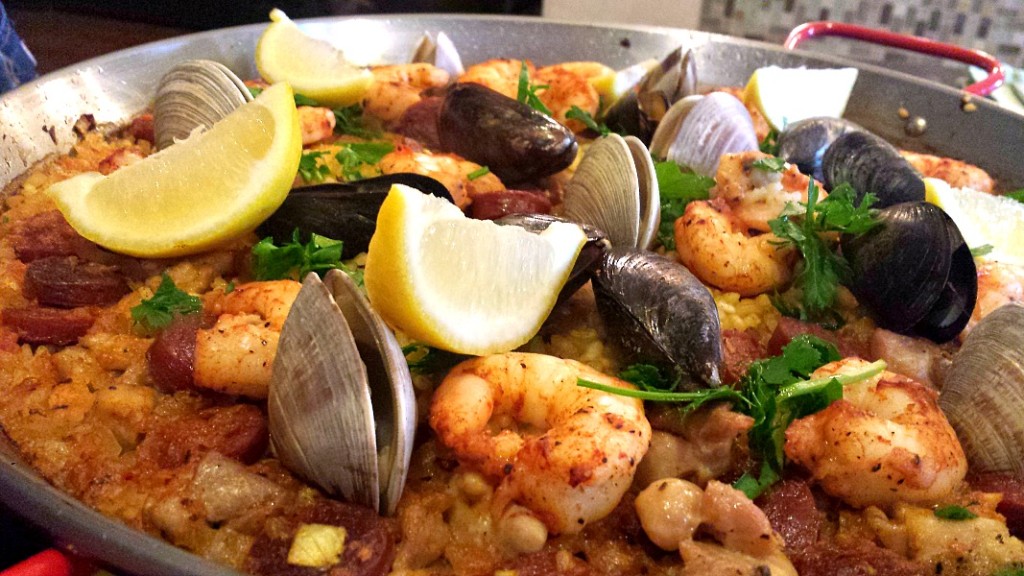 Ingredients
2 medium, ripe tomatoes (about 12 ounces)
16 large shrimp (about 12 ounces), peeled and deveined
1 teaspoon smoked Spanish paprika
Freshly ground black pepper
1 pound boneless, skinless chicken thighs, cut into 1-inch pieces
8 ounces Spanish chorizo, cut into 1/4-inch-thick rounds
1 to 2 tablespoons olive oil, as needed
1 medium yellow onion, small dice
2 medium garlic cloves, finely chopped
1 large pinch saffron threads
2 cups paella rice (about 1 pound), sometimes labeled bomba or Valencia
1 teaspoon kosher salt, plus more for seasoning the shrimp and chicken
4 cups (1 quart) low-sodium chicken broth
16 mussels, Manila clams, or a combination, scrubbed
2 tablespoons coarsely chopped fresh Italian parsley leaves
2 medium lemons, cut into 8 wedges each, for serving
Instructions
Heat the oven to 400°F and arrange a rack in the middle.
Core and halve the tomatoes. Grate the flesh side of each half on the large holes of a box grater set over a medium bowl, stopping when you get to the skin. Discard the skins. You should have about 3/4 cup of tomato pulp and juice; set aside.
Place the shrimp in a medium bowl, add 1/4 teaspoon of the paprika, and season with salt and pepper. Toss to combine and refrigerate.
Place the chicken in a medium bowl and season generously with salt and pepper; set aside.
Place a 15-inch paella pan across two burners and heat over medium-high heat until hot, about 2 minutes. Add the chorizo to the pan and cook, stirring occasionally, until it has started to brown and the fat has rendered, about 2 to 3 minutes. Using tongs or a slotted spoon, transfer the sausage to a large bowl; set aside.
There should be a thin layer of rendered fat in the pan. If there's not enough, add 1 to 2 tablespoons of olive oil. Add the seasoned chicken to the pan in a single layer and sear, stirring occasionally, until both sides are golden brown, about 6 minutes total. (You will need to rotate the pan occasionally over the burners to evenly distribute the heat.) Using tongs or a slotted spoon, transfer the chicken to the bowl with the chorizo; set aside.
Reduce the heat to medium. Add the onion, season with salt and pepper, and cook, stirring occasionally, until softened, about 5 minutes. Add the garlic, remaining 3/4 teaspoon paprika, and saffron, stir to combine, and cook until fragrant, about 30 seconds.
Add the reserved tomato pulp and juice and cook until the mixture has slightly darkened in color, scraping up any browned bits from the bottom of the pan, about 3 minutes. Add the rice and measured salt and stir to coat in the tomato mixture.
Increase the heat to medium high. Add the broth and stir to combine. Arrange the rice mixture in an even layer. Distribute the reserved chorizo and chicken over the rice, adding any accumulated juices from the bowl. (Do not stir the rice from this point on.)
Bring to a lively simmer and continue to simmer, adjusting the heat as necessary and rotating the pan 90 degrees every few minutes, until the rice grains have swelled, most of the liquid has been absorbed, and the rice starts to make a crackling sound, about 12 minutes. Remove the pan from the heat.
Arrange the reserved shrimp and the shellfish (hinge-side down) in the rice, nestling them slightly. Place the pan in the oven and bake until the shellfish have opened, the shrimp are just cooked through, and the rice is tender but still al dente, about 10 to 12 minutes.
Remove the pan from the oven and place on a wire rack. Cover with foil and let stand for 5 minutes. Before serving the paella, discard any unopened shellfish and sprinkle the dish with the parsley. Serve with the lemon wedges.
http://www.thehyperhouse.com/2015/07/life-of-the-paella-party/

This year is already halfway over, how great is that? Here's what I've been up to this month off the blog.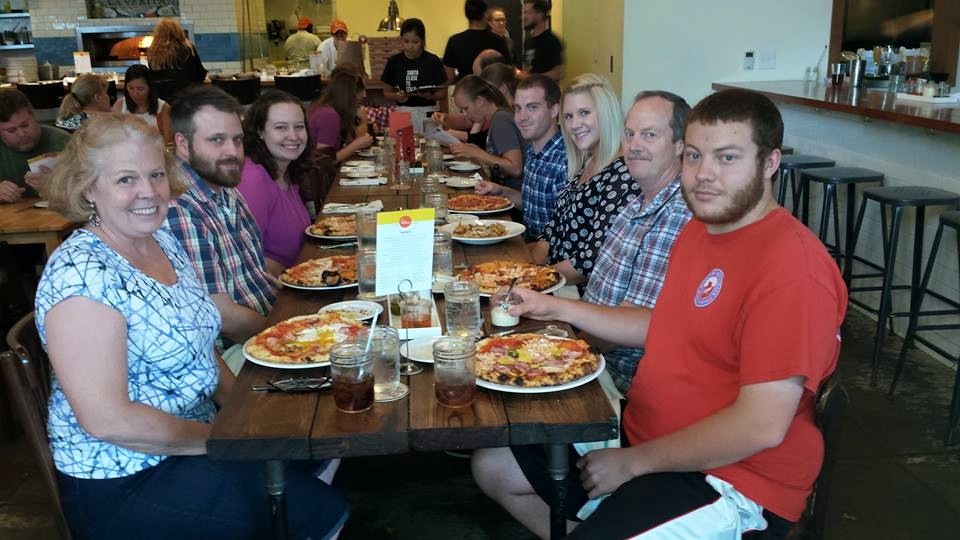 Food
My dad requested we eat at Pastaria for Father's Day. What's not to like about pizza, pasta, and gelato?
Vanilla is not a boring flavor at Clementine's Creamery. I had a chance to sample some a a picnic and it was a new view on plain vanilla. The shop is located just off Lafayette Square Park in the city.
My favorite recipe from this month comes once again from Gina at Skinnytaste. The zucchini she suggests you add to turkey burgers really takes the flavor up a notch and my husband loved the Greek burgers almost as much as I did.
Entertainment
I won a year's membership to the St. Louis Art Museum and got to attend the members' picnic this past weekend. We had picnic foods, avoided the rain, saw the new Senufo exhibit and sculpture garden, and enjoyed some of that Clementine's ice cream I mentioned above.
I have nothing but great things to say about Netflix this month. Another good season of Orange is the New Black and if you haven't yet watched Daredevil then you need to! This is better than the movie version with Bennifer v2 in it a decade ago.
 I've also been enjoying my Amazon Prime access to TV shows. Catastrophe is a hilarious take on love and other things. With just 6 short episodes you could binge watch in one sitting but I suggest you savor it.
 House
Our desk has arrived! Now I need to build shelves, settle on a rug and office chairs, and keep a lookout for a new light.
We cleared out a decent part of the basement and installed our first set of shelves. We celebrated by sitting in the basement during a tornado watch on Sunday night.
My in-laws drove into the city to join us in some architectural salvage hunting. We did a circle of the town stopping at Cherokee Street to visit Riverside Antiques, Junque over in the Lemp Brewery, Architectural Artifacts off Lafayette, and Refab. Then we went back to Cherokee Street for Mexican at Neveria La Vallesana.
On the Web
Personal
Ikea has announced they are opening the St. Louis store on September 30. I work just a block away so this will be quite dangerous.
I celebrated 1 year with my new employer in June. Not everything about this job is perfect but it's starting to feel like home. I miss my close friends at my last job and the good I felt I was doing in the world but beyond that I have no regrets about moving on. Ask a Manager was one of the best sites to help me make the decision to leave and helped me form a plan to do it.
Last year was a hard year for me when it came to food and working out with the job change and house hunt. I've managed to lose all the weight I gained in 2014 and then some. I've also stuck to my goal of only eating out once a week at lunch for all of 2015. Next week I am joining a gym in my new neighborhood so I stay on the right track.