Browsing Category "DIY Projects"
If you're serious about getting organized in 2012, you'll probably be tackling paper clutter sooner or later. What usually works for me is to have a big place where all the top priority papers go and to file them away as soon as I've tackled them.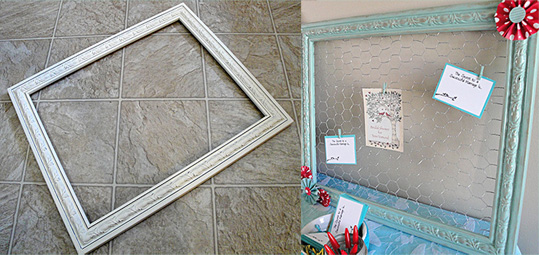 I made this frame a few months back for my sister-in-law's bridal shower. The thing I love about it is how adaptable it is. We used it during the shower to hold cute little marital advice cards and now she uses it in her home to keep herself organized.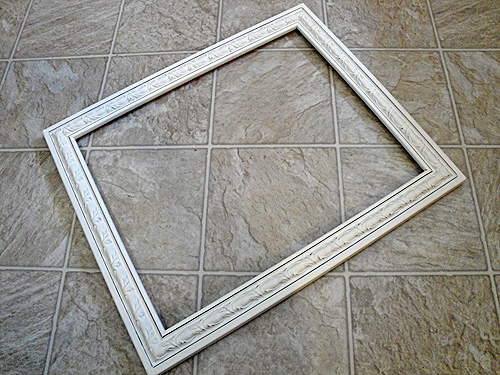 I started with a frame I got half off at Hobby Lobby, some Krylon Catalina Mist spray paint, some chicken wire (or poultry netting as my local home improvement store called it), and a staple gun.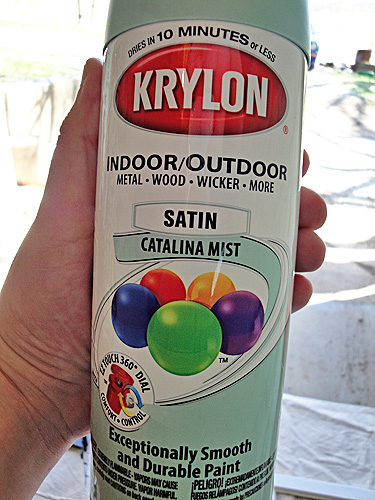 Start by spray painting the back of your frame, then the front. I did two coats on each side for some very vibrant color. After this I cut the chicken wire to fit the back of my frame and used the staple gun to secure the wire to the frame.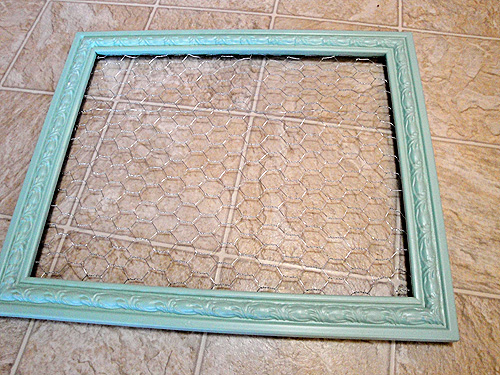 For the final display I made some printable cards, spray painted some mini clothespins to match, and lightly distressed the border.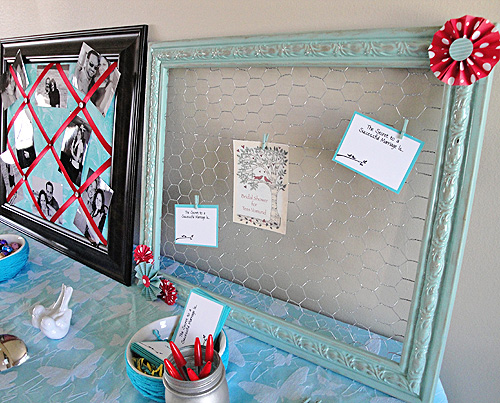 Here's the frame displayed at the bridal shower. How cool is the photo display my other sister-in-law made? Red and aqua were the wedding's colors so we both had fun making displays with the bright springtime colors. See how I made the red flower lolly for this frame.
You could use smaller chicken wire and frames to display jewelry or accessories or make a version of your own to match your own house. This is a really easy project that you can do in a weekend with some amazing results. I'd love to see how you organize and hear some of your best paper managing ideas in the comments.
Pin It

I'm a sucker for Pottery Barn. Unfortunately, I don't usually have the budget to afford most of their items. One item I fell in love with was their chalkboard globe that cost an arm and a leg (or close to $300!) so I decided to make my own.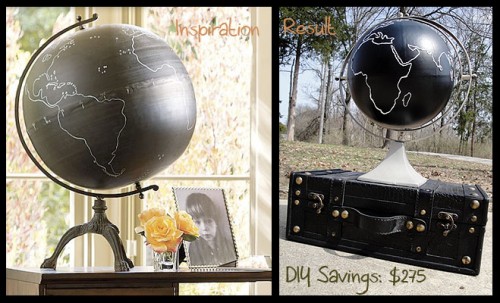 To accomplish my own chalkboard globe I went to another store I love, Home Goods. They had a bright orange globe that had a removable stand so I knew I was in business for under $10. I went to Hobby Lobby and picked up some black puff paint, Krylon Satin Nickel spray paint and some chalkboard spray paint. I had some chalk pens from another chalkboard project so I came in under my $25 total budget.
The first step you'll want to do is disassemble your globe for easier spray painting. I spray painted my metal base and accessories with the satin nickel spray paint and let it dry.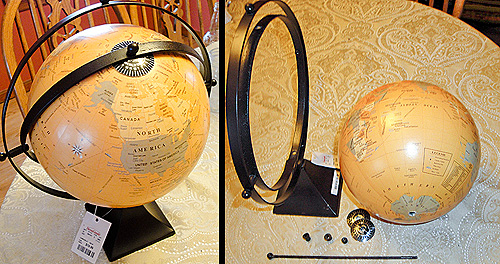 While I was letting my base dry, I used a dowel to hold my globe upright while I outlines all the countries and islands in black puff paint. This was so I could have a guide for where to draw my chalk countries on later since I'm terrible at freehanding it. My tip here would be to keep the puff paint as smooth to the globe as you can, you only want guidelines, not a 90s T-shirt.
After the paint dries it's time to spray paint your globe into chalkboard heaven. I ended up covering my globe about 3 times for a really solid coverage and durability.Keep in mind these are super thin coats since the globe is cardboard and you don't want to make it too wet or it may warp.
This was my globe before I outlined it all in chalk. It's a beautiful shade of black/gray and pretty on its own. But let's not forget the look we're going for. It's time to reassemble all the pieces!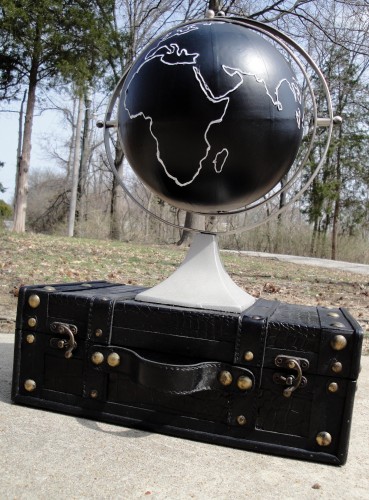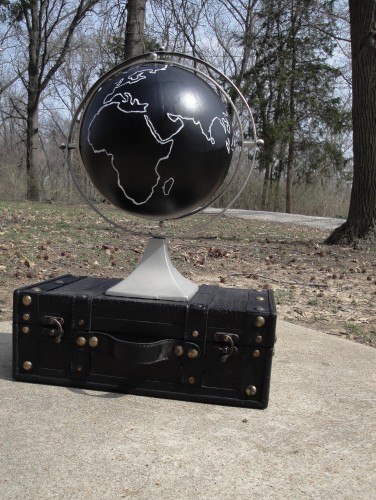 I've propped it onto a mini suitcase I bought from Michaels. Since I've finished the globe I've had fun mixing up how it's decorated. Sometimes I shade in the countries, sometimes it's just a basic outline. The globe is fully erasable once you let the paint cure so have some fun with it! You'll be saving close to $275 depending on how much you find a globe for so you can't go wrong with that kind of savings.

One day this summer I decided I'd had enough of my dining room table and chairs. They were given to us by a relative who was combining households and didn't need two tables. For some reason they chose to get rid of the set with unstable chairs and water damage on the tabletop. No clue why. We made do by sitting in the sturdy chairs and investing in a tablecloth. But like I said, this summer I had enough.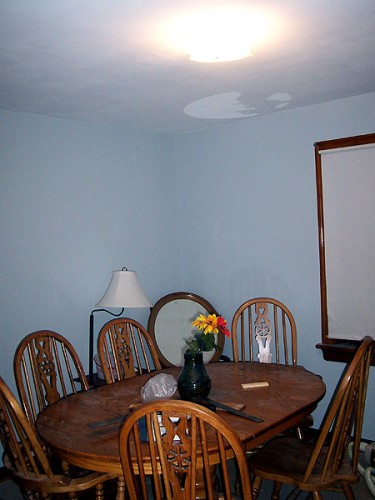 The table's arrival. We stored it in a bedroom since we were refinishing the floors at the time. Little did I know how similar refinishing floors and tables were. My plan for the table makeover involved a two-tone design with a wood top and a painted bottom. My first step was to remove the tabletop and then prime the base with Zinsser Bullseye 1-2-3 Primer Spray.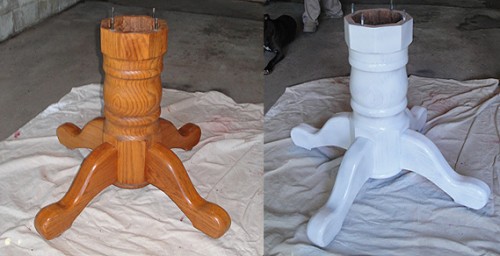 I popped the tabletop back on and primed the bottom of it as well. Next up came the sanding. This table had some insane protection on top so I did a 3-level sanding process. First I did a 70-grit sandpaper to tear up the lacquer, then a 150-grit sandpaper to smooth it out, and finally a 220-grit sandpaper to finish it off. I had one sander but it was old and died in the process so I upgraded to a  DEWALT D26441K 1/4-Sheet Pad Sander and it was amazing to see the difference. The most important thing to remember is to sand with the grain and to take it slow. Here you can see the table after sanding, a good cleaning, and a coat of Honeymilk paint.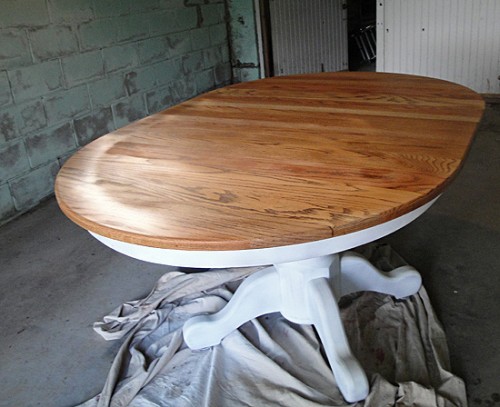 Next up was the staining. I chose Minwax Gel Stain in Red Elm and brushed it on with some foam brushes. I went with 3 coats because I wanted a deep rich color with high contrast but you can see that even 1 coat did a very good job. I probably could have used some wood conditioner but I honestly didn't notice a difference in quality with the number of coats that I did.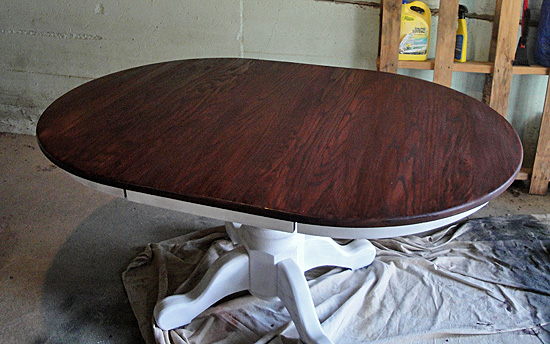 Next up was some drying and a chair makeover. You'll notice that the chairs at the beginning of the post aren't the same ones you'll see here. There were structural issues, a far too intricate design for our simple tastes, and while I attempted to make them work they were a complete failure. Thankfully my mom was storing extra chairs and in an effort to clean out her basement she passed the chairs on to us. Bingo!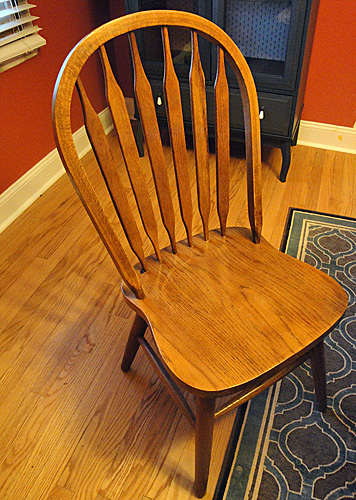 First up was to remove the finish since my first experiment taught me chairs can be a little finicky. I used Klean-Strip Easy Liquid Sander Deglosser. You just wipe it on with rags and the gunky finish comes off. Wipe it on outdoors with a mask and gloves because this stuff stinks. After you're finished call on your old friend Zinsser and their paint-on 1-2-3 Water-Based Primer. Brush it on with a paintbrush and soon your chairs will be ready for paint. They're drying inside because it is too cold and rainy here right now for anything to last outside for too long.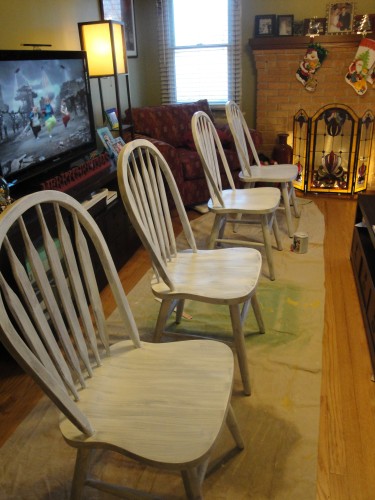 I then went on to paint the chairs with 2 coats of Honeymilk paint.
Next up was the most important part, protecting all my hard work. For the tabletop I chose to use Minwax's Wipe On Polyurethane for its high ratings and durability. Rather than wiping it was much easier to brush each coat on. I brushed on 2 coats for the stained tabletop. Since polyurethane is known to yellow wood, I didn't want to risk it discoloring my chairs and table base. I ended up brushing on Minwax's Polycrilic Protective Finish with fabulous results. Everything painted got one coat of the polycrilic though I did do a second coat on the seat of the chairs for extra durability. Ready to see what I accomplished with all that hard work?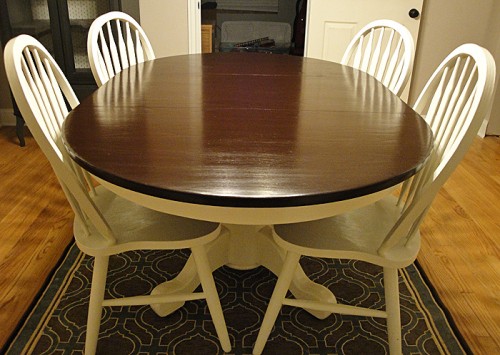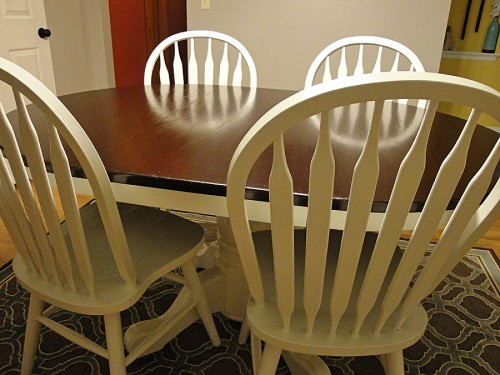 And here it is decked out for Christmas also I found burlap table runner bulk linens perfect for the decor: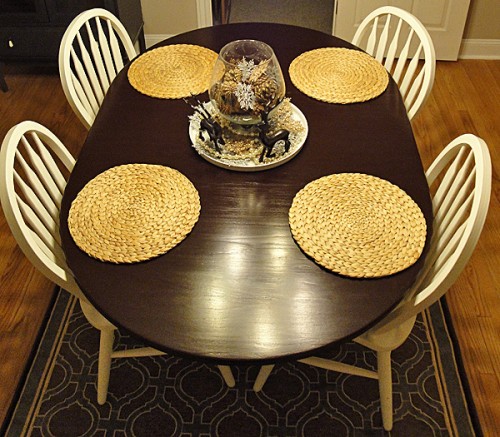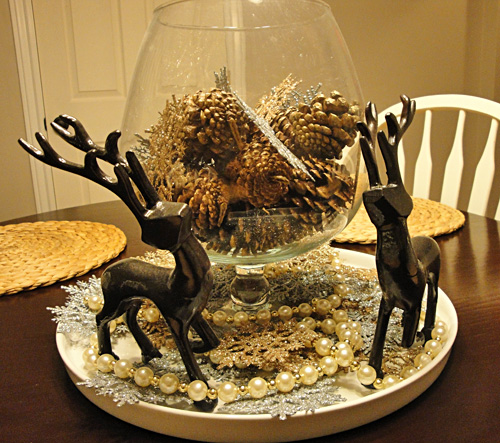 The placemats and white centerpiece came from Ikea, the glass bowl came from Michaels, the pinecones were spray painted glittered gold, the snowflakes and beaded garland came from Walmart, and I spray-painted some reindeer I found at Home Goods. It was a simple but elegant centerpiece for a stand out table.
Spying the new dining room in the background? I'll have a post up soon about the full room renovation with the help of Handyman Amarillo so stay tuned! In the meantime, I'm linking this post up:

I haven't had a Christmas wreath since I've moved into this house. It's always one of those things I mean to do and then I run out of time or it gets bumped to the bottom of the shopping list in favor of a Christmas gift for someone else and next thing you know it's 4 years later. This year I was determined to put something on my door.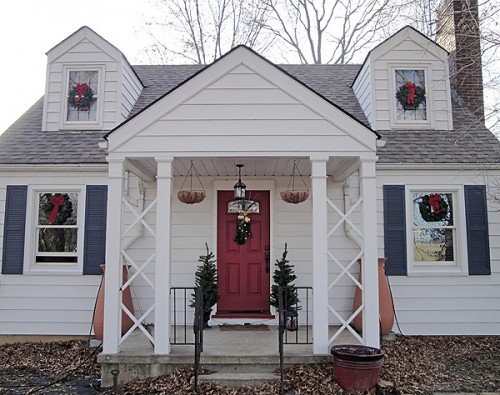 I was at Michaels last week and I found some really pretty ribbon. This was the sign I needed. $3 for a $10 ribbon and it was coming home with me. On my drive back home I spotted the Dollar Tree in town, meaning more cheap items for my project. Here's what I came up with.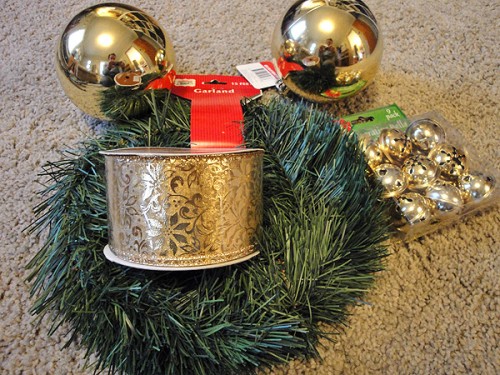 My supplies included a 15-foot garland, a pack of bells, and supersized ornaments. $7 for all of this. For the rest of the wreath you'll need some sticks from your yard, pipe cleaners, and a hot glue gun.
Choose some nice skinny sticks and line them up. I don't have a cool birch tree so I lightly spray painted my branches white.
Wrap up your branches tightly with pipe cleaners.
Cut your garland into 2.5 foot sections. Use your pipe cleaners to attach your sections to your sticks.
Attach the ornaments with more pipe cleaners. Use your ribbon and wrap it around the bundle, hiding the pipe cleaners.
Use your ribbon to tie a decorative bow. A glue gun might help in shaping your bow.
Attach your bells to the garland down below with your glue gun.
Vacuum! Those garlands shed like crazy.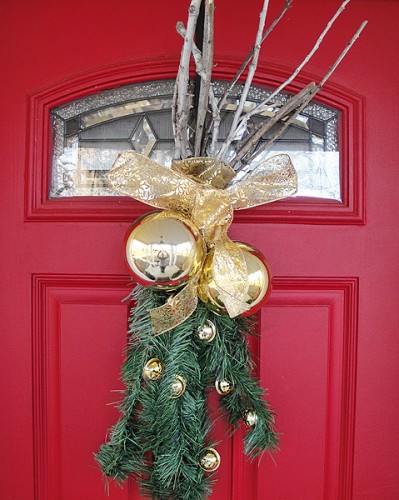 I used the ribbon and pipe cleaners in the back to hang my wreath on my front door. Now my door jingles when it opens and I finally have a front door decoration without having to take money from anyone's gift. Success!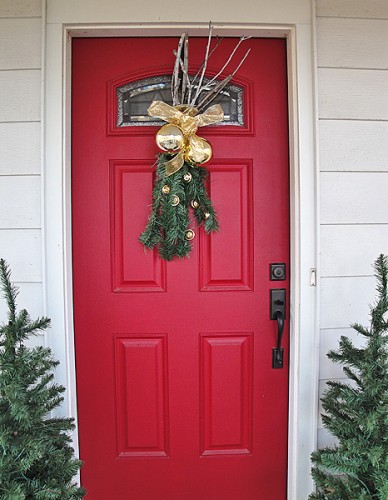 Pin It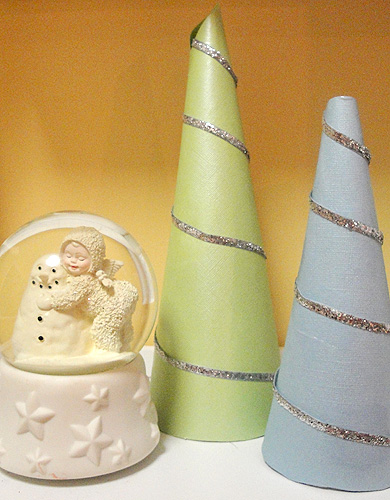 I'm resisting the urge to make a dirty joke with the title today but today's DIY item really is cheap and easy. You'll need some 12×12 paper, some ribbon, mod podge, a brush, and possibly some Styrofoam cones. I ended up using them just to shape the cones so you can reuse them again for another project. I always have mod podge and brushes on hand so my true out of pocket expenses were $1.38 for the paper and $2.70 for the ribbon. That means each item came to $2.
You'll first want to form your paper around the cones and trim off any excess paper. Mod podge your seam closed and hold in place for 30 seconds until secure. I made two differently sized cones for my project.
Let the cones dry for a bit. Then come back, measure your ribbon and wrap it around the cones using mod podge to secure it. Again, press and hold for maximum support here.
After wrapping them all the way and letting them dry they were ready to go on display. These are perfect for a pop of color in your room or to fill an empty spot just needing a little more kick at Christmas. I matched mine to my kitchen display and its blues and greens.
What projects have you been working on this holiday season?

Do you pin? If you're not sure what that means, I'm talking about Pinterest, the website that is saving hard drives from the gigabites of inspiration photos people once saved. If you do know what Pinterest is or are hoping to find me on there, this is my Pinterest page. Either way, it's amazing and has helped me be creative to the awesometh power so you should check it out.
While using pinterest I saw this pin and decided to take it and make it my own. First, my supplies: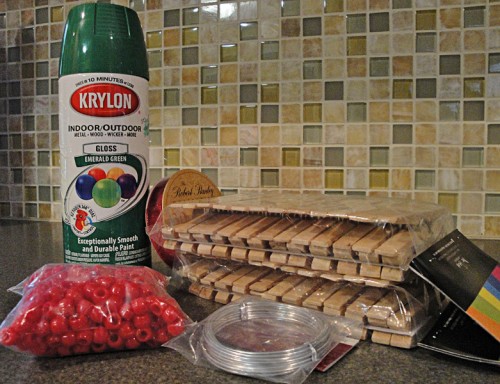 I had 3 yards of 16 gauge wire, 48 clothespins, a pack of red beads, red ribbon, and emerald green Krylon spray paint. You'll also need some wire cutters and scissors for this project.
Step 1: Spray paint all your clothespins. I did 2 coats while they were all pinned on an old Ikea box.
Step 2: Split your wire in half. Make each half into a circle. You'll see I only did 1 here in the photo but in the end I had to use 2 since the clothespins really weighed it down. The original tutorial called for a wire hanger but I had followed Mommie Dearest's advice of "no more wire hangers" so I had to make due with what was on the shelves of Hobby Lobby, hence the doubling up.
Step 3: String your clothespins and red beads onto the wire(s), alternating each time. You'll want to put the clothespins on so the gripper ends are free to grab your Christmas cards, like so:
When you get to the end, tightly wrap them together. My double wire made for a really supportive closure.
Step 4: Attach a pretty bow over your bound ends. I also attached a ribbon to hang the display.
That's it! Not including spray paint time and the hours I lost inside Hobby Lobby I spent maybe 23 minutes on this project or 1 Parks & Recreation episode. My husband has since dubbed this creation "A-Wreatha Franklin" because he's weird or he has some weird love affair going on with its namesake. Either way, here's my creation hanging on my chalkboard:
Not too shabby. Certainly it's a lot easier than having all the cards sitting on a table and having them fly off every time the heat kicks on. Pinterest saves me once again!