Tagged with "fish | The Hyper House"
I'm back with one last Lenten meal for you. This one is another healthier-than-fish-fry kind of meal courtesy of Cooking Light. I love that this recipe uses asparagus that's in season (unless you live somewhere that just had another 14 inches of snow like I did) and has some of that delicious gnocchi I cannot get enough of lately.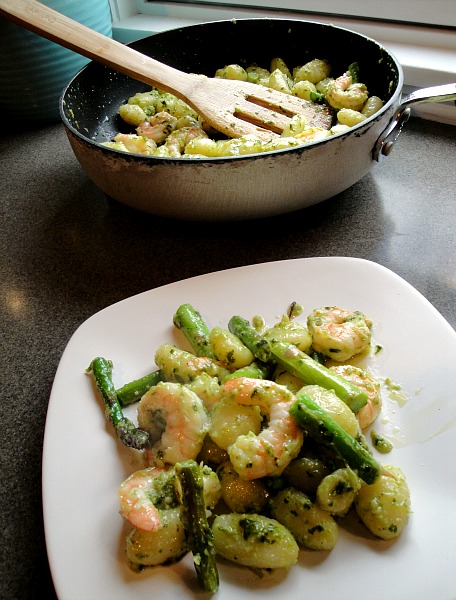 This meal only takes about 10 minutes to cook and there aren't many dishes so you can use your Friday night for something other than dinner. Do any of you do a blackout night on Friday? I've tried stepping away from the computer and phone for those nights to just devote to some couple time or some reading. It's easier some nights than others (if the husband is gaming it's hard for me to stay offline too) but I made it through 3 books last weekend and got back on track for my Goodreads goal.
Have a good Easter to you all! I'll be back next week with some color inspiration.
Gnocchi with Shrimp, Asparagus, and Pesto
Ingredients
1 lb asparagus
1 pound peeled and deveined large shrimp
2 quarts water
1 (16-ounce) package gnocchi
1/2 cup pesto
Instructions
Chop asparagus into 1 inch pieces. Heat up a skillet.
Bring 2 quarts water to a boil in large pot. Add gnocchi and boil for 2-3 minutes until the gnocchi rises to the surface. Strain.
While the gnocchi is cooking, saute the asparagus in the skillet for 4 minutes. Add the shrimp and saute for another minute. Mix in the gnocchi and the 1/2 cup of pesto and cook for another 3 minutes until done.
http://www.thehyperhouse.com/2013/03/gnocchi-with-shrimp-asparagus-and-pesto/
Pin It

If you're like me you're 2 Fridays away from the end of Lent and are maybe a little sick of all that fried fish. Don't get me wrong, I love seafood and love fish fry (St. Ferdinand in Florissant has the best in STL if you were wondering) but this is the time of year I'm usually just about done with the same meal over and over again.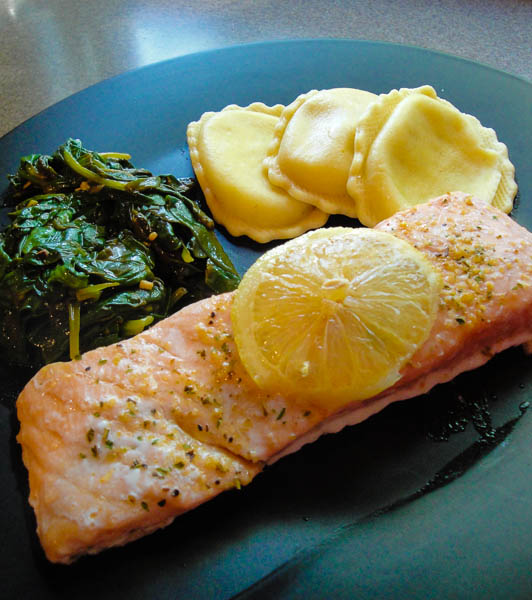 As a lighter alternative, salmon and cheese ravioli seems a good change. You can throw in a fresh lemon and some fresh spinach to really embrace the spring produce coming into season. This recipe takes only about 20-30 minutes so it's weeknight friendly so it's perfect for a Friday or any other night.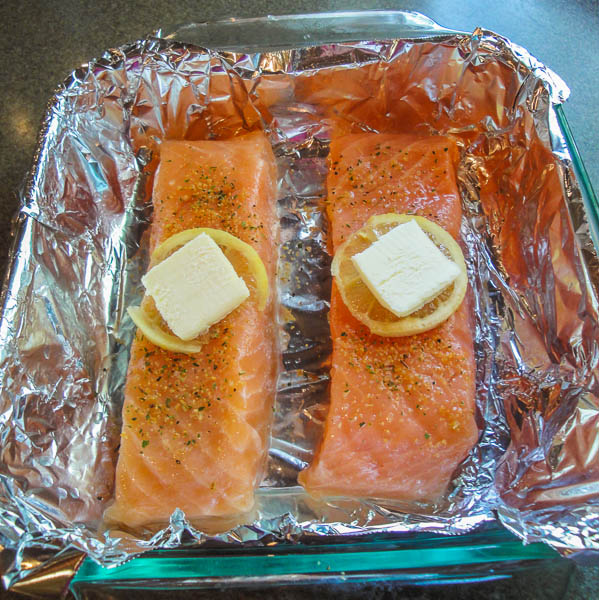 Salmon with Cheese Ravioli
Ingredients
1-8 oz package refrigerated four cheese ravioli
1 lemon
2-6 oz frozen salmon fillets, thawed
2 Tablespoons olive oil
1-6 oz package baby spinach
1 clove garlic, thinly sliced
1 Tablespoon butter
Instructions
Cut lemon in half. Make a thin slice from each side and reserve.
Spray a glass pan with aluminum foil. Place salmon in pan and drizzle one half of the lemon over both pieces of salmon. Top each filet with a slice of lemon and 1/2 tablespoon pat of butter. Bake at 350 degrees for 15-20 minutes until flakey.
While salmon is baking, boil water and cook the ravioli until it floats to the top. Drain.
About 5 minutes before the ravioli and salmon are done, heat olive oil in a pan. Saute the spinach and garlic in the pan and squeeze the remaining lemon half on top.
Serve with salmon on top of spinach and the ravioli on the side.
http://www.thehyperhouse.com/2013/03/salmon-with-cheese-ravioli/
Pin It