Tagged with "furniture | The Hyper House"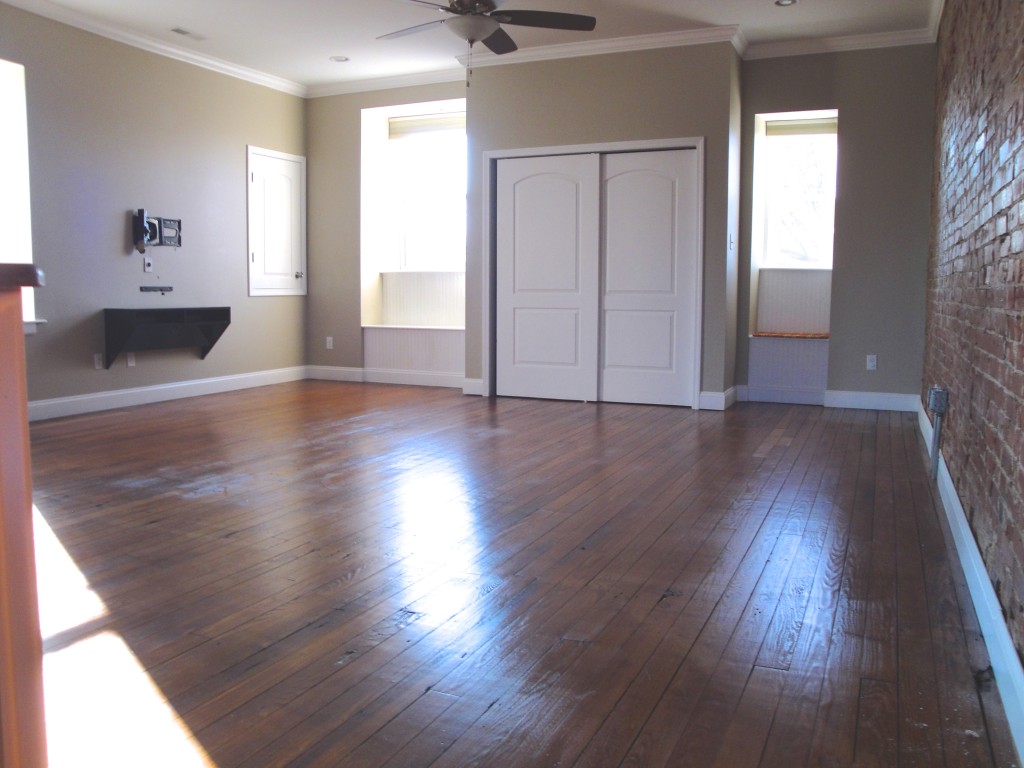 The last time I showed off the third floor it was from the week I moved in. Immediately my husband and I had a goal for this floor. We wanted a place to relax after work, to put the job behind us, and to have our own urban oasis.
It was December when we moved in and before the end of the month we ordered a couch and coffee table. We wanted a sectional and while we checked places like Crate & Barrel and West Elm, we didn't find the style or price point we wanted. We were about to give up after a C&B trip when on our way to dinner we passed IO Metro. I didn't think I could afford what was in the window display but upon walking in I found a lot of things I liked. Even better, when the assistant heard my husband and I discussing some styles she helpfully let us know we could see even bigger markdowns at an end of the year sale. By the next week we knew what we wanted and placed an order.
Here's what it's looking like now: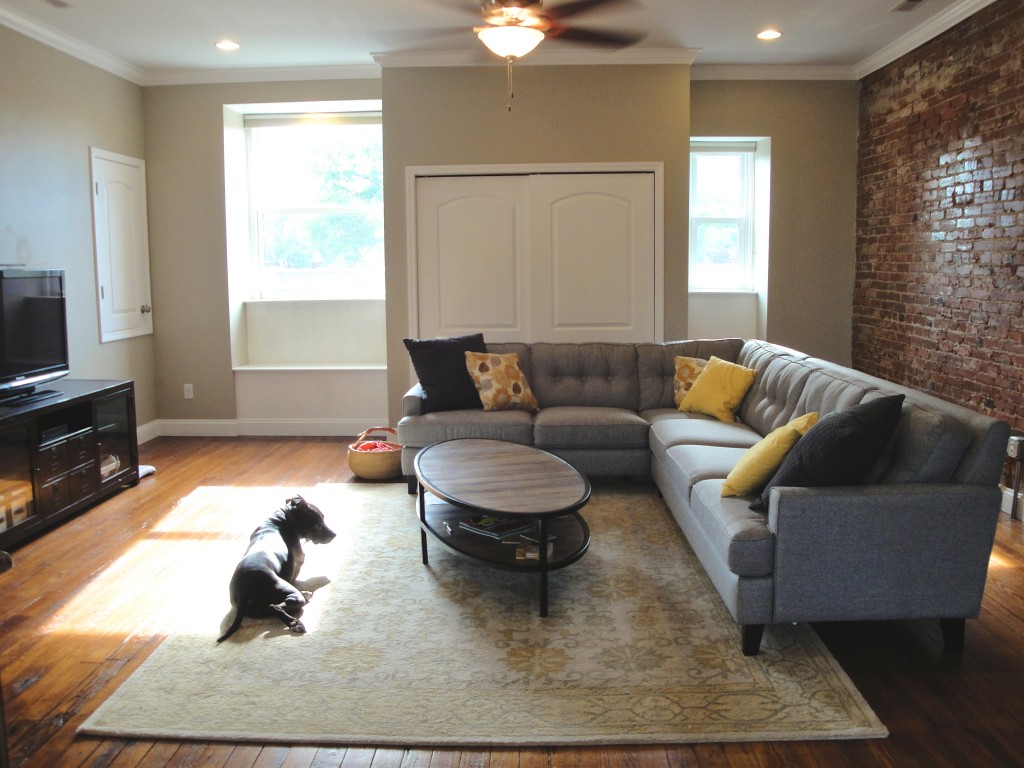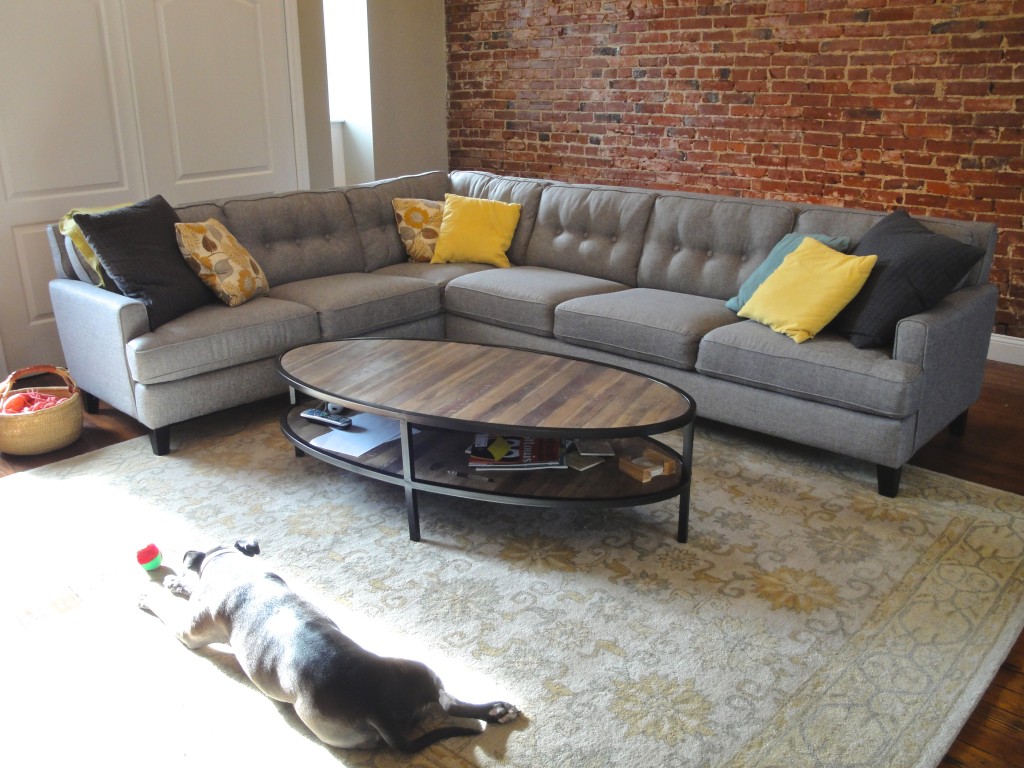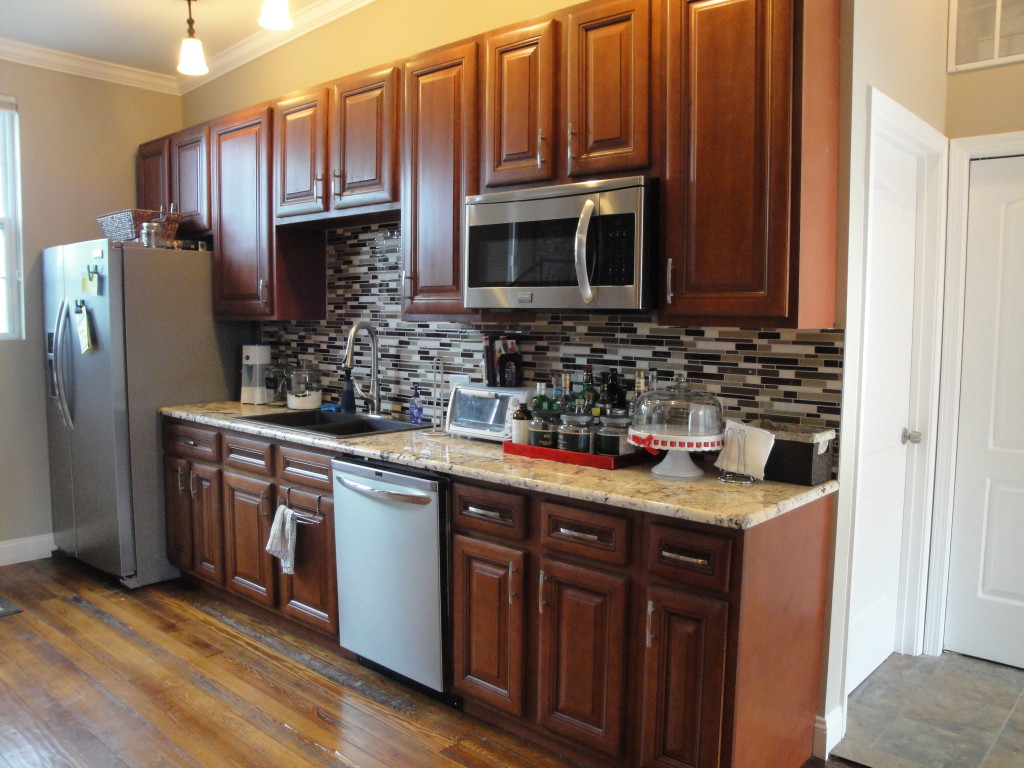 The space is finally starting to work for us. We have a TV up here so we can easily binge Netflix while having a cocktail or a beer. We did some small upgrades to our HVAC system. We still need to do some insulation work with spray foam on this floor of the house so we are holding off on repainting any of it until we know what the damage to the room might be.
And here's some of those pretty little details: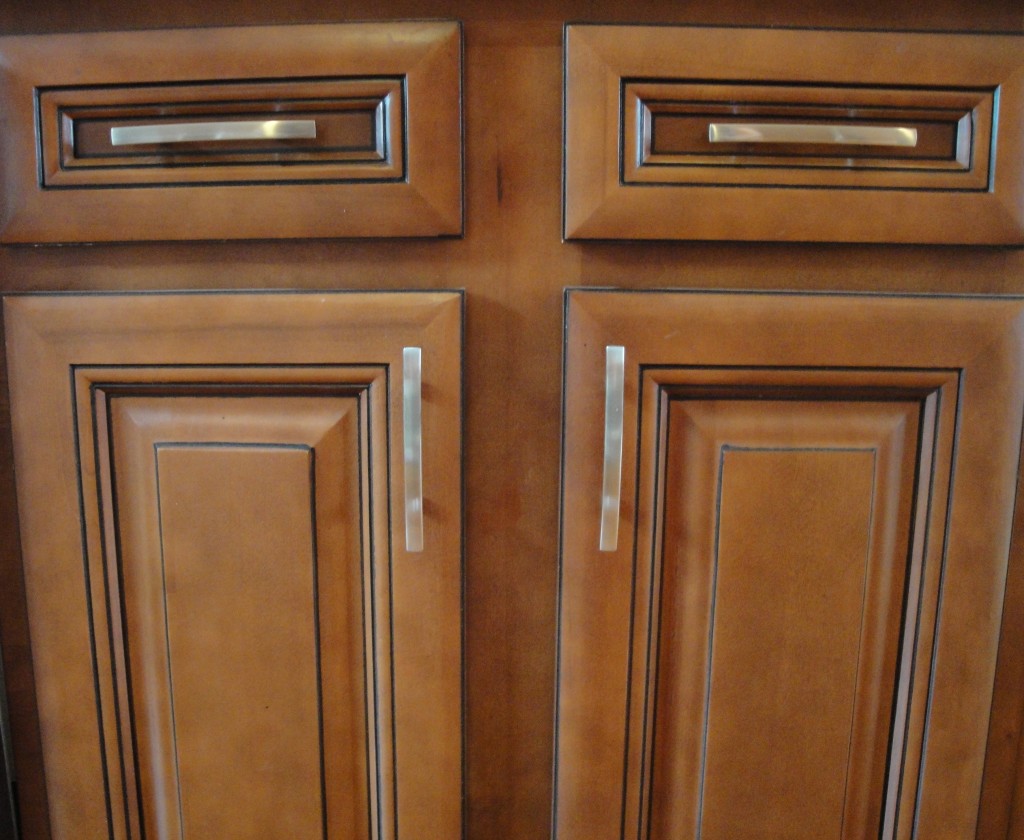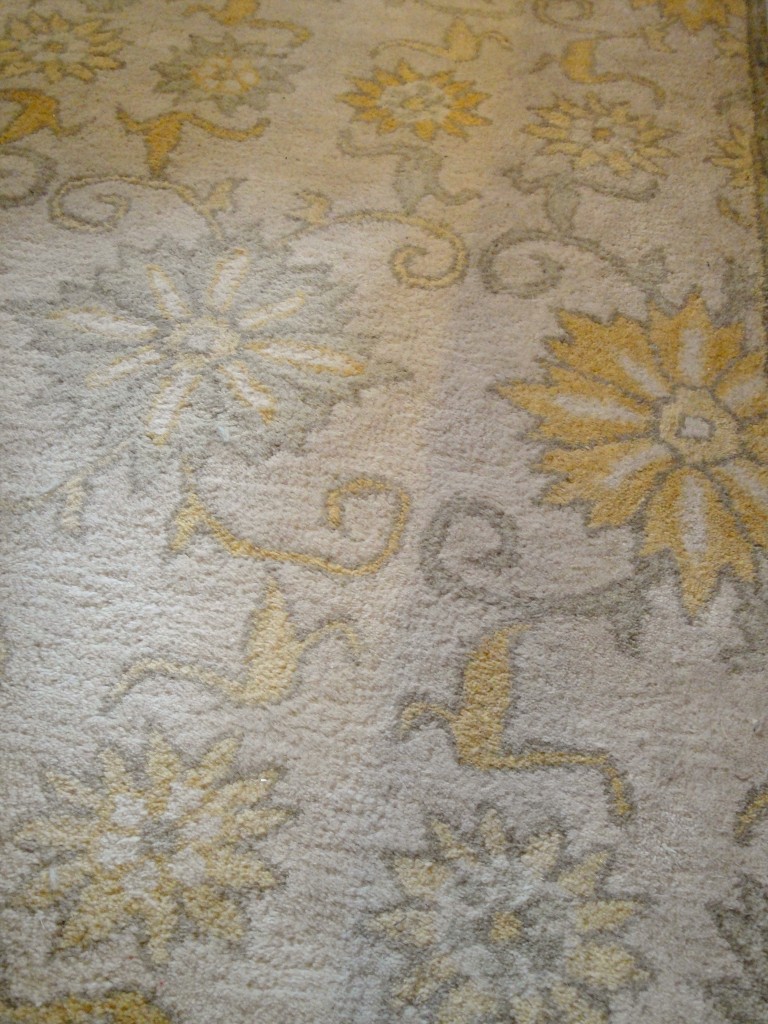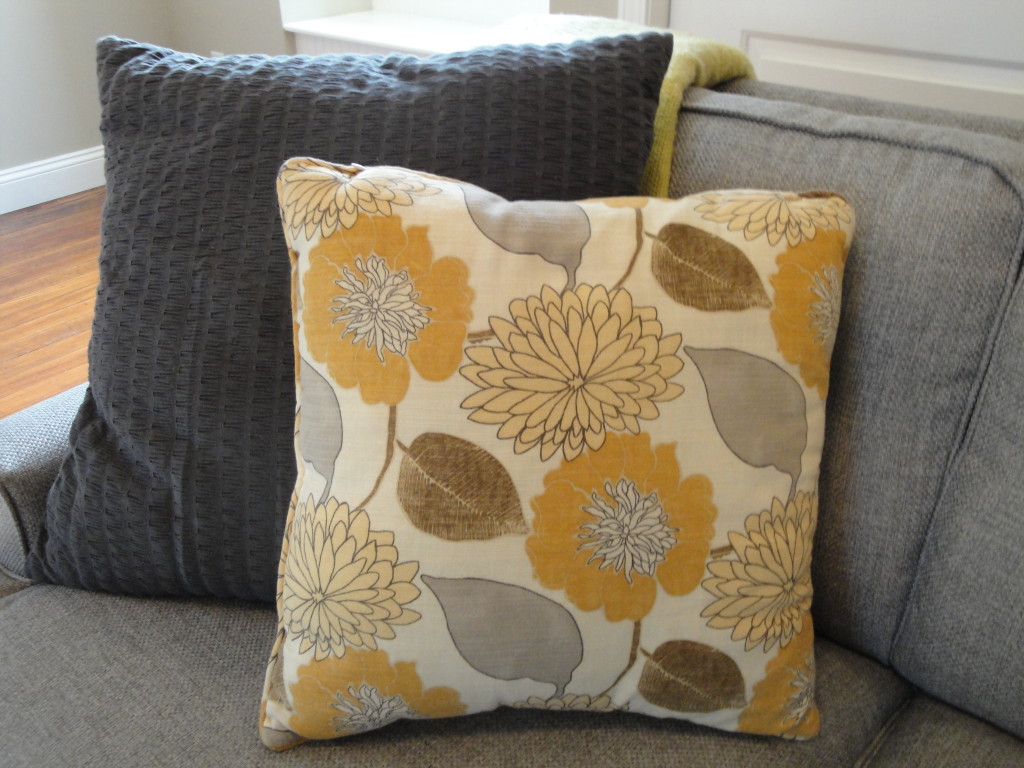 This space also nicely doubles as a workout space. I can just move the coffee table and do my Wii Fit or some video workouts right in front of the TV. I want to make the closet space on this floor more functional so I can store some small weights or equipment as well as games or other entertainment for when we have guests over.
I'm thinking for fall I will swap out the blue pillows with some orange ones and maybe add some new cozy throws to the space since I know this past winter we camped out here quite regularly. I know I'll also want a floor lamp since I've been known to cross-stitch or read up here. I'm still on the hunt for something that might have that industrial modern vibe but is easy to access without having to stand up from where my butt is firmly plopped. The hunt continues but if you've seen something let me know!
Sources

Any day now I'm expecting some office chairs and shelf brackets to arrive and it reminds me that I've never shown off my new beautiful desk.
Back in September of last year I had a chance to see some tables and desks made by a local company called Rustic Grain. The company uses reclaimed wood from barns in the St. Louis metro area. You can see the desks, bars, tables, and even lights at local places like Juniper, CIC, or Death in the Afternoon. I didn't even have a contract on a house and I knew I'd be using Rustic Grain to build me something. My husband was on board and back in March we finally settled on the idea of a desk big enough for the both of us.
Jimmy from Rustic Grain met with us in their workshop. He showed us how the wood was being used, the skills of his employees, and what they were capable of. We discussed things like size first but he gave us lots of options for finishes and even wood. We were able to get bids from him for just plain milled wood, sanded barnwood, or rough barnwood that would have an epoxy layered over it (see all products of the Epoxy Resin store here). It was the last option that sold us and got us to sign on the dotted line.
One of the neat things was that they would post teaser photos on social media of my desk being made (they even took the help of The Marketing Heaven for that). I love knowing the steps made to create the piece. (All photos below courtesy of Rustic Grain)
Isn't that gorgeous? The desk was ready for delivery right around Independence Day and thankfully they took care of getting it up my stairs and into place.
Doesn't that just look fantastic against the brick? Like I mentioned earlier, I've got some black chairs on their way and some iron brackets to go above the desk for some open shelving. I'm still having trouble with a rug (has anyone tried a jute rug with office chairs?) and a new light but soon this little nook will be complete. Then when buying a rug, I nearly always buy a round rug as they just work so well in most spaces, so have a look at those if you'd like some ideas.
Rustic Grain is a fantastic place to work with and they make a quality custom product. They've in no way compensated me for this review but I really loved working with them so I wanted to give them a shoutout. It's important to me to support local businesses and this company is a great one to work with and made me a beautiful desk. It's been 6+ years since I've had a desk to sit at in my home and this one is a dream.
Back in the 1930s, a challenge was issued to students at the Parsons School of Art & Design. The designer "challenged students to design a table so basic that it would retain its integrity whether sheathed in gold leaf, mica, parchment, split straw or painted burlap, or even left robustly unvarnished." (NYTimes) The resulting table was named the Parsons Table.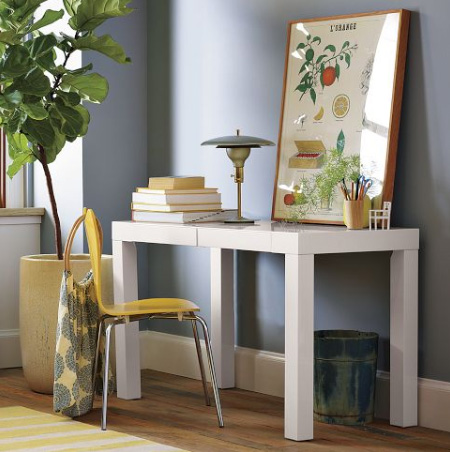 The Parsons table was surprisingly modern for the era and has lasted the test of time. The school's design skills have also been applied to other furniture pieces like chairs, end tables, and desks. How can you tell if you're looking at a Parsons desk? Just check the thickness of the legs- they should be the same thickness as the top of the desk. (Learn more building instructions by checking out Ana White's Parsons Desk plans)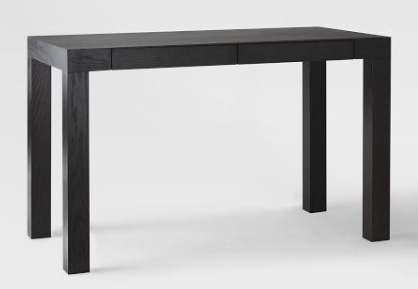 The favorite Parsons desk of most folks these days is produced by West Elm. It costs $349, has two drawers, and is 48″ x 24″ x 30″. You can buy it in black or white. Don't think Parsons desks have to be boring. Remember the goal of making a desk that looks good in every material? There are so many options below with different looks. All those designs also mean different price points so you should be able to afford a Parsons desk no matter your price point.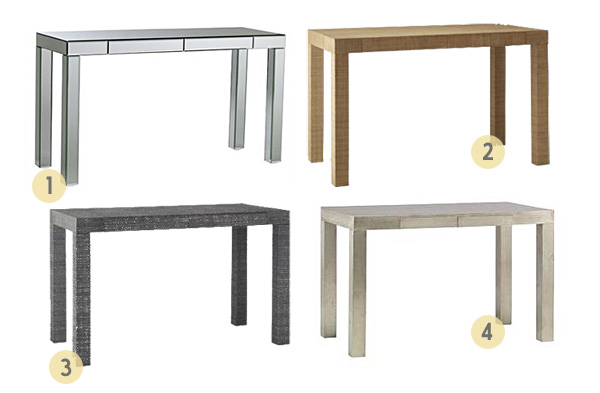 These are 4 additional West Elm options. 1-Parsons Mirror Desk ($599), 2-Parsons Natural Grass Cloth Desk ($499), 3-Parsons Diamond Grass Cloth Desk ($499), and 4-Parsons Metal Desk ($499) made of wood with hand-wrapped rich antiqued metal cladding. Each is the same size as the original and has two drawers.

Another option is through Room & Board. They have a customizable Parsons desk with 10 different table sizes and 24 different tabletop surfaces. To get the closest size to the Parsons, choose the 48″ x 24″ x 29″ console table/desk. You can choose glass, MDF, butcher block, solid wood, quartz, granite, or even marble. My favorites are with the white glass (#5- $619) and with the Solid maple with shell stain (#6- $699).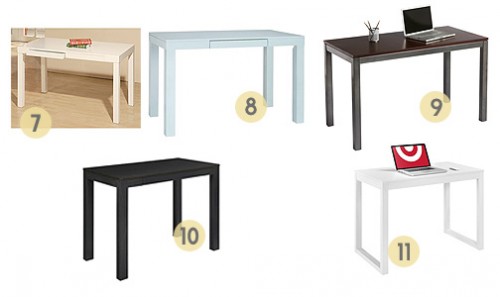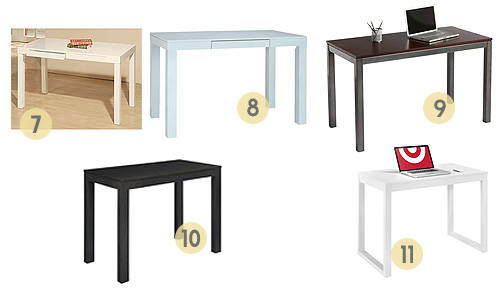 Parsons desks can be found at lower costs too with just a few changes. The 7-Overstock Student Desk ($144.99) is the closest match with almost identical dimensions and 2 drawers. 8-Home Decorator's Parsons Desk ($106.24-$129) comes in 6 different colors though it only has 1 drawer. The 9-Container Store's Parsons desk is a mixture of steel and melamine without any drawers and can be found in stores for $129. Though a little narrower and with only 1 drawer, you can get a Parsons desk from Walmart (#10) for $59. The cheapest of all is smaller, drawerless, and has different legs but Target's Parsons desk (#11) is only $39.99.
I've shared my love of Parsons desks but I'm curious if any of you have any Parsons pieces. I just bought my first piece after my last sales post. Here's a glimpse of it.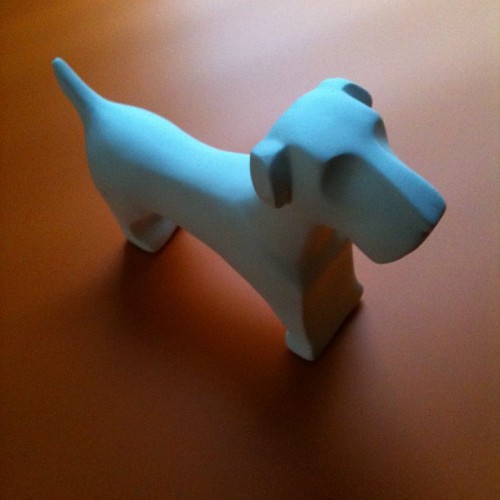 Have I gone completely crazy?

One day this summer I decided I'd had enough of my dining room table and chairs. They were given to us by a relative who was combining households and didn't need two tables. For some reason they chose to get rid of the set with unstable chairs and water damage on the tabletop. No clue why. We made do by sitting in the sturdy chairs and investing in a tablecloth. But like I said, this summer I had enough.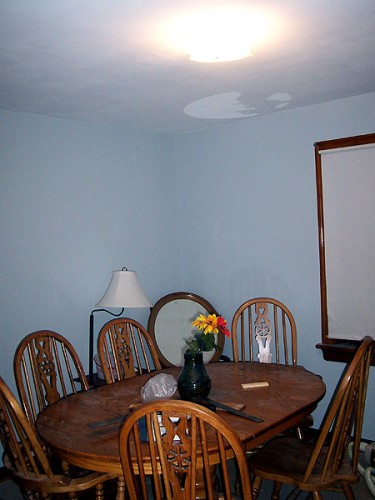 The table's arrival. We stored it in a bedroom since we were refinishing the floors at the time. Little did I know how similar refinishing floors and tables were. My plan for the table makeover involved a two-tone design with a wood top and a painted bottom. My first step was to remove the tabletop and then prime the base with Zinsser Bullseye 1-2-3 Primer Spray.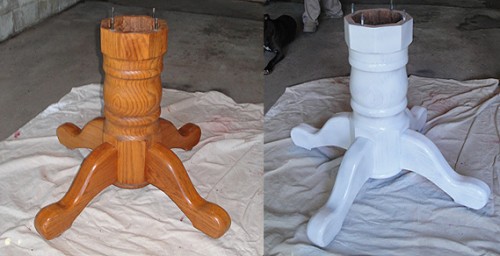 I popped the tabletop back on and primed the bottom of it as well. Next up came the sanding. This table had some insane protection on top so I did a 3-level sanding process. First I did a 70-grit sandpaper to tear up the lacquer, then a 150-grit sandpaper to smooth it out, and finally a 220-grit sandpaper to finish it off. I had one sander but it was old and died in the process so I upgraded to a  DEWALT D26441K 1/4-Sheet Pad Sander and it was amazing to see the difference. The most important thing to remember is to sand with the grain and to take it slow. Here you can see the table after sanding, a good cleaning, and a coat of Honeymilk paint.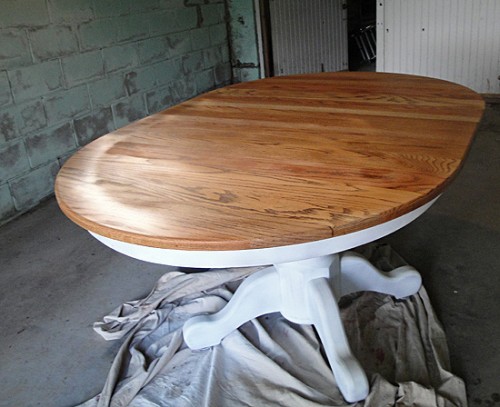 Next up was the staining. I chose Minwax Gel Stain in Red Elm and brushed it on with some foam brushes. I went with 3 coats because I wanted a deep rich color with high contrast but you can see that even 1 coat did a very good job. I probably could have used some wood conditioner but I honestly didn't notice a difference in quality with the number of coats that I did.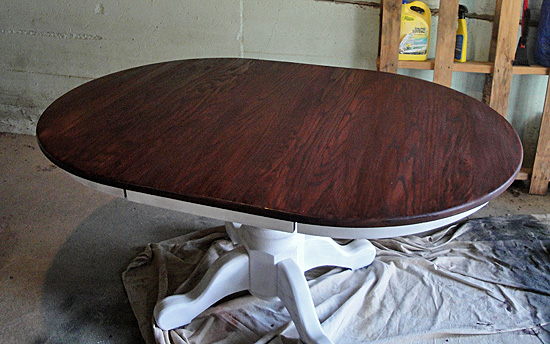 Next up was some drying and a chair makeover. You'll notice that the chairs at the beginning of the post aren't the same ones you'll see here. There were structural issues, a far too intricate design for our simple tastes, and while I attempted to make them work they were a complete failure. Thankfully my mom was storing extra chairs and in an effort to clean out her basement she passed the chairs on to us. Bingo!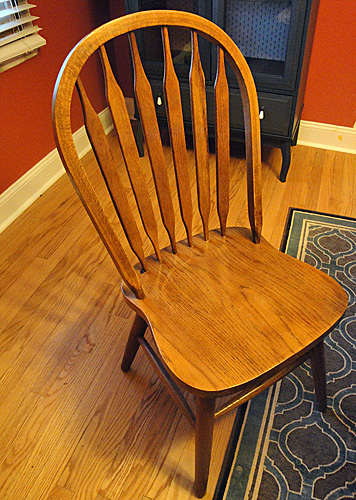 First up was to remove the finish since my first experiment taught me chairs can be a little finicky. I used Klean-Strip Easy Liquid Sander Deglosser. You just wipe it on with rags and the gunky finish comes off. Wipe it on outdoors with a mask and gloves because this stuff stinks. After you're finished call on your old friend Zinsser and their paint-on 1-2-3 Water-Based Primer. Brush it on with a paintbrush and soon your chairs will be ready for paint. They're drying inside because it is too cold and rainy here right now for anything to last outside for too long.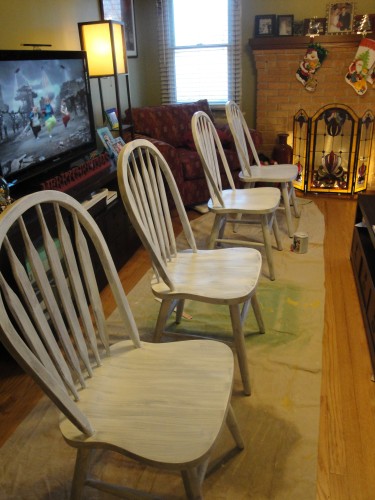 I then went on to paint the chairs with 2 coats of Honeymilk paint.
Next up was the most important part, protecting all my hard work. For the tabletop I chose to use Minwax's Wipe On Polyurethane for its high ratings and durability. Rather than wiping it was much easier to brush each coat on. I brushed on 2 coats for the stained tabletop. Since polyurethane is known to yellow wood, I didn't want to risk it discoloring my chairs and table base. I ended up brushing on Minwax's Polycrilic Protective Finish with fabulous results. Everything painted got one coat of the polycrilic though I did do a second coat on the seat of the chairs for extra durability. Ready to see what I accomplished with all that hard work?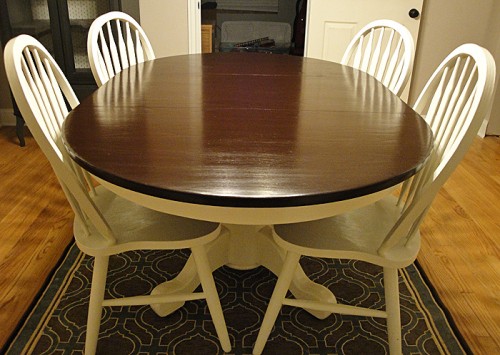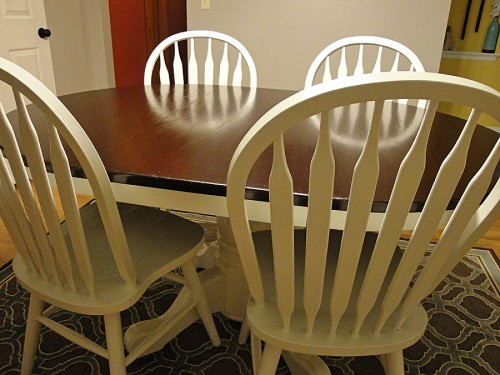 And here it is decked out for Christmas also I found burlap table runner bulk linens perfect for the decor: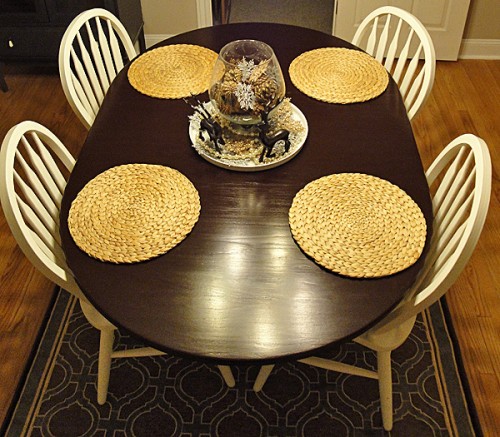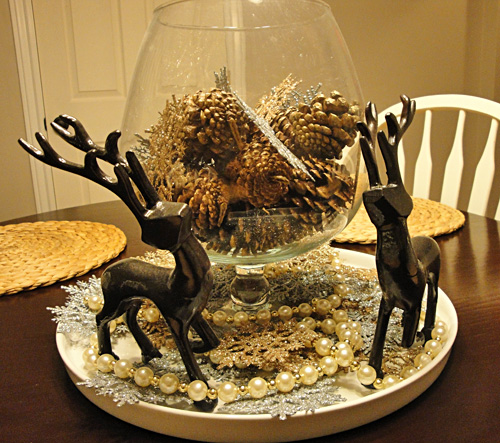 The placemats and white centerpiece came from Ikea, the glass bowl came from Michaels, the pinecones were spray painted glittered gold, the snowflakes and beaded garland came from Walmart, and I spray-painted some reindeer I found at Home Goods. It was a simple but elegant centerpiece for a stand out table.
Spying the new dining room in the background? I'll have a post up soon about the full room renovation with the help of Handyman Amarillo so stay tuned! In the meantime, I'm linking this post up: